Chasing The Train
For My First Visit To
The New TrainWeb Building In La Plata, Missouri
Fullerton, California to La Plata, Missouri Round-Trip
By Car, Plane and Train
Friday, October 13 - Wednesday Oct 18, 2006
by Steve Grande
www.trainweb.com/travelogues/stevegrande/2006j13a.html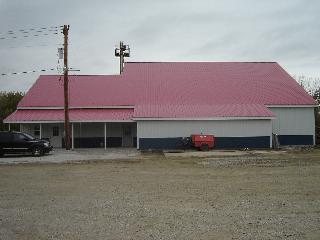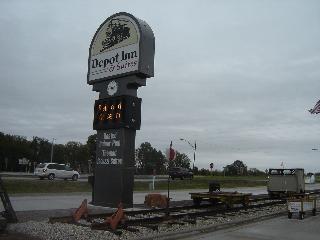 Left: TrainWeb's New Building in La Plata, Missouri
Right: The Depot Inn & Suites
I mentioned in my previous travelogue that I probably wouldn't be traveling as often in the future by rail as I had done in the past. But, I did make mention of one particular possible exception. I mentioned that TrainWeb was moving to La Plata, Missouri, and that I might be traveling from time to time from Fullerton, California to La Plata by train as that is the easiest way to travel between those two locations. This is the travelogue of my very first trip from Fullerton to La Plata. Using my Amtrak Guest Rewards, I booked my wife and I to travel round trip in a Deluxe Bedroom on the Amtrak Southwest Chief.
The Chase Begins:
Where should I begin? Or maybe I should start by considering when I should NOT begin. I'm not the superstitious type, but seeing how things played out starting my rail trip on Friday the 13th could make one wonder. In all the years I've been traveling by Amtrak since 1995, I have never missed a train for which I had been ticketed. Today was the first time.
My wife and I left our home in plenty of time to make the train. Actually, we arrived in Fullerton so early that we stopped for a light meal at The Slidebar Restaurant that is right across the parking lot from the Amtrak Fullerton Station. After finishing at The Slidebar, we drove across the parking lot to unload our luggage at the station. The eastbound Amtrak Southwest Chief was scheduled to depart from Fullerton at 7:20 PM. We began unloading our luggage at 6:50 PM, well before the expected arrival of the train. After I had unloaded everything from my minivan, my wife reminded me to not forget her shoulder bag. It wasn't until that moment that I realized that something was terribly wrong.
I remember my wife mentioning when we were at home that she was bringing two bags: a regular large rolling suitcase and her big black shoulder bag. When I loaded the rolling suitcase into the car, I guess I had assumed she would be carrying the other bag to the car herself. That probably wasn't a good assumption as it is a rather large and heavy shoulder bag. She assumed that I had loaded it into the car with her other suitcase.
So, there we were 30 minutes before the departure of our train with an essential item of luggage missing. It didn't take even one minute for us to realize that we would have to return home to get the missing item. It was not an item that we could leave behind. We would just have to miss the train if we couldn't get back to the station in time. We knew the odds were against us getting home and back in 30 minutes since our home is about 12 miles from the station. Our only hope was that the train would be just a few minutes late. Even 10 minutes late would probably be enough.
On a normal weekday, it might just be possible to make the round trip in 30 minutes. With the extra traffic on a Friday evening in southern California, that is highly doubtful. We actually did make it to our home in about 15 minutes. But, we didn't get back to Fullerton until 7:30 PM, ten minutes after the departure of the eastbound Amtrak Southwest Chief, which unfortunately had departed right on schedule!
There was still hope that we could catch up to our train further down the line. The next two stops for the train would be in Riverside and then San Bernardino, California. The shortest way to either of these cities would be eastbound on the 91 freeway. This freeway is heavily impacted during the rush hour every evening and is especially impacted on Friday evenings when vacationers attempt to leave town for the weekend. But there was another route available that was mostly carpool. That route is to drive north on the 57 freeway and then east on the 60 freeway. My GPS indicated that we could reach the train in time in San Bernardino with about 5 minutes to spare. Our drive went fine until we were within 5 miles of the station. Then, due to slightly rainy conditions and heavy traffic, our progress slowed to a crawl for the next 15 minutes or so. My GPS gradually changed to indicate that we would arrive into San Bernardino a few minutes after the scheduled departure time. We did arrive a few minutes after the Amtrak Southwest Chief had departed from San Bernardino. We were pretty discouraged at that point.
The next stop for the Southwest Chief is Victorville. It is 53 miles from San Bernardino to Victorville which the train makes in 1 hour and 11 minutes. However, the way to Victorville is on Route 15 which is packed on a Friday evening with people heading to Las Vegas. In addition to that, there were warnings all day on the radio to expect significant delays on Route 15 due to road construction. We weren't about to even consider trying to drive the 53 miles to Victorville to catch up to the train.
Thinking that there might be a way to fly out of the nearby Ontario Airport, we drove to a Coco's Restaurant near the airport, ordered a couple of cups of coffee, turned on my notebook computer and connected to the web using the Verizon WAN service. We were hoping to find a flight to Albuquerque, New Mexico, where our train was scheduled to arrive at 12:22 PM the next day and depart at 12:45 PM. The only flight we could find would arrive into Albuquerque at 11:07 AM. We felt there wasn't enough time between the flight arrival time and the train departure time to attempt this option. By the time we would have collected our checked baggage at the Albuquerque airport and took a taxi to the train station, it was very likely that we would once again miss the train by just a few minutes. Even that tight margin assumed there would be no flight delays and no traffic between the airport and the train station.
We then looked at the Midwest Airlines non-stop flight that left out of Los Angeles around 7:45 AM the next morning that arrived into Kansas City at around noontime. To make that flight, we'd have to wake up about 3:30 AM in order to have time to get dressed, drive to Los Angeles, and be at the airport at least 90 minutes before the flight. That really wasn't an acceptable option. Alternatively, we could drive to Los Angeles right now, spend the night at a hotel at the airport, and then wake up about 5:30 AM to make the flight. However, we were just too exhausted to make the drive that night from Ontario to Los Angeles. Plus, I really wasn't sure that I wanted to make this trip by plane instead of by train. Most of the reason we were going by train instead of plane was to avoid all the hassles with air travel in the first place.
Often when I travel by train, my wife will fly and meet me at the destination. My wife was willing to travel by train with me to La Plata as I was able to point out that it would take almost as long my plane as by train and would be a lot more hassle by plane. The least hassle method to go by plane from Fullerton to La Plata is to drive the night before the trip to LAX (Los Angeles International Airport) and spend the night at a hotel at the airport. When we do this, we usually stay at the Embassy Suites and take advantage of their "PARK-AND-STAY" offer. For a bit more than the price of a one night stay at the hotel, you can park your car at the hotel for up to a week, and the hotel provides free shuttle service to the terminals. In the morning, you can take Midwest Airlines low-cost all first-class direct flight from Los Angels to Kansas City that departs at about 7:45 AM. That flight arrives into Kansas City around noontime. You then need to rent a car in Kansas City and drive for three hours to La Plata. Assuming that it takes about an hour to collect your baggage and rent a car in Kansas City, you wouldn't arrive into La Plata until 5 PM. The day would almost be over and much of the day will have been spent hassling at airports and driving.
Alternatively, you can board the eastbound Amtrak Southwest Chief at Fullerton at 7:20 PM without the heavy drive in traffic to Los Angeles and without any of the airport hassle with baggage and security. Plus, you don't have to spend the money to stay at a hotel at LAX and park the car for a week. Once onboard the train, you just relax and then go to bed in a few hours. Instead of hassling all the next day, you just relax on the train all day. After spending the second night on the train, you arrive directly into La Plata at 9:57 AM in the morning. Unlike flying into Kansas City, you don't need to drive 3 hours to get to La Plata. You arrive right into the town by train! So pretty much all that you have lost by going by train instead of plane is spending the prior evening in La Plata from about 5 PM until bed time. But look at all the hassle you avoid!
We decided it just wasn't doable to catch up to the train that evening and drove home to sleep.
We slept a bit late Saturday morning and then I got up and did a little work on my computer. About 3pm, my wife suggested that we give it another try to see if there was a way that we could catch up with our train to still make it to La Plata, Missouri, by Sunday morning. I did find a one stop Southwest Airlines flight leaving from the closest airport, John Wayne Airport in Santa Ana, at about 5:30 PM that could get us to Kansas City that evening. We'd have to spend the night in Kansas City and then on early Sunday morning, board the same train that we missed for the final 2 hour leg of our journey. I was surprised that the computer allowed me to book that flight online when it was so close to departure time. As soon as I booked the flight, I also checked us in online and printed out our boarding passes.
We had a friend drive us from our home to the airport as there would be no time to get a taxi or to park our own car at the airport. We arrived about 4:30 PM at the airport, just about an hour before the scheduled departure of our flight. There was hardly any line at the ticket counter. When they saw our boarding passes, they said there might be a problem and they will call to check. It turns out the departure of our flight was delayed an hour and they didn't know if we'd be able to make our connection in Phoenix. After calling to verify, they said it would be close but that we should be able to make it if there were no further delays. They gave us a special early boarding pass as they wanted us to sit up front in the plane so that we could get right off the plane in Phoenix and hurry to our connecting flight. They told us that if it started to look like we wouldn't make the connection, they would take us and our luggage off the plane before it departed.
Because of the delay, it turned out that our flight would not be boarding until 6 PM. We went to a restaurant in the Southwest Airlines terminal area and had time to eat our first meal for that day. At 6 PM, we boarded the plane and sat in the third row. The flight had a relatively light load of passengers and my wife and I were able to have all 3 seats to ourselves on our side of the row giving us a little more room to relax.
When our flight arrived into Phoenix, we quickly got off the plane and walked as fast as we could to where the next segment of our flight would be boarding for Kansas City. It was a really long walk! There were moving sidewalks, but one segment of it wasn't operating and we didn't want to get hung up on any segment of it. So, we just walked as rapidly as we could outside of the moving sidewalk passing many of the people who were standing on the moving sidewalk. Just as we were approaching our boarding area, we heard an announcement on the P.A. System that our flight was fully loaded and ready to go and that they were just waiting for passengers "Grande" and "Cepinko." That was us! Before they even finished their announcement, we stepped up to the boarding door, handed over our boarding passes, and walked onto the plane. It also had a very light load of passengers and we had no problem finding two seats together. Actually, we were able to take all 3 seats on that side of the row again. The flight from Phoenix to Kansas City was two hours and we arrived on schedule into Kansas City shortly after midnight. The airport was pretty deserted at that hour. After collecting our checked baggage, we had to use the courtesy phone to call a taxi. The taxi arrived in less than 10 minutes, but it was another 20 minute drive from the airport to downtown Kansas City. When I had booked this flight online, I had also booked a room at the Embassy Suites in Kansas City that was just a short drive from the Kansas City Amtrak Station.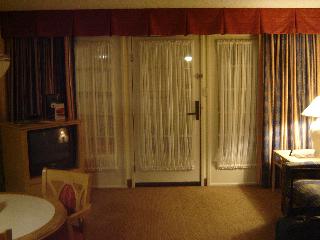 The Plaza Embassy Suites in Kansas City, Missouri
The Kansas City Embassy Suites is located at "The Plaza" and is a very beautiful hotel with very friendly and helpful staff. We were checked into our room very quickly. I was so impressed with the hotel, the layout, and the huge 11 story atrium, that I took a number of photos. Click here if you'd like to view those photos.
On Sunday morning, October 15, 2006, we checked out of our room and took a taxi to Kansas City Union Station where the Amtrak Station for Kansas City is located. The station building itself was recently turned into a museum which also featured a number of restaurants and vendors inside the building. Crossing through the building lobby to the Amtrak Station, I was very impressed with the size and layout of the great hall inside the station. Unfortunately, the station isn't open to the public at that early hour of the morning other than the Amtrak area. A security guard would guide people entering the building to the Amtrak area to make sure they didn't wander about the great hall where a restaurant had all their tables set up.
In the Station there is a simple waiting room with wooden benches where the number of passengers was growing quickly. Although the eastbound Amtrak Southwest Chief was supposed to arrive into the station at 7:26 AM, we were told that it was running a bit late and wouldn't arrive until about 7:45 AM, the time it was scheduled to depart from Kansas City. Now the train is running late! It couldn't have been running late in Fullerton or San Bernardino. If it had been running 20 minutes late then, we would have made the train with time to spare at either location. Another train boarded at 7:30 AM heading for St. Louis, probably one of the Amtrak Mules. There were still a lot of passengers that remained in the waiting room after the St. Louis train had boarded.
At about 7:45 AM, they announced the arrival of our train and called for the boarding. There is a bit of a walk from the Kansas City waiting room to the station platform. The station platform is also quite a bit below street level which requires one to either take the elevator or the stairway down to the platform. Anyone with significant luggage would have to take the elevator as the stairway was pretty long way down. We were in the second batch of people waiting for the elevator as only a few people can fit in the elevator at a time. After waiting quite a while for the elevator to come, someone notice that the call button hadn't been pushed! As soon as someone pushed the call button, the elevator came pretty quickly. It looked like the elevator was going to have to make one or two more trips after us to finish getting all of the boarding passengers down to the platform level.
Caught Up To Our Train At Last!
Once at the platform level, most passengers headed toward the front of the train. We headed the other way toward the rear of the train where the sleeping cars were located. There was a slight drizzle which was raining down on the part of the platform that wasn't sheltered. I was curious to see the look on our Sleeping Car Attendants face when they saw our tickets as we boarded, but that would have to wait as she was trying to get all her boarding passengers into the car and out of the way as soon as possible to get them out of the rain. She was expected some other couple to be boarding in Kansas City and immediately assumed we must be them and started to guide us to one of the Roomettes on the lower level. But then it struck her that our tickets were for "Fullerton" to "La Plata". She then was shocked and said: "You are my 'no shows' from Fullerton!" I jokingly said that I hoped she had saved our room for us, knowing that it was very likely that the Conductor would have resold the room on such a full train. She was sorry to say that the room had been resold, but that she could put us in the handicapped room for now. She was a bit apologetic about that as the room is not well configured for someone that doesn't need the wheelchair accommodation features. The handicapped room is basically identical to a Roomette except that it has a toilet, sink and space for a wheelchair lockdown. The extra space is really not that usable other than for more suitcase space if you do not need the handicapped features. The room isn't like the Deluxe Room or the Family Room where you have a lot more seating or reclining space.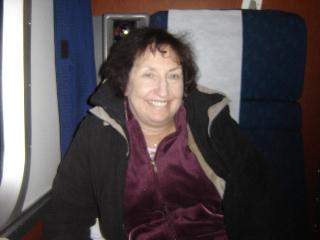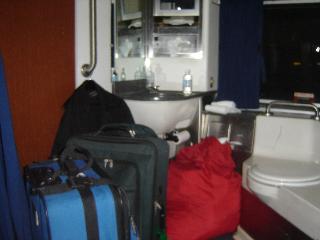 My Wife, Barbara, Finally On Our Train!
Our Sleeping Car Attendant told us this is the first time she has seen anything like this in all the years that she has worked for Amtrak. No passengers have ever been this persistent to catch a train as to chase it half way across the nation! Actually, we might have skipped the train at this point if we could fly right into La Plata, but flights only go into neighboring Kirksville and even those are very limited, especially on Sunday. Also, it just seemed appropriate that my very first arrival into La Plata should be by train!
Shortly after we boarded, she asked if she could bring us anything and we did ask that she bring us some coffee. She also offered to switch us to the Family Room as that room just became available in Kansas City and she'd soon have it cleaned up. We thanked her for the offer, but told her that we'd be OK in the handicapped room as there was only two hours left of our journey.
Our Sleeping Car Attendant was "Anna Maria." I wish we had caught our train on time in Fullerton as I can see that she was a very friendly and efficient Sleeping Car Attendant that would have done whatever she could to enhance our rail travel experience. Anna was curious about how we ended up in Kansas City, so we went through the whole story of having tried to catch up to the train in San Bernardino and finally flying ahead to Kansas City to catch the train. Before our two our journey was over, we also ended up sharing our story with the Conductor when he came to get our tickets.
The two hour ride from Kansas City to La Plata was pleasant. The train takes a short cut over this distance where no road goes. Thus, the train only takes two hours to cover this journey whereas it takes three hours driving on the highways by car. The closer we got to La Plata, the more we seemed to be out in the middle of nowhere. The scenery consisted mostly of farm fields with a few houses and barns along the way. A lot of Amish live around the La Plata area so there are a lot of Amish farms and other Amish workshops in the area. Even as we pulled into La Plata, the scenery was still pretty rural, but that is mostly because the more populated parts of La Plata are away from the railroad tracks. Most of the land around the tracks in La Plata is undeveloped fields.
Arrival Into La Plata, Missouri:
As we pulled into the station, I looked out the window and could just barely see a white building with a red roof further down right by the tracks. I knew that had to be the TrainWeb building as I knew it was a white building with a red roof that was located just a bit down the tracks across from the Amtrak Station. The Conductor helped us off the train with our luggage as we were greeted at the door by Ray Burns and Shivam Surve. They took our luggage and helped us roll it over to Ray's minivan. This was a new used minivan that Ray had just purchased after he moved to La Plata. The odd thing was that it was a deep green color just like his old minivan and just like my own minivan. Even though all three minivans were purchased used and the color of the vehicles was of no consideration, they were all deep green. Without closer inspection, they looked like three identical vehicles! It would be perfect if we were trying to build a fleet of identical vehicles to be used in TrainParty.com. The only thing different about Ray's new minivan was that it didn't yet have "TrainParty.com" advertising signs on each window as the other two vans had.
We stayed parked at the station for a bit and watched the Amtrak Southwest Chief roll down a bit to make its second stop. The Amtrak Southwest Chief has to make two stops at this station as the platform is not long enough to accommodate the entire train in a single stop. They make one stop for the Sleeping Car Passengers and one stop for the Coach Passengers. There were a lot of people getting on and off the train at the La Plata Amtrak Station. This station also serves Kirksville which is a larger town than La Plata but does not have its own train service. You will see Kirksville mentioned in parenthesis next to La Plata on the Amtrak Southwest Chief printed timetable. Kirksville is the home of Truman College. With all the college students and the larger population, Kirksville contributes quite a bit to the number of passengers that use the La Plata station every day. Amtrak once wanted to close this station, but it is very much needed by the local populations of La Plata and Kirksville, especially by the college students and their parents. Amtrak does not like keeping stations where they need to make a double stop. It would probably be a wise investment for the La Plata - Kirksville community to invest in bringing the platform up to Amtrak's requirements of both length and boarding height to insure continued service by Amtrak.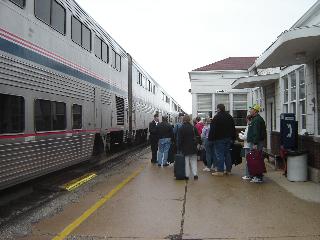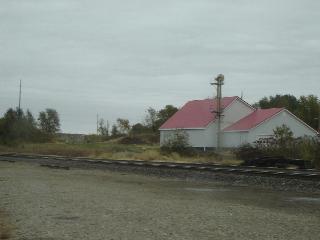 Left: Arrival into La Plata, Missouri.
Right: My first view of the new TrainWeb building
as seen from the Amtrak parking lot in La Plata.
While we were still in the parking lot of the station, I took a few photos of the TrainWeb building which was easily visible once the train had departed. Our new TrainWeb building is within easy walking distance of the Amtrak Station and can be seen clearly by everyone waiting at the platform for their train. One of the next things we will be doing is putting "TrainWeb.com" signs on the building and lighting them up at night so they can be seen by passengers waiting for the eastbound Amtrak Southwest Chief that goes through at 9:06 PM when it is dark.
Depot Inn & Suites
We next went to the Depot Inn & Suites which is just a short drive from the station. We could see the Depot Inn and the sign for it during most of our short drive around a field. The next thing that caught my eye was a small store out in front of the hotel with our old "TrainParty.com" signage. This little store was just built a few days ago and was all built in one day! The Depot Inn will operate this as a souvenir store retail outlet for TrainParty.com where hotel guests and others can purchase train themed merchandise as well as train themed party supplies. The shelving was still being assembled when we took a look inside. This store should be open within a few days and will also serve as the starting and ending point for the trackless train that is operated by the Depot Inn for the entertainment of children.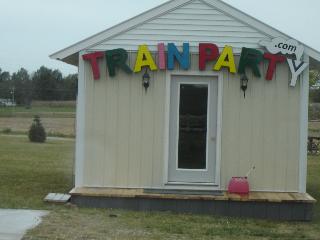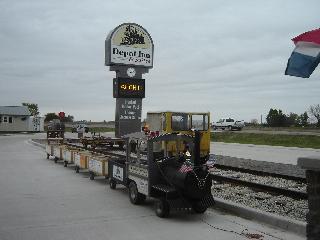 Left: TrainParty.com Retail Gift Shop located at and operated by The Depot Inn
Right: Depot Inn & Suites Sign, Railroad Motorcar & Trackless Train
Even before entering the hotel, I could see that the railroad depot theme was readily on display even outside the hotel. There was a short length of track in front of the hotel with a railroad motorcar and other items on display. There were also a number of railroad signal lights about the front of the property. The outside of the hotel itself is designed to look like a railroad depot with signage of "Northbound," "Southbound," "Eastbound," and "Westbound." The trackless train was also sitting in front of the hotel with advertising signs of local businesses mounted on the side of each car, including one advertising "TrainWeb.com" and "The Depot Inn" on the very tale of the trackless train.
As we entered the Depot Inn, we could immediately see what Ray and Shivam had been raving about! The entire hotel is thoroughly immersed in the train theme. Railroad memorabilia can be seen everywhere you look! Most of what you see at the hotel is genuine historical artifacts and not just replicas. In addition to being a hotel, the Depot Inn is truly a railroad museum in and of itself! I tried to take photographs of everything on display, but photographs don't do justice to actually being there and seeing everything for yourself. Click here to see the photographs that I took inside and outside the Depot Inn.
Walking down the hallways in the Depot Inn was like walking through a railroad museum. You are surrounded by artifacts and photographs of railroad history everywhere you go! Even the heated indoor swimming pool is surrounded by railroad artifacts either in see-through wall displays, on the walls, or on shelves high above the pool. Even the pool itself is railroad themed. There is a waterspout directly above the center of the pool like the waterlines that used to be used to fill the boilers of the old steam engines. Periodically, you will hear the sounds of a steam engine and then there will be the tremendous roar as a stream of water pours out of the waterspout into the center of the swimming pool!
There are 30 rooms at The Depot Inn including 4 themed suites. We were given the Western Suite. Starting with the spur mounted as a door knocker on the outside door, the room was totally themed in a western style. As we all know, the history of the west is completely integrated with the history of the railroads. Towns boomed and died based on the route of the railroads. Western towns that were bypassed when the railroads were built turned into ghost towns while new boom towns were founded and grew rapidly along the railroad lines as the railroads were integral to the survival of these formerly isolated frontier towns. Ironically, one town that was the source of the name for one of the greatest railroads to build the west, the "Santa Fe," was never served directly by a railroad. It turned out to be too difficult to bring the tracks directly into Santa Fe, New Mexico.
In addition to being heavily themed, all 4 suites have a large screen television, a fireplace, an oversized king size bed with a mattress that will compare to the Westin Heavenly Sleeper Mattress any day, a large spa bathtub, a sofa, microwave, refrigerator, coffee maker, and work desk. I'm not that much into appreciating custom decor, but I'm sure you can find out about many other special decorator features of each suite at the hotel's website at: www.DepotInnAndSuites.com. The regular rooms are also tremendously superior to most hotel rooms that you will find anywhere and you can't go wrong for the reasonable rates at The Depot Inn. Maybe most important of all is that free high-speed wireless internet is featured in every room of the hotel as well as in all of the public areas. They have several WiFi units throughout the hotel to insure that you will obtain an excellent connection with high bandwidth no matter where you are located in the hotel. Just connect to the hotel's hotspot with the best signal strength!
The Red Rooster Restaurant:
At lunch time, we went over to "The Red Rooster" just two doors down from the hotel. They had a fairly extensive menu and the food was good quality. I wasn't sure if the decor was supposed to be that of a log cabin or a chicken coup, to go along with the Red Rooster theme. Maybe it was supposed to be the decor of a hunting lodge. Any of those would work as everything was made of finished wood. We suggested they rename the place to the Red Rooster Dining Car to go along with the railroad theme that is evolving in the town of La Plata and I think they might give it consideration.
First Visit To The New TrainWeb Building:
After lunch, we made our first visit to the new TrainWeb building. From the outside it looked very nice with its new red roof and shiny white walls. When the new roof was put on, an extension was added to shelter the two doorways from rain and snow. It made the building look like it has a front patio which gives it a nice country look. The siding near the base of the building is blue, so overall the building from top to bottom is actually red, white and blue. Definitely a patriotic looking building! The only thing seriously missing is the signage. There are no "TrainWeb.com" signs on the building at all yet, but that should be fixed soon. We plan to have lit signs on at least 3 sides of the building so that passing train, especially the two Amtrak passenger trains, will see our sign as they pass by.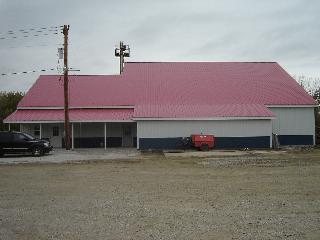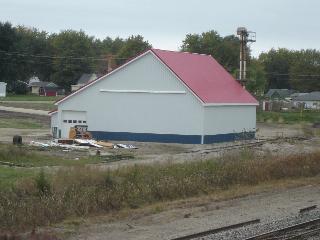 New TrainWeb Building in La Plata, Missouri
The yard around the building is quite large with plenty of room for future expansion. When the day comes that we need to load and unload from tractor trailers, that shouldn't be a problem. We also purchased a smaller additional building next to our main property. That building has come in useful during the construction work going on in our new building. We didn't want our inventory to get in the way of the construction workers, so the additional building next door came in pretty handy.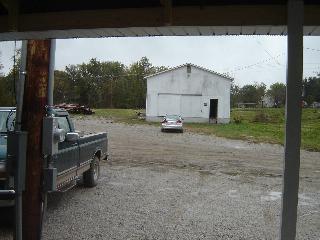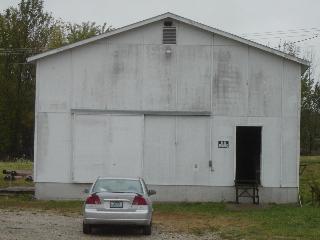 View of TrainWeb's Second Building from Main Building Entrance
As soon as my wife and I stepped inside the building, we could see that a lot of construction work had already been completed. Since it was Sunday, the building was quiet. There were no TrainParty orders being shipped and there were no construction workers in the building. But, we could see the construction workers were in the middle of completing the dropped ceiling, the heating/air conditioning venting work, and the electrical work.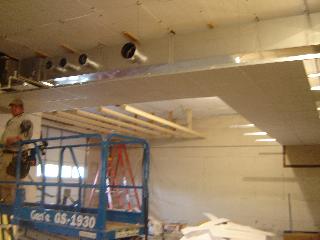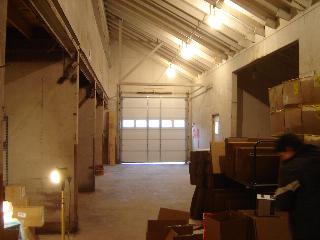 Interior of TrainWeb's New Building Under Construction
Having just left from our old TrainWeb office two days before, the first impression was the size of the interior of this building. The first floor of this new building is almost 6,000 square feet. Although that is only about 5 times the size of our old building, it seemed larger than only 5 times the size of our old building. There is a front area to our new building where shipments are prepared. This is where there is a single office plus two restrooms. The rest of the area is totally open. TrainWeb isn't using much of this front area yet as this is where most of the construction is going on. This is the only part that will have the dropped ceiling, tile floor and will have air conditioning and heating. This area is quite large and I'm sure comes close to the entire 1500 square feet of our old office.
Next, we stepped through a very large doorway into the back inventory area of the building. This area was divided into several huge rooms. Each room seemed almost as big as our entire old TrainWeb office! The TrainParty live inventory that had to be crammed into every nook and cranny in our old office was neatly lined up on two long rows of shelving that all fit into just the first deep room. All the other large rooms were just about empty and ready for future expansion!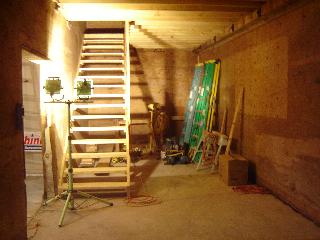 But there is more! The interior building goes up about 30 feet. Rather than waste all this space, a second level has been added to the interior of the building. Thick beams and narrow spacing between them has created a very sturdy second level that can handle a lot of weight safely. This second level has doubled the size of the building to more than 11,000 square feet! Thus, our new building easily has more than five times the storage capacity of our old building. One of the great aspects of this new building is the openness. Our old building was so tight that we were almost tripping over each other and were certainly tripping over boxes laying everywhere that were waiting to be shipped out. In this new building there is probably enough room to build a basketball court with room to spare!
I was quite impressed with the entire place and was happy that we purchased it.
Homeward on the Westbound Amtrak Southwest Chief:
We had the exact same onboard service staff heading west as we had heading east. After the eastbound Amtrak Southwest Chief dropped us off in La Plata on Sunday morning, it continued for another 5 hours before arriving into Chicago, its final destination. The onboard service staff then spends the night in Chicago and become the onboard staff for the westbound Southwest Chief on Monday. In that manner, the train had the same onboard service staff when we boarded the westbound train 5 hours in La Plata after it left Chicago on Monday.
On our trip home, we had Room A in Car Loading Number 0330 in the westbound Amtrak Southwest Chief. Room A is the least desirable of the Deluxe Rooms in any Superliner Sleeping Car, but it was the only room they had left when I made our reservations. The reason Room A is a problem for some people is that it is configured totally different than Rooms B, C, D and E. Since the corridor has to take a turn at the end of the car to go into the next car, they had to slice a little bit from Room A to make room for that turn. Because of that, the shower/restroom is by the door in Room A instead of near the window and there is less room by the single seat in the room. If you are a large person, I'd strongly suggest avoiding Room A when you book a Deluxe Room on Amtrak. You may have serious difficulty getting into the shower/restroom at all! During the daytime, there is plenty of room in Room A for my wife and me. But at night with the bed open, the room seems much smaller. The bed opens up to where it is almost right against the sink making it very difficult to walk about the room. Even my wife was getting a bit claustrophobic at night in the room! The Car Attendant was very skeptical when I brought our suitcases into the room. There really wasn't any floor space for the suitcases as there would have been in any of the other Deluxe Rooms. But, that wasn't a problem for us. I just placed everything on the upper bunk in the room. My wife and I can fit on the bottom bunk together.
Our westbound Amtrak Southwest Chief arrived early into Albuquerque, New Mexico. There is a stand on the platform that sells various souvenirs and excellent southwest burritos. Years ago, they used to operate out of a lunch truck in the parking lot. Now they have a stand set up on the platform. They sell the souvenirs at the front of the stand and burritos out the side of the stand. I was really looking forward to stopping here on my eastbound segment. The eastbound Amtrak Southwest Chief gets here around noon and the burritos get sold fast! Everyone's favorites, the spicy ones, seem to sell out first. I prefer the spicy ones without meat, but those always seem to sell out quickly. By the time the westbound Amtrak Southwest Chief pulls in around 3:30 or 4:00 PM, most of the favorite selections are sold out. They only had three different burritos left. I purchased two different ones and still haven't decided if I will have a burrito or go for dinner in the Dining Car. Often the Dining Car has nothing that I desire to eat. This time, however, they are serving Salmon. Whereas on most Amtrak trips I can't find anything I want to eat other than a Tuna Sandwich from the Cafe Car if they haven't run out, I've got too many good options on this trip!
At 5pm, my wife and I decided to go with the burritos! They were really good! We can have Salmon any night, but it isn't every day that we can buy burritos from Albuquerque. I had brought along a bottle of wine, so that was our dinner: two burritos, a bag of BBQ Soy Crisps and a bottle of wine in our room.
Both my wife and I spent much of the rest of the day on our notebook computers catching up on work while enjoying the southwest scenery rolling by the window. The remainder of the day passed uneventful. We spent a restful night on the train rocked to sleep by the rolling motion of the car. I awoke at daybreak shortly before the train pulled into San Bernardino. The silouette of the hills in the morning light caught my eyes and I attempted to capture it with a photo.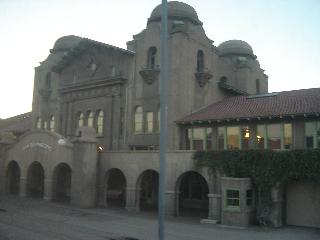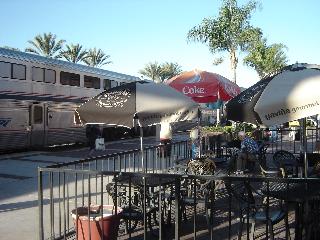 Left: San Bernardino Amtrak Station
Right: Arrival into Fullerton Amtrak Station
We arrived into Fullerton around 8:30 AM, about a couple of hours behind schedule. If only our original train could have been a fraction of the lateness into Fullerton when this trip began! A friend had dropped off our minivan in Fullerton so that we could drive home from the station.
Why TrainWeb.com Moved To La Plata, Missouri:
As mentioned above, my previous travelogue explained a lot about why TrainWeb has moved to La Plata, Missouri. You can read that travelogue by clicking here. If you don't want to read that entire travelogue at this time but just want to know why TrainWeb moved to Missouri, I have posted just that part of the previous travelogue below for your convenience:
There is one route that I probably will continue to do by train from time to time. Some of you may already know that our affiliated party supply company, TrainParty.com is moving to La Plata, Missouri, before the end of this month. Basically, everything related to TrainWeb.com will be moving along with TrainParty to La Plata, Missouri, except for me. I'll be staying right here in California, though the office of TrainWeb will eventually close and I'll work out of my home. It is very likely that my wife and I will be visiting the new TrainWeb / TrainParty office in La Plata from time to time. It is possible to just hop on the Amtrak Southwest Chief in Fullerton and take it directly to La Plata, Missouri, without changing trains at all! If we were to do that, we'd board the train in the evening, travel all the next day on the train, and then arrive into La Plata the morning after that. When you consider the difficulties of trying to get to La Plata by plane, it might be worth doing that trip by Amtrak. So, there is a possibility that I might continue to make those trips by train from time to time, especially if my wife is willing to make those trips with me. Otherwise, it might be plane travel even to La Plata, Missouri!
The domain name TrainWeb.com has been around since December 6, 1996, almost ten years ago. Our train themed website started about a year before that, but we didn't move it to its own dedicated website until December of 1996. Thus, we pretty much consider that date to be the birth date of TrainWeb. Over the years we received many phone calls from parents trying to locate train themed party supplies to have a birthday party for their child that was into trains. We thought any party store or large department store should have what they were looking for and recommended they try Party America or Wal-Mart. But, they always insisted they had already looked everywhere. They said the selection was either too limited at those places, or the stores didn't have enough of each item, or they had encountered both problems. So, in 2003, we decided to try to offer a few train themed party supply items. For that purpose, we obtained the domain name TrainParty.com on February 7, 2003. We started getting about 3 or 4 orders per day even though we only had a few items to offer. Progress was slow at first. Little by little we built up the website, obtained a much better presence in the search engines, started doing some online advertising, and used a few other methods of letting the online community know what we had to offer. At the same time, we expanded the number of train themed party items that we offered from just a handful to well over 500 different items!
By early 2005, we were shipping so many orders that our small office over the Amtrak Ticket Office in the Fullerton Santa Fe Depot could no longer hold our entire inventory. UPS, FedEx, and even our own staff were not very happy with having to carry so many boxes up and down the long stairway to our office every day! We had already exceeded our office space and were using rented storage units to hold our backlog of inventory. We found a new facility just 3 blocks from our office at the Fullerton Amtrak Station and were moved into it by July 2005. The new facility was several times larger than our old office and had a truck loading area and a storefront. By July of 2006, we were averaging more than 50 orders per day and our annual gross sales were ten times greater than the prior year. In addition to the large number of retail orders that we get every day, we have started to get quite a few orders from other stores purchasing at wholesale price levels from us. Later this year we expect to begin manufacturing our own train theme party supplies. That will expand the diversity of available train themed items as well as allow us to sell more profitably at the wholesale level to other retailers. After being in this facility for just one year, we once again find that we are overflowing our available space! Again we have grown so fast that we have had to rent storage units to handle our overflow.
After doing a bit of analysis, we realized we could save tens of thousands of dollars each year on shipping costs and get our merchandise delivered faster to most of our customers across the nation if we shipped from a more centralized location in the nation. More information about why we selected La Plata, Missouri, can be found by clicking here. We purchased a building directly across the tracks from the Amtrak Station in La Plata, Missouri. It is a building that used to be owned by the Santa Fe Railway before they gave it to the town. That building is quite a bit bigger than our current facility and there is quite a bit of property that goes with it for when we need to expand further.
So, those are some major changes for TrainWeb.com and TrainParty.com ! (1) Rather than see a lot more travelogues posted by me, you are more likely to see more travel reports written by all the other TrainWeb correspondents that are kind enough to donate their time so that we can all enjoy their rail travel experiences. (2) The offices of TrainWeb / TrainParty are moving out of California for the first time in the ten year history of our company and will no longer have a place you can drop-in in California. However, if you happen to be in La Plata, Missouri, you are certainly welcome and encouraged to drop in and say hello! If you want to visit with me, you are always welcome to drop in on the monthly meeting of the Rail Travel Meetup Group in Fullerton, California (see: www.trainweb.org/rtmeetup). I'm at every meeting unless I happen to be out of town that week.
Some Closing Comments:
My wife and I have another business in California that we've been running since 1979 so we plan to continue to live in California. At present, I still drop by the old TrainWeb office at 400 E. Commonwealth Avenue in Fullerton, California, for a few hours on most days of the week. I'll probably continue to do that until a new tenant moves in and we are out from under our old lease. After that, I'll most likely just work from home. Or, with my Verizon WAN, just like the commercial says, the whole world is my office. I can pretty much work from anywhere as long as I have my notebook computer with me.
Hopefully, we will have our new webcams in La Plata up and operational soon. We have already purchased a very sophisticated webcam server that will support up to 6 simultaneous webcams. We have also purchased one high resolution webcam that provides excellent color images during the day and then black and white images using infrared during the night when light levels are too low. Since our building is right next to a busy BNSF mainline between Kansas City and Chicago, we expect that webcam to show a lot of good images of rail traffic going by our new building. There is a high tower attached to our building that we have purposely left in place as an option for mounting one or more webcams. There will be an announcement on the main page of TrainWeb.com as soon as any of these new La Plata webcams are activated.
More Photos From This Trip:
Click on each link below to view additional photos from this Amtrak journey:
Sunday, Oct 15, 2006:
Set #1 - Overnight at the Kansas City Embassy Suites
Set #2 - On The Train, At Last! 2 Hours in the Sleeping Car Handicapped Room
Set #3 - Arrival into La Plata! My 1st view of the new TrainWeb Building
Set #4 - The Depot Inn & Suites: photos of hotel and rooms
Set #5 - A Ride Down The Old Wabash Line by SUV
Set #6 - The New TrainWeb Building in La Plata, Missouri
Monday, Oct 16, 2006:
Set #1 - The Depot Inn & Suites, A Railroad Museum Itself!
Set #2 - The Red Rooster Restaurant
Set #3 - Railroad Crossing Between Amtrak Station & TrainWeb Building
Set #4 - More Photos of the New La Plata TrainWeb Building
Set #5 - Amtrak Station in La Plata, Missouri
Set #6 - Newly Refurbished Superliner Restroom
Tuesday, Oct 17, 2006:
Set #1 - Westbound Amtrak Southwest Chief
Wednesday, Oct 18, 2006:
Set #1 - San Bernardino to Fullerton, California
Click here for a travelogue and photos from Ray Burns about La Plata and the Depot Inn & Suites.
JOIN US FOR TRAINWEB's
10th ANNIVERSARY & GRAND OPENING CELEBRATION
SATURDAY, DECEMBER 9th, 2006
IN LA PLATA, MISSOURI!
The domain name "TRAINWEB.COM" was registered on December 6, 1996. That makes this the 10th anniversary of TrainWeb.com! TrainWeb will have a combined celebration of our 10th Anniversary and the Grand Opening / Ribbon Cutting of our new building in La Plata, Missouri, on Saturday, December 9th, 2006. You are invited to attend!
If you would like to attend, make your hotel reservations directly with the Depot Inn & Suites by calling 888-814-3669. Let them know you are coming for the TrainWeb Grand Opening Celebration and you will receive a 10% discount off the normal room rates.
The best way to get to La Plata is by the Amtrak Southwest Chief. Alternatively, you can fly into Kansas City, Missouri, and then rent a car for the 3 hour drive to La Plata. Depending on your timing, you may be able to book a connecting flight to Kirksville which is only about 13 miles from La Plata. You also might be able to connect with the Southwest Chief between Kansas City and La Plata as we did above to do the last 2 hours of your trip by train. Another possibility is to fly to Chicago and then take the westbound Amtrak Southwest Chief to La Plata, about a 5 hour train journey.
If you are looking for flights to Kansas City, try Midwest Airlines. They are a discount all first-class airline that has several flights from around the nation into Kansas City. Southwest Airlines also offers quite a few flights into Kansas City every day.
All the partners that own TrainWeb will be at this celebration and we are currently trying to arrange for other frequent TrainWeb content contributors to be at this event. As more details become available, they will be posted at: www.trainweb.com/news/10thyear.html.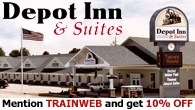 CLICK HERE
To Read More Rail Travelogues
And View More Photos Of Rail Travel!

Are you interested in rail travel along some or all of this journey yourself? There are very few travel agents that have the necessary knowledge and experience of rail travel to answer your questions and to book a journey that you will remember for a lifetime. TrainWeb has sought out those travel agencies and rail tourism companies that not only have the knowledge to book your travel, but have gained the required experience through extensive rail travel themselves! Click here for a list of these rail travel providers!
Visit our Rail Magazine promotion trading partners:
Click here to add your print rail magazine.