Ray Burns Makes A Special Trip To
La Plata, Missouri
www.trainweb.com/travelogues/rayburns/laplata.html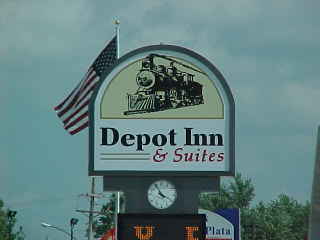 Depot Inn & Suites
www.DepotInn.com
1245 North Brown Street, LaPlata, MO 63549
Phone: 660-332-4669 Fax: 660-332-4445
I have heard some pretty nice things about an Inn in La Plata, Missouri. I thought that it would be worth going to investigate it. Shivam, one of the TrainWeb crew was on vacation in Liberty, Missouri, at the time so I thought why not stop by and see him and he and his family and I can go north to see this place. Sometimes nice comes in little packages.
I took MidWestern Airlines on Saturday, June 10, 2006 at 8:00 AM out of the John Wayne Airport in Orange County, California. All the seats are leather with two seats on each side of the aircraft. If you want a meal you purchase it. That helps to keep cost down. Everyone who does not purchase a meal receives the basic drinks and light snacks. I opted to have the meal and it was quite good. Great service, very wide and comfortable seating with lots of leg room and a pleasant trip. I'd like to fly with this airline again.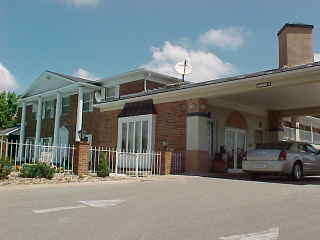 Once landed at 2:00 PM Shivam picked me up at the airport and showed me around Liberty, Missouri. We both loved the place. Business is booming and they have just about everything that you'd want here. A lovely city in every sense of the word. We both liked the area a lot. I only stayed at The Days Inn one afternoon/night as we would be driving north tomorrow, Sunday morning.
It took a few hours of driving through very relaxing scenery to La Plata and once there we drove around the city to see the layout. Then we went to the Amtrak station and took some photographs. A good structure design with the use of glass blocks inside. A station agent is on hand inside from early morning to late evening. I'm told that there is something like 70 freight trains going through La Plata every day plus the Amtrak Southwest Chief passenger train that heads northbound to Chicago and southbound to Los Angeles also every day. The only other place the Amtrak Southwest Chief stops in Missouri is in Kansas City.
The Depot Inn & Suites is actually walking distance from the station and Tom and Kelly Marshall, the owners, will have someone pick you up at the station if they are given notice to request so. They will have a very special way to pick up and drop off passengers in the future but I'll keep that under wraps until they have that project completed. Very exciting, to say the least. You're gonna love it!
The outside of the hotel is nice looking with a number of railroad items such as signal lights, rail carts and flags of the different branches of the military greeting us as if we were important VIP's. Once we got out of our car we noticed a little 4 year old sulking and "dragging his feet" on leaving the hotel. He did not want to leave! That impressed us. I asked his father if he was into trains and he affirmed that. I told him about TrainParty.com as he had never heard of the site before. He appreciated the information as his sons' birthday was just a month away. This little boy had given me a "headsup" that indeed, this hotel must be something special.
Once we opened the main door and entered, we froze in our tracks and our jaws just plopped open. We just stood there gawking at this absolutely fantastic sight that surrounded us. The quality of the finish, the inlaid woodwork, the color scheme, the massive amount of original railroad paraphernalia that was so well laid out, on, in, and around the walls, the massive grandeur of it all, just thrilled ones' senses. This is by far no ordinary hotel. This is a railroaders dream, a Valhalla for the rail fan, nothing but the best for the most discriminating rail traveler. It was obvious that we had to walk slow or else we'd miss so many scenes that laid like jewels before us.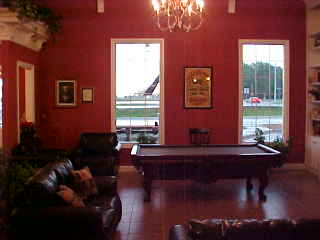 A grand lobby that will surely suit any palate for those that want nothing but the best. The American Orient Express, now the GrandLuxe Railroad, should SERIOUSLY consider stopping at this station and checking their guests into this astounding palace! Ditto for all the private rail car owners. You now have a "must see" stop in Missouri. It's well worth coming out of your way, if necessary, to see and appreciate and enjoy the lavishness of it all. I didn't think that a rail themed hotel could be so stunning.
We checked into the hotel and each of us took a suite. There are thirty rooms with four of them suites. The "Pullman," the "Victorian," the "Western" and the "Sportsman." Shivam and family had the "Victorian" and I had the "Pullman." I have been in hotel suites like this before and they cost from a low of $400 up to $750 a night. These suites here cost $150 a night. Mind boggling! The "regular" rooms (if I should call them that) are considerably less expensive. Heck, nothing here is expensive. This hotel prides on giving nothing but the ultimate best at laymans wages. This hotel is one month old so make your reservations before they're packed solid.
I was even impressed by the key that I was given. These people didn't miss a thing. there is a lovely fireplace in the grand lobby with an impressive pool table nearby. There is also a stunning heated swimming pool with Jacuzzi inside the hotel with excercise equipment and loads of historic railroad articles very tastefully arranged around that room. A lavish carpet throughout softened your walk to your room. WiFi is available throughout the building.
Each room has a small brass sign on the door relating to a particular railroad word giving each room a different "flavor," if you will. The suites also have names on their doors. The "Western" had a spur on the door as a door knocker. I've never seen that before. It was easy to find the suites as they were in their own corridor. Upon opening my door I basically repeated what I had done before. I just stood there in shock and awe. The huge King size bed with a stepping stool on both sides so you can get up on to the bed was quite impressive. The large tub (maybe I should call it a small swimming pool) with water jets around it is way too large for one person. Their great shower was just perfect for me.
I actually did watch their very large plasma TV that was built into the wall but I never did turn on the fireplace that was below it. The air conditioning worked excellent and I did enoy the large leather sofa in the room. A lot of large pillows and quality Turkish bathrobes for my use were on the bed. The different colors are very relaxing to the eyes. Everything was there to pamper me and I was impressed.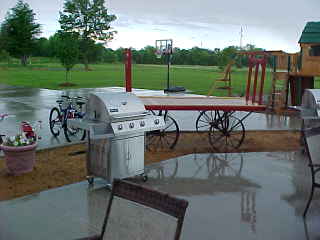 At the rear of the hotel there are bicycles available for all ages and well as a little playground for the children. Even a barbeque area is set up to use. What ever you do, bring your bathing suit with you. That is a must! I wanted to enjoy that pool so much, but all I could do was whimper and dream. Next time I'll pay attention to what I'm packing!
Tom and Kelly Marshall came to the hotel and met with us and we had a lot to talk about. We took a slow one minute walk to "The Red Rooster" restaurant. It is just a few months old. Brand spanking new, just like the Depot Inn & Suites. It is designed with great taste just like a log home inside and out. A large menu to choose from and not only is the food good, but you get lots of it. You will NOT go away hungry! Very friendly Missouri hospitality in a very clean environment with ample room for large groups.
That night after catching my breath from the splendor of it all, I managed to get to sleep. Who would have thought that this stunning beauty would be out here in "the middle of nowhere." Out here at this time of year the sun sets late and it rises early. Makes me think of Alaska. Let's see what the morrow will bring.
After breakfast Tom greeted me in the hotel lobby and he drove Shivam and myself throughout the area as well as drive through it's neighboring city of Kirksville, just eight miles away. I'm used to driving in the Los Angeles traffic and I can tell you that it was true pleasure driving along these roads. It reminded me of Canada. Lots of trees, farms, green and nature, all at a leisurely pace. None of the knee jerking traffic jams, smog and graffiti, etc. that I'm accustomed to.
The Truman University here in Kirkland is considered the number one university in the midwest for the last nine years straight. That's impressive. I also noticed some absolutely stunning homes in the area. In fact all homes in this state are a fraction of the cost of homes in California. Especially up here in this northern Missouri area. Lakes with great fishing, serene scenery, very quiet, seems like a great place to visit, retire and relax.
There's even a small airport in the area where one can fly back and forth to St. Louis, Missouri, as well as other areas. So, getting to La Plata by road, plane or train is very feasible. Tom has been planning on having a rail museum constructed near the La Plata train station as well as a water park out behind the hotel. So there'll be more than enough to keep the whole family active. There is even now.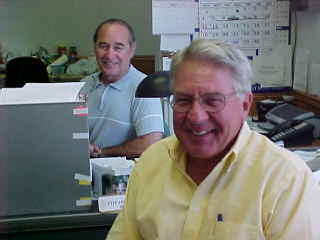 Tom introduced me to Ray Ivy, the City Administrator for the City of La Plata. Ray was kind enough to drive us around La Plata and see the housing layout as well as some lakes and their 18 hole golf course. Can you believe that! An 18 hole golf course from nowhere! The layout is excellent with water, trees, rolling hills, traps and etc. to give you a good game. The whole area is kept up to pristine condition and there are a lot of Canadian Geese and gosslings in the area. There is also an area for seniors and ladies. Go figure! Shivam and I were given a tour of the golf course using golf carts. This city planned this golf course many years ago so they were always on top of things. It's a secret that only the locals know about. They're willing to share, you just have to show up, that's all! Larry Herrin, the mayor, is a local golfer. Maybe you'll end up golfing with him.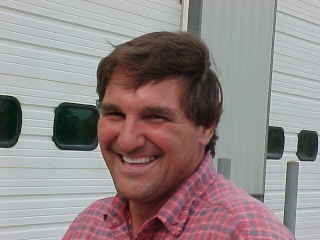 The tradespeople from La Plata with the city signing the appropriate papers, built the Depot Inn & Suites in five and one half months. That is a mind boggling achievement and a story in itself! There are a few lovely well kept up Victorian homes in this little city and are available for viewing. We were inside one of them and it was like going back more than 100 years. Many original items are still in use today. Everything pretty and well maintained inside and out.
We were also given a tour of some of the other rooms in the hotel and they are exquisite. Each room has a plush recliner and the woodwork in each room is nothing short of exquisite. Everything is impressive. The photographs of everything that I took do not come close to what the eye actually beholds. It's like taking a picture of the Grand Canyon and trying to capture the grandeur of it all with your camera. That rarely happens. Our day was quite full and I slept well.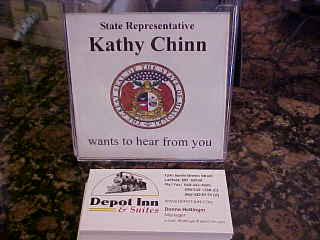 Late the next morning we went into the conference room and met Kathy Chinn, the State Representative for that District. We also met the Director of Tourism for the State of Missouri as well as others from the area. Like all states they want to develop tourism and the local economy. With the plans that Tom and Kelly Marshall have I hope that they will take note as this little area can easily develop into one of the great train enthusiast sites in the country. Some things I just won't talk about just now, but needless to say, this place is worth watching and coming to. A very charming and friendly community.
Shivam and I left early the next morning Wednesday, June 14/06 and went back south through Liberty, Missouri, and headed west from there. The drive cross country was enjoyable. Not as enjoyable as a train ride, but enjoyable, nevertheless. A lot of country to see. With gasoline the way it is train travel is a viable way to go.
We stopped overnight in Colorado for a good nights sleep and then left the next morning going through Utah, Nevada and then into California. A nice long ride with many lovely sights going through Utah was quite impressive looking at the huge colorful rock formations. Las Vegas was a traffic jam nightmare! We stopped in Las Vegas for a bite and then we were off again. We arrived back into Fullerton, California around 6:00 PM on Thursday night June 15/06.
I know that the Depot Inn & Suites will double in size with no problem including a large reception room for large groups, so if you have someone in the family that loves trains, this place called the "Depot Inn & Suites" will be a very special treat for them. Heck, don't just treat them, treat yourself, you deserve it. You'll be glad you did! Tell them that TrainWeb sent you. "Y'all come over, ya hear!!"
Click Each Link Below For More Photos:
2006f18a / 2006f18b / 2006f18c / 2006f18d / 2006f18e
2006f18f / 2006f18g / 2006f19h / 2006f19i / 2006f19j
2006f19k / 2006f19l / 2006f19m / 2006f20n
Depot Inn & Suites
www.DepotInn.com
1245 North Brown Street, LaPlata, MO 63549
Phone: 660-332-4669 Fax: 660-332-4445
Visit our Rail Magazine promotion trading partners:
Click here to add your print rail magazine.