Amtrak Coast Starlight
Los Angeles, California to Portland, Oregon Round-Trip
August 10 - 15, 2006
Travelogue and Photos by Steve Grande

www.trainweb.com/travelogues/stevegrande/2006h10a.html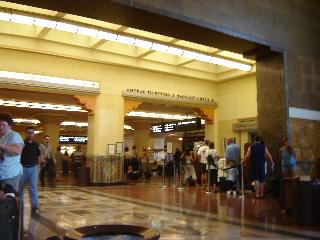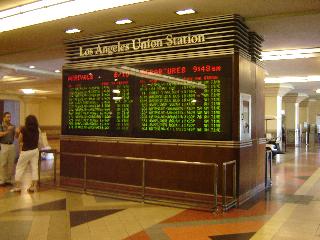 This travelogue was written "live" while I was on board the Amtrak Coast Starlight. I used my Verizon Wide Area Network Service to connect and upload my travelogue to the web while my rail trip was in progress. Updates were posted to the travelogue every few hours. Network availability and speed was very good except for a few very remote areas while going through Vandenberg Air Force Base between San Luis Obispo and Paso Robles and some remote mountain areas of northern California and southern Oregon.
Click on each link below to view additional photos from this Amtrak journey:
Set #1 / Set #2 / Set #3 / Set #4
2006-Aug-10 Thu 0900 AM PT Los Angeles, California (CA)
I left my house in Orange County at 7:15 AM with an estimation that it would take between 90 minutes and 2 hours to drive to Los Angeles Union Station (LAUS), with a little padding in case traffic was worse than usual. It is only 35 miles from my home to LAUS and that can be driven in about 40 minutes when there is no traffic. Surprisingly, I was able to travel at the speed limit of 65 MPH for about the first 25 miles and only slowed to a crawl when I was 14 miles from my destination. That was at 7:46 AM. I remember thinking that I would be able to get to LAUS by about 8:00 AM if there wasn't any traffic. Instead, it took me about an hour to cover the remaining 14 miles!
I parked my minivan in the parking garage below the Metrolink structure, which is now also the parking area for the new LAX Fly-Away Shuttle service. This new service has been quite successful. Travelers can now either take a train to LAUS or drive and park in the garage at LAUS and take a direct shuttle to LAX airport for just a few dollars. I usually like to park on the lowest level of the garage as there are usually plenty of spaces there right by the elevators. Today I was only able to go as low as the 3rd level as the ramp leading to the lower levels was sealed off. I was able to find a spot pretty close to the elevators in a very tight spot at the end of a dead end parking row. No wonder nobody else took the spot! It did take a little bit of careful maneuvering to get in and I hope I don't have any problems pulling out when I get back on Monday evening.
After I took the elevator up to the main level of the station, the first person I passed was a security guard for the station. As I entered into the main area of the station, I saw another group of security personnel. Heading down the tunnel to the Amtrak side of the station I passed an additional group of security personnel. The station was crawling with more security personnel than I've ever seen at this station! This is probably because of the heightened security alert that has been implemented at all American and British airports today, especially for international travel. A plot to blow up several airliners flying from Britain to America by using explosives disguised in personal liquid carry-on items was foiled today. Because of this plot, airline passengers are not being allowed to carry any gels or liquids onto flights today and this restriction might continue to remain in place for quite some time. I assume the heightened security at this rail station today is just a precaution relating to the heightened state of security for transportation under these circumstances.
Here is an e-mail that I received from ATA airlines as an example of heightened security measures at airports today:

August 10, 2006 Dear Customer, This morning, the Secretary of the U.S. Department of Homeland Security has heightened the security level with immediate effect. In planning your travel, we strongly suggest you be prepared for several extra hours of wait time at airport security and even be prepared to check all carry-on bags. Please monitor the TSA website (www.tsa.gov), your airport website and the ATA website on a regular basis for the latest updates. Additionally, please be aware, due to this heightened security level no liquid or gel is permitted in sterile areas through screening check-points or to be in accessible property or on one's person, except: 1) Baby formula, breast-milk or juice if a baby or small child is traveling. 2) Prescription medicine with a name that matches the passenger's ticket. 3) Insulin and essential other non-prescription medicine. Restricted liquid and gels include beverages, shampoo, sun tan lotion, creams, toothpaste, hair gel and other items of similar consistency. We appreciate your understanding and look forward to seeing you onboard an ATA flight soon.
Amtrak has implemented another security measure that wasn't in place the last time I departed from LAUS. They are requiring that everyone check in at the Amtrak Guest Services desk and show an ID that matches the Amtrak tickets. They are also requiring that all baggage be tagged and the tags match the ID of the traveler. Usually, check-in before boarding is option and many passengers transferring from the northbound Amtrak Pacific Surfliner will just stay up on the platform without being required to come into the station to check-in. I don't know if that is being allowed today. Amtrak seems to be taking these security measures very seriously.
I was a little concerned when I went to check-in as I have a situation that is a little out of the usual, which isn't all that uncommon for me. I have learned from the past that you don't want to confront Amtrak staff with exceptions if there is any way to avoid that. In other words, you don't want to create a situation for an Amtrak staff member where they believe they are being confronted with a problem that needs special handling, or worse yet, leads them to believe that they are required to refuse your request.
I obtained these tickets using my Alaska Airlines Mileage Program rewards points. The only option the Alaska Airlines Rewards Program has for traveling in a Deluxe Bedroom on the Amtrak Coast Starlight is for two people. Alaska Airlines has a rewards points level for a Roomette (Economy Bedroom) for one person, but there isn't a difference in the number of rewards points needed between one or two people traveling in a Deluxe Bedroom. Rather than waste the "free" second spot and travel alone, I put down Ron Carpenter's name as he will often be able to take the trip with me, at least part of the way. He lives in the San Jose area and usually boards the Amtrak Coast Starlight once it reaches that station. We've done this a number of times before. Even though both of our tickets are booked round-trip from Los Angeles to Portland, I usually only display my ticket when I check-in at Los Angeles unless the Amtrak staff person doing the check=in has a manifest of the passengers. Then, I'd obviously have to explain why my traveling partner is missing. But, I don't want to go through this explanation process needlessly. Thus, when I was asked by the Amtrak staff person doing the check-in if I was traveling alone, I just said "Yes." I didn't want them asking about where the other person is and getting all confounded when I explained they wouldn't be boarding until San Jose! Answering questions like that the wrong way has gotten me into difficulties before on my Amtrak travels, and it is definitely an honest answer that I will be traveling alone ... at least out of Los Angeles! After I boarded the train and we were under way, I did let my Sleeping Car Attendant know that Ron would be boarding in San Jose. She wasn't sure whether to take his ticket now or later, but finally decided to just hang onto his ticket and make a note to herself on the manifest. If there was any question about how to handle this situation, I rather it be on the train after we are already underway than in the station where there is more opportunity for someone to question whether this is allowed. You never can tell what any particular Amtrak staff person might have for their own interpretation of Amtrak rules.
Lest anyone think that I'm trying to get around Amtrak rules, I am not. I just don't want to give Amtrak staff an opportunity to misinterpret rules to cause me great inconvenience and cost when presented with unusual situations, as has happened to me in the past. I do understand that Amtrak has had to change their policies drastically since 9/11 just as the airlines have. I totally comply with those new rules, even though those new rules have also been very inconvenient and costly. In the old days when TrainWeb would assign a correspondent to a story, something would sometimes come up at the last moment and we would just put a different correspondent on the train. It didn't matter whose name was on the ticket as long as you had a ticket. Those days are long gone and we've sometimes had to cancel Amtrak trips when it was too late to switch the name on a ticket, or one correspondent would have to go alone when two were planning to travel together on the same ticket and one couldn't make it. We often used to book an Economy Room for two passengers since the cost wasn't much more than booking the room for one passenger. We'd put our corespondents name as one of the passengers and his best guess as to who he'd like to take with him for the other. By the day of the trip, the correspondent would figure out who would be able to travel with him and they'd just board the train together. That can no longer be done. Both names need to be known on the day of the booking and that sometimes isn't possible. Thus, our correspondents will sometimes find themselves traveling alone on a trip booked for two.
Side Note: There are a couple of gals in yellow vests wandering around the station with a camera with a fish-eye lens on a tripod that is identical to the equipment that TrainWeb used to take virtual photos of many Amtrak stations and trains, including a very extensive virtual tour of this station! To see our virtual tours of trains and stations, see: www.360360.com (Note: If you have difficulty viewing the virtual photos, check to see if the website at www.ipix.com is up or not. If it is not up, then you won't be able to view the virtual photos unless you have previously installed the special plug-in viewer. When you attempt to view your very first virtual photo, you will be asked for permission to download a viewer plug-in from www.ipix.com. If you instead get an error and no virtual photo, then the www.ipix.com website is probably down. As of this writing, that website has been down for four days straight and we are getting a bit concerned. We will be giving the company a call soon to see what the problem might be.)
For the past several weeks, the Amtrak Coast Starlight has been running far behind schedule over much of its route, especially northbound trains north of Klamath Falls and southbound trains south of Chemult. The Union Pacific has seen a dramatic increase in their freight business and that is creating a great deal of congestion on the railroad all the way up the Pacific Coast. To compound the problem, a great deal of trackage in the northern sections of the route have been in need of maintenance for quite a while and the Union Pacific is performing a great deal of track maintenance in that area. Thus, the Amtrak Coast Starlight has often been experiencing delays between 6 and 11 hours. Amtrak has even issued a temporary Coast Starlight schedule to work around the UP track maintenance work. This is the schedule that applies to my train:
TRACKWORK ON THE COAST STARLIGHT, VERSION 2

FROM JULY 28 THROUGH AUGUST 28, 2006, UNION PACIFIC WILL BE REPLACING TIES BETWEEN KLAMATH FALLS AND CHEMULT, OREGON, IN AN EFFORT TO REDUCE NUMEROUS SLOW ORDERS ON THIS PART OF THE RAILROAD. THE WORK WILL TAKE PLACE IN THE MORNING TO AVOID THE HOTTEST PART OF THE DAY.

TRAIN 14 WILL DEPART LOS ANGELES AT ITS REGULAR TIME, 1015A (NOT THE EARLIER 930A TIME THAT HAS BEEN IN EFFECT FOR THE FIRST PHASE OF THE TRACKWORK), AND OPERATE AS SHOWN IN THE PUBLIC TIMETABLE THROUGH ARRIVAL IN KLAMATH FALLS. IT WILL THEN HOLD AT KLAMATH FALLS UNTIL 11:00 AM AND OPERATE AS FOLLOWS:

KFS DP 1100A
CMO DP 1215P
EUG DP D 319P
ALY DP D 405P
SLM DP D 438P
PDX AR 615P DP D 714P ..P62
VAN DP D 730P
KEL DP D 808P
CTL DP D 851P
OLW DP D 916P
TAC DP D 1005P
SEA AR 1139P D - DISCHARGE ONLY

NOTES:

1. IF TRAIN 14 IS LATE AT KFS THE HOLD TIME WILL BE REDUCED OR NONEXISTENT.
2. BUS 3014 WILL WAIT FOR THE TRAIN AS IT DOES NOW.
3. THE TIMES REVERT BACK TO WHAT IS IN THE TIMETABLE FOR ORIGIN DATES AUGUST 29 AND AFTER.

TIMES FOR THRUWAY BUSES 6114, 6214 AND 8914 HAVE BEEN ADJUSTED TO MATCH THE ABOVE CHANGES.
Thus, you can see my expected arrival time into Portland is 6:15 PM rather than the usual 3:40 PM, and that is only if there aren't additional delays. Amtrak called my cell phone about 6:30 AM this morning to warn me about the delays that are expected. At least they are trying to keep their customers informed.
I've heard that the lateness of this train over the past several weeks has killed ridership. You certainly wouldn't know that from the long lines of passengers waiting to board this train in Los Angeles! The Coach Passenger line stretched back as far as I could see from the boarding gates all the way to somewhere near the entrance at the front of the station. There were not as many Sleeping Car Passengers boarding, maybe just 20 or 30. This is just at the starting point for this train. Many more passengers will be boarding along the way. But, just looking at a gathering of boarding passengers can be decieving. The actual ridership numbers are what counts and a recent report indicates that ridership has been dropping steadily along with the worsening on-time performance of the Amtrak Coast Starlight.
2006-Aug-10 Thu 1100 AM PT Los Angeles CA (California - 45 minutes behind schedule)
The departure of the Amtrak Coast Starlight was delayed and didn't begin boarding until around 10:40 AM. The train finally departed from LAUS around 11:00 AM, 45 minutes after the scheduled departure time of 10:15 AM.
Irma, my Sleeping Car Attendant, came by the room and we had a short chat. Jose, the Parlour Car Attendant, announced over the P.A. that the Parlour Car was open and serving. He reminded everyone that a Continental Breakfast was available as well as a full bar including Bloody Marys, Beer, Chardonnay, etc. Jose also announced that there would be a Wine Tasting held at 4pm and that movies would be shown throughout the day in the theatre downstairs in the Parlour Car.
Elizabeth from the Dining Car came around to get lunch reservations starting with the last Sleeping Car, my car 1432. I selected 2 PM, the latest seating, as I wasn't sure I would want to have lunch in the Dining Car. The earliest reservations available were for 11:30 and they went about every 15 minutes through to 2 PM. By the time Elizabeth had taken reservations for all the Sleeping Car Passengers she had run out of 11:30 and 11:45 AM reservations. However, she did announce that if anyone in Coach had to eat earlier than Noon for medical reasons, to let her know. I'm sure she saved some spots just for that purpose. 11:30 AM and 11:45 AM lunch reservations were called in on-time. It still seemed so early in the day to me!
2006-Aug-10 Thu 1159 AM PT Simi Valley CA (37 minutes behind schedule)
The train overshot the Simi Vally station by a couple of car lengths and had to back up into the station. You don't see that too often!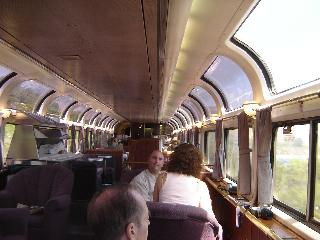 I went to the Pacific Parlour Car and purchased my customary Bloody Mary. There were some Amtrak luggage tags for sale that I'm not sure that I've seen before. Jose did a little salesmanship and got me to buy all 3 remaining luggage tags at $7 each! He also tried to get me to purchase a black Amtrak hat. Jose said the prices were going up soon. They are nice hats, but I already have a couple of them. They are very much like the TrainWeb.com black hats and the plain generic black baseball caps that I wear all the time. I like them because of their low profile. I don't think I look right in the taller baseball caps that are more like golfing hats. Jose and I definitely recognized each other. We just weren't sure when we last saw each other. I think it might have been on my most recent Amtrak Coast Starlight trip that I think was in April 2006.
2006-Aug-10 Thu 1239 PM PT Oxnard CA (56 minutes behind schedule)
It is now 12:55 PM and the train is now running right along the shoreline. I can see a lot of surfers hitting the waves as we travel up the coast.
Jose came by and I ordered a refill on my Bloody Mary. With Jose wonderful sales skills, he convinced me to purchase another Amtrak low profile black cap for $9.00, which he said was soon going up to $15. I figured I could put away my generic black cap while riding the train and put a little less wear and tear on it. Plus, the museum that will eventually be created to document Amtrak's history can always use contribution of more artifacts to which I'll be sure to donate my extra Amtrak caps.
2006-Aug-10 Thu 0133 PM PT Santa Barbara CA (45 minutes behind schedule)
Somewhere just a little north of here I'll be losing my connection to the internet for about an hour or so. Once we reach that sport, near Vandenberg Air Force Base, I won't be able to upload anything until the train almost reaches San Luis Obispo.
About 2:30 PM, I went to the Cafe Car and purchased a tuna sandwich that I brought back to my room. For those of you not familiar with my previous travelogues, I have not found anything in the Amtrak Dining Car that can tempt me away from having an Amtrak Tuna Sandwich for lunch! Even though as a Sleeping Car Passenger, I can have anything on the menu that I want from the Dining Car at no extra cost, I'd still rather purchase a tuna sandwich from the Cafe Car than waste my daily caloric allocation on something from the Dining Car that is not really what I desire. The tuna sandwich is only $4.50 in the Cafe Car and I left the remaining 50 cents as a tip for the Cafe Car Attendant. Oh, for those of you that are trying to figure out what others do for tipping on Amtrak, I left a $1.00 tip for each of the two Bloody Marys that I purchased earlier in the Pacific Parlour Car that were $5.00 each. I just assume that nobody leaves a tip for merchandise, such as the luggage tags and hat that I purchased, and thus I only left tips based on the alcoholic beverages that I purchased from the Parlour Car Attendant.
Even though I had made my lunch reservation in the Dining Car for the latest seating that was announced, 2:00 PM, it turned out that there were actually quite a few later seatings. I guess they only offered Sleeping Car Passengers from 11:30 AM until 2:00 PM figuring those were the most desirable lunch times, and then let the Coach Passengers take what was left over of those seatings plus gave them additional seating times of 2:15 PM, 2:30 PM and 2:45 PM. At 2:45 PM, they did a last call for anyone that had missed their lunch call or still wanted to eat but hadn't been able to get a reservation. Right after that at 3:00 PM, they started taking dinner reservations. Elizabeth from the Dining Car got to my room by 3:12 PM and I just told her that I would pass on making a dinner reservation. They always accommodate all of the Sleeping Car Passengers, but they often run out of available reservations when going through Coach. I figured I shouldn't hog up a reservation if I'm pretty sure I won't be eating in the Dining Car. My friend Ron Carpenter will be bringing Indian Food from my favorite Indian Restaurant in the Bay Area, "Spice Hut," if all goes well. Otherwise, I guess we'll be getting dinner from the Cafe Car!
Through my "even up, odd down" out the window for this trip. That is my rule of thumb to get a room with an ocean view on the Amtrak Coast Starlight. In the old days, you'd have about a 95% chance of being on the ocean view side of the train if you got an even numbered Economy Room (or any Deluxe Bedroom) when heading north, or an odd numbered Economy Room when heading south. The Sleeping Cars on this train are ALL arranged opposite to that such that ALL of the odd numbered rooms have the ocean view (and none of the Deluxe Rooms) on this northbound journey. Once upon a time, someone was very diligent about making sure the Sleeping Cars were almost always oriented the same way such that the even numbered rooms and Deluxe Rooms had the ocean view heading north and the odd numbered rooms had the ocean view going south. Not any more!
It is 3:22 PM and I think we have passed Grover Beach and the dead internet access area that runs through most of Vandenberg Air Force Base. Ken Ruben called my cell phone a short while ago, but the call was dropped as it was becoming more and more garbled while going through the remote desolate reaches of Vandenberg Air Force Base. Both the cell phone and internet connection seem to be live again, so I will upload the latest updates to this travelogue.
2006-Aug-10 Thu 0426 PM PT San Luis Obispo CA (43 minutes behind schedule)
Since the train arrived into San Luis Obispo right about the scheduled time of the wine tasting, the wine tasting was postponed until the train departed from San Luis Obispo. A couple from the Seattle area joined me for the wine tasting while I was working on this travelogue. This was there first train trip and they were enjoying the wine. Fortunately they were on their way home and were not under any pressure to get home at a specific hour. The wines were fairly good, all of which I had tasted before at previous wine tastings on the Amtrak Coast Starlight.
2006-Aug-10 Thu 0548 PM PT Paso Robles CA (1 hour and 3 minutes behind schedule)
Looks like someone missed making a dinner reservation! A passenger came up to the Lead Dining Car Attendant and mentioned that he never received a dinner reservation. He said he was in his room the entire time, but never heard anyone come to provide dinner reservations. The Attendant asked the passenger why he didn't come forward when she asked several times for passengers to come to her that had not received a dinner reservation. The passenger said he didn't think it applied to him since he was getting off in Salinas and wouldn't have time for dinner, but now that the train was late, he would like to have dinner. The Attendant said she normally does make reservations for passengers getting off in Salinas since the normal departure time from Salinas is 6:36 PM even if the train is on time. Since all the dinner reservations are all taken for this evening, the only solution the Attendant could offer the passenger was to have their Sleeping Car Attendant bring dinner to their room.
Another oddity was a woman and a child who brought the remainder of their dinner into the Parlour Car and asked the Attendant if they could finish their dinner there. She said another passenger at her table had been cursing up a storm and she didn't feel comfortable eating at the same table with that passenger. The Parlour Car Attendant wasn't happy with the situation, but he said they could finish their dinner in the Parlour Car. His real concern was that others not follow that example and start bringing their dinners to the Parlour Car as it is really not intended for that purpose.
2006-Aug-10 Thu 0756 PM PT Salinas CA (1 hour and 20 minutes behind schedule)
2006-Aug-10 Thu 0945 PM PT San Jose CA (1 hour and 6 minutes behind schedule)
Ron got on the train fine in San Jose with a whole banquet of Indian Food from Spice Hut! We had so much that we were able to share it with some of the Amtrak onboard service crew members. We talked for a while after dinner and didn't fall asleep until well after midnight.
2006-Aug-11 Fri ???? AM PT Redding CA
The first announcement by the Dining Car for breakfast was made at 8:00 AM PT even though they have been open and serving since 6:00 AM. However, they also announced that the Dining Car was already full and that passengers that wished to eat breakfast in the Dining Car should come down and put their names on the waiting list. The next announcement was that we would be arriving in Dunsmuir, CA (Mt. Shasta) at about 9:10 AM. The Conductor said that passengers could get off the train and stretch their legs, but that we will only be there about 7 or 8 minutes. He said we will be leaving Dunsmuir as soon as we are all done unloading and loading passengers and requested that all passengers that get off to stretch their legs or have a cigarette remain close to the train. If the Conductor's estimation of getting into Dunsmuir is accurate, that means we are running about 4 hours and 6 minutes behind schedule. It also means we won't get into Klamath Falls until about 12:31 PM. The normal schedule for this train has it departing from Klamath Falls at 6:25 AM, and the temporary schedule for Union Pacific trackwork would be having us hold at Klamath Falls until 11:00 AM. Since it will already be after 11:00 AM when we get to Klamath Falls, we should be allowed to continue without delay. If we don't get any further delays, we should get into Portland around 7:45 PM, about 90 minutes behind the modified scheduled arrival.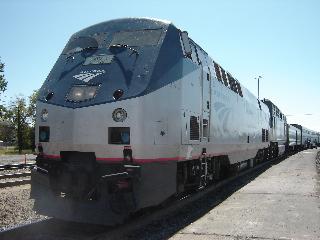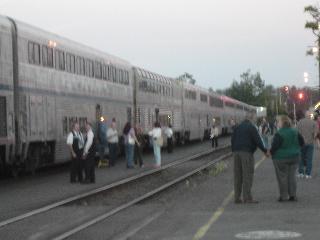 Amtrak Coast Starlight at Klamath Falls, Oregon
2006-Aug-11 Fri 0854 PM PT Eugene OR (8 hours and 10 minutes behind schedule)
Delays were expected, but I'm not sure I was expecting a delay quite this long.
When I am traveling with someone else, that pretty much occupies my time rather than documenting my journey. I'll be posting more, but there probably won't be a great amount of further details about my journey till my friend Ron gets off the train in San Jose on our way home.
2006-Aug-12 Sat 1205 AM PT Portland OR (8 hours and 25 minutes behind schedule)
One of Ron's friends was there to pick us up and take us to our hotel that was about 10 miles from the station. We checked into our two rooms and then Ron went off to spend some time with his friend. I had to get up early for the meeting in the morning, so I just went straight to bed so that I'd be relatively awake in the morning.
2006-Aug-12 Sat Portland OR (Oregon)
The reason I traveled to Portland, Oregon, was to attend the Northwest Regional Meeting of the American Adoption Congress. This meeting focused on factors of adoptees re-uniting with their birth families and the impact of the reunion on all involved. Since I am an adoptee that reunited with my birth family 3 years ago in 2003, I've been very interested in issues surround reunions between adoptees and birth families. If you are interested in my adoption and reunion story, you can read more details at: click here. If you yourself are an adoptee, a birth parent, an adoptive parent, or are considering adoption, it would be well worth your while to familiarize yourself with the information available at: www.AmericanAdoptionCongress.com. If you are an adoptee, you can communicate with other adoptees in a supportive environment online at: www.chosen-babies.com.
Ron has a couple of friends that live in the Portland area. Knowing that we both like to eat mostly vegetarian, they took us to a great place to eat in Portland called the "Laughing Planet Cafe." The food was fantastic there! I had the "Darth Nader Spinach & Black Bean" burrito prepared "Vegan Deluxe" style that I requested wrapped in a whole wheat tortilla at no extra charge. Stuffed in the burrito was fresh steamed spinach, black beans, organic brown rice and pico de galio. The "Vegan Deluxe" option substitutes vegan sour cream & guacamole for the Tillamook jack cheese that is normally included in the burrito. We also got Black Bean Hummus with tortilla chips for the table. We all shared a little of what each other ordered, but I can't remember everything that we had. Everything was excellent! I am so envious of not having vegetarian restaurants in Orange County that have food as delicious as this! It is days like this that I'm really tempted to move to Portland. The "Laughing Planet Cafe" has three locations in Portland and one in Eugene, Oregon.
2006-Aug-13 Sun 1045 AM PT Portland OR (Still In My Hotel)
I just went to www.amtrak.com to check on the status of my southbound Amtrak Coast Starlight Train #11 and the delays have already started! The train was scheduled to leave from Seattle, Washington, at 9:45 AM PT this morning. Amtrak is now estimating a departure time of 11:05 AM, 1 hour and 20 minutes behind schedule. I checked on the arrival time of this train into Seattle last night and it only arrived about 3 hours late (according to the temporary schedule in effect), around 3 AM in the morning. I would have thought with such a short tardiness compared to the frequent 6 or more hour delays the Starlight has been experiencing, that Amtrak could have turned this train around in 6 hours and had it ready to leave Seattle on schedule.
Currently, Amtrak is estimating that my train won't arrive into Portland until 2:47 PM PT instead of the scheduled 1:50 PM, 57 minutes behind schedule. So, between schedule padding and expecting the train to make up a little time, Amtrak is not expecting the train to remain well over an hour behind schedule. I guess we'll have to see. The first step would be for me to check back shortly after 11:05 AM to see if the Coast Starlight does even depart at the time Amtrak is currently estimating.
For those of you that have been following along on the progress of my trip, I have posted additional photos from my northbound train journey. You can view them by clicking here.
2006-Aug-13 Sun 1108 AM PT Portland OR (Still In My Hotel)
It is time to check out of my hotel room and head out to get some lunch. Amtrak has not updated the departure status of my train yet, so I don't know if it has departed at 11:05 AM as estimated or if it is getting further behind schedule. I'll probably check again soon by calling 1-800-USA-RAIL for a status update.
2006-Aug-13 Sun 1145 AM PT Beaverton OR Swagat Indian Restaurant
I think I'm in heaven but I'm really just at the Swagat Indian Restaurant! This Swagat Restaurant is located at 4325 S.W. 109th Ave. in Beaverton, Oregon 97005, (503)626-3000. There are three Swagat Indian Restaurants within the Portland and surroundings area. I normally go to the one that is about 10 blocks from the Amtrak Station on Lovejoy, which is another excellent Indian Restaurant. Since I had access to a car on this trip, I wanted to try one of the other Swagart Indian Restaurants and this was the nearest one to the hotel. It was actually in an old house that had been converted to the restaurant. The setting was excellent and the food was exquisite! I would not say that the food was excessively spicy. It was very very flavorful with Indian spices, but it didn't burn my mouth. It is possible that it might still have too much spice for those more used to bland food, but would not be considered that spicy by those that like food that is spicy hot. For more information on Indian Restaurants across the nation that I have tried, see: www.IndianRestaurants.US.
2006-Aug-13 Sun 0240 PM PT Portland OR (In the Amtrak Metropolitan Lounge in Portland Union Stations)
Amtrak is now estimating the Southbound Amtrak Coast Starlight to arrive into Portland at 3:50 PM about 10 minutes from now, running just about one hour late. Ron and I are sitting in the computer work area of the Metropolitan Lounge. There aren't any computers here anymore; just some table space and electric outlets so that you can use your notebook computer. There doesn't seem to be any wired or wireless internet service provided my Amtrak. The computer network card is detecting quite a few wireless network signals, but almost all of them are locked. Several offices throughout Union Station are leased out to private tenants and I wouldn't doubt that a number of them may be a source of these locked wireless signals. There are also apartments and condos across the tracks that could be a source of these signals. In any case, they all seem to be useless to me. Once again, I'm happy that I have my high-speed Verizon Wide Area Network Service as that seems to work almost everywhere, including there!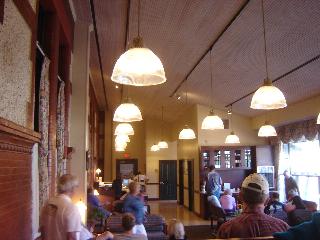 Amtrak Metropolitan Lounge in Portland Union Station where Sleeping Car Passengers for the Amtrak Coast Starlight and Amtrak Empire Builder wait for their trains.
At first I was a little concerned that the power outlet strip on the worktable wasn't surge protected. It probably is just a plain power strip, but it turned out that my concern was irrelevant since there was no power coming to it anyway! Fortunately, the battery in my notebook lasts for 4 hours and then I have two additional charged spare batteries to keep my computer going for up to 12 hours without a live AC source! That has sometimes come in very useful when I've been waiting in a station for a train that was many hours late, or when I've ended up in a train car that had temporary power outages for extended periods. That is rare, but non unheard of. As a matter of fact, due to some technical difficulty, I believe that right now there is no power at any passenger seats on the Amtrak Acela trains. That is a technical problem they are currently trying to get resolved.
2006-Aug-13 Sun 0442 PM PT Salem OR
We departed Portland at 3:30 PM PT, 1 hour and 40 minutes behind schedule. Because of the late arrival time into Seattle last night, they did not bother to turn the train consist around. They just attached the engines, baggage car and crew dorm to the south end of the train and headed out. The Sleeping Cars are normally at the head end of the train, but because the consist wasn't turned around, the Sleeping Cars are now at the tail end of the train. There is no Pacific Parlour Car in this trainset, so the Dining Car is directly connected to the Sleeping Cars with no intervening car.
As soon as we boarded our car, I saw Garrett in the alcove. Recognizing each other immediately made for a warm greeting as we shook hands. It had been a while since I saw Garrett. He is the Pacific Parlour Car Attendant on this train. His job has been made a bit more difficult by the absence of there actually being a Parlour Car on this train! As he momentarily stepped off the train, he mentioned that the Wine Tasting will be in the Dining Car as soon as we leave Portland. As soon as Ron and I had dropped off our bags in Deluxe Room C of the 1131 Sleeping Car, we headed down to the Dining Car to wait for the start of the Wine Tasting. The Dining Car crew didn't seem to want us to wait in there for the start of the Wine Tasting, so we continued on to the Sightseer Lounge Car and waited there.
This train was originally supposed to depart from Eugene, Oregon, at 5:10 PM. We probably left Eugene around 7:00 PM and are thus still about 1 hour 40 minutes to 2 hours behind schedule.
As soon as the train departed Portland, Ron and I went into the Dining Car for the Wine Tasting. Garrett was talking to a couple at one of the tables and mentioned that he was from "Bean Town," the nickname for Boston, Massachusetts. Ron immediately piped up that we are both from Boston, Massachusetts. I grew up in Malden, Massachusetts, just 5 miles north of Boston and didn't move out of the area until the end of 1979. Ron grew up in Rockville, Massachusetts, and didn't move to the Bay Area of California until 1978. Garrett just about thought we were joking, but we started talking about various towns around Boston and he could tell that we were well familiar with the area.
Garrett and I have known each other for quite a few years. He helped TrainWeb.com a number of years ago to do a special feature on the Pacific Parlour Car. He set up several tables in the Parlour Car a few hours before the Amtrak Coast Starlight was scheduled to depart Los Angeles. We boarded the train early in the morning and created a 360x360 virtual tour of the interior of the Pacific Parlour Car before any of the passengers boarded the train. You can see that virtual tour at: www.360360.com/trains/slparlc.html
While we were in the Dining Car, we took a peek at the dinner menu. I couldn't believe it! It was the same lousy Simplified Dining Service Menu that I had to deal with for 5 days in a row on a cross country trip I took on Amtrak earlier this year! (For more information about Amtrak's new Simplified Dining Service (SDS) see: www.trainweb.com/sds.
When I traveled across the nation earlier this year from Portland, Maine to Portland, Oregon and then down to Los Angeles on Amtrak, they had the same menu for every day that I was on the train, even though I traveled on 3 separate trains! I don't eat red meat and have never liked eating anything with bones including chicken on the bone and fish. However, after learning of the health benefits of salmon, I did manage to re-educate my taste to enjoy eating salmon. Salmon is pretty much served boneless and doesn't have a strong fishy taste anyway. But, there wasn't any salmon on the menu that I had to live with on Amtrak for five straight days in a row. All that was on the menu were two red meat items, a daily special that was another red meat item, a catfish, chicken on the bone, and a pasta dish. After eating pasta for dinner for two days in a row, that got pretty boring. As I've mentioned before, I really like the tuna sandwiches on Amtrak. So, for the rest of my trip, I pretty much just purchased tuna sandwiches from the Cafe Car for the rest of my trip, sometimes even having one for lunch and one for dinner.
I don't know why, but on the trip north, I had assumed Amtrak was still using the same boring menu that had followed me all the way across the country for five days. That is why I was so pleased that my friend Ron was able to bring Indian food onto the train for my dinner when he boarded the train in San Jose during my trip north. The following day, when I did get a chance to look at the menu, I almost kicked myself when I saw that they did have Salmon on the menu as well as a great vegetarian grilled vegetable offering for dinner! That Friday on the trip north, we did eat in the Dining Car and have the salmon for dinner.
While Ron and I were having lunch at Swagat today, I mention to Ron that it was almost too bad that the Amtrak Coast Starlight had gone back to such a good menu or else I'd be tempted to get take-out from Swagat and bring it onto the train with us. How disappointed I was to find they had gone back to the lousy menu with no salmon and no grilled vegetables. There was the pasta staring me in the face again, but at least they had also added a Buffalo Chicken Pizza to the menu.
Ron and I went down to the Cafe Car to see if they had any tuna sandwiches. If I couldn't have salmon or grilled vegetables for dinner, and didn't bring any take-out from Swagat on-board, at least I could enjoy the Cafe Car Tuna Sandwich that I really loved. They did have the tuna sandwich on their menu, but they were already sold out of them! Actually, the Cafe Car Attendant said they were already sold out of ALL their sandwiches and wouldn't be restocking until Oakland the next day! Thus, I was out of luck if I expected to have a tuna sandwich for dinner today.
Ron purchased a few single serving bottles of white zinfandel in the Cafe Car as they didn't have any of the larger bottles. Those bottles ended up lasting him through the rest of the trip. As we were heading back through the Dining Car to our room, Garrett asked Ron why he didn't purchase one of the bottles of wine from the wine tasting. You do get a lot more wine when you buy it at the Parlour Car Wine Tasting than if you buy any size bottle in the Cafe Car. I explained to Garrett that Ron really only likes sweet wine like white zinfandel. However, I did want some red wine for the rest of the trip. Garrett asked me if I would like to purchase a bottle of the Parker Station Pinot Noir 2005. I was a bit surprised as that wasn't any of the wines that we tasted during the wine tasting and I asked him about that. Garrett said that wine would be in tomorrow's wine tasting, but I could purchase a bottle for today. So that is what I did! A bottle was $14 which is the retail price of that wine at many wine discounters. I have had the Parker Station Pinot Noir 2004 before and enjoyed it. It is a little early for drinking wines bottled in 2005, but I have had a few 2005 Pinot Noirs and so far every one that I have tried has been quite good. 2004 was a banner year for Pinot Noir and 2005 is already starting to look like another excellent year. A little bit of aging will probably help even more. For more information on this wine, click here.
The Buffalo Chicken Pizza wasn't really what I wanted for dinner, but there is no way that I could order the pasta on the train again that tastes like it was poured and heated right out of a can. I have had the Buffalo Chicken Pizza before and it is actually quite good. It is something I'd rather have for lunch than dinner, but it was better than nothing. So, that is what I ordered for dinner.
I can only guess that they brought me the wrong pizza when my order came. It had pepperoni all over it! I've had the Buffalo Chicken Pizza on the train before and it has spicy BBQ chicken on it. The pepperoni pizza is offered on the Kids Menu and the Lunch Menu, but not on the Dinner Menu. The Buffalo Chicken Pizza is offered on the Dinner Menu, but they brought me the Pepperoni Pizza by mistake. I'm a pretty slow eater and am always the last to finish. So, I didn't want them to start making my food all over again. I'd just be starting eating when everyone else is ready to get up and leave the table! So, I just ripped off all the pepperoni and placed them on my bread plate. I sure was sorry that I hadn't ordered take out at Swagart and brought it on the train with me. I'd be in food heaven again!
2006-Aug-14 Mon 1036 AM PT North of Sacramento CA
We haven't quite arrived into Sacramento yet, but it shouldn't be too long from now.
I'm doing a bit of a balancing act adjusting the priorities of what I should be working on right now. My friend Ron is sleeping, so that gives me a bit of a chance to work on my computer. Usually, whenever I travel with someone else, we both bring our own computers along. So, there will often be times when both people want to get a bit of work done on their computers and it doesn't seem like we are ignoring each other if we converse in the background while working on our individual computer tasks. For some reason, Ron didn't bring a computer along this time. But, he did borrow mine quite a few times to check and respond to his e-mail. Thus, whenever either of us was working on the computer, the other would have to find something else to do with their time alone. If you've ever tried to converse with someone while they were working on a computer, you are probably familiar with how it doesn't feel like they are all there (as I'm sure they are not). Somehow, it isn't as noticeable if both people are working on their own computers at the same time and conversing at the same time. Anyway, while Ron is sleeping and I have the opportunity to focus 100% on my computer work without trying to multi-task a conversation in at the same time, I want to take advantage of that. Also, since we are getting closer to Sacramento, the Verizon Wide Area Internet Access signal is very strong. I decided this would be my best opportunity to upload the next set of photographs while the bandwidth was excellent. Since the photographs are the largest size files associated with a travelogue, it can sometimes be difficult or very slow to upload them in areas where the signal is weak. It only takes me a few seconds to upload an update to the text of the travelogue, but it can take several minutes to upload a set of photos. Click here to view the latest set of photographs that I just uploaded.
2006-Aug-14 Mon 1230 PM PT Sacramento CA (Just Departed - 6 hours behind schedule!)
Forget about my above comment that we should be into Sacramento just about any minute. We didn't arrive into Sacramento until about 11:45 AM and then didn't depart until 12:30 PM on the dot. To be exact, we are now running 5 hours and 55 minutes behind schedule. Somewhere less than an hour north of Sacramento we slowed to a crawl that seemed to be between 10 and 20 MPH most of the time. Thus, we took a lot longer than I expected to arrive into Sacramento.
2006-Aug-14 Mon 0234 PM PT On The Way To Emeryville CA
The train hasn't quite gotten to Emeryville yet. Ron and I just came back from our 1:30 PM lunch reservation. I was going to wait for them to restock the tuna sandwiches in Oakland, but it has gotten so late it looks they won't have the restocked sandwiches available until well after 4 PM, almost in time for dinner! So, I decided to join Ron in the Dining Car and get a Gardenburger for lunch. Once upon a time, I used to even like the Garden Burgers from the Cafe Car rather than the ones from the Dining Car. They used to have the "dark meat" Garden Burgers in the Cafe Car that looked and tasted more like real hamburgers, while in the Dining Car they always had the Garden Burgers that were light in color and looked more like Turkey Burgers. Now both the Cafe Car and Dining Car serve the same light colored Garden Burgers. They are OK, but they don't taste (or look) anywhere as tempting as the dark colored Garden Burgers. Ron ordered his Garden Burger with a slice of cheese and I ordered mine without the cheese. The Garden Burgers come with potato chips and a pickle. I don't eat potato chips, but Ron was happy to take those off my plate. In exchange, he gave me his pickle spear. So, that was our lunch!
Since Ron was getting off the train in San Jose and wouldn't be around for dinner, he really wanted the Bunt cake for desert. Unfortunately, they had run out of deserts and weren't serving any deserts with lunch. The Dining Car Attendant said they'd be restocking the deserts in Oakland (along with the tuna sandwiches for the Cafe Car). Ron asked if he could come back to the Dining Car after Oakland and get a piece of Bunt cake. The Dining Car Attendant said he would not be able to do that. He said if it isn't offered on the menu, then they can't do that. I didn't totally understand that reply. It sounds like the Dining Car Attendant would have been willing to bring a piece of Bunt cake if they had it. He seemed to be implying that desert is not normally offered as part of lunch and thus the Dining Car did not owe the desert to the passengers. However, the Dining Car Attendant was willing to bring a glass of milk for Ron in addition to his lunch beverage at no extra charge and Ron had him bring that glass of milk. So, I guess the "Got Milk" but no desert to go with it!
2006-Aug-14 Mon 0339 PM PT Oakland CA (Just departing 6 hours and 49 minutes behind schedule)
As soon as the train departed from Oakland, the wine tasting was held in the Dining Car. I didn't bother to attend this time as I already had much of the bottle left over that I purchased yesterday. I also wanted to get a little more work done today and it's often a little difficult to get work done after going to the wine tasting. However, I did purchase an additional two bottles of the Parker Station Pinot Noir 2005 to take home with me at a good price. The retail price of this wine is around $14 per bottle with some wine clubs offering it for $11.20, but I purchased each bottle for less than that.
2006-Aug-14 Mon 0541 PM PT San Jose CA (Just departing 7 hours and 34 minutes behind schedule)
Ron got off the train at the San Jose Amtrak Station which is the closest station to his home in the Bay Area. A couple of gals that he is friends with met us at the train and brought me a huge take-out order of Indian food from Spice Hut! I certainly wasn't going to have a problem figuring out what to have for dinner on the train this evening!
A few people called or e-mailed me concerned that I might be bused from Santa Barbara to Los Angeles because of the tunnel work going on in Simi Valley. I thought that work had been completed months ago, but guess I was mistaken. One of the Amtrak crew members said that there is no work on the tunnels Sundays and Mondays. I think I remember once reading about that. I hope that is accurate as I certainly would rather not be bussed from Santa Barbara to Los Angeles.
2006-Aug-14 Mon 0712 PM PT Salinas CA (7 hours and 24 minutes behind schedule)
2006-Aug-14 Mon 0940 PM PT Paso Robles CA (8 hours and 2 minutes behind schedule)
2006-Aug-14 Mon 1119 PM PT San Luis Obispo CA (7 hours and 59 minutes behind schedule)
2006-Aug-15 Tue 0354 AM PT Van Nuys CA (7 hours and 44 minutes behind schedule)
2006-Aug-15 Tue 0424 AM PT Los Angeles CA (7 hours and 24 minutes behind schedule)
I went to sleep on the train at about 10:30 PM yesterday evening. At San Luis Obispo, I woke up for a few minutes and marked the the time down as we departed from the station. The GPS was still plugged in tracking our journey towards Los Angeles. Anytime that I might way during the night, I could take a quick peek at the GPS and see how many more hours and miles the train still had to go before reaching Los Angeles. The Conductor announced our arrival into the Van Nuys Metrolink Station over the P.A. system at about 3:54 AM. That woke me up as well as most of the rest of the passengers on the train, I'm sure. I put away the GPS and a few other items I still had out, put on my socks and shoes, and was ready to go! The Car Attendant came through the car quickly stripping all off all the sheets and pillow cases in each room.
When we got into the station, I carried my very heavy suitcase downstairs in one hand and my bag of left over Indian food in the other. Once on the platform, I was able to wheel my suitcase down the platform, down the ramp, and through the tunnel to the Metrolink side of the building. That is where is I head off to the right to take the elevator down in the parking structure. Parking is only $5 per day in that structure and my total came to $30 for the 6 days my car was in the garage.
I only noticed two other passengers that went from the train to the garage. Everyone else turned right to go to the main lobby of Union Station where they would either be transferring to go further south by Amtrak or finding other ground transportation. Later I found out that Amtrak has not been providing the usual motor coach transportation for these extremely late trains, but instead having them transfer to the first southbound Amtrak Pacific Surfliner that departs on weekdays at 6:05 AM from Los Angeles. I am really glad I drove my car to Los Angeles this time! I was home and in bed by 5:30 AM and sound asleep by the time that southbound train left Los Angeles! I got a couple more hours sleep and was just getting up to go to work at about the time I would have gotten home had I tried to take the connecting train home instead of driving my car home.
Some Closing Comments:
My gut feel is that this trip may be the end of an era for me. You have probably noticed that over the years more and more of the travelogues posted at TrainWeb are from our other rail travel correspondents, especially Chris Guenzler, Carl Morrison, Richard Elgenson, Fred Dunn and a number of others. Although I still have been traveling quite a bit by rail compared to most people, the number of days that I spend on the rails has dropped dramatically in recent years. It is very probable that the amount of time that I spend on the rails will continue to drop as time goes on. For one of the few times I can remember in the last ten years, I have absolutely no future rail travel plans at this time. Normally, I have a reservation for some rail trip in the future, even if it is for many months from now. I don't have any now and I don't see any trips that I plan to take on any specific dates in the future by rail.
The priorities in my life have shifted quite a bit in recent time. Despite my enjoyment of rail travel, I've never enjoyed being away from my wife for days at a time or being away from my children for days at a time when they were smaller. When I first started traveling by rail, I tried to include all of them in my travels, but they just didn't have the passion for rail travel that I had. Traveling by train got old for them real fast. Thus, I was pretty much left to take most of my trips by myself or with a friend that would enjoy the rail trip. While the Amtrak travel itself was almost always enjoyable, I very much missed being away from my wife (and my children before they became adults and pretty much have lives of their own).
In the last few years, I have probably been traveling more than I ever have in my entire life. But, most of my travel now is by plane and by car. I have a very large family on the east coast in New England and Florida. When I set aside time away from work to visit them, I want to spend as much time with them as I can rather than on the train trying back and forth across the entire nation by train. At first, I reduced my travels to one way by plane and one way by train. But many of my trips have been just round trip by plane and all my future plans currently look like round trip by plane. Even the recent trip that my wife and I took one way by train up to Shell Beach we both decided would be better to do by car in the future for various reasons.
There is one route that I probably will continue to do by train from time to time. Some of you may already know that our affiliated party supply company, TrainParty.com is moving to La Plata, Missouri, before the end of this month. Basically, everything related to TrainWeb.com will be moving along with TrainParty to La Plata, Missouri, except for me. I'll be staying right here in California, though the office of TrainWeb will eventually close and I'll work out of my home. It is very likely that my wife and I will be visiting the new TrainWeb / TrainParty office in La Plata from time to time. It is possible to just hop on the Amtrak Southwest Chief in Fullerton and take it directly to La Plata, Missouri, without changing trains at all! If we were to do that, we'd board the train in the evening, travel all the next day on the train, and then arrive into La Plata the morning after that. When you consider the difficulties of trying to get to La Plata by plane, it might be worth doing that trip by Amtrak. So, there is a possibility that I might continue to make those trips by train from time to time, especially if my wife is willing to make those trips with me. Otherwise, it might be plane travel even to La Plata, Missouri!
The domain name TrainWeb.com has been around since December 6, 1996, almost ten years ago. Our train themed website started about a year before that, but we didn't move it to its own dedicated website until December of 1996. Thus, we pretty much consider that date to be the birth date of TrainWeb. Over the years we received many phone calls from parents trying to locate train themed party supplies to have a birthday party for their child that was into trains. We thought any party store or large department store should have what they were looking for and recommended they try Party America or Wal-Mart. But, they always insisted they had already looked everywhere. They said the selection was either too limited at those places, or the stores didn't have enough of each item, or they had encountered both problems. So, in 2003, we decided to try to offer a few train themed party supply items. For that purpose, we obtained the domain name TrainParty.com on February 7, 2003. We started getting about 3 or 4 orders per day even though we only had a few items to offer. Progress was slow at first. Little by little we built up the website, obtained a much better presence in the search engines, started doing some online advertising, and used a few other methods of letting the online community know what we had to offer. At the same time, we expanded the number of train themed party items that we offered from just a handful to well over 500 different items!
By early 2005, we were shipping so many orders that our small office over the Amtrak Ticket Office in the Fullerton Santa Fe Depot could no longer hold our entire inventory. UPS, FedEx, and even our own staff were not very happy with having to carry so many boxes up and down the long stairway to our office every day! We had already exceeded our office space and were using rented storage units to hold our backlog of inventory. We found a new facility just 3 blocks from our office at the Fullerton Amtrak Station and were moved into it by July 2005. The new facility was several times larger than our old office and had a truck loading area and a storefront. By July of 2006, we were averaging more than 50 orders per day and our annual gross sales were ten times greater than the prior year. In addition to the large number of retail orders that we get every day, we have started to get quite a few orders from other stores purchasing at wholesale price levels from us. Later this year we expect to begin manufacturing our own train theme party supplies. That will expand the diversity of available train themed items as well as allow us to sell more profitably at the wholesale level to other retailers. After being in this facility for just one year, we once again find that we are overflowing our available space! Again we have grown so fast that we have had to rent storage units to handle our overflow.
After doing a bit of analysis, we realized we could save tens of thousands of dollars each year on shipping costs and get our merchandise delivered faster to most of our customers across the nation if we shipped from a more centralized location in the nation. More information about why we selected La Plata, Missouri, can be found by clicking here. We purchased a building directly across the tracks from the Amtrak Station in La Plata, Missouri. It is a building that used to be owned by the Santa Fe Railway before they gave it to the town. That building is quite a bit bigger than our current facility and there is quite a bit of property that goes with it for when we need to expand further. We hope to move the illuminated TrainParty.com sign from our current office to our new building and have it face the railroad tracks. If you ever take the Amtrak Southwest Chief, you will then be able to see our sign out the window of the train opposite from the station! We also plan to set up new webcams from that location that should have a great view of all the rail traffic on those tracks.
Most of our office is already packed up and the first shipment of our inventory is already on the way. The remainder of the items to be moved will leave Fullerton about a week or so from now. As I mentioned above, my two partners will be moving to Missouri, but I will remain in California and continue to maintain the TrainWeb.com website from home.
So, those are some major changes for TrainWeb.com and TrainParty.com ! (1) Rather than see a lot more travelogues posted by me, you are more likely to see more travel reports written by all the other TrainWeb correspondents that are kind enough to donate their time so that we can all enjoy their rail travel experiences. (2) The offices of TrainWeb / TrainParty are moving out of California for the first time in the ten year history of our company and will no longer have a place you can drop-in in California. However, if you happen to be in La Plata, Missouri, you are certainly welcome and encouraged to drop in and say hello! If you want to visit with me, you are always welcome to drop in on the monthly meeting of the Rail Travel Meetup Group in Fullerton, California (see: www.trainweb.org/rtmeetup). I'm at every meeting unless I happen to be out of town that week.
Northbound Amtrak Coast Starlight:

1432 Sleeping Car Attendant: Irma Felton
Pacific Parlour Car Attendant: Jose
Cafe Car Attendant: Heather
Dining Car Attendant: Elizabeth
Southbound Amtrak Coast Starlight:

1431 Sleeping Car
Pacific Parlour Car Attendant: Garrett Nelson

Click on each link below to view additional photos from this Amtrak journey:
Set #1 / Set #2 / Set #3 / Set #4

CLICK HERE
To Read More Rail Travelogues
And View More Photos Of Rail Travel!

Are you interested in rail travel along some or all of this journey yourself? There are very few travel agents that have the necessary knowledge and experience of rail travel to answer your questions and to book a journey that you will remember for a lifetime. TrainWeb has sought out those travel agencies and rail tourism companies that not only have the knowledge to book your travel, but have gained the required experience through extensive rail travel themselves! Click here for a list of these rail travel providers!

Visit our Rail Magazine promotion trading partners:

Click here to add your print rail magazine.