Amtrak Travelogue Part 2 of 4
Amtrak Empire Builder : August 12 - 14, 2002
Portland, Oregon to Chicago, Illinois
http://www.trainweb.com/travelogues/stevegrande/2002h12a.html

Monday, August 12, 2002
We had to get up at 3:45 A.M. so that we had time to get ready and then walk down to the MAX light rail stop before 4:50 A.M. That train got us to the airport at 5:35 A.M., just about an hour before my wife's 6:30 A.M. flight. After seeing my wife off, I decided to cover the rest of the Portland rail system that I did not get a chance to cover when I was here for the Amtrak Historical Society conference. I took the MAX blue line all the way out to Hillsboro and back. Then, I took the southern loop of the Portland Streetcar until it returned to the stop nearest my hotel. That was all of Portland's transit rail system that I hadn't covered before! Now I have a bit of an idea of what is located right along all the transit rail lines in Portland and a little better idea of how to get around.
At noon, my daughter and I checked out of the hotel and took the Portland Streetcar to the Amtrak station. We went to the Metropolitan Lounge in the Portland Station and left all of our luggage there. In the few hours remaining before the departure of our train, we managed to have lunch and make one more trip to both Powell's Bookstore and the mall! On the way back, we got off the MAX at the Chinatown stop. The Amtrak Station is actually just past the north side of Chinatown and the MAX station is at the east side of Chinatown. Thus, we just had to walk a few blocks through Chinatown to get from the MAX stop to the Amtrak station. While walking through Chinatown, we saw a few interesting shops and stopped into one of them.
We arrived at the Amtrak Station with plenty of time to spare. We spent our time relaxing in the Portland Station Metropolitan Lounge, probably the finest one in the nation! It only serves four trains each day, so it never gets as crowded as most of the others in the east. The boarding call for our 4:40 P.M. eastbound Amtrak Empire Builder came at 4:15 P.M. We gathered up our stuff and boarded our Sleeping Car!
I have traveled along both the north and the south side of the Columbia Gorge by Amtrak before. However, I think this is the first time I have traveled along the north side of the gorge during daylight. I've taken the Amtrak Pioneer a couple of times before it was cancelled back in 1997. The Amtrak Pioneer went from Chicago to Denver and then to Portland and Seattle. It traveled for hundreds of miles along the south side of the Columbia River Gorge. That is when I first saw the gorge and got my first impressions of it.
Later, I traveled along the north side of the gorge, but by accident. I was supposed to leave out of Seattle on the Amtrak Empire Builder. But, there were avalanche problems during a winter in the state of Washington. Thus, I had to take the Amtrak Cascades train from Seattle down to Portland where the entire combined trainset was waiting to be boarded. That was during the winter and I'm pretty sure I traveled along the north side of the gorge during the dark.
This was my first trip along the north side of the gorge during daylight. Because of the long summer daylight hours, especially at this northern latitude, I was able to view the Columbia River Gorge for most of our travel along it. The scenery was splendid! Unfortunately, it was on the side opposite our Deluxe Sleeping Room accommodations. So, I had to pull aside the door curtain and watch it from across the hallway. But, at least it is possible to see the scenery on both sides of the train from the Deluxe Rooms. If I was in a Standard Room on the wrong side of the train, I might not have had the opportunity to see the Columbia River Gorge from my room. I may have had to forgo the comfort of the room and spend the hours in the Sightseer Lounge Car in order to see the gorge. I wasn't able to get too many photos along the way due to the glass and the angle, but I did enjoy the scenery with my own two eyes!
Tuesday, August 13, 2002
And now for some political commentary... So far, the new Amtrak President David Gunn, has my support 100% ! The previous Amtrak administration was ready to let the long distance trains die, including the Amtrak Empire Builder. Amtrak President David Gunn has said that he doesn't particularly like the "Acela" brand name, especially the way it is being applied to many trains other than the new Washington - New York - Boston high speed train. Many of us were surprised when we saw that the Acela name was being applied to trains other than the new high-speed trainset. We saw that as only creating a lot of confusion. When someone says "I rode the Acela", then you assume they rode in the new highspeed Amtrak trainset. You don't assume that they just rode in a renamed northeast regional train composed of older cars that have been repainted.
However, there was a political agenda behind the Acela "brand". I believe the goal was to drop all the Amtrak trains and the Amtrak name if congress didn't come up with enough money to fund the entire system. Thus, a new name, "Acela" was starting to be applied to not just the Amtrak highspeed trainset, but to every route that Amtrak wanted to keep if they had to drop the long-distance trains. "Acela" would survive while the "Amtrak" name faded into history. Thus, a new logo, a new brand name, a new color scheme, and new names for all the routes that were to be kept as "Acela Regionals" instead of the old Amtrak names.
The new Amtrak President David Gunn has said that he would like to see the "Acela" brand name eventually applied to just the new high speed trains. That makes sense to me and would put an end to this confusion. To me, the Acela is synonymous with the high speed trainset. It has nothing to do with any other routes or trainsets. Symbolically, and along with other statements made by Amtrak President David Gunn, it is clear that he is committed to seeing the entire national system survive. He does not want to segregate out certain routes with their own brand name and sacrifice the rest of the system. Either congress will provide the funds for the entire system, or the entire system will go under, not just the long distance trains.
That is the end of my political tirade for this travelogue.
The scenery was great during the morning. There were a lot of mountains, rivers and forests. I saw the Izaak Walton Inn from the train when we stopped there, but was not able to get a good camera shot of it. The afternoon became mostly green rolling plains. Hundreds of miles of that is very calming, but it certainly does not glue me to the window. I was able to catch up with a lot of computer work while I watched the relaxing scenery roll by in the background.
Now that Amtrak has gone to a standardized national menu, I knew that the only item that I would want on it was the Penne Pasta. However, I was very surprised to find how spicy it was! When I had the exact same dish on the Amtrak Coast Starlight, I was sorry that I didn't remember to ask for some ground hot pepper. This time, it was spicier than I would ever make it except by mistake! I thought it was great and just about licked my plate clean. But, I would be surprised if there weren't a number of patrons in the Dining Car complaining that it was too spicy for them to eat. (Later, when I was on the Amtrak California Zephyr, I discovered that the Penne Pasta topped with a "fire-roasted pepper sauce." Looking back, I see that it does say that on the menu. However, it was relatively bland on the Amtrak Coast Starlight and I wished that I had asked for some ground red pepper to go with my meal. On the Amtrak Empire Builder, I would not have been able to eat it if it had any more spice in it, and I'm quite used to spicy food with all the Indian food that I eat! I guess this is one of the last areas that each Amtrak Chef still has some room for creativity with the new nationally standardized menu. Lest anyone doubt that the menu has been standardized, the menus were identical on this trip for the Coast Starlight, Empire Builder and California Zephyr. Same menu on all trains every day. I am sure it has become a lot easier and less expensive to keep the Dining Car stocked with ingredients.)
We've been pretty much on schedule for this entire journey on the eastbound Amtrak Empire Builder. We arrived into Minot, North Dakota quite early and departed right at the scheduled minute of 9:42 PM Central Time. The last time I went through Minot, North Dakota on the Amtrak Empire Builder it was in the middle of winter and was 40 degrees below zero with the wind chill factor! I stepped off the train for just a minute to mail a letter and almost froze my face off! This time, the weather was quite pleasant and I didn't even need a jacket.
Wednesday, August 14, 2002
The train has been arriving early at almost every station. We arrived into St. Paul - Minneapolis at about 6:35 AM, which was 30 minutes ahead of schedule. This is a service stop and the train does not depart until 8:00 AM. Thus, there was about one and a half hours for passengers to get off the train and take a little walk. My daughter slept in this morning, but I got off the train and explored around the station, inside and outside. There were three private cars by the station and I took photographs of those. The cars were the Sierra Hotel (800275), the Puget Sound (800732) and the Montana (800197). One of them had a web address in the window, which was www.SierraHotel.com.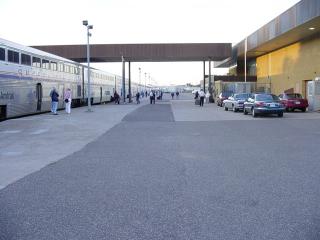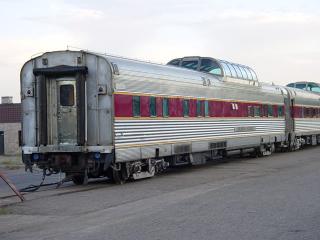 St. Paul - Minneapolis, Minnesota
Although the Cafe was closed during this service stop, the Dining Car remained open and serving. After wandering around the station for about 15 minutes, I went into the Dining Car for breakfast. There were plenty of seats. I finished eating about 7:30 A.M. and still had time to step off the train and do some more exploring around the station and the private cars. I noticed that they added another coach car and several more express cars (freight) at the end of our train. The AMTK express car that had been attached to our Sleeping Car was no longer there. I assume it was taken off in St. Paul - Minneapolis unless they re-attached it way down the end of all the other express cars. Those last express cars were a long way back from the nearest passenger car entrance and I didn't want to risk being that far from being able to get back on the train.
We arrived into Chicago on time at 4:20 P.M. and took a taxi to the Downtown Quality Inn at the corner of Madison and Halsted. Actually, the distance from Union Station to the hotel is only 5 blocks and is walkable as I have done that before, but not with luggage. You just exit Union Station using the West Adams Street exit, take a left, walk down West Adams Street three blocks to South Halstead. Halstead is the first street after you walk on a bridge over the Kennedy Expressway. Take a right onto South Halstead and walk two more blocks to Madison. The Downtown Quality Inn is right at the corner of Madison and Halsted. One block before you get to the Downtown Quality Inn, there is also a Holiday Inn Hotel at the corner of Halsted and Monroe. Also one block from the Downtown Quality Inn is a Walgreens, a large drugstore that also carries a limited amount of grocery items.
For dinner, we went to the Ghandi Indian Restaurant on Devon Avenue. There are more than a dozen Indian restaurants on the 2500 and 2600 blocks of West Devon Avenue. There are both vegetarian and non-vegetarian restaurants as well as Pakistani restaurants. I'm not sure of the best way to get to Devon Avenue by Chicago transit. You can get to Devon Avenue by taking the CTA Blue Line to North Western Avenue and then taking the Number 49 Bus to Devon Avenue. That will place you right at the start of the 2500 block. From there, you just walk west down Devon Avenue to see all the restuarants and many Indian and Muslim shops. If you would like to try some food that is a bit hard to find in most cities, you will find some restaurants on Devon Avenue that specialize in Indian Chinese food and Muslim Chinese food! Eventually, walking past the 2600 block, you will wander into an area with a lot of Russian and Jewish restaurants and shops.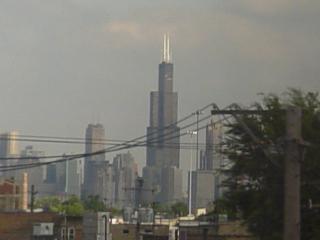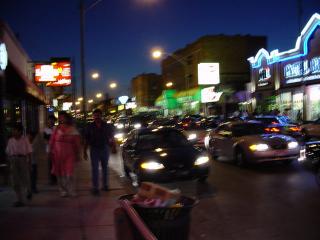 Left: Chicago skyline shot from the train as we approached the city
Right: Devon Avenue in the evening
After dinner, we wanted to have some non-fat frozen yogurt for desert. We had a really hard time finding frozen yogurt shops in Chicago, especially ones that feature non-fat frozen yogurt! I'm talking about the soft serve type of frozen yogurt and not the hard packed yogurt served in many Ben & Jerry and Baskin Robbins ice cream shops. Using the phone book, we found one place that would be open until 10 P.M. that did serve non-fat frozen yogurt. The place was "Nicky's Yogurt Oasis" at 10255 South Western Ave. However, I did not realize how far away something can be in Chicago even when you are on the same street! We caught a Taxi at the corner of Devon and Western, but our destination was about 160 blocks south of us! I would be embarassed to tell you what the taxi fare turned out to be for that ride. I'm sure anyone that lives in Chicago would be able to estimate the length and cost of that trip! That will probably be our last trip to Nicky's Yogurt Oasis. If anyone familiar with Chicago knows a place that offers non-fat soft-serve frozen yogurt closer to downtown, please send an e-mail to me at steve@trainweb.com. Our taxi driver actually had to race to try to get us there before the closing time at 10 P.M. I told him it wasn't that urgent and we would skip the yogurt if we couldn't make it on time. But, he was determined to try to get us there before it closed! Even though he didn't get us there until about 10:08 P.M., the store was still open! They had some of the best tasting non-fat frozen yogurt that I have had anywhere, so maybe this adventure was worth it. Our taxi driver never had frozen yogurt before, so he also came in and tried a taste spoon of several flavors. He was a Muslim that hadn't been in America very long. He thought it was one of the best deserts he had every tried and ended up purchasing a VERY large serving for himself!
Eastbound Amtrak Empire Builder Consist:
(Before Spokane, Washington)

201-- Genesis
33010 Superliner Sightseer Lounge / Cafe Car
34085 2814 Superliner 1 Coach Car
31016 2815 Superliner 1 Coach Baggage Car
32034 2830 Superliner 1 Sleeping Car
71201 Amtrak Express Car
Eastbound Amtrak Empire Builder Consist:
(After Spokane, Washington)

201-- Genesis
97--- Genesis
1165- Baggage Car
39043 2810 Superliner 2 Transition Sleeping Car (Crew)
32058 2831 Superliner 1 Sleeping Car
32060 2830 Superliner 1 Sleeping Car
38021 Superliner Dining Car
34026 2811 Superliner 1 Coach Car
31511 2812 Superliner 1 Coach Car
33010 Superliner Sightseer Lounge / Cafe Car
34085 2814 Superliner 1 Coach Car
31016 2815 Superliner 1 Coach Baggage Car
32034 2830 Superliner 1 Sleeping Car
71201 Amtrak Express Car
Eastbound Amtrak Empire Builder:
(The following cars were added to the end of the
train at St. Paul - Minneapolis, Minnesota)

34063 2809 Superliner 1 Coach Car
1413- Amtrak Express Car
1430- Amtrak Express Car
71158 Amtrak Express Car
1451- Amtrak Express Car
71103 Amtrak Express Car
Plus 3 More Amtrak Express Cars
I don't know if 71201 was one of them
or if it was removed from the consist.
CLICK HERE
To Read More Rail Travelogues
And View More Photos Of Rail Travel!

Are you interested in rail travel along some or all of this journey yourself? There are very few travel agents that have the necessary knowledge and experience of rail travel to answer your questions and to book a journey that you will remember for a lifetime. TrainWeb has sought out those travel agencies and rail tourism companies that not only have the knowledge to book your travel, but have gained the required experience through extensive rail travel themselves! Click here or visit RAILagencies.com or RAILexcursions.com for a list of these rail travel providers!