Amtrak Travelogue Part 1 of 4
Amtrak Coast Starlight : August 08 - 09, 2002
Los Angeles, California to Portland, Oregon
http://www.trainweb.com/travelogues/stevegrande/2002h08a.html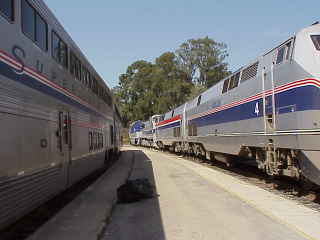 Thursday, August 8, 2002
When my children were in the lower grades, they were on a year-round school schedule. They had at least 3 weeks off after every 8 weeks of school. I was able to spend one week traveling by train every 8 weeks and then would spend the other 2 weeks of their vacation with them and my wife. But, once they hit high school age, they ended up at two different schools with just one week off for school breaks. Not only that, but because they were in different schools, the breaks weren't even on the same weeks! Thus, the amount of time that I was able to get away for traveling on the train dropped tremendously.
That is why I appreciate this unusual opportunity. My younger daughter is off from high school for the entire summer, except for one college level computer course that she is taking one night a week. My older daughter is only 17, but she is starting on her second year of junior college. She has a break between the Summer Session and the Fall Session that runs from August 8 to 18. Thus, the reason why my trip was planned to run exactly from Aug 8 to 18 ! I invited all my family members to come along on this trip, but they are not as keen on train travel as I am. My older daughter is taking this entire trip with me, however.
The Amtrak part of this trip is completely coming from my frequent traveler miles, from Amtrak Guest Rewards. I use my Amtrak Guest Rewards MBNA MasterCard for just about everything, so that piles up miles pretty fast. But, the bulk of my frequent traveler miles are coming from American Express points. I've had an American Express credit card since 1972, which was before American Express even started a points program. Thus, I've been saving up American Express points for 30 years! Here and there we have used a block of 25,000 points to take flights over the years. We once even used a big block to fly 5 people round-trip from Los Angeles to Disney World in Florida! But, I've really done very little flying over those 30 years. Thus, the points just kept on growing. Points can be spent on a lot of things other than travel, but it seemed like a waste to use them on anything other than travel.
Ever since I started traveling Amtrak in 1995, I had wished there was a way to transfer my American Express points to Amtrak, but no way existed. But, starting in March of this year, Amtrak entered into a partner arrangement with the Continental Airlines OnePass Program, which is also a partner with the American Express points program! Thus, it is a relatively easy matter to move points from American Express to Continental OnePass and then to Amtrak Guest Rewards. Now, I've got lots of points in my Amtrak Guest Rewards account. My only problem is going to be to find the time to do the travel! For more information about various frequent traveler programs which can earn you free travel on Amtrak, see www.RAILrewards.com.
We are taking the Amtrak Coast Starlight from Los Angeles to Portland, Oregon, on Thursday and Friday, August 8 and 9. We will be staying in Portland until Monday when we will leave on the Amtrak Empire Builder and head for Chicago. So, we'll be traveling on the Empire Builder on Monday, Tuesday and Wednesday, August 12, 13 and 14. We'll stay one night in Chicago, and then head back west again on the Amtrak California Zephyr on Thursday, Friday and Saturday, August 15, 16 and 17. We'll spend the night at the Woodfin Suites in Emeryville and then take the Coast Starlight south back to Los Angeles on Sunday, August 18.
Using my Amtrak Guest Rewards, I book the above as four separate trips: (1) Los Angeles - Portland, (2) Portland - Chicago, (3) Chicago - Emeryville, and (4) Emeryville - Los Angeles. I probably could have booked this differently and used up less of my Amtrak Guest Reward points. Maybe I could have just booked Los Angeles to Chicago with a stop in Portland and Chicago to Los Angeles with a stop in Emeryville. If I could have done that, Amtrak would only have taken away points for four zones of travel instead of six zones of travel. This entire trip for my daughter and myself used up 85,000 Amtrak Guest Rewards points. I tried to get a Deluxe Bedroom all the way, but there were none available for half of the trip. Thus, we are in a standard sleeper from Los Angeles to Portland, a deluxe from Portland to Chicago, a standard from Chicago to Emeryville, and a deluxe again from Emeryville to Los Angeles.
My wife, Barbara, will be flying up on Alaska Airlines to meet us in Portland on Friday evening. I'm hoping the Coast Starlight does relatively close to schedule into Portland. If it does, my daughter and I can check in at the hotel and then take the MAX Light Rail to meet my wife at the airport. That will make it easier for her to figure out how to get to the hotel. My wife will be staying with us until we all leave on Monday. She will be taking a direct flight on Alaska Airlines from Portland to Orange County very early in the morning. The Amtrak Empire Builder doesn't depart from Portland until late in the afternoon. Through the internet, I already obtained passes for unlimited travel on the transit system in Portland for the 3 of us for all 4 days.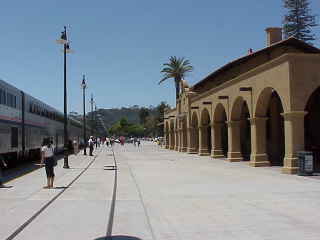 Left: Coast Starlight in Santa Barbara; Right: Moreton Bay Fig Tree
Right now, it is 5:45 PM on Thursday afternoon, August 8. The train has been making great time arriving into each station a bit early. I was able to obtain all of the numbers of the cars in the consist in Santa Barbara, except for the locomotives. The locomotive numbers were obtained when the train stopped in San Luis Obispo. We arrived early into both stations. However, we were a bit delayed on the departure from San Luis Obispo since the southbound Coast Starlight was still in the station. Since that southbound train stood between our train and the station building, passengers could not get between our train and the station. The crew let us walk around on the platform, but loading had to wait until the southbound Coast Starlight departed.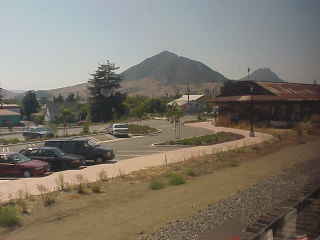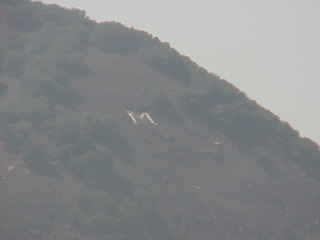 Madonna Mountain: View from just south of the San Luis Obispo depot.
I had debated all week whether to drive from my house to Los Angeles or to take the Pacific Surfliner. If I took the Pacific Surfliner, then I would have to decide whether to leave my car in Fullerton, or leave it at home and take a taxi to Fullerton. In the end, I came to the same conclusion that I have for most of my Coast Starlight trips over the last year or so -- to drive into Los Angeles and leave my car there. It does cost $10 per day to leave it at the parking lot at the station, but after you subtract the cost of two round-trip tickets between Fullerton and Los Angeles, it does bring it down a bit. I mostly like to leave my car at the Los Angeles station because I can drive right home no matter what time the southbound Coast Starlight arrives. In less than an hour from the time of arrival of the Coast Starlight, I can be in bed! If instead I had to wait for the connecting train or a bus substitution, I would most likely not even have departed from the Los Angeles station an hour after the arrival of the Coast Starlight.
Usually, I don't mind waiting for trains, even for several hours. But, I don't seem to have the patience when it gets to that very last segment of the trip. When I'm in the middle of the trip, I am looking forward to enjoying the next segment. Waiting for the train is just part of the adventure. When the trip is finally near the end, there isn't another segment to look forward to. All there is to look forward to is getting home to bed. I think that explains why I don't like waiting for that very last train or bus that will just get me home to bed.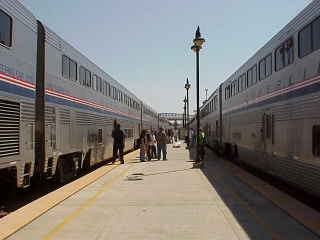 Left: A railcar just south of the San Luis Obispo depot
Right: Between the northbound and southbound Coast Starlights in San Luis Obispo
Usually, I spend a lot of time in the Pacific Parlour Car. Today, I just decided to be lazy and spend the day in my room watching the ocean and other scenery along the route. I rang for the car attendant and had him bring me a Bloody Mary and two bottles of water. I tipped generously to insure that he would provide this service with a smile and would be happy to take care of any other requests that I might have during this two day segment of the journey. A bit later in the day, I went to the Pacific Parlour Car myself to get a refill on the Bloody Mary. They were particularly good today as the Parlour Car Attendant is Nannette, who prides herself on her Bloody Marys!
When the Dining Car Steward came around to provide dinner reservations, my daughter was taking a nap. Not knowing what time she was going to get hungry, I just made the reservation for 8 PM, the last seating available. She woke up long before that time and we were both hungry. We didn't want to wait a couple more hours before eating. So, instead, we had dinner brought to our room. Once again I tipped the Car Attendant generously and he was more than happy to see to our needs. By eating in our room, I also got a chance to have the menu in the room for quite a while and was able to type up the complete menu. Supposedly, Amtrak now has just one menu for all its trains. Thus, the below menu should be valid on all Amtrak routes, at least for a while after this travelogue is posted.
Click here for the Amtrak Dining Car Menu
Since I'm about 99% vegetarian, looks like it is going to be "Vegetable Stir-Fry" for lunch and "Penne Pasta" for dinner whenever I eat in the Dining Car. That may get Minotonous, but for coming up with a standardized menu, these were not two bad choices. I've had worse vegetarian choices offered in the Dining Car. My real disappointment is in the new beer selections on the Coast Starlight. They changed there only three regionally brewed offerings into national brands. They used to offer Sierra Nevada Pale Ale from Chico, California, Oregon Honey Beer from Portland, Oregon, and Pikes Pale Ale from Seattle, Washington. I used to love all three of those from the local breweries along the route of the Coast Starlight. Instead, they now offer Corona, Sam Adams, and Heineken. I like Sam Adams, but I'm going to miss the specialty brews on the train.
Friday, August 9, 2002
The train arrived around an hour late into Portland. My daughter and I walked from the train station to the nearest Portland Streetcar stop. Its a hefty walk, but do-able with backpacks and luggage on wheels. You just walk two blocks south on NW 6th Ave. and the take a right and then walk five blocks west on NW Hoyt St. From there, we turned left and went about one half block south on NW 11th Ave. That is where the closest southbound Portland Streetcar stop is located. It is actually possible to walk all the way to our hotel, The Mark Spencer Hotel, as it is only another six blocks south on 11th Avenue. However, all transit is free in the Downtown Portland free transit zone and the streetcars run very frequently.
I learned about the Mark Spencer Hotel from attending the Amtrak Historical Society 2002 Annual Conference. (see www.AmtrakHistoricalSociety.com) That conference was held at the Mark Spencer Hotel. The hotel is right on the Portland Streetcar line and is just a few blocks from both the red and blue Max Light Rail lines. It is also just one block from Powell's, the world's largest bookstore! Being so close to downtown, there are also a number of good restaurants within just a couple of blocks from the hotel, including two Indian restaurants.
Every room in the Marc Spencer Hotel is a suite. They have Executive Suites, Double Suites, and Junior Suites. I had reserved a Junior Suite as I thought it would be just my daughter and I staying there. I forgot to change the reservation after my wife agreed to fly up to be with us for the weekend. But that wasn't a problem, there was still plenty of room for us. Even though the Junior Suite has less space than the Executive Suite, it still had a king size bed in the bedroom and a couch that turned into a double bed in the living room. Each room had a television. The suite has a full kitchenette with stove, coffeemaker, toaster, and a full-size refrigerator. Dishes, silverware, and even pots and pans are provided! There is also a pay laundromat in the hotel basement. In the lobby, Continental breakfast is available in the morning, fresh coffee for much of the day, and tea, coffee and cookies are available in the afternoon.
Shortly after we checked into the hotel, I took the MAX red line to the Portland Airport. I arrived just in time for the scheduled arrival of my wife's flight, but had to wait an hour as her flight was running an hour late. We then took the MAX light rail back to the hotel. Later that evening, we all went out to eat at Swagat's Indian Restaurant. We took the Portland Streetcar to the restaurant, but walked back to the hotel. That restaurant is actually further from the hotel than the Amtrak station, but it was a nice evening and we enjoyed the walk.
Saturday, August 10, 2002
In the morning, my daughter and I went to get a few groceries for the weekend and to get some frozen yogurt for dessert. Not knowing the area very well, the only grocery store and frozen yogurt places we could find were in the Lloyd's Shopping Center. That was about 20 minutes from our hotel on either the MAX red or blue lines, so that is how we got there. Later, I discovered a Safeway just a few blocks south from our hotel on 11th Avenue, but I never found a closer frozen yogurt store. I was very impressed with the mall, which is the largest in Oregon. I decided I would return to this mall later in the weekend and bring my wife with me. I knew she would enjoy some of the smaller shops in the mall that featured more unusual items.
At lunchtime, my wife and I took the Portland Streetcar back to Swagat's Indian Restaurant for their buffet lunch. During the Amtrak Historical Society conference when all three members of the TrainWeb staff were in Portland, we all agreed that Swagat's had the best tasting Indian food buffet that we've had anywhere! I am glad that I took my wife to the buffet as it was outstanding as usual! We both thought the buffet food was much better than the food that we ordered off the menu the previous evening. I'm not sure why the buffet seems tastier than dinner at Swagat's, but that is my opinion.
After lunch, we all went to Powell's Bookstore and spent a few hours there. Actually, other than just relaxing and eating at the finest Indian buffet ever, our main purpose for vacationing in Portland was to spend some time just wandering around the huge Powell's Bookstore! We purchased a few books, but saw many others that we will just leave to purchase on future trips. I ended up with plenty of reading material for the rest of this rail journey!
The only thing that put a damper on this weekend was realizing on Saturday afternoon that I had left my camera on the train. In over 200,000 miles of Amtrak travel, I have only left two items on the train. The last time was several years ago when I carried an Amtrak souvenir umbrella all the way from Orland, Florida, back to California. We were returning from a rail trip to Disneyworld. I got the umbrella all the way back to Fullerton, but then in the confusion of trying to get my kids and all our luggage off the train, I left the umbrellas in the luggage racks above the seats in coach. Despite attempts to locate it through Amtrak's Lost & Found, the umbrellas never showed up.
This time, the camera was left right on the step shelves beside the seat in my Sleeping Car Room as I left at Portland. I thought there would be a good chance of recovering this item as the only people likely to find it would be either my Car Attendant when he went to make the bed before he departed the train in Seattle, or the Amtrak Car Cleaners in Seattle. It is highly unlikely that any passenger would enter my Sleeping Car Room during the remaining few hours between Portland and Seattle. Thus, I thought it likely that it would show up in the Amtrak Lost & Found in Seattle. I did contact the Amtrak Ticket Agents and the Lost & Found Department in Seattle several times. They said that it hadn't shown up as of Monday and that they would call me if it did. But I kept checking every few hours anyway. I also checked with Portland Lost & Found in case my Car Attendant found it right after I departed and turned it in at Portland. But, it didn't show up there either. I also left word at the appropriate department at 1-800-USA-RAIL.
Unfortunately, it has not yet shown up. I'm not too sure what to make of that. I've never had anything stolen while riding in a Sleeping Car on an Amtrak train. I'd like to think it was someone other than Amtrak staff that took it and didn't turn it into Lost & Found. But, I have a difficult time figuring out how that could be. If my Car Attendant didn't see it when he came in to make the bed and empty the trash (which is right below the shelf where I left the camera), then the only other people likely to have run into it would have been the Amtrak Car Cleaners. I'm open to suggestions, but the most likely scenario seems to be an Amtrak staff member found it in my room and did not bother to turn it into Lost & Found. I know it was very irresponsible on my part to forget that item in my room, but it is still surprising to have an item like that disappear from a relatively private area on the train.
Update as of September 26, 2002: I received a phone call from Scott Hurd, an agent in the Amtrak Portland Station. I guess he was working the desk in the Metropolitan Lounge when he noticed my camera stored there. So, as it turned out, my Car Attendant was probably the one to turn it into that area. I did check with the person at the desk in the Metropolitan Lounge the morning after I discovered my camera missing, but they were not aware of any cameras that had been turned in at that time. So, I'm not sure how it got misplaced, but I'm happy to hear that it was found! I was also happy it was found by Scott, who I met at the 2002 Amtrak Historical Society conference and with whom I've exchanged occassional e-mails. As soon as he saw the camera, he knew exactly how to get in contact with me. So, this part of the story did have a happy ending after all!
There is a silver lining to this dark cloud of losing the camera. I was forced to purchase a new camera in Portland so that I could take some photos for the rest of the trip. The camera that I lost was originally about a $1000 camera that I had purchased on e-bay for about $450. I didn't want to spend that much money on a new camera, so I purchased a low end Sony digital camera. As it turns out, this lower priced camera actually had more features and ended up being more useful than the $1000 older model Sony digital camera that I left behind! The new camera uses a stick instead of diskettes, but it is able to store almost 2000 photos before needing to be unloaded.
Other than a trip back to the mall and taking in a movie in the evening, we pretty much spent the rest of the weekend just relaxing. We did make note of a number of things we would like to do and see on future trips to Portland. We tried to get to bed early on Sunday as my wife had a really early flight out on Monday morning.
Northbound Amtrak Coast Starlight Consist:

453-- F59PHI
507-- P32-8
119-- Genesis
4---- Genesis
1172- Baggage Car
39019 1410 Superliner 2 Transition Sleeping Car (Crew)
32113 1432 Superliner 2 Sleeping Car (Vermont)
32112 1431 Superliner 2 Sleeping Car (Utah)
32098 1430 Superliner 2 Sleeping Car (New Jersey)
39970 Pacific Parlour Car
38050 Superliner Dining Car
33025 Superliner Sightseer Lounge / Cafe Car
34109 1411 Superliner 2 Coach Car
34504 1412 Superliner 2 Coach Car
34101 1413 Superliner 1 Coach Car
34039 1414 Superliner 1 Coach Car
34117 1415 Superliner 2 Coach Car
CLICK HERE
To Read More Rail Travelogues
And View More Photos Of Rail Travel!

Are you interested in rail travel along some or all of this journey yourself? There are very few travel agents that have the necessary knowledge and experience of rail travel to answer your questions and to book a journey that you will remember for a lifetime. TrainWeb has sought out those travel agencies and rail tourism companies that not only have the knowledge to book your travel, but have gained the required experience through extensive rail travel themselves! Click here or visit RAILagencies.com or RAILexcursions.com for a list of these rail travel providers!