Amtrak Coast Starlight
Photos & Other Information
Between Los Angeles and Seattle
http://www.trainweb.com/travelogues/stevegrande/2001j11a.html
Below you will find photos and other information from my rail trip on the Amtrak Coast Starlight from Los Angeles to Seattle, Thursday through Monday, October 11 - 15, 2001. I didn't write enough about this particular trip for me to consider it a travelogue, but I did provide a little bit of information that might be interesting or useful.
Click here to read more extensive travelogues of other trips I have taken on the Amtrak Coast Starlight along with hundreds of photos.
Click Here To View The Captioned Photos From This Rail Journey!
Alaska Airlines Mileage Credits
Two or three years ago, Amtrak West announced that they had become a travel partner in the Alaska Airlines mileage program. Travel on Amtrak West trains (Coast Starlight, Pacific Surfliners, Capitols, San Joaquins, Cascades) would earn Alaska Airline miles and Alaska Airline miles could be used for Amtrak travel. As with any airline mileage program, there are many ways to earn or spend your mileage. I was pretty much interested in only one way of earning and spending: earn them with my Amtrak travel and spend them on more Amtrak travel!
Once I joined the program, I was soon offered another way to earn miles: an Alaska Airlines VISA Credit Card. Once I got my card, I pretty much stopped using any of my other credit cards in favor of this one that earned miles that I could use for free travel on the trains of Amtrak West. The credit card also has other benefits, such as providing several thousand free miles each year to card holders.
The program is pretty good for earning miles when you travel on Amtrak West trains. Traveling on any Amtrak West train, no matter how short your journey, earns you at least 150 miles each way. If you take a coach trip of at least 500 miles on the Coast Starlight, you earn 500 mileage points (1000 for round-trip!). If you book a room in the Sleeping Cars, you earn 2000 miles each way (4000 miles round-trip!) regardless of the length of your journey. If you pay for your trip with your Alaska Airlines VISA Credit Card, you also get one mile for every dollar that it costs, which is what you earn on any purchase with the card.
Over time, I found there are many other ways to add mileage. Alaska Airlines has a "Dine Air" program where you earn three times the dollar amount that you spend at participating restaurants. (See: www.DineAir.com). When you stay at any Best Western hotel, you can earn an extra 250 miles. Amtrak West also runs monthly specials from time to time where they give you 500 miles per trip instead of 150 miles!
With my frequent travels on Amtrak on the west coast along with my credit card purchases and the other methods I mentioned of earning miles, it didn't take too long before I was able to start doing some free travel on Amtrak. This is the second free trip that I have taken on the Amtrak Coast Starlight in a Sleeping Car using my Alaska Airline mileage credits. The previous trip was back in July of this year when my wife and I went round-trip from Los Angeles to Seattle in a Deluxe Bedroom. That took quite a few Alaska Airline mileage credits, about 75000! A Standard Sleeping Room during off-season round-trip between Los Angeles and Seattle for one person is only 20000 mileage credits. That is what I'm using for this trip.
There is a floating rumor that the partnership between Amtrak West and Alaska Airlines might eventually end. There are a couple of good reasons to assume this relationship will eventually disolve. When the partnership started between Amtrak West and Alaska Airlines, Amtrak did not have its own "frequent traveler" program. Amtrak does have its own "Guest Rewards" mileage program now. The second reason is that much of the autonomy of Amtrak West seems to be going by the wayside. A lot of functions seem to be folding back into the central umbrella of "Amtrak". Already much of the functions of hiring, employment, advertising and web features have been moved from Amtrak West into the Amtrak headquarters. Thus, it seems likely that the days of Amtrak West being able to engage in their own marketing partnerships with other companies may be numbered.
Because of this, I have turned my Alaska Airline mileage credits into Amtrak travel vouchers each time I have had enough of them. I don't know how much warning there will be if they terminate the program, but I figure that my Amtrak travel voucher will be good for Amtrak travel regardless of what happens once I have it in my hands.
The voucher that I used for this trip is one that I obtained almost one year ago. The voucher was dated to be good for Amtrak travel up to one year from the date on the voucher. I didn't ask so I don't know if that date could be extended. The way the program is supposed to work is that you are not supposed to turn your Alaska Airline mileage credits into a voucher until you are ready to book your trip. In that way, your mileage credits don't expire, theoretically. But if the partnership between Alaska Airlines and Amtrak West goes away, then you could be left with a lot of mileage credits that are only good on Alaska Airlines and its other partners, not on Amtrak. Thus, I exchanged my mileage credits for an Amtrak West travel voucher early.
Since the voucher was getting close to its expiration date, I decided to just go ahead and use it on a free round-trip in a Standard Sleeper between Los Angeles and Seattle on the first available off-season dates near a weekend. That turned out to be October 11 to October 15, 2001. I used it to go the full lenght of the route of the Amtrak Coast Starlight in order to "get my money's worth!" Since it costs the same number of mileage credits no matter how far or how short you travel in a sleeper in the Coast Starlight, might as well go all the way!
Acting on this same principle, I've already contacted Alaska Airlines to redeem another 30000 mileage credits for a round-trip in a Standard Sleeper on the Amtrak Coast Starlight that is good anytime. 20000 credits gets you a trip during the off-season, but 30000 credits allows you to travel even during the peak season. I had a rough time arranging to go at this time since my two children are in school. I think my next free trip will probably be taken during the summer, which is peak season for Amtrak.
One of the drawbacks of the partnership between Alaska Airlines and Amtrak West is that the mileage credits are only good on Amtrak West trains. Thus, the only long distance trip you can take with the credits is a trip on the Amtrak Coast Starlight. Amtrak does now have its own "Guest Rewards" mileage program. The amount of mileage credits that you earn relates to how much money you spend on your Amtrak tickets rather than how many miles you travel. As you can see, this is different than all the airline mileage programs and even different from the Amtrak West mileage program which was modeled on the airline mileage programs. Thus, you'd have to spend a lot of money on Amtrak tickets to earn enough miles to travel very far in a sleeper! Fortunately, Amtrak did team up with MBNA to offer a credit card where you earn miles for every dollar that you spend. I immediately applied for and received one of these credit cards. I'm now placing most of my spending on that credit card so that I can get some free travel on some Amtrak trains other than the Coast Starlight.
Pioneer Square, Seattle, Washington
Having finally figured out the shortest and safest route from the Amtrak King Street Station to the Pioneer Square Hotel, I decided to walk it. I had just one small rolling piece of luggage and a light backpack. I'd only suggest walking if you have very little and very light luggage. It is a pretty hefty walk and it will mostly be down dark empty streets late at night.
For those of you that have booked a room at the Pioneer Square Hotel and would like to walk it, here are the directions: Head out the main door of the Amtrak King Street Station and keep walking straight down King Street. You will probably see a double decker raised freeway in the distance at the end of the street. Just keep walking toward it. Stay on the sidewalk on the right side of King Street. As you head down the street you will pass 2nd Ave. and Occidental. The next street will be 1st Ave. Take a right onto 1st Ave. As you walk down 1st Ave., you will pass Jackson and Main. When you get to 1st and Main, you will be in front of the Elliot Bay Books, which will probably still be open if your train didn't arrive too late. Continue to walk down 1st Ave. By this time, you will probably start to pass some restaurants and clubs that are open and more people walking along the street. Continue down 1st past Washington until you get to Yessler Way. Take a left onto Yessler Way and you should see the Pioneer Square Hotel about a block in front of you on the left! From my map, the entire walk looks to be about 1/2 mile. There are other routes just as short between the station and the hotel, but I would not recommend them. They are either even more dark and deserted than this route, or are blocked by construction. I've taken this route a number of times and have never run into anyone that looked the least bit threatening. Actually, you might run into one or more homeless persons, but you are more likely to find them near the end of your walk where there are open restaurants and a lot more people.
When I arrived on Friday night, there was a very light drizzle. I walked the entire distance safely until I was directly in front of the Pioneer Square Hotel. Right in front of a hotel was a sign that said "Sidewalk Closed". The sidewalk had evidently been dug up and there was a board over the hole. I thought the "Sidewalk Closed" only applied to the part of the sidewalk that was roped off. Two people in front of me walked right over the board over the hole without even giving it a second thought. When I stepped on the board, my shoes found no traction on the board that had become slick from the rain, and down I went! I seldom ever fall, and the few times that I have, I've never gotten hurt. Fortunately, my luck held out and I didn't get hurt. However, I did walk out in the street to avoid that spot every time I had to go that way again while I stayed at the hotel, even when it wasn't raining.
Luigi's Grotto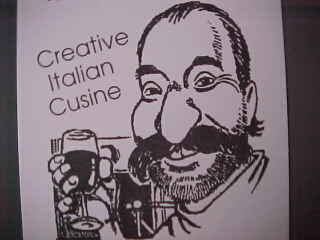 This restaurant is an experience that I never want to miss any time I am in Seattle! If you visit Seattle, especially the Pioneer Square Area, I'd strongly suggest that you try "Luigi's Grotto", 102 Cherry Street, at the corner of Cherry and 1st Street. The restaurant is about 2 or 3 blocks, just a short walk, from the Pioneer Square Hotel. Their telephone number is 206-343-9517 and their fax number is 206-343-8822. You can reach them by sending e-mail to luigisgrotto@aol.com. Actually, there are two Italian restaurants at the corner of Cherry and 1st Street, both owned by Luigi DeNunzio. The one upstairs is called Bengodi and is more like a pizza parlor. You want to walk one door up Cherry Street until you see a steep stairway leading down into the cellar. That is "Luigi's Grotto" where you will find a great atmosphere and, in my opinion, the best Italian food in Seattle! Not only that, but you will also get to meet the genuine Luigi with a personality built for entertainment!
I arrived at Luigi's Grotto when they opened at 5 P.M. on Saturday. Luigi was outside at the corner of 1st and Cherry Street in front of Bengodi talking to someone. I went ahead and walked up Cherry Street to the next door and saw that the gate had been unlocked and the door opened. I went ahead down the steep stairs into Luigi's Grotto in the cellar. There was already another couple seated at one of the tables. Arriving so early, I thought I'd be the first to be seated. I was lead to the same table that my wife and I sat at when we came here for our anniversary back in July. Click here to read that travelogue, more information about Luigi's Grotto, and a sample menu.
I was disappointed to find out that they no longer offer the menu item called "Luigi's Table" which is a great assortment of various Italian foods. When I asked about it, they said they no longer had that item on the menu, but would be pleased to put something together for me. They did so, and it was wonderful! They also suggested a wonderful bottle of Chianti that complemented the meal perfectly! I couldn't drink the whole bottle myself, but they wrapped up the bottle so that I could take it with me. I had about half a bottle left and that provided plenty of wine for my next two days of travel on the train!
Even though all I had to eat before dinner was a bowl of cereal for breakfast and an apple for lunch, I still could barely eat all the food they brought to me at Luigi's Table. As they were taking away the last course, I said that I hope there wasn't anymore coming as I wouldn't have any place to put it! The server said that just the desert was left. The desert was pretty light, but delicious, and I managed to polish it off. I left Luigi's Grotto feeling pretty full and satisfied! This restaurant is definitely a "must do" when you come to Seattle!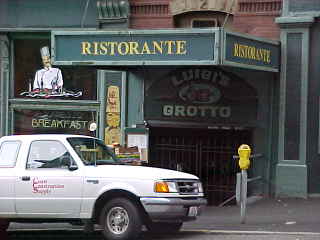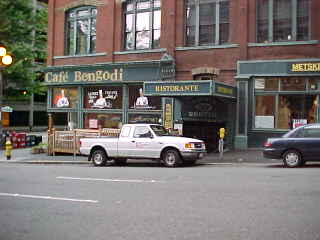 Luigi's Grotto is downstairs between Cafe Bengodi and Metsker Maps.
Booking A Room On The Train With An Ocean View
If you want a sleeping room on the oceanview side of the Coast Starlight, remember: "Even Up, Odd Down." That is, get an even numbered standard bedroom when you travel north and an odd numbered standard bedroom when you travel south. Deluxe bedrooms are on the same side as the even numbered rooms. This does not guarantee that you will be on the ocean side of the train, but 90% of all the Sleeping Cars off all the Amtrak Coast Starlight trains that I have ever traveled in (and it is a lot!) have been arranged this way. Travel agents with a lot of experience booking Amtrak travel can book you a room on the side of the train you want. For a list of such agents, see www.RAILagencies.com. You can not pick a specific room number if you book it yourself at Amtrak's website. If you call 1-800-USA-RAIL or book through a travel agency inexperienced with rail travel, they may be unwilling or not know how to book a specific room number on the train.
Regardless of which side of the train your sleeping car room is on, you can always go to either the Pacific Parlour Car or the Sightseer Lounge Car to see the view on either side of the train. Since I obtained this trip through redeeming my Alaska Airline mileage credits, I had to book it through Amtrak. I didn't even try to select particular rooms on the train. As luck would have it, I ended up with inland rooms for both segments of my round-trip! That was OK. I've traveled so often on the ocean side of the train that I thought it might be nice for once to see what was on the other side of the train! Thus, almost all of the photographs taken on this journey are views from the side of the train facing east.
Drive To Los Angeles
Once again, I drove from my home in Anaheim to Los Angeles rathen than leaving my car in the Fullerton garage and taking the connecting Pacific Surfliner. I have to drop one of my daughters off at school at about 8:00 AM. That makes it very difficult for me to get to the Fullerton Station, park my car, and get to the platform by the departure time of the train at 8:16 AM. That train arrives into Los Angeles at 8:50 AM with a layover in Los Angeles for over an hour before the departure of the Amtrak Coast Starlight at 10:00 AM. There are two later Metrolink trains that I could take from Fullerton to Los Angeles, one at 8:37 AM and one at 9:02 AM. There is even a later Amtrak Pacific Surfliner that leaves Fullerton at 9:13 AM and arrives in Los Angeles at 9:50 AM, but that is not a guaranteed connection and is very risky for trying to make the connection.
Without traffic, the drive from my house to the Amtrak Los Angeles Union Station (LAUS) takes about 40 to 50 minutes. With morning traffic, it takes about an hour and a quarter. Thus, I arrived at LAUS around 9:15 AM with plenty of time to spare to board my train. Actually, the train was a bit late boarding as often happens.
I was glad that I drove to the station. On my return, the southbound Amtrak Coast Starlight arrived early at about 8:30 PM, more than 30 minutes ahead of schedule. Passengers connecting to the southbound Amtrak Pacific Surfliner would have to wait until 10:10 PM for that train to depart. I was home in bed before that southbound Amtrak Pacific Surfliner even left Los Angeles! If I had take the train from Los Angeles to Fullerton, I would not have arrived into Fullerton until 10:42 PM and would not have gotten home until well after 11:00 PM. When the southbound Amtrak Coast Starlight arrives very late into Los Angeles, which also happens quite often, Amtrak sometimes does not hold the southbound Pacific Surfliner for connecting passengers. When that happens, Amtrak provides bus service for all passengers traveling south out of Los Angeles. It always seems to take almost an hour to transfer all the connecting passengers and their checked baggage from the Coast Starlight to the buses before the buses are ready to leave. By having my car at Los Angeles, I can usually get home before the buses have even departed from Los Angeles.
The only drawback to leaving my car in Los Angeles is that parking costs $10 per day whereas parking is free in Fullerton. This cost is somewhat offset by not having to pay for round-trip train travel between Los Angeles and Fullerton, but then there is always gas and wear and tear on the car.
Click Here For Next Set Of Photos!
Pacific Parlour Car Wine Tasting
During the first day of the Wine Tasting held in the Pacific Parlour Car on the southbound Amtrak Coast Starlight, cards were handed out with the information listed below. If you plan to take a trip in the Sleeping Cars of the Amtrak Coast Starlight and attend the Wine Tasting, you might want to print out this information and take it with you. This was the only time such information was handed out onboard during any of my previous eight trips on the Coast Starlight. I found this information quite interesting and useful during the Wine Tasting and decided to pass it on to you.
The COAST STARLIGHT
Wine Appreciation
The enjoyment of wine is a very personal thing. You don't have to be an expert; you just need to trust your own taste.
California produces more wine than any other state with over 1000 wineries from San Diego County to Humboldt County. There are over 166 wineries in Oregon, many small wine-maker owned. Washington had 19 wineries in 1981 and the number has grown to 160 in 2001.
Look - hold the glass by the stem and look through the glass. The wine should be clear, not hazy or cloudy.
Swirl - to get the full aroma of the wine, swirl the wine around in the glass. This releases the aromas to the top of the glass.
Smell - inhale and try to identify what you smell. Do you smell fruit or spices? Contemplate the smell - hints of tobacco, citrus, chocolate, flowers, leather, etc.
Taste - roll the wine around in your mouth to reach all of the taste buds.
Glossary
Wine is one of the most complex flavors you can experience. How many words are there to describe any flavor? This may explain why the language of wine is sometimes "bizarre".
Acidity - Wine grapes have a number of naturally occurring acids, including tartaric, malic and citric. They are what give wines their pleasing refreshing tartness.
Appellation - a recognized wine-growing region.
Balance - Wine has a number of componenets competing for your attention, including fruit, acids, alcohol, sometimes tannins, sometimes sugar and sometimes oak. Part of the winemaker's art is to emphasize some components or to balance them.
Body - Sensation of weight on the palate, ranging from light to heavy.
Buttery - Most often used as a flavor description in ...
Complex - Wines have many layers of flavor or that seem to unfurl and change over time in the glass are referred to as complex.
Creamy - The almost silk-like texture some wines have in the mouth. Creamy is in contrast to crisp.
Finish - The way flavors and textures linger or fail to linger on the palate after a wine is swallowed.
Forward - Wines that give you an immediate impression of fruitiness. Wines that seem to be hiding their flavors are said to be closed (sometimes they are just bad wine).
Magnum - 1.5 liters. Twice the size of a regular 750ml bottle.
Mid-Palate - When you take a sip of good wine there is often a sequence of flavor and texture impressions. The mid-palate is the impression registered as you hold the wine in your mouth for a moment, but before you swallow.
Nose - the aroma or bouquet of the wine.
Noble Rot - Batrytis cinerea or "noble rot" is truly amazing and partly responsible for many of the world's greatest dessert wines. The batryis mold attacks the skin of the grape, allowing water to partially evaporate. The remaining juice is, of course, much more concentrated than normal.
Supple - Usually used to refer to red wines that are smooth or gentle to the palate.
Tannins - The substance in wine that imparts an astringency. Tannins come from skins, seeds and stems of the grapes; adding longevity, structure and complexity to wine. Tannins occur naturally in grapes and sometimes in the wood in which the wine is stored.
Toasty - Many wines are aged, fermented or both in small oak barrels. There may be a slight char or "toast" left on the inside surface of the barrel. Other tasting descriptors that charred oak might inspire are smoky, vanilla, toffee and caramel. The impression of sweet spices such as cinnamon or clove is similarly limited to wood aging.
The COAST STARLIGHT
Wine Tasting Notes
Barbera (bar-bear-ah) A red grape variety. Most famous in the Piedmont region of northwest Italy. Lots of bright, sappy fruit and a tart, edgy quality that makes it a wonderful meal partner.
Cabernet Franc (cab-er-nay frahn) A red grape variety and member of the Cabernet family. Bright raspberry fruit and occasionally leafy tobacco and green herb flavors. Long considered a blending grape. A hardy grape used primarily for the sturdy core and firm tannins it adds to softer wines.
Cabernet Sauvignon (cab-er-nay so-vee-nyon) the "king" of red grapes. Often blended with Merlot and Cabernet Franc. Flavors run from red cherry to black currant and are usually quite assertive.
Champagne - Can range from burnt, caramely oxidized to full bodied fruit and yeast characters to light and, sparkling wine made in the Champagne region of France.
Chardonay (shar-doh-nax) a white grape variety. Widely planted and fairly successful in many areas of the world. Varies widely in style from the crisp lemon lime mineral flavors of classic Chablis to rich, oakey, buttery wines from California, Australia and other areas of the "new world".
Chenin Blanc (shen-nan blahn) A white grape variety. Widely planted but rarely extraordinary outside the Loire Valley of France. These wines run the gamut from bone-dry, steely intense sines to glorious dessert wines redolent of honey and tropical fruit.
Gamay (gam-ay) A red grape variety. Grown in the Loire Valley, the Andeche, Switzerland and California (alias Napa Gamay). The best Gamays are light, fruity and quaffable wines.
Gewurztraminer (geh-vairtz-ta-mee-ner) - A white wine variety that traces its origins to the Alps of northern Italy. The grape has one of the most exotic and flamboyant personalities of the wine world.
Grenache (greh-nah sh) A red grape variety. Flavors redolent of strawberry and red berry without a great deal of tannin.
Malvasia (mal-vah-see-oh) A white grape variety. Malvasia is one of the most ancient grape varieties, and vary widely in style and color, from crisp, bone-dry whites to rich unctuous dessert wines.
Marsonne (mahr-san) A white grape variety. Marsonne shares the spotlight with Roussanne in France's Rhone Valley. Medium to full body wines with tropical fruit aromas and a fairly lush texture on the palate.
Merlot (Mair-lo) a red grape variety. This wine varies from a red with a soft, plumy character that is immediately appealing to a wine of substantial intensity that will age for many years in the cellar. Traditionally used in blends, Merlot gained popularity in the early 1970's.
Petit Sirah (peh-teet seer-rah) A red grape variety. Confused with the true Syrah of the Rhone Valley of France, Petit Sirah is actually most successfully grown in California. Petit Sirah can be quite delicious in the hands of the right winemaker.
Pinot Blanc (pee-no blahn) A white grape variety. It runs the gamut from crisp, dry, citrusy, whites to wines to sufficient richness and intensity that could easily pass for a well-oaked Chardonnay.
Pinot Gris/Grigio (pee-no-gree/pee-no gree-d jo) A white grape. Also related to Pinot Noir, the name literally translates as "gray Pinot".
Riesling (reece-lin) A white grape variety. One of the original grape varieties grown in Washington. Occassionally the "Noble Rot" works its magic on Riesling, concentrating the sugars and flavors to produce a wine of incomparable intensity.
Sangiovese (san-joh-vay-zeh) A red grape variety. Style range from bright, simple cherry fruit to assertives richly flavored reds with potential for years in the cellar.
Sauvignon Blanc (so-vee-n yohn blahn) A white grape variety, becoming increasingly popular for their distinctive character. Flavors run from citrus-gooseberry intensity to round, rich, melon and fig.
Sirah (see-rah) A spicy, rich, complex red varietal. Ranks with Cabernet Sauvignon and Pinot Noir as one of the worlds great red grapes. In Australian, it is known as Shiraz. Sirah grapes turn into big, dark intensely concentrated wines.
Viognier (vee-oh-n yay) A White grape variety. One of the world's most exotic white wine varieties with its perfumed nose of honey, stone fruits and tropical flavors.
Zinfandel (zin-fan-del) A red grape variety. Zinfandel is at home in California. Wine styles run the gamut from blush wines with just the barest ...
Amtrak Coast Starlight Wine Tasting
Northbound Consist:

112-- Genesis P42DC
113-- Genesis P42DC
1755- Baggage Car
32043 1410 Superliner 1 Sleeping Car (Crew)
32115 1433 Superliner 2 Sleeping Car (Washington)
32045 1432 Superliner 1 Sleeping Car
32086 1431 Superliner 2 Sleeping Car (Pennsylvania)
32021 1430 Superliner 1 Sleeping Car (Refurbished With Ripple Walls)
39973 Pacific Parlour Car
38065 Superliner Dining Car
33049 Superliner Sightseer Lounge / Cafe Car
34024 1411 Superliner 1 Coach Car
34508 1412 Superliner 2 Coach Car
34041 1413 Superliner 1 Coach Car
34101 1414 Superliner 1 Coach Car
Northbound Crew:

1431 Sleeping Car Attendant: Randy
Pacific Parlour Car Attendant: Garrett
Dining Car Attendant: James
Southbound Consist:

Caltrain Locomotive #902, a F40PH-2 (Picked Up In San Jose)
128-- Genesis P42DC
465-- F59PHI
1159- Baggage Car
39021 1110 Superliner 2 Transition Sleeping Car (Crew)
32072 1132 Superliner 2 Sleeping Car (Arkansas)
32104 1131 Superliner 2 Sleeping Car (Oklahoma)
32103 1130 Superliner 2 Sleeping Car (Ohio)
39974 Pacific Parlour Car
38062 Superliner Dining Car
33027 Superliner Sightseer Lounge / Cafe Car
34102 1111 Superliner 2 Coach Car
34504 1112 Superliner 2 Coach Car
34114 1113 Superliner 2 Coach Car
34117 1114 Superliner 2 Coach Car
Southbound Crew

1131 Sleeping Car Attendant: Ron Harris
Pacific Parlour Car Attendant: Nannete
Lounge Cafe Car Attendant: Lawrence
Dining Car Attendant: Russ
Kiddie Car Attendant: Delores
Click on each link below to view each set of photos:
Set #1 / Set #2 / Set #3 / Set #4
Set #5 / Set #6 / Set #7 / Set #8
Click Here For Next Set Of Photos!