Amtrak Coast Starlight
July 12, 2001 through July 16, 2001
Travelogue Between Los Angeles and Seattle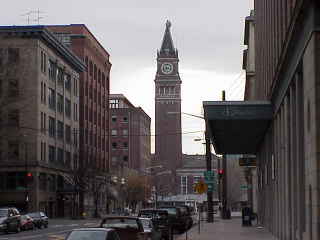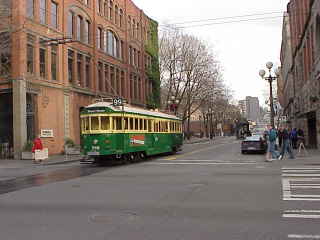 Click here for the new additions to this travelogue.
Today is Friday, July 13, 2001 and it is 7:15 in the morning. Right now the train is winding its way through the forests and mountains in northern California just south of Dunsmuir, the last station stop in California. In a short while, we will be entering southern Oregon.
The train is running about 2 hours behind schedule. We lost an hour before I went to bed last night and then lost another hour sometime during the night.
This trip is a bit different than most of my other rail travels. My wife, Barbara, and I are celebrating our 25th Wedding Anniversary. The actual date of our anniversary was June 27th, but this extended weekend was the closest time to that date that we could schedule to make this trip. Most of this 5 day mini-vacation will be spent just enjoying ourselves on the train as we only plan to spend 2 nights and 1 day in Seattle itself.
Unlike most of my other travelogues, this one is without photos. Any photos that you do find in this travelogue were taken from stock footage from previous trips to Seattle, Washington. I did not plan to write a travelogue on this trip at all, nor to even bring my computer with me! I only brought the computer because it has a DVD player and we brought a few DVDs that we haven't seen yet along with us. I didn't even bring along one of the Sony Mavica digital cameras that allows me to take almost endless photos at very little cost. Instead, I brought along a very lightweight Poloroid digital camera that is only capable of 18 shots before it needs to be downloaded. I had no plans of taking any photos at all on this trip, but I like to have a camera along just in case. My plan for this trip was just to relax and not be diverted with capturing a log and photos of my experiences on this trip. But, Barbara sleeps later than I do on our days off, so I thought this would be a good time to write about a few things related to this trip.
Click here to read more extensive travelogues of other trips I have taken on the Amtrak Coast Starlight along with hundreds of photos.
This is the first rail trip that I have taken using miles earned on the joint mileage program that Amtrak West has with Alaska Airlines. We are traveling all the way from Los Angeles to Seattle and back in a Deluxe Bedroom during Amtrak's peak travel season. This was a bit of a splurge as it required me to redeem 75,000 earned miles! Only 20,000 points are needed for one person to travel round trip between Los Angeles and Seattle off-peak in a Standard Bedroom. Thus, the points for this peak season trip for 2 people in a Deluxe Bedroom were almost enough for 4 off-peak trips for 1 person in a Standard Bedroom!
Though this is the first time I'm actually taking a rail trip on the Alaska Airline mileage that I have earned, it is not the first time that I have redeemed points for rail travel. Around last December, I redeemed 20,000 points for a certificate good for round trip travel between Los Angeles and Seattle for one in a Standard Bedroom. That certificate expires in December of this year, so hopefully I will be making another round trip to Seattle on the Amtrak Coast Starlight before that time!
95,000 points might seem like a lot to have acquire in one year, but the Alaska Airlines mileage program is pretty generous. It is a lot easier to rack up mileage on that plan than the new Amtrak Guest Rewards program. Every round trip in a Sleeping Room on the Coast Starlight earns 4,000 miles and every round trip over 500 miles in Coach on the Coast Starlight earns 1,000 miles. Even round trips on the Pacific Surfliner, Capitols, San Joaquins and Cascades earn 300 miles, no matter how short the distance you travel! Amtrak West has also had a number of special promotions where during certain months they have awarded double mileage! I also obtained an Alaska Airlines VISA charge card which gives me 1 point for every dollar that I spend in addition to a significant sign-up bonus and an automatic renewal bonus each year.
The Alaska Airline VISA charge card is pretty much the only charge card that I ever use. With the proliferation of places that now accept credit cards (supermarkets, gas stations, public utilities, and even for property and income taxes!) it doesn't seem to take long to rack up the miles. If it wasn't for blowing 75,000 miles on this one round-trip, I could be taking a free round trip from Los Angeles to Seattle every other month! Unfortunately, I can't take that much time out of my schedule, so splurging my points on this one trip in a Deluxe Bedroom during peak season was not such a bad idea!
One main drawback to the Alaska Airlines program is that you can only earn points and redeem points on the Amtrak West trains (Coast Starlight, Pacific Surfliner, Capitols, San Joaquins and Cascades). Of course you can always earn and redeem points for air travel on Alaska Airlines and its partners, but you can not earn or redeem points for travel on other Amtrak routes. Now that Amtrak has its own Guest Rewards program, there are rumors that the Alaska Airlines mileage partnership will be phased out. So far, there is no indication of any phase out.
With an Alaska Airlines VISA card it is interesting that you can double dip on your Amtrak West travels. By using your Alaska Airlines VISA to purchase your tickets, not only do you earn 4,000 points for taking a round trip on the Amtrak Coast Starlight, but you earn more than an additional 1,000 points for the cost of the ticket charged to your VISA! Not only that, but by using your Amtrak Guest Rewards number, you also earn Amtrak Guest Rewards points for the same trip. Essentially, you can triple-dip on earning points for every trip that you take on Amtrak West trains!
Since the Amtrak Guest Rewards program only gives you one point for each dollar that you spend with Amtrak, it can take a very long time to earn enough points for a significant size free rail trip. Until the Amtrak Guest Rewards program obtains some airline partners and teams up with a credit card for earning points, the Amtrak Guest Rewards program will remain a far inferior product to the Alaska Airlines Mileage partnership with Amtrak West. A major change that I think is needed to the Amtrak Guest Rewards program is that they should give you a set amount of points for each Amtrak trip that you take rather than base it on how much money you spend on your ticket. That is the way most airlines operate their mileage programs. As a matter of fact, that is why they are called "mileage" programs! The airlines award you mileage points based on the number of miles in your trip, not on how much you spent for your ticket. Amtrak West is more generous than the airlines in that it awards more points than the miles traveled, but the Amtrak Guest Rewards program should at least follow from the experience of the airlines and award 1 point for each mile of travel. Awarding points based on dollars spent is fine for credit cards, but it doesn't make sense when based on only dollars spent with Amtrak.
In order to work, a mileage program has to be a win-win situation. The customer has to see enough of a benefit in the program to alter his behavior to use the merchant's services more often. If the program does that, then both the customer and the merchant wins. I have changed my behavior to use my Alaska Airlines VISA card to the exclusion of all other credit cards. Thus, it is obvious that VISA and the issuing bank, Bank of America, has benefited by offering this milesage program to me. I don't do a lot of flying, but if I need to fly in the future, I will try to use Alaska Airlines as I know I will be earning credits that I can use on Amtrak. Thus, Alaska Airlines benefits by offering this program. And, I have to admit, there has been more than once that I have taken the Amtrak Coast Starlight up to Oakland or San Jose rather than the San Joaquins because I would end up with over 5,000 points instead of 600 points. It is always a tough choice between the San Joaquins and the Coast Starlight since the decision comes down to cost vs. comfort. But, realizing that the extra points will put me that much closer to my next free round trip to Seattle, has sometimes made that decision easier. The Alaska Airlines Mileage Program does effect my decision to spend more money with Amtrak and is thus a win for Amtrak too!
Now look at the Amtrak Guest Rewards program. I looked at the number of points needed to obtain a free round trip in a Sleeping Car and decided that it would take forever to earn enough points, even for a frequent Amtrak traveler like myself! I'm certainly not going to throw away the free points being offered to me, but the Amtrak Guest Rewards program has had absolutely no effect on my behavior. Someday, I don't know how far in the future that will be, I'll have earned enough Amtrak Guest Rewards points to take a free trip. But, that will come as a total surprise to me when I reach that point. It will not be because the program has inspired brand loyalty in me or has inspired me to spend more money with Amtrak. When that day comes, I'll have benefited from the program, but I don't see what Amtrak will have gotten from offering the program. It is really time for Amtrak to take a look at how the airlines run their "mileage" reward programs and how Amtrak West runs their mileage reward program. They need to modify their program to make it rewarding enough to inspire people to travel more on Amtrak.
Well, enough of a plug for the Alaska Airlines / Amtrak West Mileage Program and my critique of the Amtrak Guest Rewards Program! More about this trip ...
Since Barbara and I would be gone from the house for 5 days, we also had to decide what to do about our daughters Jodina (16) and Sherica (14). We decided to take them with us as far as San Jose where Barbara's parents and sister lives. This was agreeable with Barbara's parents and they would look forward to the visit by their granddaughters! We could drop them off on the first day of our northbound trip as we passed through San Jose that evening and then pick them up on the final day of our trip as we passed through on our southbound trip through San Jose. We purchased one adult coach ticket for Jodina and one child coach ticket for Sherica. Even though they would have coach tickets, there would be no problem with them staying in the Deluxe Room with us. The Deluxe Room Accommodation automatically allows for meals and all ammenities for 3 people anyway, as long as all 3 have paid for the "Rail Fare" portion of the ticket price. The Coach Fare of Jodina's ticket took care of that for the 3rd person. Actually, we overpaid a little for that ticket since their is a special Rail Fare that is even lower than the full Coach Fare when the person is not going to be taking up a seat in a Coach Car. Sherica was more of an exception, but thought it was unlikely that anyone would challenge us on adding her to the room. Technically, she only had the right to Coach Car services. But, barring special circumstances, there is never a problem with a Coach passenger visiting and staying with someone who does have a Sleeping Car Accommodation as long as there is enough room. In worst case, if asked, we would have to pay for Sherica's meals in the Dining Car whereas the meals for up to 3 people in the Deluxe Room are included in the Accommodation price. We weren't given any problems at all about this on our northbound journey and we'll just have to see if everything goes just as smoothly on the southbound journey.
For the first time in many years, I decided to drive from our home to Los Angeles instead of leaving our car in Fullerton and taking a Pacific Surfliner to Los Angeles. There were a few reasons for this. First, when Amtrak revised their schedules last May, they pushed the departure time of the Amtrak Coast Starlight to 10 A.M. Because of Los Angeles rush hour traffic in the morning, I always worried that I might arrive too late if we tried to get to Los Angeles Union Station (LAUS) before the 9:30 A.M. departure. It only takes 30 minutes to get from our house to the Fullerton Station. The Amtrak Pacific Surfliner leaves Fullerton around 8 A.M. and makes a guaranteed connection with the Amtrak Coast Starlight. So until now, that was the safest way to make sure I got from my house to Los Angeles in time for the departure of the Amtrak Coast Starlight. The additional half hour in the departure time makes all the difference in the world. We left our house at 7:45 A.M. Normal rush hour conditions would get us to Los Angeles by about 9 A.M. Most unexpected traffic delays should still allow us to get to the station by 9:30 A.M. Only the worst of unusual traffic problems would keep us from making the 10:00 A.M. departure of the train!
I seldom drive from my home in Orange County to Los Angeles. I was surprised to find that there isn't any carpool lane on the 5 Interstate Freeway north of the California 91 Freeway. Thus, we had to drive in slow moving bumper to bumper heavy traffic for at least the last 20 miles of our trip to Los Angeles. We still managed to arrive at Los Angeles Union Station at about 9:00 A.M. I parked out front at the paid parking lot ($10 per day maximum) and we rolled our suitcases into the station.
It wasn't long before an announcement was made that passengers needed to obtain their boarding passes. There was one long line for Coach passengers and another very short line for Sleeping Car passengers. The Conductor was collecting tickets and giving out boarding passes in the line for Coach passengers while an Assistant Conductor (AC) did the same for the Sleeping Car passengers. I showed the AC both sets of tickets for my family, the Deluxe Room tickets for Barbara and I, and the Coach tickets for Jodina and Sherica. I explained they would be traveling with us in our room just to San Jose. The AC said that was fine and gave us a boarding pass for 4 people for Deluxe Room E in the 1432 Sleeping Car.
After obtaining our boading pass, we were told that we could take a seat in the waiting area and wait for the boarding call. While we were waiting, Bob Stone of Amtrak came down to greet us. Bob was working upstairs in the Amtrak offices when he saw my name on the manifest list for the Amtrak Coast Starlight. Fortunately, we were sitting in the seats by the Car Rental desks right by the door where Bob popped out. I think there are stairs and an elevator up to the Amtrak offices right around the corner beyond those doors. I've been up to the Amtrak offices before in the station, but I don't know if I've gone up that way before. I know I once went up using an elevator at the other end of the building, but that was before a large remodeling project of the upstairs offices was completed.
Bob Stone used to be the Chief of Onboard Services of Crew Ten until Amtrak eliminated the Chiefs program. Now Bob is in charge of taking care of the departure and arrival of the Amtrak Southwest Chief at Los Angeles Union Station. I don't understand all the responsibilities of the job, but I do know that Bob gets very involved in the process of making sure that transferring passengers are accommodated when the westbound Southwest Chief arrives late, which has been happening quite often lately. Bob Stone is alse the webmaster of the www.CrewTen.com web site and the new www.SaveAmtrak.org web site.
After Bob headed off to take care of the arriving Southwest Chief passengers, I went to check the monitor to see the current departure status for the Amtrak Coast Starlight. The "ON TIME" status had been changed to "DELAYED 10 MINUTES". There had been a long line of people standing by the Coach and Sleeping Car Passenger Gates, but those lines were now gone! I could only assume that a boarding announcement had been made. I decided it would be a good idea to head down to the platform to see if the train was boarding. Barbara and I and the kids rolled our luggage through the tunnel and up the ramp to the platform at Track 10, where I think we were told that the train would be boarding.
When we got to the top of the platform, there wasn't any train! But, there were a lot of people waiting on the platform. I don't know if they did or did not make the boarding announcement yet. The people on the platform could have been from the northbound connecting Pacific Surfliner. Often, they will just have the people from that Surfliner just get off the train, cross the platform, and directly board the Coast Starlight. When the Coast Starlight used to be scheduled to depart at 9:30 A.M., it would usually already be waiting at the platform. Since there is so much time between the arrival of the northbound Pacific Surfliner and the departure of the Coast Starlight, I would assume they would usually have the passengers go to the waiting area in the station instead of standing around the platform. But if that is the case, then who were all the people already on the platform? If they did make a boarding announcement, why did they do that when there wasn't a train on the platform yet?
While we were waiting outside on the platform, we saw the Amtrak Southwest Chief do some maneuvering to drop off its Express Cars. We also saw the arrival and departure of a number of Metrolink Commuter Trains as well as the arrival of another Amtrak Pacific Surfliner.
There was an Amtrak staff person on the platfrom directing people to go to different parts of the platform where they would be closer to the car that they would board. When he saw me, he said that he knew that I've traveled on this train before and that I should head down the platform to board the 1432 Sleeping Car. As we were heading in that direction, I realized that I did not give him my name and I don't think he saw my boarding pass. Did he know my name by sight?
The Amtrak Coast Stralight arrived onto the platform about 30 minutes passed the scheduled departure time. Later I heard the problem was that one of the refrigerators in the Dining Car was not operating properly. After determining that it would not be an easy fix, they decided to swap out the Dining Car. That takes a bit of time as the Dining Car is just about right in the middle of the consist. Thus, taking that car out and puting in a new one takes a bit of work and a bit of time.
Once the train arrived at the platform, we boarded our Sleeping Car and headed for our room. The 4 of us fit into the room just fine, but each of us had just a little more room than we would each have had if we were traveling in Coach. Barbara and I headed down to the Pacific Parlour Car and spent much of the day in that parlour car. That left plenty of room for the kids in the Deluxe Bedroom.
Barbara and I enjoyed much of the day in the Pacific Parlour Car, including the afternoon wine tasting. The train arrived into San Jose at 9:15 P.M., about an hour late. We dropped off our kids with their grandparents in San Jose.
I've got to get a measuring tape! When we went to bed at night, the lower bunk did not look as wide as the lower bunk in the Family Room. I think it is supposed to be the same width and is the same width, but I had difficulty envisioning how both Barbara and I could fit comfortably together on that bunk when I don't recall ever having that problem in the Family Room. Either the bed is actually narrower in the Deluxe Room than the Family Room, or Barbara and I have gotten wider. I'm afraid that the latter might be the case.
I can remember when Barbara and I did a big circle tour from California to Chicago on the Southwest Chief, from Chicago to Seattle on the Amtrak Pioneer, and then from Seattle to Los Angeles on the Coast Starlight. Click here for more information about our travel on the Amtrak Pioneer Click here for the travelogue of that entire circle tour. We had a Standard (Economy) Bedroom for that entire trip. Barbara and I also just shared the bottom bunk in the Standard Bedroom for that entire trip. We could both fit into the lower bunk of the Standard Bedroom, though that was a bit tight. That was only 5 years ago. Now even the larger bed in the Deluxe Bedroom seems too small! I guess this is a good time to think about cutting down on eating and getting a bit more exercise!
We spent much of the next day, Friday, July 13, 2001, just relaxing and enjoying our Deluxe Bedroom Accommodation.
The train arrived at 11 P.M. into Seattle, Washington, about 2 hours and 30 minutes late. By the time we got out the front of the station, there was a very long line of people waiting for taxis. I've walked a number of times between the station and our hotel, the Pioneer Square Hotel, so Barbara and I decided to just walk to the hotel rather than wait for a taxi.
It isn't a very long walk to hotel. It is probably well under a mile. The big concern is the luggage. I would not even attempt this with luggage without wheels. But, even if your luggage has wheels, I wouldn't recommend this walk shortly after snow or rain. Rolling luggage that far is a good way to ruin the wheels on your luggage! I've done that before.
Since this was our 25th Anniversary trip, I had booked the best room available at the Pioneer Square Hotel. The room was more like a suite and was on the top floor of the hotel, the 4th floor. The room was fairly large, about twice the size of the room that I usually stay in at this hotel. The cost was $215 per night, a bit of a step up from the $115 per night that I have usually paid.
The room had both a bed and couch that could fold out into a bed to accommodate two more people. If we bring our kids to Seattle in the future, I think this would be a good room to reserve. By accident, I once reserved a room at this hotel with 2 twin beds. On that trip, there were 5 of us: my wife and I, my 2 daughters and a friend of theirs. Fitting into that room was just about impossible and they had no other rooms available. We ended up checking out of the hotel the next day and moving to another hotel with bigger rooms available. If I had this room, there would have been plenty of room for everybody, with or without an optional roll-away bed.
The bed in this room is a regular King Size bed. That is my favorite size bed. In California, they have this stupid size bed called a "California King Size" bed. The California King Size bed is longer than a normal King Size bed, but it is also narrower! Both my wife and I are under 5'8" in height and have no need for that extra legroom. The width of a normal King Size bed is more appreciated than the extra length. Next time we purchase a new bed for ourselves, I think we will import it from back east if we can't find one local. In any case, the huge "normal" King Size bed in this room is great!
If you visit Seattle and like historic hotels, I would strongly recommend the Pioneer Square Hotel. You will be right in the heart of one of the most historic and active parts of Seattle with lots of nightlife. There is an Italian Restaurant across the street that stays open until 4 A.M.! The Seattle Underground Tour starts just down the street and the waterfront and its attractions can be seen from the hotel.
Click here for more information and photos of Seattle, Pioneer Square and the Pioneer Square Hotel.
On Saturday, July 14, 2001, we slept late, until almost 11:00 A.M. Once we got out of the hotel, we headed to Pier 56 to take the 1:00 P.M. 2.5 hour narrated cruise of the Seattle Locks provided by Argosy Cruises. This was an easy walk from our hotel. The cruise was relaxing and educational. From the water we got a very good view of the Seattle skyline as well as a view of a good segment of recreational and commercial boating activities in Seattle. Click here for more information about the Locks Cruise and other tour cruises offered by Argosy Cruises.
After the cruise, we headed to the "Cow Chip Cookies" store. (See: http://seattle.citysearch.com/profile/10776556/) They have some of the best chocolate chip cookies to be found anywhere! We purchased a number of them to take back to our kids and had a couple of "mini" ones as a treat for ourselves! They are also located just around the corner from the hotel neer the corner of Yessler and 1st Streets.
If you visit Seattle, especially the Pioneer Square Area, I'd strong suggest that you try "Luigi's Grotto", 102 Cherry Street, at the corner of Cherry and 1st Street. Their telephone number is 206-343-9517 and their fax number is 206-343-8822. You can reach them by sending e-mail to luigisgrotto@aol.com. Actually, there are two Italian restaurants at the corner of Cherry and 1st Street, both owned by Luigi DeNunzio. You don't want the one upstairs which is more like a pizza parlor. Both have the Luigi name, but the upstairs eating establishment is called Bengodi. You want to walk one door up Cherry Street until you see a steep stairway leading down into the cellar. That is "Luigi's Cellar" where you will find a great atmosphere and, in my opinion, the best Italian food in Seattle! Not only that, but you will also get to meet the genuine Luigi with a personality built for entertainment! All four of grandparents are Italian and I have grown up on Italian food at home and in restaurants. I've had a lot of good Italian food, but I don't think any of it can compare to what I have had in the cellar at Luigi's Grotto.
The restaurant used to be called "La Buca", so don't be surprised if you have difficulty finding "Luigi's Grotto" in the phone book or local guides to restaurants. (Click here for more information about the name change.)
Click here to find more information and a photo of this restaurant at http://luigisgrotto.citysearch.com
I discovered this trip on a previous trip to this area with Ray Burns when we came to take 360x360 virtual photos of the Amtrak Cascades for the Washington State Department of Transportation. After eating there, I promised myself that I would one day take my wife to eat at this great restaurant.
Barbara and I had their special called "Luigi's Table" which was a wonderful assortment of Italian food for $25 per person. This gave us a good idea of the taste of many offerings by the restaurant. We thought the courses would never stop coming! Every item was fantastic. It seems everything that this restaurant serves, it knows how to prepare perfectly! To accompany our meal we had a bottle of Chianti Rufina Vendemmia 1999 for $27. The Chianti was excellent.
Unfortunately, I don't have a list of the assortment of Italian food that was served to us as part of our special dinner, but here are other items from their new menu:
LUIGI'S GROTTO
102 Cherry St.
Tel. (206)343-9517
Fax: (206)343-8822

luigisgrotto@aol.com
http://luigisgrotto.citysearch.com

Simplicity / Product / Taste

DINNER MENU

PORTOBELLO 9.00
w/figs, rosemary, port & gorgonzola
MOZZARELLA CAPRESE 7.00
mozzarella, tomatoes, fresh basil, extra virgin olive oil
CALAMARI 9.50
sauteed w/spinach, roasted garlic, sun dried tomatoes, kalamata olives & chili oil
SPINACI 7.00
quickly sauteed w/ pine nuts, raisins, white wine & lemon
CAESAR 6.00
ORGANIC GREENS 5.00
tossed w/ house honey berry vinaigrette
DELSA CASA 6.50
field greens tossed w/ an orange fennel vinaigrette w/ artichokes, grapes, gorgonzola & toasted pine nuts w/ apples, fontina cheese, house made berry vinaigrette
RAVIOLI MARE 15.00
puff pastry filled w/ seafood, baked, served w/ marinara & a pesto drizzle
PENNE PRAWNS 14.00
penne pasta tossed w/ sauteed prawns, marinara, basil & spinach
GNOCCHI 12.00
house made gnocchi w/ marinara & ricotta
RIGATONI CHICKEN 13.00
roasted chicken, caramelized onions, peppers, rosemary & tomato ragout
CHICKEN PARMESEAN 14.00
sauteed chicken breast, marinara, cheese served w/ pasta
CHICKEN & PORTOBELLO 14.00
sauteed chicken w/ roasted portobello mushrooms, marsala & provolone served w/ pasta
SPAGHETTI & HOUSE MADE MEATBALLS 12.00
VEAL W/ ARTICHOKES & MUSHROOMS 17.00
veal sauteed w/ artichoke hearts, crimini & porcini mushrooms in a cream sauce served w/ pasta
VEAL PICATTA 16.00
veal sauteed w/ capers, lemon, white wine, butter served w/ pasta
BRACIOLA BRINDISI 16.00
rollentina of beef, stuffed w/ prosciutto, provolone, caramelized onions braised in a barolo rosemary sauce served w/ pasta
BISTECCA 18.00
rib eye, pan seared w/ caramelized onions & shallot sauce served w/ pasta
RISOTTO W/ CRAB & PEAS 15.00
aborio rice cooked w/ Dungeness crab & green peas
LAMB OSSO BUCO 17.00
lamb shank braised in a Italian herbed tomato sauce w/ pecorino & gremolata served w/ pasta
SEAFOOD SPECIALS
ask your server
After dinner, we headed to our favorite bookstore, the "Elliot Bay Book Company" (see: http://seattle.citysearch.com/profile/10776936/). We always try to stop by this bookstore whenever we are in Seattle. It is just around the corner and up the street from the Pioneer Square Hotel. They have both new and used books, but most important is that they have a very interesting selection of books. That bookstore is fairly large, but not one of the largest. Just about every bookstore has the best sellers, but once you go beyond that, it is really up to the owner or manager of the bookstore as to what they obtain to fill the rest of their bookstore. Barbara and I frequent Borders and Barnes & Noble bookstores and sometimes find a book or two that we find interesting. When we go to the "Elliot Bay Book Company" we find it difficult to keep our purchases down to an arm full!
On Sunday morning, July 15, 2001, we awoke at 7:00 A.M. I went down to the cafe by the lobby to bring back some breakfast items. They serve a nice continental breakfast for free at the Pioneer Square Hotel. The breakfast isn't just a coffee and a pastry as you will find at most Best Westerns and other hotels. They have a wide selection of cereals, toast, bagels, two types of juice and three types of gourmet coffee. Plus, they have a selection of fruit. I took a tray of items back to our room.
We were ready to check out by 8:30 A.M. I presented my Best Western Gold Crown Club card to get the points for staying at the hotel. When the hotel clerk noticed from my credit card that I was an Alaska Airlines Mileage Program member, he asked if I was sure that I wanted the Gold Crown Club credits rather than the bonus Alaska Airline miles. I wasn't even aware that I could get extra Alaska Airline miles by staying at the hotel! I'm going to have to look into this and see if the reason for the extra miles is something Alaska Airlines has worked out with Best Western, or if it is something specific to the Pioneer Square Hotel. In any case, I was given an extra 250 Alaska Airline miles for my stay in the hotel in addition to more than 400 miles that I will get from charging the cost of the room to my Alaska Airlines card.
Last night, I found out that I missed out on an additional 300 Alaska Airline miles that I could have gotten at Luigi's Grotto. I knew that Alaska Airlines has a "Dine-Air" program where you can get extra miles at certain restaurants, but none of the participating restaurants in southern California are ones near my house or that I am likely to frequent. So, I just ignored the program after I learned about it. After returning to my room last night from Luigi's Grotto, I went on the internet to find a link with more information about the restaurant. In the process, I found that Luigi's Grotto was one of the restaurants in the Alaska Airline Dine-Air Mileage Program. I could have gotten 300 or 400 miles from the meal last night instead of just the 100 from charging the meal to my Alaska Airlines credit card. I'll certainly know better next time!
We left the hotel at about 8:45 A.M. and walked to the train station. Being Sunday morning, the streets were relatively deserted. We took a different route this time. We took a right out the front door of the hotel and walked up Yesler to 2nd. We took a right on 2nd and walked a few blocks down to King Street. We took a left onto King Street and the station was right there. It actually only took about 15 minutes to walk from the hotel to the station and we were walking at a pretty leisurely pace rolling our luggage behind us. Near the station there are still signs indicating you are in Pioneer Square, so I guess the station is considered to be in the same general part of town as our hotel.
In Seattle, the checked baggage is usually handled by Red Caps outside in front of the station. If you plan to check some of your luggage, you can do so right out front of the station before you enter through the station doors. Barbara and I don't bring a lot of luggage along so we seldom have anything that needs to be checked. We usually each bring just one roller suitcase which we leave on the racks downstairs in the Sleeping Car and one backback or shoulder bag. We try to leave all the things that we won't need on the train in the bags that we put on the racks and take whatever we will need on the train in our backpack or carrybag. The smaller bags easily fit in the room and have everything we will need while we are on the train!
At 9:10 A.M. the Conductor and Assistant Conductor started issuing boarding passes to the passengers. Boarding of Sleeping Car passengers started at 9:20 and boarding of Coach passengers started at 9:40. There was one baggage handling person absent from work today so it took them a bit longer to load the checked baggage onto the train. The train departed just 10 minutes late at 9:55 A.M.
I've always told people that if they get a room on the train, try to get an even numbered room going up and an odd numbered room going down (even up, odd down). The Deluxe Rooms are on the same side of the train as the even numbered rooms. The reason for this is that the even numbered rooms are usually on the western side of the train going north while the odd numbered rooms are on the western side of the train going south. Thus, those rooms will have a long view of the ocean between Oxnard and San Luis Obispo, more than 2 hours. From all the years of travel that I have done on the Amtrak Coast Starlight, seldom have the Sleeping Car Rooms not been oriented the way that I just mentioned above. However, I am starting to wonder if Amtrak is being as strict as they used to be about trying to keep the Sleeping Cars oriented this way. There were 3 Sleeping Cars on our train heading north and three on our train heading south. In both cases, the middle Sleeping Car (the 31 car) was oriented backwards. Thus, I'm not sure how reliable my "even up, odd down" rule is anymore. It used to be at least 90% reliable, but it seems to have only been about 66% reliable for this trip. Personally, I didn't mind it at all on this trip. Heading north, we were in a properly oriented car which gave us hours of ocean viewing on our northbound journey. Heading south, we are in the backwards oriented car which again places us on the side of the train facing the ocean! I guess we lucked out on this trip.
Elizabeth is our Sleeping Car Attendant this time. She is very friendly and seems very efficient. Elizabeth gave everyone a warm greeting and helpful advice as they boarded her car. Afterwards, she came to each room and provided each passenger with any further information that they might need in getting acquainted with the accommodations. When she came to our room, she said she recognized me. I recognized her also, but I don't believe I've ever had her as my Car Attendant. We've probably both been on the same train a number of times before. She said to be sure to use the "Call Attendant" button if we needed anything as she has lots of energy!
Shortly after departure, I went down to the Pacific Parlour Car to get a Bloody Mary. Garrett Nelson was the Pacific Parlour Car Attendant. Garrett was the person that helped us with our arrangements to take the 360x360 photos of the Pacific Parlour Car. He came in early one morning and set up the whole parlour car just so that we could get photos of everything ready for the morning brunch before other passengers started boarding the train. Garrett was also the Pacific Parlour Car Attendant on a couple of previous trips I have taken. Click here for the travelogue of the trip I took on August 16, 1998 and click here for the travelogue of the trip I took on August 26, 1999.
The southbound trip on the Amtrak Coast Starlight went pretty good. We departed on-time, and remained pretty close to schedule arriving at most stations early. The following morning, we arrived so early into Oakland / Jack London Square that we had to hold there for 40 minutes in order to not leave ahead of schedule.
Due to the long summer hours, we were able to view the coast all the way from San Luis Obispo to Oxnard. Because our Sleeping Car was oriented backwards as I mentioned above, the coast was outside our window. However, much of our time was spent in either the Pacific Parlour Car, especially during the afternoon wine tasting, or in the Dining Car during our early 5:30 P.M. dinner.
A wine tasting used to be held in the Pacific Parlour Car on the first day and a Champagne Party on the second day, but now they only have the wine tasting on both days. I don't think they do Champagne Parties in the Pacific Parlour Car any more. They still serve the wine and cheese, but they did away with the fruit plate during the wine tasting. Some Pacific Parlour Car Attendants that are very knowledgeable about wines make a big production out of the wine tasting giving a lot of information about each wine being served. Others just tell you which wine they are serving and serve the wine. An information sheet about the wines used to be handed out to passengers during the tasting, but that was not done on any of the four wine tastings that we attended on our way up and down. I guess that has also been eliminated. However, one thing I did like on this trip is they never seemed to skimp on the amount of wine they poured for each person! On those times that I have attended the Pacific Parlour Car wine tasting when they did make a professional production out of it, it did seem they were more likely to give you just a "taste" of each wine. I like something more in between. I like more information, but I also like more wine!
Somewhere on the way south we lost a little bit of time. If we were planning to connect to the southbound Amtrak Pacific Surfliner, the late arrival would have been perfect to make the connection. The Coast Starlight arrived about 9:40 P.M., just 10 minutes prior to the scheduled departure of the southbound Pacific Surfliner. But, we were driving home from the Los Angeles Union Station, so the perfect connection didn't help us at all this time!
The cost of parking in Los Angeles is $10 per day so our total parking bill came to $50. Parking at almost all of the other Amtrak Stations is free, so the convenience of driving direct between our house and LAUS was a bit expensive. We arrived home at 10:38 P.M. Since the southbound Pacific Surfliner was scheduled into Fullerton at 10:22 P.M. and the drive to my house is about another 20 minutes, going by car instead of by train didn't save us too much time (assuming the Surfliner ran on schedule). But, I'm glad we did drive this time. The southbound journey on the Amtrak Coast Starlight is wonderful, but once we get off the train, we just want to head straight home.
The following are photos that were taken on a previous trip to
Pioneer Square in Seattle, Washington:
Set #1 / Set #2