B&O Railroad Museum Roundhouse Roof Collapses
http://www.trainweb.com/news/2003/2003b17a.html

Friday, February 28, 2003
Baltimore & Ohio (B&O) Railroad Museum Cancels the Fair of the Iron Horse 175, Festival of Trains --- Maryland's Largest Snowstorm Takes Its Toll on Museum - Focus Turns to Restoration Efforts. Click here for further details
Monday February 17, 2003
Early this morning Monday February 17, 2003 the Iron Structure of the 1884 Baldwin Roundhouse at the B&O Railroad Museum collapsed under the weight of the snow. Click here for the rest of the story.
See Below Links For Additional Information.

Fair Of The Iron Horse: June 28 - July 3, 2003 has been cancelled

Click here for a 360x360 Virtual Tour inside the roundhouse.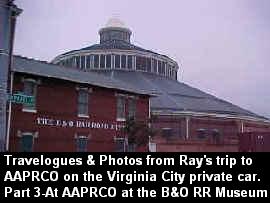 Photos From October 2002 Of The B&O Railroad Museum
Click Here To View Photo Highlights.
Click to view each set of detailed photos below:
Thursday, Oct 24, 2002
Set #01 / Set #02 / Set #03 / Set #04 / Set #05 / Set #06 / Set #07 / Set #08 / Set #09
Saturday, Oct 26, 2002
Set #01 / Set #02 / Set #03 / Set #04 / Set #05 / Set #06 / Set #07 / Set #08 / Set #09 / Set #10 / Set #11 / Set #12