What's New At TrainWeb:
| | |
| --- | --- |
| | Photographing TRAINS Vol. 1 Amtrak's Southwest Chief by Carl Morrison (Kindle Edition) First in a Series of Long Distance Amtrak Train Photography Guides. This book tells you where and how to make great exterior and interior train photos along the route of the Amtrak Southwest Chief Los Angeles - Chicago. . This eBook includes tips for taking photos, not only of the Southwest Chief, but of tourist trains, rail museums, and private rail cars close to the Southwest Chief route. Carl gives many suggestions as to where to eat, and where to stay along the way. Includes over 350 photos by the author from over 20 trips on the Southwest Chief to illustrate proven photo concepts. All Photographs and Text, except where noted, By Carl Morrison... Read More>> |
Directory of Railroad Web Sites
Hosted at TrainWeb
Category Index (Under Construction):
Model Railroad Gauges & Scales (Under Construction):
Amtrak / VIA Rail Canada Fan Sites (Under Construction):
Web Sites Hosted At TrainWeb Sorted By URL (Web Address)
Click on a letter below to view that directory page:
(Under Construction: Finished Through Letter "I" So Far)
---
Today's Featured TrainWeb Sites:
Check back as we'll try to feature different TrainWeb sites each day!
---
Today's Highlighted Stories From TrainWeb's Past:
Previous Highlighted Stories From TrainWeb's Past:
---
Click each button below
to explore the APRHF Train Web Sites.
Click on the below images to visit our rail magazine promotion trading partners:

(Click here to add your print rail magazine.)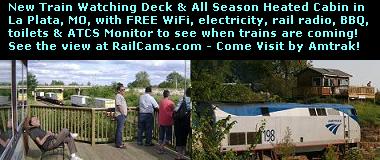 Visit related pages from this and other web sites:
Click below for pages in the directory of TrainWeb sites:
Why this ad?