This page features people who came to visit the TrainWeb office
in-person in the year 2001.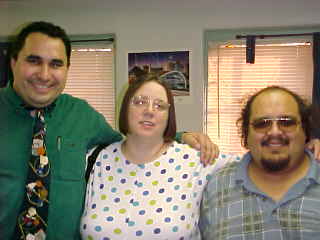 2001-Nov: David Sanchez, Diane & Bob Gallegos.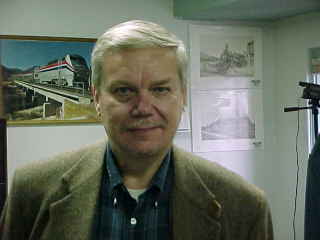 2001-Nov: Tony Malerich from Ann Arbor, Michigan.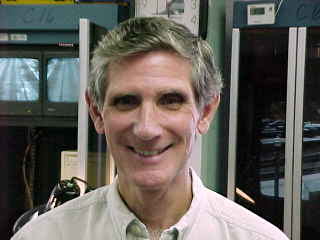 2001-Sep: Ed Perkins from Van Buren, Arkansas.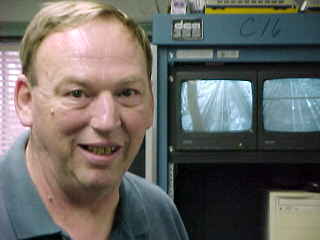 2001-Aug: Greg Otte from Orange, California, stopped by our office while waiting to head out on the eastbound Amtrak Southwest Chief.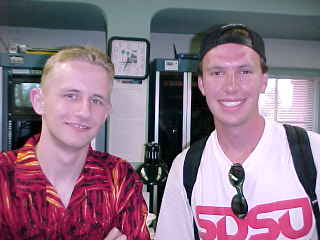 2001-Aug: Chris Fussell & Brett Canedy. Chris is from Portland, Oregon. Click here for his website. Brett is from Mission Viejo, California.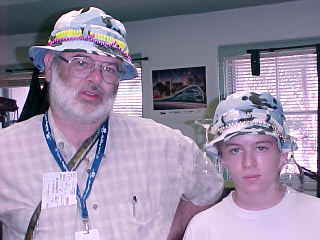 2001-Aug: Kevin & Karl Cooney, from Montclair, New Jersey.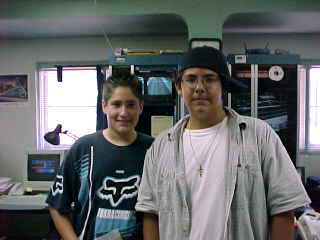 2001-Aug-14: Kevin Dominguez and Manuel Portugal from La Mirada. Manuel is a member of the California Southern Model Railroad Club, and is trying to convert his friend Kevin into a railfan!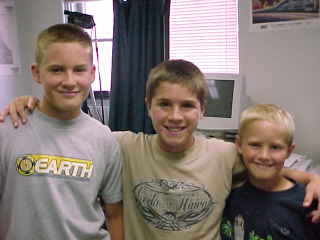 2001-July: Danny, Adam and Jake Neely stopped by our office. Danny stopped by the office before with his dad back in December of 1999. Danny's dad is a Conductor for BNSF.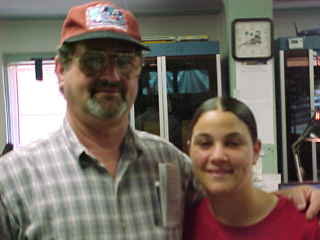 2001-June: Bob Stone and his daughter Ashley. Bob was Chief of Onboard Services on the Amtrak Southwest Chief and is webmaster of www.SaveAmtrak.org.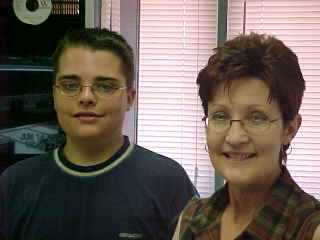 2001-June: Brandon Wright of trainlinks.com and his Mom stopped by our office. They just came for a short vacation in California via the Amtrak Sunset Limited from Austin, Texas!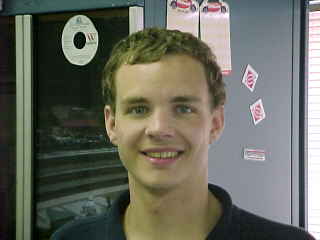 2001-June: Randell Hansen from Rockville Centre, New York.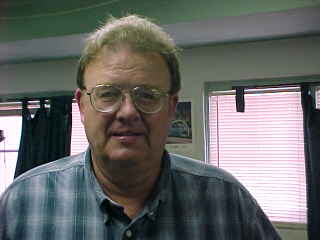 2001-June: Greggory L. Hoel, a railfan with a special interest in Private Railcars, from Fallbrook, California.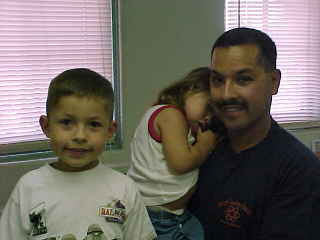 2001-May: Anthony Silvas (5 years old) and Emily Silvas (3 years old) and Tony Silvas.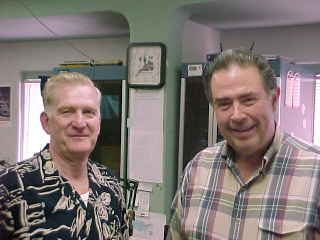 2001-May: Sune Robbins from Rancho Palos Verdes, California, and Mike Burdett from the Promontory Rail Restoration Project in Ogden, Utah.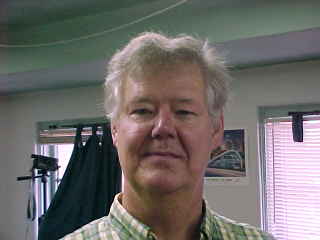 2001-May: Dave Dailey from Oakland, California.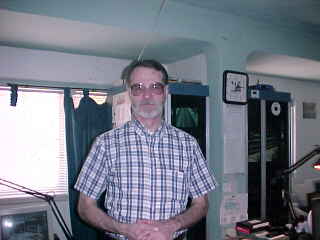 2001-May: Edward J. Merzlock from Naperville, Illinois.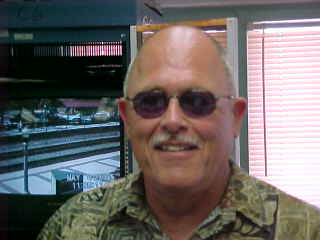 2001-May: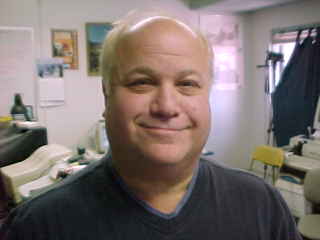 2001-May: Barry Gould from Santa Ana, California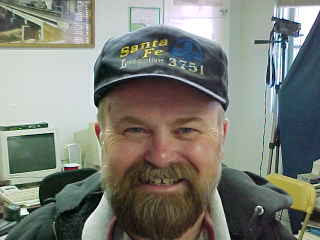 2001-May: Steve Rippeteau, Conductor
from the AT&SF Illinois Divistion, Ft. Madison, Iowa.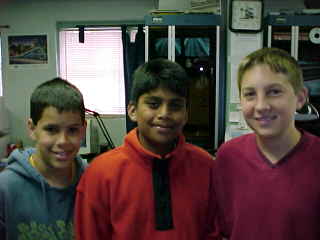 2001-April: Sean Little, Donovan Rodriguez and Steven Jadczak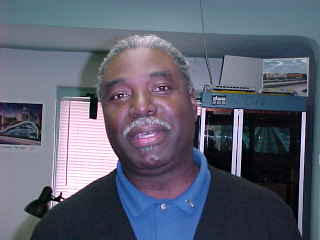 2001-April: Cordell J. Napier
TrainWeb Neighbor and Ticket Agent at the Fullerton Amtrak Station downstairs.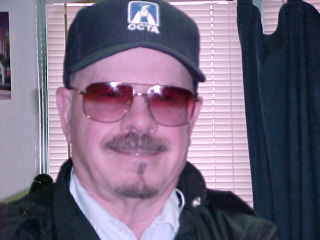 2001-April: Ray Cunningham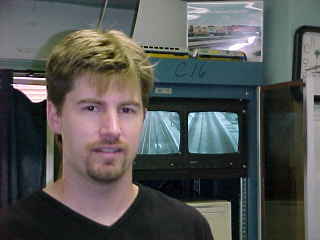 2001-April: Todd Schannuth
from The Museum of America's Freedom Trains (http://FreedomTrains.org).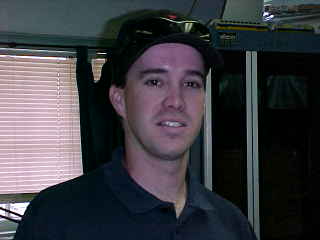 2001-April: Erin Swain of the "On-Track" TV Show on Adelphia Cable Television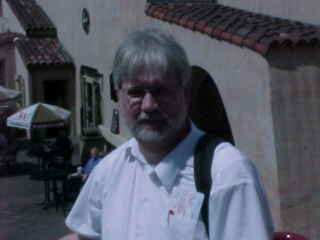 2001-March: Jim Hebner of Jim Hebner's Amtrak Photo Archive.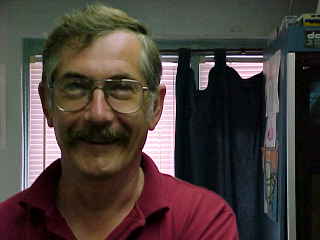 2001-March: Peter Crook of Highball Productions (Train & Plane Videos).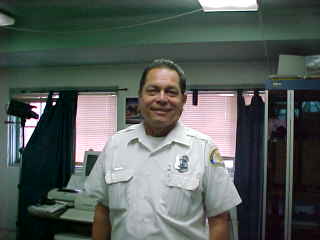 2001-March: C. Thomos Thompson Inspector/Investigator Fullerton Fire Dept.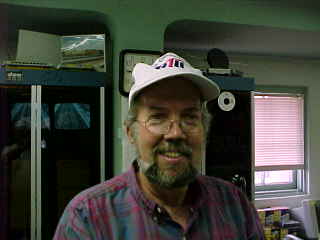 2001-March: Wayne Copple from Kansas City, MO.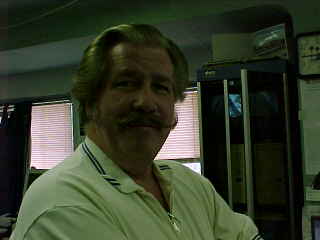 2001-March: Richard Hamilton of San Diego Rail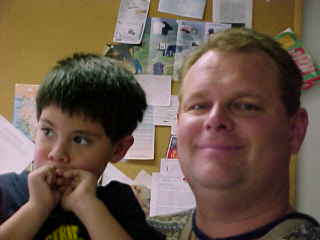 2001-March: Cameron and Dave Morris from Hacienda Heights, California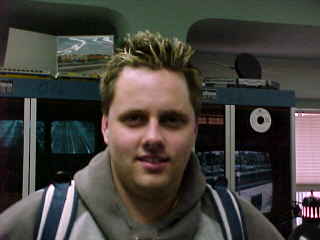 2001-March: Chad Solomon of www.trainweb.org/pacificsurfliner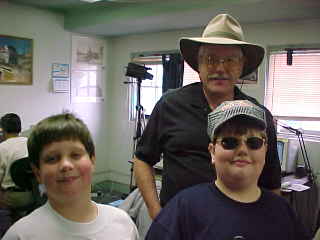 2001-February: Timmy Christ, Frank Sr. and Frank Jr. (with Engineer hat)
from Kentfield, California.