This page features people who came to visit the TrainWeb office
in-person in the year 2000.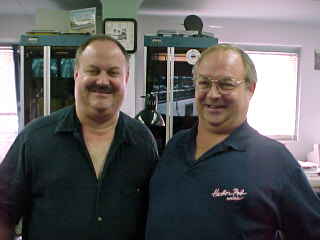 2000-November:
TrainWeb's Dave Fruth (left) and his brother, Sport, from Hawaii.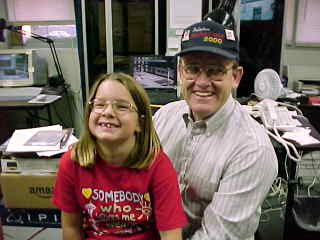 2000-November:
Bill Lewis of the Fullerton Railway Plaza Association and his granddaughter, Ashley.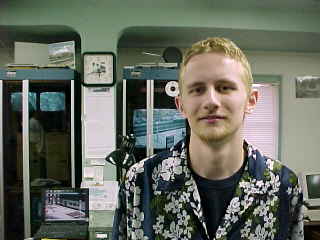 2000-November:
Chris Fussell, from Portland, Oregon, webmaster of the unofficial MAX Light Rail Site.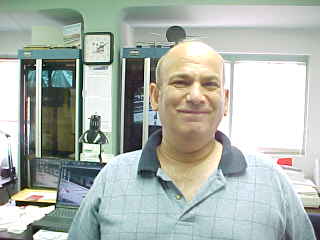 2000-September:
Stan Shewenman from Bloomington, Minnesota.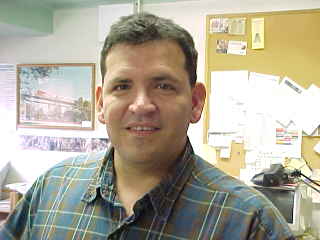 2000-September:
Roger Galaz from La Crescenta, California.

2000-September:
Chris Guenzler from Santa Ana, California. Chris is one of the very few people that I know that has traveled far more rail miles than I have traveled! He has traveled every mile of Amtrak, VIA, and a number of other passenger railroads in north America, some that I have never heard of! Click here for a newspaper story about Chris!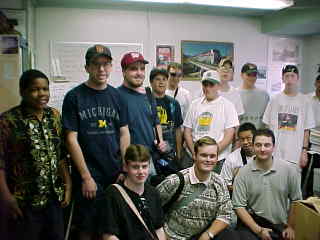 2000-Jul-5, Wednesday:
Members of the Teen Association of Model Railroaders!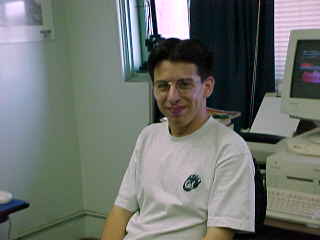 2000-Jun-26, Monday:
Joseph Henchman of Oceanside and Berkeley, California. Rail advocate and young politician!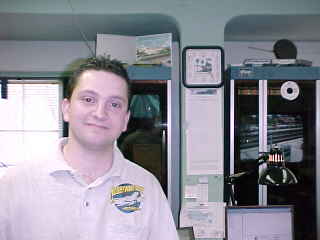 2000-Jun-23, Friday:
Leader of the Teen Association of Model Railroaders.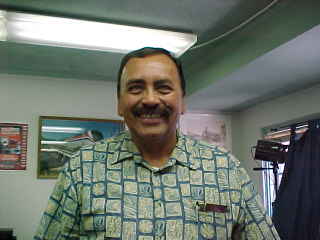 2000-May-18, Thursday:
Carlos Garcia, a Conductor on the Knott's Berry Farm train.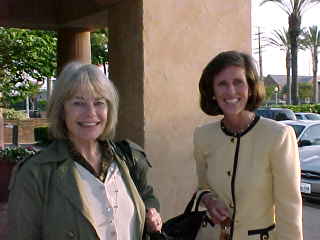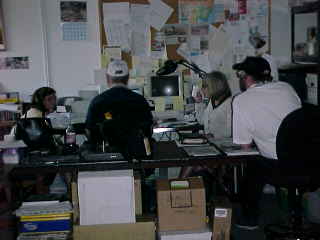 2000-May-17, Wednesday:
Leslie Trott, Director, National Accounts, Amtrak Long Distance Trains, and Sue Venturelli of Amtrak West Human Resources, visited our office in Fullerton to see our operation and a number of projects that we have in the works! In the left photo, Sue is on the left and Leslie is on the right. In the right photo: Leslie Trott, Ray Burns, Sue Venturelli and Steve Grande.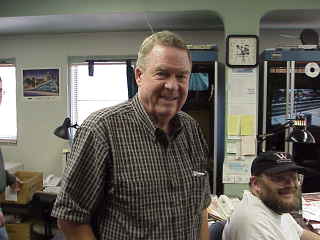 2000-May-11, Thursday:
Jim Burkey of Yakima, Washington, stopped by our office on his rail travels. Jim had just come off the Amtrak Coast Starlight and was going to head onto the Amtrak Southwest Chief.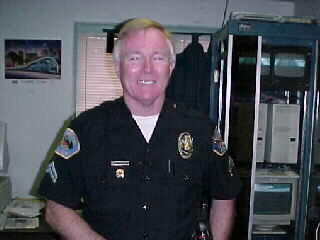 2000-Apr-7, Friday:
Ken Wallace, a Fullerton Policeman that covers the downtown area including the depot, and has an interest in rail, came up to visit our office and operations!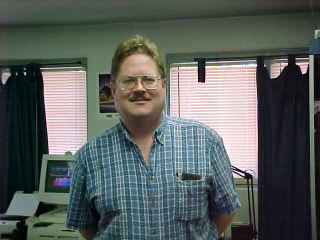 2000-Apr-1, Saturday:
Michael Palmer, Director of Lomita Railroad Museum Foundation, Inc. stopped in to say hello!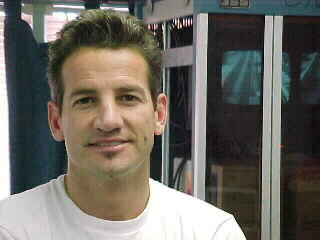 2000-Mar-17, Friday:
Eddy Leddy with the USPS Celebrate The Century Postal Train stopped in to make some measurements in preparation of bringing the train to Fullerton Railroad Days on May 13 & 14, 2000. Click here for more information and photos related to the USPS Celebrate The Century Postal Train.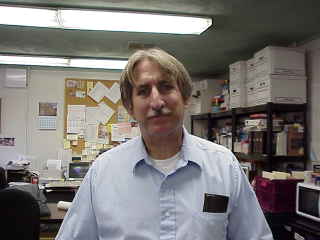 2000-Feb-26, Saturday:
Edward J. Simburger, author of Railroad-Freeway, a comprehensive guide to Southern California train travel.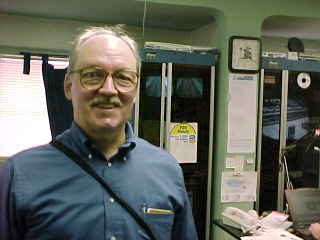 2000-Jan-18, Tuesday:
George H. Drury (www.GeorgeDrury.com) came into the TrainWeb office near the end of the day. George has written a number of rail travel books and articles for train magazines. He showed us an article that he wrote titled Rail Travel 2000: Meeting Benelux which is published in the February 2000 issue of Trains Magazine. The article covers riding the rails and getting acquainted with the countryside of Belgium, The Netherlands, and Luxembourg.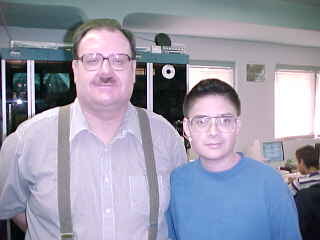 2000-Jan-08, Saturday:
Chuck and Greg Isaac from Temecula, California, visited the TrainWeb office.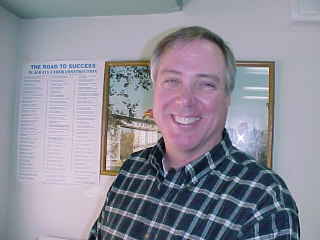 2000-Jan-05, Wednesday:
Bob Kredel is Coordinator for Santa Clarita Railway Company which has 20 years of experience providing railroad motion picture services (equipment acquisition, operation, safety, stunts, research library, consulting). Bob and Michael Chorley (see below) visited us when they were in town for discussions with the Fullerton Railway Plaza Association.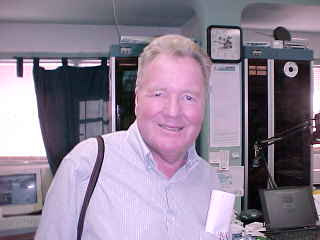 2000-Jan-05, Wednesday:
Michael Chorley is a retired Chief Civil Engineer from British Rail (Scott Rail). He was in town to discuss with the FRPA a sister-city relationship between his town and Fullerton.