This page features people who came to visit the TrainWeb office in-person in the year 1999. Only the people that have come to visit us after the creation of this page in April of 1999 are included.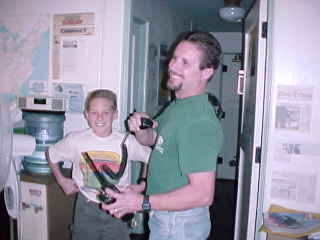 1999-Dec-23, Thursday:
Dave Neely and his son, Danny, from Garden Grove, CA. Dave is a Los Angeles-based conductor for BNSF and stopped by our office on a rare day off that he used to drive his son to see various places along the railroad. In this photo, Dave is joking around with the engineer of a passing freight train using his radio.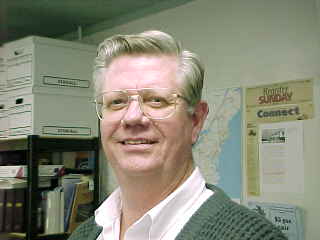 1999-Dec-09, Thursday:
Rick Rydman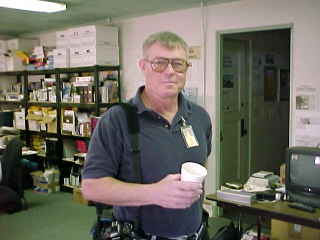 1999-Dec-09, Thursday:
Jack Hancock, Photographer for The Orange County Register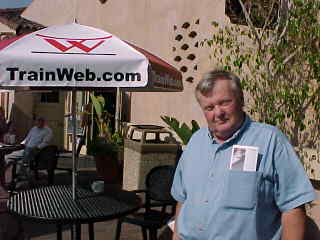 1999-Nov-09, Tuesday:
James C. East, an Amtrak Tour Guide from the Rochester Chapter of the National Railway Historical Society in Fairport, New York, came by in time to see the new TrainWeb.com umbrellas on display for the first time at the Santa Fe Express Cafe downstairs.

1999-Oct-30, Saturday:
Matthew James Melzer, Los Angeles, California. Matt came to work as a web programmer for TrainWeb at the beginning of July, 1999. However, it took us this long to remember to photograph him! At the age of 15, Matt is already a frequent and devoted rail traveler, and he has two of his own web sites hosted with TrainWeb.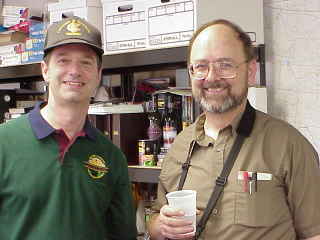 1999-Sep-30, Thursday:
Thomas A. Cruse, Associate Provost for Academic Facilities Planning at the University of Cincinnati and Robert D. Myrick, Architect/Certified Facility Manager at Pennsylvania State University, stopped by the TrainWeb offices while traveling and taking rail photos.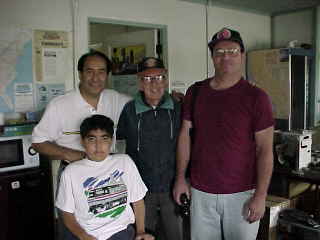 1999-Sep-05, Sunday:
Mark Gomez is the boy sitting down. Standing up from left to right is Rudy Gomez (Mark's Dad), Jack Conroy and Matt Cohen. Mark has a rare form of muscular dystrophy called Duchenne Muscular dystrophy, but he does not let that disability prevent him from following his love for trains! One of Mark's drawings and an article about Mark was published in the March 1997 Amtrak San Diegan News. We expect to post a link to that drawing on this page shortly.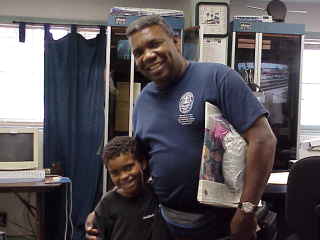 1999-Aug-20, Friday:
Ricky Dabney and his son from San Clemente, avid railfans, model railroaders and rail travelers.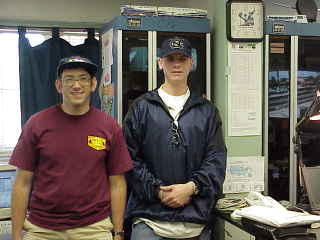 1999-Aug-18, Wednesday:
Dan Chazin from New Jersey and Tommy Batts from California visited. Dan had just arrived on the Amtrak Sunset Limited and they both headed out from our office on the Amtrak San Diegans.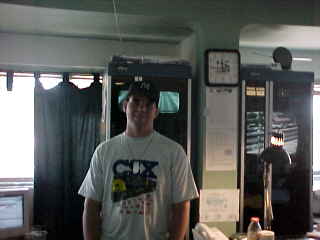 1999-Aug-13, Friday:
Matthew Vitucci visited our office from Brooklyn, NY. He flew from New York to Las Vegas and then to San Diego before boarding a California Car on the Amtrak San Diegans to take a trip up to Fullerton.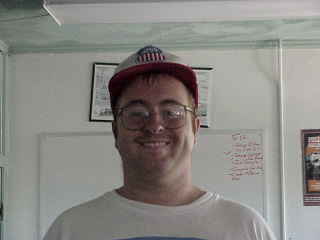 1999-Jul-21, Wednesday:
Aaron Long visited our office, an avid railfan from Sacramento.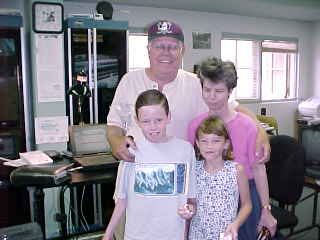 1999-Jul-08, Thursday:
Ed Holler came into our office with his daughter Susan and his grandchildren, Michael and Kathleen, who were visiting from Orlando, Florida.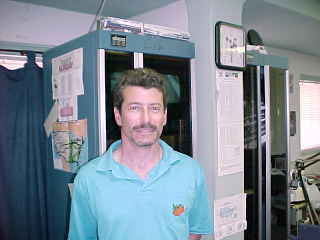 1999-Jul-04, Sunday:
Richard Elgenson from Orange, California.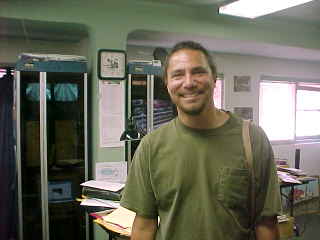 1999-Jun-06, Sunday:
Mark Gomez, a photographer for an automobile company, came by looking at the possibility of taking a photo of an automobile on the Fullerton Santa Fe Depot platform with a train in the background.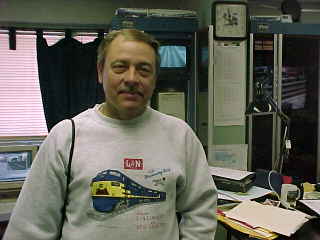 1999-Jun-06, Sunday:
Irv Cuevas, News Producer for Channel 7 KABC-TV Eyewitness News, dropped in looking for more details about the Santa Fe 3751 Steam Locomotive that will be coming through Fullerton next Sunday.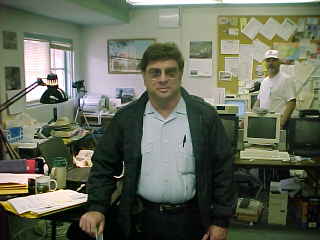 1999-Jun-02, Wednesday:
Dana McManus, an OCTA bus driver dropped in from the Transportation Center across the street from our office.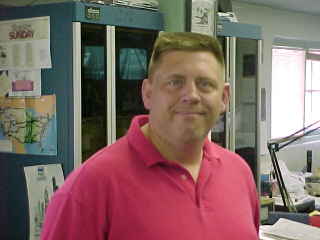 1999-May-31, Monday:
Michael Blake, a fireman on the Disneyland Steam Locomotive, stopped in to say hello!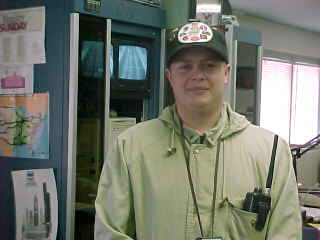 1999-May-30, Sunday:
Drew Mitchem from Centralis, Washington, stopped by on his way through Fullerton on a long Amtrak trip. We'll be looking forward to his travelogue!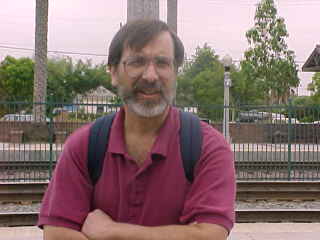 1999-May-19, Wednesday:
Harry Pedersen, a frequent visitor to the TrainWeb Web Site, came off the morning westbound Southwest Chief at the Fullerton Santa Fe Depot on his way home. This was the day that everyone was taken off the Southwest Chief and bussed to Los Angeles because a portion of LAUS was closed for a short time while the President of Mexico, the Mayor of Los Angeles and the Governor of California rode the Metrolink round trip to Burbank.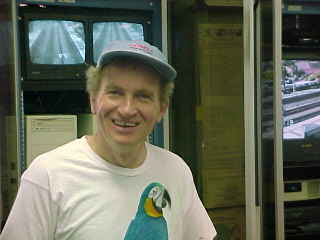 1999-May-10, Monday:
Patrick Cravens stopped by the TrainWeb office after arriving on the Amtrak Southwest Chief on his way to Disneyland. I last saw Pat Cravens on my journey on the Ann Rutledge through St. Louis. See: www.trainweb.com/travel/stevelog/1999c27a.html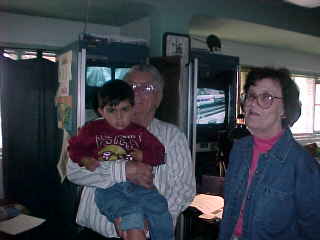 1999-May-08, Saturday:
Saylor & Anna May Runyon with grandson James came up on the Overland Trail Private Car from San Diego. Click here to read a travelogue by Saylor & Ana May!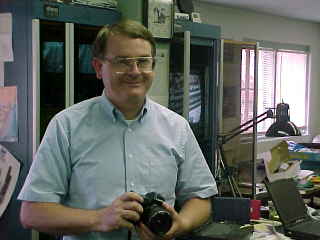 1999-May-04, Tuesday:
John Feagans, Editor, Print Communications, Amtrak Historical Society (www.trainweb.com/ahs)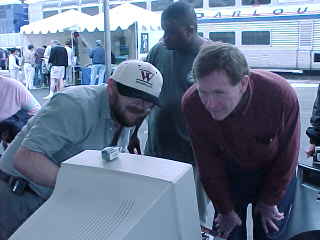 1999-May-02, Sunday:
Steve Grande on the left and on the right, Mark Denis (Feb 8, 1941 - Apr 29, 2000), Traffic Reporter for KFI 640 AM and KOST 103.5 FM. Click here to read a tribute to Mark Denis.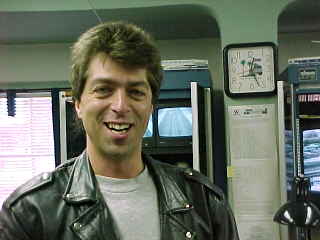 1999-April-30, Friday:
John Giaconia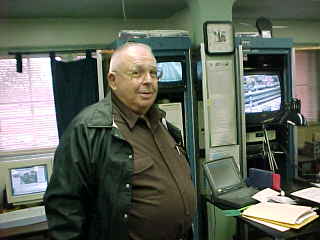 1999-April-30, Friday:
Vincent C. Cipolla, Supervisor of Locomotive Engineers for Advanced Railroad Concepts in South Pasadena, California.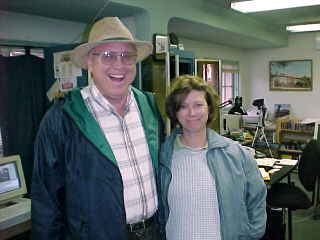 1999-April-30, Friday:
Mason & Janice Blaich from Albuquerque, New Mexico. Came in on the Amtrak Southwest Chief!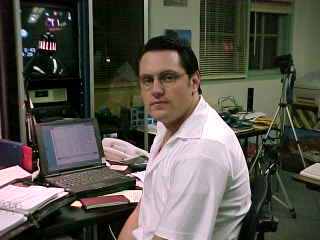 1999-April-29, Thusday:
Andrew Held, Northridge, California. Andrew is an avid fan of railroads, especially of privately owned passenger rail cars, and a frequent visitor to TrainWeb. We met Andrew on the April 24, 1999 trip on Bill Hatrick's Overland Trail private car and Andrew then came to work at TrainWeb to help us set up our mirror servers, e-commerce and with other technical issues!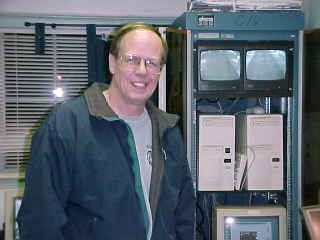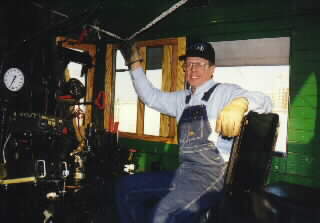 1999-April-29, Thursday:
Warren M. Scholl, Manager, Technical Training & Rules, Burlington Northern Santa Fe (BNSF), who was also one of the Engineers when the Santa Fe 3751 Steam Locomotive came through Fullerton on January 12, 1999. Click here for photos, video clips, and more info!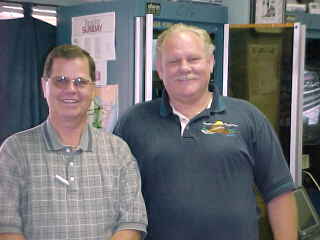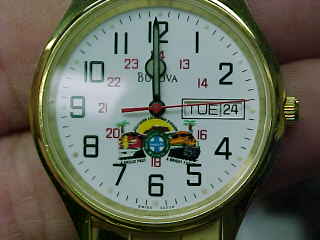 1999-April-27, Tuesday:
Jim McHood and Craig Wulfsberg from Burlington Northern Santa Fe (BNSF). They are heavily involved in the freight operations in this area. Craig's watch shows the new and the old Santa Fe locomotives.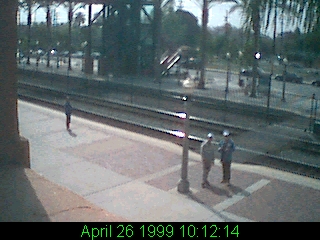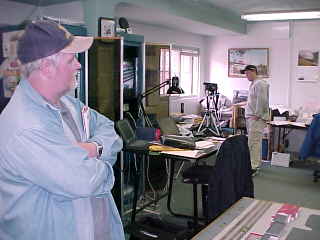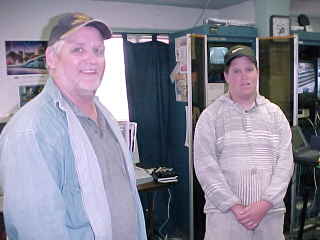 1999-April-26, Monday:
Peter Ian Jenkinson from Wollongong, Australia and his son, Peter David Jenkinson.