New Years Celebration 2011
at the Depot Inn & Suites
and Chris Guenzler Millionth Rail Mile Lookout Deck
in the Heart of Silver Rails Country
near the Amtrak Station in La Plata, Missouri
www.trainweb.com/travelogues/stevegrande/2010a01a.html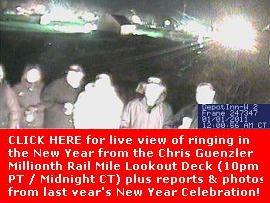 CLICK HERE
at MIDNIGHT CT (local) / 10pm PT / 9pm MT / 1am ET
to view ringing in the 2011 New Year
from the Chris Guenzler Millionth Rail Mile Lookout Deck
CLICK NOW for a sneek preview!
CLICK HERE
on New Years Day, Saturday, January 1, 2011
at NOON CT (local) / 10am PT / 9am MT / 1pm ET
to listen to the LetsTalkTrains.com Railroad Radio Show
broadcast LIVE from the Rail Lookout Point!
CLICK HERE
to visit the Silver Rails Country web site
to see all there is to do year round near the
Amtrak Southwest Chief Station in La Plata, Missouri!
WANT TO JOIN THE FESTIVITIES?
Call the Depot Inn at 888-814-3669.
Some Rooms Might Still Be Available!
---
Below are Reports & Photos From Last Years
New Years Celebration 2010
Friday, Dec 25, 2009 - Thursday, Jan 07, 2010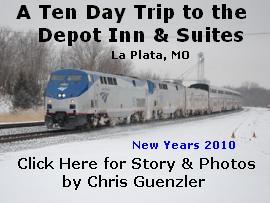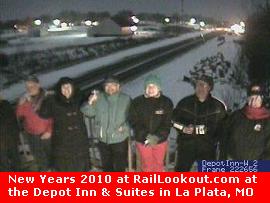 Including:
Rail Travel Photos by Chris Guenzler & Stephen Grande
Travel on the Amtrak Southwest Chief California to La Plata Round-Trip
Hotel New Years Party & Lookout Point New Years Toast
Dedication of the Silver Rails Memorial Library live on Let's Talk Trains
Tour of The Heartland
And More!
Use your web browser BACK button after viewing each page below to return to this page.
CLICK HERE
for A LOT MORE reports and photos about the Depot Inn & Suites
and everything to see in Silver Rails Country!
People At The Event:


From Out Of Town:
From La Plata, MO:
And Many More!
(More names will be added later. This is a work in progress.)
Celebrate The Next New Years
For Train Enthusiasts At The
Depot Inn & Suites, La Plata, MO !!!

Call 877-459-5900 for hotel reservations and complete travel arrangements.
CLICK HERE FOR INFO
(If info for next year is not posted yet, it will be posted soon.)
Visit our Rail Magazine promotion trading partners:








Click here to add your print rail magazine.