Amtrak Coast Starlight Travelogue
March 26 - 30, 2002, Round-Trip Between
Los Angeles, California and Seattle, Washington
Part II - Seattle And The Return To Los Angeles
http://www.trainweb.com/travelogues/stevegrande/2002c26b.html
Click here if you have not yet read Part I of this travelogue,
the rail journey on the Amtrak Coast Starlight from Los Angeles to Seattle.
Thursday, March 28, 2002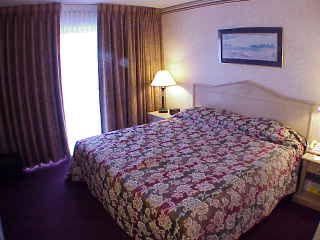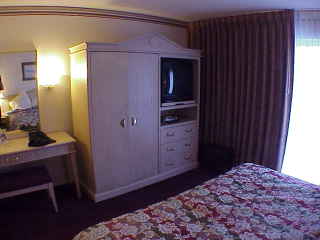 Bedroom of a 2 room suite at the Embassy Suites Hotel
The hotel is everything that I expected from an Embassy Suites Hotel. When my family travels with me, and even when I travel alone, I will often try to book us into the Embassy Suites. They are all fairly similar. The rooms are very sizeable suites. The bedroom part of the suite has either two large beds or one very large King Size bed (and I don't mean one of those wimpy "California King" beds, either!). The front room part of the suite usually has a large sofa, a large comfy chair, and a good size table with 4 chairs that seat 4 very comfortably. There is also a wet bar with a refrigerator, microwave, and coffee pot. The Embassy Suites always makes sure that you have plenty of coffee, creamer, sweetner, cups for 4 and glasses for 4. There are additional glasses in the bathroom besides the 4 on the wet bar.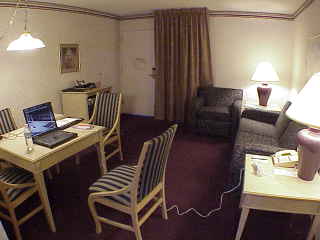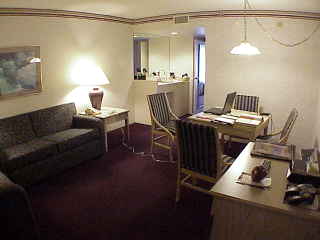 Front Room of a 2 room suite at the Embassy Suites Hotel
A complimentary breakfast is served every morning in the atrium, and I don't mean a cheap continental breakfast. They have a grill going and cook bacon, sausage, pancakes, french toast and eggs to order. They have an entire table full of pastries, fruit and cereals as well as coffee, tea, hot cocoa, milk and juice. Unfortunately, with my new diet, all I could take advantage of was a bowl of raisin bran, non-fat milk, a glass of orange juice and an apple. But I certainly do appreciate the hotel's efforts to cater to their guests! Early each evening between 5:30 and 7:30 P.M., the Embassy Suites features a Manager's Reception where wine and well drinks are free along with snacks.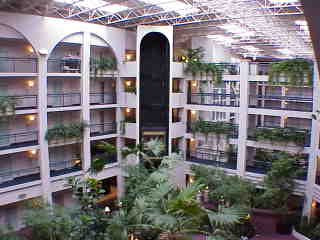 The Atrium, including a waterfall, at the Embassy Suites Hotel
One of the favorite things that I like about Embassy Suites is the huge attrium in each of their hotels. Usually, this attrium is indoors and all the rooms on all floors are arranged around this attrium. I like having a room on the upper floors where you can look down several floors to the bottom of the attrium. At the bottom is where they have all the tables for serving the complimentary breakfast. Winding through the seating area is an artificially created river with gobi fish. There will also usually be bridges over the river in a number of places and artificial waterfalls that flow around the clock. The weather is always perfect in the atrium as it is indoors with a huge skylight above which makes up the roof of the building. From each room, you can either go out your door to the corridor overlooking the atrium or go out the sliding doors in the bedroom to an outdoor balcony overlooking the surrounding area.
Sometimes my family and I will stay at any Embassy Suites right near our house on special occassions like New Years or long weekends. Without going very far from home, I feel I can take a mini-vacation with all the comforts and atmosphere provided by the Embassy Suites hotel. They also allow you to "double-dip" in earning mileage. They provide me with both Hilton Honors points and an Alaska Airline Mileage Bonus. That is in addition to the miles that I earn on my Alaska Airlines VISA Credit Card by charging the room to that card. So it is really a "triple-dip" of mileage points! That is probably why I'm on a little quest to see where there are Embassy Suite Hotels that are relatively convenient to the Amtrak destinations that I frequent.
This hotel does not have high-speed internet service that I can hook up to my notebook computer. The do have "LodgeNet" which allows be to browse the web at high speed on the TV in the room. They charge $9.95 per day and that provides access from noon of one day to noon of the next day. It is not a good idea to activate this service before noon as then you only get it until noon of that same day. Then you would have to pay $9.95 again to re-gain access from noon to the next noon. Thus, I waited until after I got back from lunch to activate it.
There is a special web page that we use internally at TrainWeb to monitor the status of all of our webcams. All nine of them fit on one screen and that screen updates once every 3 minutes. We don't need it to update any faster as we are just using it to make sure that the webcams are all operational. But even so, the image of a train at the station gets captured in that 3 minute sample. One thing nice about the slow sampling is that once a train is captured in the image, that image of the train stays up on the screen for the next 3 minutes! I used the "LodgeNet" access to put that screen up on the big TV set in my hotel suite. Since I am working at the computer on a large table in that room, I can just glance over from time to time to check the status of our webcams. Since the time that I set it up about 10 minutes ago, I've already seen a Pacific Surfliner in the Fullerton Amtrak Station.
The quality of the Earthlink dial-up service is not as good in Bellevue as it is just accross the lake in Seattle. I've always been amazed that I can get a dial-up connection from the Pioneer Square Hotel at better than 52Kbps every time! Nowhere else in the country have I ever been able to get dial-up access to the internet at better than 50Kbps. From most places I usually will connect at 42Kbps, and sometimes as fast as 48Kbps. Frequently, I get connections that are only in the 24Kbps to 37Kbps range. I get the 52Kbps from the Pioneer Square Hotel by calling Earthlink's 206-384-4492 Seattle dial-up access number. But, the area code in Bellevue is 425 and I can't call the Seattle number without a long distance charge. Earthlink does have 4 dial-up access phone numbers that are local for callers from Bellevue, but the best speed I've been able to get after several calls to all of them is 24Kbps, which is pretty pittyful.
Most Embassy Suites have gone to a policy where they charge you 75 cents for each local call up to one hour, and then they charge you 10 cents per minute for every minute beyond the first hour! Naturally, it makes sense to keep track of how long you are on-line. After each hour, I hang up and dial back into the internet. Thus, it is costing me about 75 cents per hour to remain on-line rather than $6.00 per hour to be on-line!
Let me tell you about lunch! It didn't quite turn out the way that I expected. I had already decided to go to the Golkonda South Indian Restaurant. Click here to read more about where I expected to have lunch. There is also another great review of Golkonda at www.naturalchoice.net/review/golkonda.htm. The main reason I wanted to try this place was that they go through special efforts to makes sure that their food is not only vegetarian, but that it is also vegan. I have nothing philosophically against eating meat, I just don't want the cholesterol, fat and excess antibiotics that come with meat products. Unfortunately, these same bad features that are found in meat products are also found in dairy and cheese products, which even vegetarian Indian restaurants use. My ideal restaurant would be one that not only didn't use meat, but also avoided butter, milk, cream, cheese, yogurt, etc. Golkonda is said to have modified their menu to cater to vegans and removed these items from their cooking process.
Anyway, this is what happened. The Golkonda restaurant is located at the Crossroads shopping center. From my research on the internet, I found that there are three restaurants at the Crossroads shopping center. "Bite of India" is also located at the Crossroads, which is also owned by the same people that own Golkonda. There is a third one there, but I forgot the name of that one. I checked the web and found that Bus #245 departed at 11:39 A.M. just a few blocks from my hotel and went to the Crossroads shopping center. The bus runs about every 30 minutes. I left the hotel at 11:30 A.M. to catch the bus, but the walk was a little more than I extimated and I had to stop at 2 major crossings to wait for a cross-walk signal. Just 50 feet from the bus stop, the bus went right by! I could have made that 11:39 A.M. bus if I had just gotten there 20 seconds earlier or if there had been anybody at the bus stop waiting to board that bus. So, I had to wait for the next one which came at 12:02 P.M.
The bus provided me with a little tour of the area on its way to the Crossroads shopping center. The bus took a little detour and drove all around inside the campus of the Bellevue Community College (BCC). I got off at the Crossroads shopping center stop and headed for the Barnes & Nobles Bookstore. From the internet, I knew it was near the Barnes & Nobles Bookstore. I didn't see it on my walk to the bookstore. I walked past the bookstore and around the corner and didn't see it there. After walking to the edge of the shopping area, I prepared to cross the street to try to find it among a number of shops over there. I could see many of the signs on the shops and none of them were Golkonda. The best thing for me to do at that point was to call the restaurant and ask for directions.
I called them, told them I was at Barnes & Nobles and asked where they were located. They said they were immediately next door to Barnes & Nobles. I knew that something was wrong as I had explored that entire area, but I did have an idea and asked them what was the name of their restaurant. They said it was "Udupi Palace". I had passed that and new right where that was. I asked them if their name used to be Golkonda and they acknowledged that used to be their name. That explained why I couldn't find the place!
The Udupi Palace was a vegetarian Indian restaurant as indicated by large signs outside the restaurant. It turns out they also have restaurants in Los Angeles, Sunnyvale and Maryland. You can find their website at www.UdupiPalace.com. When I last checked it, the website only seemed to talk about their Maryland location, but the menus of their other 3 restaurants are probably similar. When I entered the restaurant, it wasn't what I expected. There wasn't any buffet! They seated me at a table and gave me a menu. I've eaten at quite a few Indian restaurants that didn't have a buffet. I don't understand most of the Indian names of dishes on the menu, but I can usually pick what I like by looking at the descriptions of each dish. This menu, however, didn't have any descriptions for the items! To keep things simple, I just ordered the South Indian Thali lunch special.
They brought out two dishes and each dish was covered with many little silver bowls. Each bowl had a diffent food item. Some of them I recognized, but some I had never seen before. At least half of them looked like soups. I liked all of the items that I had eaten in other Indian restaurants. I even liked all the items that I had never seen before! One looked and tasted a bit like chopped up beets, but whatever this was tasted very good! Another item tasted just like a spicy thick pea soup, but it was tan in color rather than green. There had to be about 6 items on one plate and 5 items on the other plate, along with two types of bread and two types of rice. There was no way that I could eat it all! I think I ate too much of just what I did eat.
Unlike most of the Indian restaurants that I frequent in southern California, this restaurant was quite crowded and busy with lots of waiters. All the waiters and almost all of the customers were Indian, or at least were accompanied by someone that was Indian. I know how to select foods from an Indian buffet and don't feel uncomfortable in the way that I eat them. But here, I felt totally out of place! I had no problem picking up my spoon and fork and eating whatever I liked, or dipping my bread in anything that looked good for dipping bread, but I was certain I was eating everything wrong by Indian standards! I felt sort of like the person that has never encountered American food before and pours ketchup on their tuna sandwich! I certainly could have used Shivam's help on this trip to explain how each of these foods were supposed to be eaten.
I paid the check and left the restaurant. They had a take-out menu which I am taking back with me so that I can show it to Shivam and he can try to give me some ideas about whatever it was that I ate, and maybe how I was supposed to eat it. Although the food was very good, I was disappointed that it was not a buffet. Plus, I don't know if they have kept to their reputation of preparing items vegan style rather than vegetarian style. I already felt so out of place there that I really didn't want to ask any more questions than necessary. I'm sure a number of those dishes had yogurt as a main ingredient. But, some of the dishes tasted like they were free of any milk or cheese and were also not oily. Maybe they still have many dishes good for vegans, but you need to know exactly which ones to order.
I headed across the street to the bus stop. I picked up a free "Seattle Weekly" from a newsstand. A slight drizzle started to come down. There wasn't any shelter at that bus stop, but I could see there was a shelter at the next one down the road. I kept the "Seattle Weekly" with me as I walked briskly down to the next stop. If it started raining heavier, I could use the newspaper as an umbrella. I was able to glance through the entire "Seattle Weekly" before the bus came. It was the same bus that I took here! I sat at the same seat that I took on the way to the restaurant and the same newspaper that was in the seat next to me on the way up was still in that seat. That made sense. The bus could have reached the end of the line and come all the way back in the time that it took me to find and eat in the restaurant.
When I got off the bus, I headed through the Sunset Village shopping center. I noticed that one of the restaurants on my list was right there: "India Gate". When I went in they gave me a menu to take back with me. I had been planning to go to either Chutney's or the Mayuri Indian Restaurant for dinner. However, that was when I was expecting to have a buffet for lunch and have been able to just take small samples of a number of items. I know how to limit myself at a buffet so that I'll still be hungry for dinner. I think I overdid it at the Udupi Palace. I'm not sure if I will be hungry for dinner at all, and if I am, it might not be until later than my usual dinner time. In either case, I don't think I am going to want to make a big excursion for dinner. I might just eat at the India Gate next door and save those other two restaurants for the next time I stay in this area.
I did find a shortcut back to the hotel. The shortcut took me right into the rear of the hotel parking lot. From there I just had to walk around the front of the hotel to the entrance. If I knew about this shortcut on my way to the bus stop, I easily would have made that first bus on time. I arrived back at the hotel at 2:19 P.M., just a bit shy of 3 hours from the time I departed from the hotel. I had estimated lunch to only take about 2 hours, but missing the first bus and then having difficulty trying to find the location of the restaurant cost me about an hour. When everyone at our office goes to a buffet for lunch, we find that we are usually in and out in less than 30 minutes. There is no waiting for anyone to take your order or prepare the food. You just have to take your food, eat it, and then go to the register to pay your bill and leave. That is a nice thing about buffets. They don't take much time out of your work day. If this Indian restaurant did have a buffet, it could have taken me as little as 90 minutes from the time I left the hotel until the time that I returned, if everything had gone smoothly. Well, in any case, I think that was enough of an adventure for today! I'll stick close to the hotel for dinner if I have dinner at all today. There is still a lot of work that I need to get done today, so I'm heading back to my work!
At about 6:00 P.M., I went to the atrium to get a couple of free glasses of red wine at the Manager's Reception. When I checked in, they gave me 2 cards good for free drinks for 2 nights in the hotel since I was staying for 2 nights. Unfortunately, I'll only be able to use one of these cards as I arrived too late the first night for the reception and won't be staying long enough tomorrow for it either. I guess each card is good for 2 drinks since the bartender gave me one of the cards back along with my 2 glasses of wine and told me that card was good for tomorrow. I thanked him and dropped a dollar tip in his tip basket. I noticed that there is also a little gift shop in the main lobby. I purchased a street map of the Bellevue area in that shop this morning which came in very handy in finding my way to the bus stop and making sure that I knew where to get off the bus. The gift shop is open from early in the morning until fairly late at night. I think it is open from 7:00 A.M. to 10:00 P.M. The last Embassy Suites where I stayed also had a gift shop, but it seemed like it was only open during the peak times of people departing from the hotel in the morning and arriving into the hotel in the afternoon.
Two glasses of wine fills my quota for today! I won't even have to take any more wine out of the bottle of Clos Du Bois Shiraz that I purchased on the northbound Amtrak Coast Starlight. I can take that bottle back with me onto the train tomorrow and have a personal supply of wine in my room for the next two days!
I decided to head over to India Gate for some dinner at about 7:00 P.M. I found a shortcut out the back of the Embassy Suites Hotel. That is the shortest way to the Sunset Village shopping center as the hotel faces away from the shopping center. I noticed that card access is used to get back in through that back door. I hope the access card to my room will open that door. Otherwise, I'll have to walk around to the front of the hotel again!
For those of you that are thinking of staying at this hotel, there are a lot of shops and restaurants right across the street from the back of the hotel. If you are into fast food, there is a McDonalds, Dairy Queen, and 7/11 right across the street. There are a number of family restaurants in the Sunset Village shopping center as well as a Safeway supermarket. The 245 bus stop is right beyond the shopping center. If you aren't ready to pay the price of a room at Embassy Suites, there is a Days Inn right by the McDonalds and 7/11.
I'm not really that hungry yet, but I think I will be later and I try to avoid eating after 8:00 P.M. I also wanted to check the quality of this Indian restaurant in case I stay at this hotel again. It certainly is convenient to the hotel. I wish I had come to this place for lunch instead of Udupi Palace. It looks like they have a good amount of vegetarian items in their lunch buffet.
This dinner is quite a bit different than anything I have done before. In the lunch buffet there are a lot of different items. I usually just take a spoonful of every item that I like to get a variety of tastes. When I go for dinner, there are usually a number of us that go together. We get about as many items as there are people in the group, or maybe a few more items, and we all try a little of every item. Sort of the way most people order at a Chinese restaurant. But what do you do when you go to the restaurant alone? I've heard that most Indian meals are usually just one or two items accompanied by rice and bread. Having a great variety of items like you find in a buffet is unusual unless at a party.
I looked at the Vegetarian section of their menu and ordered the Chana Masala, Tandoori Roti and a Mango Lassi. The Chana Masala is a dish of garbanzo beans in a thick masala sauce. Basmati Rice is served along with the Chana Masala. I had my choice to have it prepared Mild, Medium, Hot or Extra Hot. I like my food prepared "Hot". I don't think I'm quite ready to graduate to "Extra Hot" food yet! I normally to not order a Lassi beverage with my meal since it contains a lot of yogurt. But, I wanted to be on the safe side since I didn't know how "Hot" this restaurant prepared their foods that are spiced to the "Hot" level. A Lassi is great for cooling down the inside of your mouth if the food is too spicey. The Tandoori Roti is a flat bread made from whole wheat. I forgot to tell them not to put butter on, so it came with a bit of butter melted onto the bread. There were two pieces of Tandoori Roti, so I ate just the one that looked like it had less butter on it.
The food was excellent! I will definitely eat at this restaurant again if I find myself staying in this area in the future. It seems strange to me to make an entire meal out of garbanzo beans, rice and bread, but it worked out fine for me! The spices are the key. They make an ordinary bean into an exciting dish. I could not finish everything and left about a third of each item in the plates. I wish I could take a doggy bag to finish it on the train tomorrow, but I don't think I want to eat cold Indian food on the train.
The Indian Restaurants in this area seem a lot more popular than those in Orange County. The two that I checked today seemed quite busy with a lot of patrons. I'd say two factors seem to be at work. There seem to be a lot more Indians in Bellevue than Orange County and there also seems to be a large college student population.
Walking back to the hotel, it started to drizzle. As I got closer to the hotel, it started to rain a little harder, but not too hard. As I got closer to the McDonalds and 7-11, I figured I could duck into one of those shops if it started to really pour down. But, I was able to make it all the way to the rear entrance of the Embassy Suites Hotel before the rain got any harder. I was a little wet and my eye glasses were dripping, but it wasn't too bad. The door was locked as I suspected it would be. I tried my door card in the card mechanism and, fortunately, it did unlock the door. I headed up the elevator by the door to the fourth floor and went right to my room.
Friday, March 29, 2002
Last night, I didn't get to bed until just after midnight. There were a number of sites that had been submitted to the TrainWeb RAILring over the past few days. I wanted to get those approved before I got back on the train and would not be able to get onto the internet to work on those sites until Monday.
I'm not sure why, but I woke up several times during the night. Each time I woke up, I felt well rested and ready to get out of bed for an early start to the day. Unfortunately, it was only about 1:15 A.M. the first time this happened! I usually sleep right through the night, even when I'm expecting to board a train the next morning. I'm not sure why last night was any different. I woke up again just a bit after 2, 3, 4 and 5 A.M.! Each time, I felt refreshed and thought it was already morning and time to get up! At about 5:45 A.M., I gave up and just got up and got dressed anyway. The alarm and wake-up call were set for 6:30 A.M., so I would at most get only another 45 minutes to sleep if I stayed in bed and I might not wake up so refreshed and ready to go as I was at that moment. I did a bit of last minute packing and then went down to the atrium for the free breakfast. I had my usual raisin bran, non-fat milk and orange juice. Actually, the raisin bran is a bit of a treat from my usual breakfast of GoLean. The raisins add quite a bit of calories to the bran so I don't make a habit of eating a lot of raisins.
I checked out using that feature of LodgeNet on my TV screen and requested that a confirmation be sent to my e-mail address. The LodgeNet service said to just leave the keys in my room, but I brought them down to the front desk since I needed to ask them to call a taxi for me. They asked if they could call a Town Car for me instead as that would be faster. I said that would be fine. I don't know if it was faster or not as is still took about 10 minutes for the Town Car to get to the hotel to pick me up. One think I will say is that the Town Car is certainly a lot more luxurious than the taxis! My Lexus GS300 is comfy and sporty, but nothing still matches the big American cars with huge soft seats for the greatest comfort! There is a carpool lane on the 90 freeway, so it took us very little time to get to the Seattle Amtrak Station. Actually, there wasn't a lot of traffic in the regular lanes. I don't know if it is always that way in this area or there is just less traffic this morning because a lot of people are taking Friday off due to the Easter Weekend. The commuter traffic might be low today, but I'm sure the traffic of people going to visit their relatives will be very high later today. I think this is the weekend that a lot of students end their week of Easter vacation and a lot of other students start their week of Easter vacation. For my daughter in college, this weekend is the end of her Easter vacation, and for my daughter in high school, this weekend is the start of her Easter vacation. I'm sure this common weekend to both vacation periods is going to create a lot of traffic on the road and a lot of passengers on Amtrak trains. At $25, the cost of using the Town Car was $4 more than taking a taxi. I gave the driver a $5 tip which made the overall cost $5 more than the cost of the taxi.
In the Seattle Amtrak Station, I found a lot of transit bus schedules. I managed to locate about 4 different routes that could get me right from the Amtrak Station to within a few blocks from the Embassy Suites Hotel in Bellevue. Two of those buses only run during commute hours, but the other two run all day and on weekends and evenings. Now I know a less costly way to get from the station to the hotel! It also gives me a way to get from the hotel to visit Pioneer Square or Downtown Seattle from the Embassy Suites rather inexpensively!
I arrived into the station at about 8:00 A.M. One of the Amtrak Cascades trains was just finishing their boarding. There were very few people in the station waiting for the southbound Amtrak Coast Starlight yet. But that started to change drastically over the next hour!
By 9:00 A.M., the Seattle Amtrak Station had more passengers waiting to board the southbound Amtrak Coast Starlight than I've ever seen in my life! People started lining up to get their boarding passes at about 9:00 A.M. The ticket agents were telling people that the Conductors would start taking tickets and issuing boarding passes at 9:05 or 9:10 A.M. But, it turns out, the Conductors were given a late reporting time since the northbound Amtrak Coast Starlight arrived very late last night. The Engineers and Conductors are mandated by law that they have to get so many hours of rest between each work period. Thus, they could not show up at the station to start collecting tickets any earlier than 9:30 A.M.
It seems that the Amtrak Ticket Agents also were taking tickets and issuing boarding passes at the ticket counter. At least, that is what I heard a number of other passengers reporting. Maybe they were just doing that for people that requested Red Cap help in boarding the train. The Red Caps were helping people board the train even before the Conductors arrived to take tickets.
The lines for both Sleeping Car passengers and Coach passengers ran all the way from one end of the station to the other and then curved around towards the front entrance to the station! I've never seen the line quite that long, especially for Sleeping Car passengers. As I mentioned above, there are a lot of people traveling for the Easter weekend.
I heard one person describing the onboard experience to another person. The person doing the describing had traveled at least once before on the Amtrak Coast Starlight as this was going to be the return segment of her trip. The other person had never traveled on Amtrak before. I was pleased to see that the person with the prior experience was all excited to re-board the train for her return trip. She described everything about the train in "good" terms. She described the small bedroom on the train as "cute". She also referred amusingly to the small size of the toilet/shower room that is inside each Deluxe Sleeper and said that she always uses the Shower / Dressing Room on the lower level to take a shower as that one is a "real" shower. But, she described everything about the services and events on the train in glowing terms.
The Conductors did arrive at 9:30 A.M. and started taking tickets and issuing boarding passes. Usually, they have people return to their seats in the waiting area after each one is issued their boarding pass. But, since the Conductors were late arriving today and the train was at the platform, each passenger was allowed to head out the gate and board the train as soon as they were given their boarding pass. My room is #11, on the lower level of the 1131 car. Since it is an odd numbered room, it will be on the coastal side of the train. When heading south, the odd numbered rooms are almost always on the west side of the train. On heading north, the even numbered rooms are on the ocean side of the train. Just remember: "Even Up, Odd Down". Or another way to remember it: since the northbound train is #14, an even number, then the even numbered rooms are on the oceanview side of the train. The southbound train is #11, an odd number, then the odd numbered rooms are on the oceanview side of the train. There is no guarantee that the rooms will end up oriented this way, but it has been that way on 95% of the Amtrak Coast Starlight trains I have ever taken and that is a lot of trips!
I like being on the lower level at times, especially when the train is carrying a lot of passengers. When there are a lot of passengers on board, then there is a lot more traffic going back and forth down the aisles. Since the only way to get from car to car is on the upper level, that is where you will find all the walking traffic. It tends to be quieter on the lower level. Even at station stops, the only traffic on the lower level is between the stairs and the door in the vestibule which is not by any of the rooms on the lower level. Plus, if I feel like stepping off at any of the smoking stop station, the door is right by my room. I don't have to deal with any of the traffic going up and down the stairs that can sometimes be a problem at the busier stops. The only disadvantage for me is that the lower level sometimes does not have as good a view as the upper level. If you have difficulty with stairs, but can make it up and down just once for the trip, then you might want to get a room on the upper level. Otherwise, you'll be going up and downstairs every time you want to go to the Parlour Car, Lounge Car or Dining Car. But, if you are a smoker that has problems climbing stairs, you should definitely get a room on the lower level so you don't have to go up and down at every smoke stop.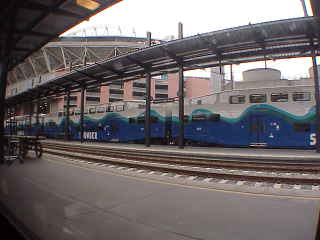 The train departed Seattle at 10:54 A.M., 9 minutes behind schedule. At 10:27 A.M., we had to stop because of track work being performed ahead. The Conductor said there should not be too much of a delay and we should be into Tacoma soon. The train departed from Tacoma at 11:03 A.M, 20 minutes behind the scheduled departure time of 10:43 A.M.
At about 11:20 A.M., we went under the Tacoma Narrows Bridge as we traveled along the shore of the narrows. This bridge replaced a previous bridge that used to swing wildly during strong winds. Because of its swinging motion, it got the name "Galloping Gurdy". Finally, in the 1940's, during strong winds, the bridge collapsed. This bridge replaced the collapsed bridge. A better design was used and it does not have the problems of the bridge that it replaced.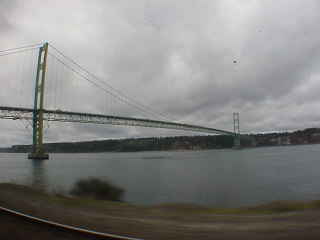 Tacoma Narrows Bridge - Second Longest Expansion Bridge In The World
We departed from Olympia-Lacey, Washington, at 11:51 A.M. I would have stepped out to wave at one of the RAILcams.com webcams, but the image has been frozen since March 1, 2002, due to some problem with the Washington State Department of Transportation (WSDOT) web server.
I was going to skip purchasing a Bloody Mary today, but I just couldn't resist. It seems to me that a trip on the Coast Starlight goes hand in hand with a spicy Bloody Mark in the morning. The Pacific Parlour Car Attendant was friendly and trying to sell glasses of wine. He asked everyone that came by if they would like a glass of wine and reminded me that he would be serving glasses of fine wine all day. He offered to sell wine to everyone that came up to him to place their names on the waiting list for lunch. I also purchased two Coast Starlight souveniers: a key chain and a pin. Other than purchasing the Coast Starlight corkscrew on the way up, I can't remember the last time that I purchased a souvenier on a train! They used to give these items away free to every Sleeping Car passenger, but they stopped doing that a long time ago. Now the only way to get these souveniers is to buy them. I already had a keychain, but my Coast Starlight logo is just about completely worn off. But, I might want to keep this one as a real souvenier rather than also wear it out.
The Pacific Parlour Car is surprisingly empty despite the number of Sleeping Car passengers that boarded in Seattle. Only one of the eight big comfy swivel chairs was occupied. Other than that, there were only one or two other people in the car. I suspect the reason it was so empty is because the Dining Car opened at 11:00 A.M. and everyone in the Parlour Car probably headed into the Dining Car for lunch. Before I left the Parlour Car, a few more people started to show up to place their names on the waiting list and to wait in the Parlour Car for their names to be called for lunch.
On the way back to my room, I noticed that about half the rooms were filled. That might not seem like a lot, but it actually is when you consider that we have only picked up passengers from four stations so far.
The first toilet on the lower level seems to be having issues. The toilets in these Superliner II Cars automatically flush when you close the lid. But this one wasn't flushed yet. Since they are automatic, the problem wasn't that anyone forgot to flush. After I used it and put the lid down, I noticed that it took quite some time before the flushing process started. The red light that indicates that the flushing cycle is active did not go on. However, the toilet did successfully flush. You can lift and lower the lid when the red light is on without causing another flush. Once the red light goes off, the toilet will flush again if you lift and lower the lid. The red light on this toilet never went on, but it did flush successfully. On the way up, the water pressure in the sink was perfect. The water came out of the faucet at the right speed. In this toilet, the water comes out of the faucet like a fire hose! If you aren't careful, the water will splash in and out of the sink and all over the front of your clothes. I've gotten used to this from my many Amtrak trips and am always prepared for a high powered faucet to try to splash all over me. It doesn't help to just not put your hands under the faucet. The water will hit the bowl of the sink so hard that it will still splash out onto your clothes. You just have to stand back before you turn on the sink to see how high is the water pressure. Some of the Superliners have been refurbished with a new sink bowl. The new sink bowl is so deep that you seldom have to worry about splashing from high pressure water hitting the bottom of the sink bowl. It is difficult to wash your hands when the water pressure is so high. No matter what part of your hand you place under the flow of water, the water bounces off your hand and all over the place. All you can do is put your hand under the water in a way that deflects the splashing away from you and then use your wet hand to wash the other hand. Just repeat this procedure with your other hand and you'll get the job done. It would be so much better if they could always adjust the water pressure properly. I'm sure a lot of water is wasted this way also. The sink is pouring out much more water than you even want to use.
I also discovered something today that I did not know before today. The water pressure can be too high in one sink and be fine in the other sinks. I thought the water pressure was a setting that affected the entire car. After testing that theory, I found that the pressure of each sink is independent. Since the hot and cold have the same pressure at each sink, there must be a mechanism at each sink that sets the pressure for both faucets at that sink.
At least the door lock on this toilet clicks in real well! That is another problem with the toilets on Amtrak Superliner Cars. They use a sliding bolt. As the bold ages, it becomes loose. Eventually, it wears to a stage where it doesn't lock securely anymore. When that happens, just the vibration of the train can unlock the door while you are siting on the toilet. I've never had anyone walk in on me, but I've had the embarrasementn of opening the door on two different occassions when someone else was sitting on the toilet! Because of that, I now take a precaution to avoid embarassement for the person in the toilet and for myself. I always walk past the toilet door and then slowly turn and open the door while I'm standing behing the door. If anyone is in there, they will grab the door and close it as I slowly open the door. Since I'm standing behind the door, I can't see them and they can't see me, saving both of us a lot of embarassment! When I'm the one inside, if I find that the toilet door does not lock securely, I chose a different toilet next time. There are 3 toilets on the lower level and one on the upper level in each Sleeping Car, so there are plenty to choose from! When I don't have any choice but to use a toilet with a problem latch, I will stick folded business cards in the crack between the door and the doorframe. This causes the door to jam tightly against the frame preventing the latch from jiggling or moving.
One thing that I find annoying is people that try to open the toilet door, find that it is locked, and then try again and again to open it. This is understandable for small children, but I don't think it is just small children that do this. This doesn't happen very often, but it is annoying when it does happen. There is actually a small amber light in the ceiling above each toilet that indicates when the toilet is occupied. Actually, it doesn't indicate when the toilet is occupied. It just indicates when the door is locked. Thus, if the lock to the toilet slides open by itself, the light also goes off. The only people that know about the amber lights indicating that the toilet is locked are the Car Attendants and frequent passengers like myself. Thus, I don't even try the doors where the amber light is lit above them. I have no idea why the people that designed the car just didn't put a lighted sign on the door that either said "OCCUPIED" or "VACANT". They already went ahead and put in all the wiring to make such a mechanism work. They just didn't finish the job in a way that would be useful to all passengers instead of just those of us that know the inside scoop. There is an engraved metal piece that is part of the sliding lock that indicates if the toilet is occupied, but you know those get worn out and are hard to read. Most people either never notice them, or if they do, the paint has worn off or the latch is only half-way closed giving no clear indication whether the toilet is really occupied or not. If they ever build Superline 3 Cars, I hope they address these issues and get them fixed once and for all.
As far as the latch on the toilet goes, I think they should have just used the same mechanism that they use in the Sleeping Rooms in the same car. Those work like a champ! The latch secures the door from opening and then another catch prevents the latch from opening up. If they used that same lock on the toilet doors, you know that nobody would ever be able to accidentally open the door! If you think that is not practical as the Car Attendant needs to have a way to get into the restroom in case of an emergency, I will not dispute you on that. I would just say for the same reasoning that the Car Attendant needs to be able to get into any room in the Sleeping Car in case of an emergency, like what happened in the travelogue of my northbound journey of this trip. I agree that there should be some override mechanism that the Car Attendant can use to get into any room on the train in an emergency.
The train departed Centralia, Washington, at 12:12 P.M., 20 minutes behind schedule. At least we haven't lost any further time since our previous stop.
There appears to be a child on the train that in unaccompanied by an adult and neither of the Conductors can find the ticket for the child. I wonder what policy is in this case? You can't throw a child off the train at the next station! I guess they will just have him ride to his destination, assuming either the Conductors or the child know what the destination is, and then let the Ticket Agent deal with the adult that is picking up the child.
Sometimes I can travel long distances without my railroad radio scanner. At other times, it really adds to the enjoyment of the ride and I couldn't imagine enjoying the ride without the sound track. It provides a real personality to the train. I listen to the Engineers, Conductors and Dispatchers talking back in forth. It adds meaning as to why we slow down in various parts of the route, why we pull into sidings, what we are waiting for, and how long we will likely have to wait there. It gives me more of a sense of exactly what is happening as we pull into a station or prepare for departure. I'm not in the dark if there is a mechanical problem and the crew is working to resolve the problem. The radio also keeps me informed of exactly where we are on those routes where I have a listing of all the automated feedback detectors (See: RAILradio.com). Having a railroad radio scanner adds an entirely new dimension to the rail trip. It gives a voice to the train. I've had my railroad radio scanner turned on since the moment that we left Seattle.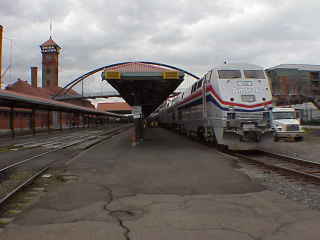 Portland Amtrak Station
The train arrived into Portland, Oregon, at 1:59 P.M., just 4 minutes behind schedule. The padding in the schedule allowed the train to make up 15 of the minutes that it was running late.
While I was on the station platform, I got all the numbers of all the cars, all the way from the locomotive down to the very last coach car. When I was standing on the platform ahead of the locomotive taking photos of the train and the station, a security guard came up to me to ask if I was a passenger on the train. He was friendly about it, but that was the first time I have ever been approached by a security guard at an open station platform. Things certainly have changed since September 11! Once I acknowledged that I was a passenger on the train just taking some pictures during our short layover, he thanked me, walked away and didn't bother me any further.
We eventually departed from Portland at 2:40 P.M. Now the train was 25 minutes behind schedule! The train arrived 4 minutes late and left 25 minutes late. I guess there was a lot to take care of in Portland.
At 2:45 P.M., an announcement was made that the Wine Tasting would begin in the Pacific Parlour Car for Sleeping Car Passengers at 3:00 P.M. Also, the movie "Cats & Dogs" would be played in the theatre n the lower level of the Parlour Car for children, which would begin at the same time as the Wine Tasting at 3:00 P.M. The Pacific Parlour Car had started to get a bit more filled up at 2:15 P.M. while we were in the Portland Amtrak Station. Almost all of the eight big swivel chairs were taken and people were also sitting on the couches and at some of the tables. Since I had my own bottle of good wine that I had purchased in the Club Car on my northbound journey, I decided to skip the Wine Tasting today and just pour a glass out of my own bottle. Unfortunately, the cork was harder to remove than when I originally opened the bottle on Wednesday. When I finally managed to pull it out, the almost full bottle shook and spilled a bit of wine on my clothes. I had a plastic bag spread out in my lap that I had wrapped the wine in, so there wasn't much that got on my clothes. What did get on, I dabbed with water from a water bottle I had in the room. I'm wearing my traditional black TrainWeb outfit, so the wine stains weren't very prominent. Hopefully, I got most of it out, but I won't be able to tell if any stains get left behind on my black golf shirt or pants until they dry.
At 3:25 P.M., the Dining Car Steward came around giving out Dining Car reservations. I asked for the earliest seating he had available. He said that all he had left was 1 at 7:00 P.M. and the rest were all at 8:15 P.M. That is strange, as I assume he still has one more entire Sleeping Car to go through since my Sleeping Car is in the middle between the other two. It is possible that he already gave out reservations in the Parlour Car and the top level of all three Sleeping Cars before he then went to do the lower level of each Sleeping Car. If he did give them out in the Parlour Car before going to the Sleeping Cars, that would explain why he has so few time slots available. Since the Wine Tasting is going on in the Pacific Parlour Car right now, a good number of the Sleeping Car passengers must be in there right now. I said 7:00 P.M. would be fine. Each of the other people on the lower level in my car said that 8:15 P.M. would be fine with them.
When we arrived into Eugene, Oregon, the Conductor did not want the Car Attendants to open the doors until the northbound Amtrak Coast Starlight, Train #14, departed. Above is a photo that I took out the window of my room of Train #14. As soon as Train #14 departed, the Car Attendants opened the doors. The Conductor made an announcement to not leave the immediate vicinity of the door of the train if you decided to step off for a smoke. He said the taxi fare to catch the train at the next stop is more than $100 and many people who have been left behind have had to pay that fare. A few minutes later, the Amtrak Ticket Agent made a similar announcement over the P.A. system, once again reminding passengers of the cost of the cab fare to the next station. The Amtrak Ticket Agent said this was the last boarding call and anyone that was in the restrooms or on a pay phone should immediate go to board the train. The train departed Eugene at 5:41 P.M., 41 minutes behind schedule.
I just remembered, Chris Guenzler is on that train! Unless I have my trains and dates mixed up. Chris and I talked just the other day before we realized that we were going to be on two different Coast Starlight trainsets that were going to cross each other enroute. Chris is also an avid writer of travelogues. Click here to read his travelogues. If his travelogue of the trip he took on the Coast Starlight that I just passed is not posted there yet, I'm sure it will be posted there soon!
As I was getting ready for bed, the train bumped real hard and knocked something down behind my suitcase. Later, I found out it was just one of those free packets of stationary that is placed in each Sleeping Car room on the Coast Starlight. The bump was pretty strong, but I've experienced much worse bumps from time to time on my Amtrak travels. However, the Dining Car must have felt the bump a lot worse than in my room. A Conductor called from the Dining Car to the Engineer asking which switch that was. They then reported the problem switch to the Dispatcher. The Conductor reported that it practically threw the Dining Car off the track. The Dispatcher said that he would get someone right out there to take a look at the problem. At the head of the train, I guess the Engineer didn't feel the bump any worse than I did in my room as the the train had moved right across that section of track at high speed and was still not slowing down.
Saturday, March 30, 2002
When I woke up, I looked at the clock and I thought it said 6:38 A.M. The train just started to pull out of a station. From what I could see out the window, I knew the station wasn't Sacramento. Since the train was running late, I figured the next station would have to be Sacramento, which would make this station Chico, California. After I got dressed, I took another look at the clock. My eyes must not have been working too well when I woke up as I now noticed that it was only 5:45 A.M.! Thus, the train had stopped at Chico at 5:38 A.M. and not at 6:38 A.M. There was full daylight outside. It was not like the dim light of dawn. It was full daylight! I didn't realize that the sun was already coming up so early at this time of year.
I went to the Pacific Parlour Car. Within a few minutes, the Parlour Car Attendant started serving coffee to everyone in the seats. When I had first entered the car, there was hardly anyone in there, but people started coming in pretty quickly after 6:00 A.M. A lot of people like to go into the Dining Car as soon as it opens for breakfast and end up waiting in the Parlour Car for the first call to breakfast. After serving everyone coffee, the Parlour Car Attendant then brought juice to everyone that wanted some juice. He had set pastries and fruit in the serving area. People were helping themselves to the pastries and muffins. There weren't any takers for the apples and oranges yet, but I knew they would all be gone before the end of the afternoon.
Usually there is also cereal and milk available in the Pacific Parlour Car in the morning, but he didn't put any out this time. The first call to breakfast in the Dining Car was made around 6:30 A.M. and I went into the Dining Car with just about everyone else that had been waiting in the Pacific Parlour Car. I ordered the Musilix Cereal along with 2% milk, orange juice and wheat toast. The Dining Car staff was very pleasant and chipper and wished everyone a good morning. Sometimes it is best to go to the first seating of any meal in the Dining Car before the staff gets tuckered out as the meal service wears on. It also gives you your best shot at getting what you want to order in case they run out of it.
After breakfast, I picked up an apple on my way back to my room in the Sleeping Cars. That apple might end up being my lunch. I was sure sorry that I forgot to pick one up yesterday morning before they were all gone! The train arrived into Sacramento at 7:33 A.M. and I stepped off the train to get some fresh air. For fresh air, I might have been better off staying on the train. There were so many smokers on the platform, half of which were the Amtrak crew members themselves, that I felt I could breath better in the train than out on this platform.
The southbound Amtrak Capitol to San Jose was also at the same platform right across from us. That made for a very crowded platform with a lot of confusion caused by passengers trying to figure out which train they were supposed to board. Sacramento is a service stop so I knew we would have to be here for at least 15 minutes to refuel and water the train, not to mention all the passengers and baggage coming off and on at this major stop. However, with all the confusion caused by so many people on the platform, I didn't want to wander too far from the door of my Sleeping Car. Otherwise, I might have been able to walk to a less smokey section of the platform.
The southbound Amtrak Capitol departed before our train and then our train departed from Sacramento at 7:55 A.M., now one hour and twenty minutes behind schedule.
This train seems to be picking up a lot of passengers along the way. There are also quite a few getting off at each station, but more than that many start their journey at each station stop, more than making up for those that get off! There are sure a lot of hotels in Emeryville, California, including suite hotels. I don't remember seeing so many here in 1995 when I first started traveling by Amtrak. I'm very famililar with the Jack London Square area in Oakland, but am only vaguely familiar with the area around the Emeryville Amtrak Station. I'm going to have to set aside some time in the future to explore this area. It is only 5 miles from Jack London Square. We departed Emeryville at 9:54 A.M.
At the Oakland Amtrak Jack London Square Station we picked up 75 passengers. That might have been 75 passengers overall or 75 passengers just for the Coach Cars and a few more passengers for the Sleeping Cars. One of the passengers that boarded was upset with his room. He was traveling with one child and he had a ticket for room 13, the one behind mine. After he saw the room, he thought there was a mistake. He sought out the Conductor to try to fix the problem. Eventually he returned to the room. He was explaining to our Car Attendant that there has to be a mistake. He paid $240 for his ticket and was supposed to get a Deluxe Room, but instead was given this Standard Room. He was upset that there must be something wrong since he paid so much for the ticket and was placed into such a small room. The Car Attendant commented that it looked about the right amount to him for an adult and a child traveling in a Standard Room from Oakland to Los Angeles. Amtrak fares can vary depending on the season, holiday, and whatever sales are going on. But, that seemed about the right fare to me. Actually, it sounded a bit on the low side. That $240 included the one-way railfare for one adult and one child, plus the accommodation charge for the Standard Room. If he was supposed to have been given a Deluxe Room, $240 would be a darn good fare from Oakland to Los Angeles! I don't think he had a chance to discuss his accommodation with the Conductor yet. The Conductor was busy boarding passengers and probably only had an opportunity to tell him that all the Deluxe Rooms are occupied for now. There was something said about a Deluxe Room becoming available in Santa Barbara.
The train departed from the Amtrak Jack London Square Station in Oakland at 10:25 A.M., one hour and 40 minutes behind schedule. At 11:30 A.M. the train arrived into San Jose. Quite a few people boarded my Sleeping Car at this station! I can remember a time when very few people boarded the Sleeping Car for a journey that wasn't going to be overnight. People used to think I was crazy whenever I got a Sleeping Car room when I wasn't planning to be overnight on the train. Even some of the Sleeping Car Attendants used to think it was strange when I would board when there wasn't an overnight segment left on the rest of the run. But those days are long gone. I've been seeing people frequently board the Sleeping Cars for shorter journeys of daytime only trips for a few years now. That is especially true on the Amtrak Coast Starlight where the ammenities provided to Sleeping Car passengers are so much more than those provided to Coach Car passengers. A lot of people take this train just to enjoy the Pacific Parlour Car, even if they will only be on the train for a few hours. Actually, it is not that short a trip from Sacramento, Oakland or San Jose down to Los Angeles. That is a journey of from 11 to 13 hours, giving you plenty of time to enjoy the upgraded Sleeping Car accommodations and the Pacific Parlour Car! The shortest trip that I have ever taken in the Sleeping Cars is from Los Angeles to San Luis Obispo. That is a ride of almost 6 hours. I know a few people that have taken this 6 hour trip in the Sleeping Cars.
The train departed from San Jose at 11:44 A.M., one hour and 39 minutes behind schedule. With all the people that boarded in San Jose, the train has become a lot more busy. The train is probably now running pretty close to a full load. There are a couple of gals that head out to smoke at every smoke stop. After they re-board the train, they hang out in the downstairs vestibule and continue talking for about the next 30 minutes before they realize they are neglecting the other people that they are traveling with and return to them. This has gone on for almost the entire trip starting right from Seattle. The vestibule is a nice area to hang out if you want to stretch your legs and stand up for a while. The vestibule area is pretty large and there are windows that you can see out on both sides of the train. The vestibule is just around the corner from my room and I can overhear the conversation of the two gals clearly. Whenever the conversations turns to train travel, it is always very upbeat and they talk about how wonderful this trip is turning out and how great their other trail travels have been. For the most part, everyone that I have overheard or spoken with on this train has been very upbeat and pleased with the experience.
At 12:04 P.M., the Dining Car announced that they have a very very long waiting list. The Steward said that he will try to get everyone in before 2:00 P.M., but that he can not guarantee that he will be able to get to everyone on the list. He sincerely apologized for not being able to serve anyone that he is not able to get into the Dining Car by 2:00 P.M. The people that are seated at 2:00 P.M. won't finish until almost 3:00 P.M. and then the staff has to clean up the Dining Car and get it ready to start serving dinner. With this crowded train, they will probably have to start serving dinner at 5:00 P.M., or maybe even as early as 4:45 P.M. to make sure they can get everyone in that wants to have dinner in the Dining Car. I assume they are giving preference to the waiting list that is kept in the Pacific Parlour Car which is where you usually put your name on the waiting list for lunch if your accommodation is in the Sleeping Cars. The meals are included in the ticket price when you pay for a room in the Sleeping Cars, so they should certainly try to make sure each person gets what they already paid for. Coach passengers have to pay for their meal if they eat in the Dining Car, thus they are at least not out any money if they don't get served. Another option is to have your Sleeping Car Attendant bring your meal to your room. A few people have chosen to do that rather than place their name on the long list. However, there will still be a wait for the meal that way as the Sleeping Car Attendant has a lot of duties in addition to bringing meals to the rooms of people that request that service. It is always advisable to give your Sleeping Car Attendant an extra good tip for that extra service.
By 12:14 P.M., the Dining Car Steward announced that the waiting list is now closed. Anyone not already on the list will not be able to place their name on the waiting list. Plus, he is still not certain that he will be able to get everyone on the waiting list into the Dining Car before 2:00 P.M. He once again apologized for any people that wanted to eat in the Dining Car that he will not be able to get to. He explained that we have an unusually high passenger load on the train and the circumstances are beyond the control of the Dining Car staff. Looks like I'm going to be having that apple for lunch after all! A little wine and my apple and I'm happy! I just hope they don't run out of Garden Burgers by 4:00 P.M. or I will have to plan to eat in the busy Dining Car today.
I cheated. I had a bean & cheese burrito for lunch. I wanted a Garden Burger, but they had run out. I purposely went down to the cafe about 1:00 P.M. because I figured they would definitely be out around 4:00 P.M. when I would have wanted to have it for dinner. The Garden Burgers must be getting pretty popular as they were already out of them by 1:00 P.M.! All they had left in the vegetarian line of foods was the bean & cheese burrito. I wish they had just bean burritos without the cheese. There isn't a lot of saturated fat and cholesterol in the burrito, but what is in there, mostly comes from the cheese. There are a good amount of calories and fat in beans, but it is mostly of the unsaturated healthy type of fat. Plus, there is almost no better source of fiber than beans. As a second best, I guess the burrito wasn't too bad a choice. That apple will just have to wait till dinner time! I also poured out and finished the last glass of wine in the bottle that I had purchased on my way up.
It did get to 2:00 P.M. and the Dining Car Steward was not able to get to all the names on the list. There were 5 or 6 names that he was not able to get to. He once again apologized to those people over the P.A. saying that he had tried his best.
The Wine Tasting was held at 3:30 P.M. today. I had gone to the Pacific Parlour Car at about 2:40 P.M. to get a seat and to just relax and read until the wine tasting. There was one seat open at the very end of the Parlour Car on the side with the eastern view. During the wine tasting, they poured a lot more wine for each tasting than the did on the Wine Tasting on my way north. This time they filled the glass about half way for each wine. On the northbound Wine Tasting, they gave each person about a quarter of a glass. This Pacific Parlour Car Attendant was a very good sales person and sold many bottles of the wine that we were tasting. He went individually to every person in the Parlour Car and asked them if they would like to purchase a bottle of their favorite wine from the tasting at a very special price. Several people took him up on the offer. I liked the wine bottle labels as they had a picture of an Amtrak train, but I did not like the taste of the wines that much. So, I did not buy any of them.
The Dining Car Steward came through the Pacific Parlour Car first giving out dinner reservations. I asked for one for 5:00 P.M. Before the Dining Car Steward even got to finish giving out reservations in the Sleeping Cars, he ran out of available reservations! He then took a waiting list and ended up with 90 names on the waiting list! He again announced over the P.A. that he was going to try his best to seat as many as he could, but was lucky if he managed to get through 30 of the waiting list names before the Dining Car would have to be closed. This is pretty unusual. I don't think I have been on an Amtrak train before where they could not at least feed everyone in the Sleeping Cars that wanted to eat in the Dining Car.
I didn't intend to eat 3 meals today, but circumstances just kind of went in that direction. Breakfast is something I never try to miss. Since I usually have some type of bran cereal in soy milk, it is about the healthiest meal of the day and fills me up enough to keep me from trying to eat too much for lunch. When I'm on the train, I usually don't need to eat again until 4 or 5 P.M., especially if I snack on an apple around lunch time. Because I was concerned they would run out of vegetarian items in the cafe before 4 P.M., and they did run out of Garden Burgers, I had a bean & cheese burrito at 1 P.M. But, that throws my eating schedule off for the rest of the day. If I eat at 4 or 5 P.M., I can go the rest of the day without eating again. But, if I eat at 1 P.M., then I'm going to get hungry again sometime before I go to bed. So, I thought it was best to eat at the earliest seating to make sure they did not run out of their vegetable lasagna. Thus, I ended up eating three meals today. That is more calories than I wanted for today, but I don't think it was too unhealthy.
The people that sat with me at both breakfast and dinner were very friendly and greatly enjoying their train trip. Sorry I don't have their names or much more to say about them. I converse with the people that I eat with, especially when they talk about train travel, but I'm not a real people person. Trying to remember what we talked about and anything about the background of the people that I sat with is something that I don't retain and find difficult to write about. You'll get more of that from Ray Burns of TrainWeb and the other people that travel and write for TrainWeb.
The couple that I ate with at dinner each had a big steak. The husband requested his as "rare as you can make it"! The gal that sat beside me also ordered a vegetable lasagna. The couple were in the Sleeping Cars. The gal was from the Coach Cars. Somewhere in the conversation she mentioned that she was eating in the Dining Car because the Cafe had run out of vegetarian items. The guy jokingly said, "Not to be offensive, but where I come from, we regard greens as being what the food eats." I told her that I eat almost exclusively vegetarian, but that she is going to have some difficulty finding many good vegetarian restaurants when she gets to southern California unless she likes Indian food. I know the bay area where she comes from has a lot of vegetarians items, but Orange County only has 2 or 3 real vegetarian restaurants other than the many Indian restaurants. She said that she does frequent Indian restaurants. She also mentioned that she once tried going vegan and avoiding all dairy and cheese products, but found that too difficult because she likes cheese so much. Personally, I strive to also eat vegan, but I'm not tempted by cheese or dairy products. My problem is trying to find vegetarian food in restaurants that doesn't come with cheese or dairy in it. For example, I didn't want the cheese in my burrito or the cheese in the vegetable lasagna today, or the cheese in my Garden Burger yesterday, but that is the way they were prepared. When I eat in Indian restaurants, I try to avoid the dishes that I know have a lot of dairy or cheese products in them, but it is often difficult to know how all the items were prepared. All I can do is take more off the pure vegetable and bean types of items and avoid the creamier looking items and those that have lumps of cheese in them.
Well, at least I avoided all the snacks and deserts on the train during this entire round trip! The other three people at dinner each got a piece of ice cream turtle cake to go. They took it to go out of consideration of the other 90 people still on the waiting list for the Dining Car. Many passengers swear by the ice cream turtle cake on the Amtrak trains. If it sounds tempting to you, then it is something you should try. There are certainly enough tempting snacks around. There are pastries and muffins in the Parlour Car all morning, cookies all day until they run out, cheese and crackers during the Wine Tasting, tempting deserts that are free with each meal for Sleeping Car passengers, and mints in your room either when you board, turn in for bed, or both! Plus, there are plenty of cookies, nuts, candies and other snacks for sale in the Cafe Car from 6 A.M. until at least 11 P.M. No wonder I used to gain weight every time I took a train trip!
For those of you with railroad scanners, there is a Detector at Mile Post 262.8 (Ch 96 161.550). That is where you will see the first signs of the ocean while traveling south. If you are traveling north, that is where you will see the last of the ocean. So, if you are following along and listening to the Detectors on your railroad scanner, you now know where view of the ocean begins or ends at the north end of the ocean view.
Just after we first caught view of the ocean, we pulled into a siding and I'm pretty sure we've been here for at least an hour. Right now, there is a hill blocking the view of the ocean from my Sleeping Car window. Most likely, that hill is blocking the view of ocean from everyone on the train. Since it was still light out when I left the Dining Car at 6:00 P.M., I thought that passengers who were taking this trip for the first time would get at least an hour view of the ocean in daylight. But, since we have been stuck behind this hill for an hour, they won't get any daylight view of the ocean. It is already pitch black outside my window now at 7:06 P.M. We are waiting for a northbound train to pass us. Checking the time, I would say that we are probably waiting for the northbound Pacific Surfliner that gets into San Luis Obispo after 8 P.M. every day. If you ever travel on the Amtrak Coast Starlight and only plan to take it in one direction, always take the northbound Coast Starlight. That train goes by the ocean in the morning and you will be guaranteed a view of the ocean in daylight for about 3 hours of your ride on the train. If you take the southbound Coast Starlight, it will always be dark as you go by the ocean in the winter and is likely to be dark even during the summer if your train runs late.
The time is now 7:27 P.M. and we haven't moved from the siding! The Conductor just announced that there are a number of trains ahead of us and they have all had to move into sidings to allow the northbound train to get through this single track segment of our journey. One of the trains ahead of us is the Reno Fun Train that I guess will be prepared and stored in Los Angeles to become the "Las Vegas Fun Train" when it makes its two trips in May from Los Angeles to Las Vegas. It seems a bit early to be bringing that train down to Los Angeles considering that it won't make its run until more than a month from now.
As the northbound train passed us, they reported to our Conductor over the radio that someone in the Sleeping Cars has the vestibule window open. Passengers are not supposed to open those windows, but every once in a while, a passener will ignore the rules and open the window. Those passengers are often caught and scolded by an Amtrak crew member. The passenger doesn't think that anyone will see them open the window, but there can by eyes anywhere, even from a passing train!
At 8:01 P.M., we are on the roll again, after spending 2 hours in that siding! Looks like we'll be getting into Los Angeles by midnight if we are lucky. The ocean is finally right outside my window, but it is pitch black out and I can't see a thing outside the train.
We departed from Santa Barbara sometime after 9:00 P.M. They are estimating our arrival time into Los Angeles to be around 11:30 P.M. Right now it is 10:19 P.M. I'm going to sign off for now. It is time to put away the computer, pack up everything and make sure I don't leave anything behind.
The train arrived into Los Angeles around 12:30 P.M., about 3 hours and 25 minutes behind schedule. Amtrak had buses waiting that take all the passengers on the rest of their journey that were heading south of Los Angeles. Since I had parked my car at the Los Angeles Union Station, I just had to walk out the door to the parking lot. The drive to my house is about 30 minutes since there isn't much traffic at that hour of the night. I was home in bed just a little after 1:00 A.M. Unfortunately, it is likely that the Amtrak Thruway Buses to take the passenges south out of Los Angeles were probably still at the Los Angeles Amtrak Station just finishing up the loading of the passengers and baggage and should be just about to depart.
Southbound Consist:

119-- Genesis
114-- Genesis
1267- Baggage Car
39042 1110 Superliner 2 Transition Sleeping Car (Crew)
32115 1132 Superliner 2 Sleeping Car (Washington)
32095 1131 Superliner 2 Sleeping Car (Nebraska)
32071 1130 Superliner 2 Sleeping Car (Arizona)
39972 Pacific Parlour Car
38062 Superliner Dining Car
33025 Superliner Sightseer Lounge / Cafe Car
34117 1111 Superliner 2 Coach Car
34515 1112 Superliner 2 Coach Car
34020 1113 Superliner 1 Coach Car
34044 1114 Superliner 1 Coach Car
34061 1115 Superliner 1 Coach Car
Photo sets from this rail journey:

Click here if you wish to return to Part I of this travelogue,
the journey from Los Angeles to Seattle.
Click here to read more of my travelogues.
Are you interested in rail travel along some or all of this journey yourself? There are very few travel agents that have the necessary knowledge and experience of rail travel to answer your questions and to book a journey that you will remember for a lifetime. TrainWeb has sought out those travel agencies and rail tourism companies that not only have the knowledge to book your travel, but have gained the required experience through extensive rail travel themselves! Click here or visit RAILagencies.com or RAILexcursions.com for a list of these rail travel providers!