Amtrak Coast Starlight Travelogue
March 26 - 30, 2002, Round-Trip Between
Los Angeles, California and Seattle, Washington
http://www.trainweb.com/travelogues/stevegrande/2002c26a.html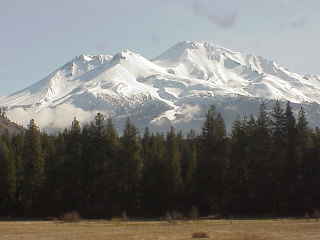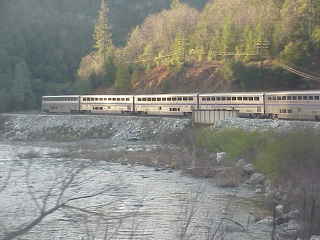 Scenery from the train between Dunsmuir, California and Klamath Falls, Oregon
Tuesday, March 26, 2002
Another adventure! Hopefully this will turn out a bit better than the previous one. Click here to read about that adventure.
My last attempt to travel by train was thwarted by snow, in Southern California, no less I never even made it to the Amtrak station. That trip was to have started from the Amtrak station in Bakersfield, California. In order to get from my home, or from Los Angeles, to Bakersfield, you have to go over the mountains on interstate 5, a route known as the 'grapevine'.
You can get from the Amtrak Los Angeles Station to the Amtrak Bakersfield Station only by driving or by taking an Amtrak Thruway Bus. There isn't any direct train service between these two stations. When I attempted to drive from Los Angeles to Bakersfield, I found that interstate 5 was closed to northbound traffic in Castaic due to heavy snowfall over the pass. That is about 60 miles north of Los Angeles. That is quite unusual for the month of March! That was on March 18, 2002.
That same Friday, March 22, I took the same route to drive from Southern California to San Jose. That drive was clear sailing! Not only did I have clear weather all the way, but there was no sign of snow at all! You would think with snow heavy enough to close an interstate that there would still be some remnants of the snow on the ground. But, California is like that. Good weather for four straight days after heavy snow in the mountains can melt every bit of snow. The hills were green as we drove up on that clear evening in the spring.
The first announcement for the northbound Amtrak Coast Starlight, Train #14, was made at about 9:15 A.M. in Los Angeles Union Station. The announcement said that chair car passengers must obtain a boarding pass before boarding the train. They didn't make any announcements at all for Sleeping Car Passengers during the entire time I was in the waiting area. However, I knew that they issued Boarding Passes to both Chair Car and Sleeping Car passengers. So, on the first announcement, I went up to the Conductor closest to the Sleeping Car Passenger doorway.
There was only one passenger in line ahead of me, so I was issued my boarding pass pretty quickly. It doesn't look like there are many Sleeping Car Passengers boarding this train in L.A. today. The passenger in front of me was traveling only to San Luis Obispo but was booked into a Sleeper. I notice that there are more and more passengers that like to book a Sleeping Room even if they are not traveling overnight.
The Conductor pointed to a seating area beyond the doors where he said I should wait for the boarding call which she said would be around 9:30 A.M. The only seating area beyond the gates was for people requesting Red Cap assistance, which I did not want. However, the Red Caps were driving passengers and their luggage up to the platforms in their electric carts. I didn't want to be the last to board, so I just walked up to Track #10 myself, even though no boarding call had yet been made.
There were a couple of people waiting at the bottom of the ramp that goes up to Track #10. There was a sign at the bottom of the ramp confirming that this was the right ramp for Sleeping Car Passengers for the Amtrak Coast Starlight. I just walked past the people at the bottom of the ramp and went up to the platform.
As I arrived at the top of the platform, I saw that the Coast Starlight was just starting to back into the station. Since the train was backing up so slow and I was fairly close to the front of the platform, I decided to write down what car numbers I could as the train went by. That went fine until a Sightseer Lounge Car passed me after the Dining Car passed me. I thought I had already gotten the numbers for the Sightseer Lounge Car before the Dining Car! It wasn't until the Sleeping Cars started going by that I realized that this train is missing its Pacific Parlour Car! They have substituted a Sightseer Lounge Car in place of the Pacific Parlour Car!
Amtrak has 5 Pacific Parlour Cars, but only 4 trains on the Coast Starlight route at any one time. Thus, I have to assume that 2 of them are out of service leaving the Coast Starlight short one Pacific Parlour Car. I am going to use the term "Club Car" for most of the rest of this segment of this travelogue to refer to this lounge car that is reserved for Sleeping Car passengers. I don't want to use the term "Pacific Parlour Car" since that is missing from this train. But, when you see me use the term "Club Car", you'll know I'm refering to this lounge car on this train which is usually a Pacific Parlour Car on other Coast Starlight trainsets.
The Car Attendant for my Sleeping Car, #1432, openned the door fairly soon after the train stopped. Though there were people waiting to board the 1432 car, they were all milling about a good distance from the door. As soon as the Attendant looked like he was ready to board passengers, I walked up to him and he directed me to my room, Room #5.
After placing my bag in my room, I headed down to the 'club car' which would be a Sightseer Lounge Car instead of a Pacific Parlour Car for this trip.
Heading through the two Sleeping Cars that were between the 1432 car and the club car, I ran into few obstacles. The Sleeping Cars were relatively empty. However, I did get blocked momentarily by a large suitcase parked in the aisle outside one of the small sleeping rooms. The people in the room were commenting how the room is a lot smaller than it looked in their travel brochure. That is a comment I often hear from first time train travellers. That is why I think Amtrak should have continued to call the smaller sleeping room the 'Economy Room' and should not have changed the name to the 'Standard Room'. Everyone knows that when you order the 'economy' version of anything, it is going to be small. Passengers will then be less surprised when they see the size of the small room for the first time.
When I arrived in the club car, it was empty. I sat in the single seat nearest the door where I entered the car. It was quite a while before anyone else entered the car.
Photos of the interior of the
Superliner Sightseer Lounge Car
being used in place of the Pacific Parlour Car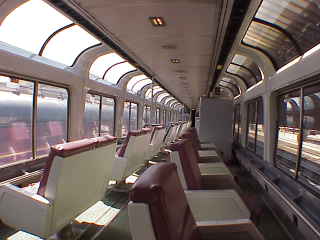 Upper Level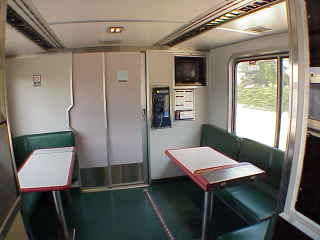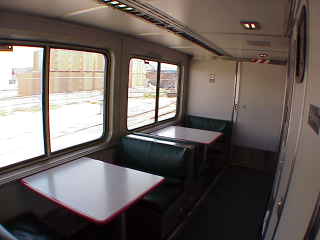 Lower Level
Since most people on the train are first time train travelers, most had no idea that this was not the normal club car. Also, most people were impressed by the car as they entered. People made comments to each other about what a wonderful car this was, how big the windows are, and how they go up over our heads.
This brings me to one of my opinions about the Club Car for Sleeping Class passengers. I think this special lounge car on the Coast Starlight helps to make the Coast Starlight the best of all Amtrak trains. I firmly believe that all Amtrak long distance trains should have a club car that is reserved exclusively for Sleeping Car passengers. I believe this would generate a lot more interest and bookings for Amtrak by leisure travelers as well as those just trying to get from point A to point B.
However, I don't believe that the club car has to be like the Pacific Parlour Car. A car like this Sightseer Lounge Car or like a Dining Car is just fine. I even question if either of those cars in their present configuration might not be superior to a Pacific Parlour Car. I have been on Coast Startlight trains which have used either a Dining Car or a Sightseer Lounge Car to substitute for the Pacific Parlour Car. In both cases, I was not unhappy with the substitution at all.
One quick look down the car and I can see that there is a lot more seating available in this car than in the Pacific Parlour Car. Although the Pacific Parlour Car is seldom at capacity, except during the wine tasting, this car feels a lot more roomy. Having a lot of available seats gives a car the feel of more roominess.
Even when a Dining Car was substituted for the Pacific Parlour Car, it seemed to have a lot more seating capacity though all the seats were at tables.
Unless the Pacific Parlour Car is actually shorter than a standard Superliner Car, which I don't think is the case, then there is some wasted space in the Parlour Car. I think that wasted space upstairs is the large area allocated for the Car Attendant along with the supplies for the car. The food service area doesn't waste space as their is a similar area in the Sightseer Lounge Car.
The Car Attendant along with his supplies is located downstairs in the Sightseer Lounge Car which frees up a lot of room upstairs. There is also a lot of seating downstairs in the Sightseer Lounge Car that doesn't exist in the Pacific Parlour Car. There is an 18 seat theater downstairs in the Pacific Parlour Car, but I think this is highly underutilized. There seems to be plenty of room downstairs in the Sightseer Lounge Car for both the serving/supply area as well as a movie viewing area.
In my opinion, Amtrak should strive to place either an extra Sightseer Lounge Car or Dining Car on every long distance train for the exclusive use of Sleeping Car passengers as a Club Car. Amtrak almost certainly doesn't have enough of these cars in their inventory to do this, but they should seriously think about adding cars for this purpose to any future orders that they place for the building of additional Superliner Cars.
I do not recognize anyone of the onboard staff on this train. They seem friendly enough, but the crew of this train doesn't seem to have a 'soul', which is something that does exist with the crews on many of the other Amtrak trains.
I haven't yet seen a Crew Chief on this train. When a train has a good Chief, it is usually the Chief that makes the announcements that makes everyone feel at home on the train. The Chief also often announces the names of a number of the crew members and what they each do on the train. That gives the passengers a feel that there is an entire crew looking after their needs and makes them feel less like they are on their own on the train.
Photos of the surfline between Oxnard and Santa Barbara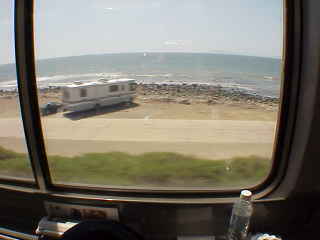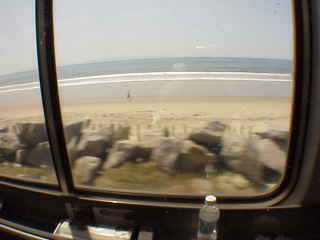 Notice how close the train is to the beach. In some places, the water is almost up to the tracks.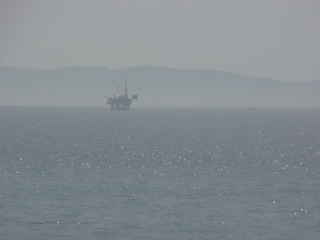 Offshore oil pumping platform near Santa Barbara
I got off the train in Santa Barbara to take a few photographs, get the car numbers from all the cars forward of my car which I didn't get a chance to get in Los Angeles, and to double check one of the coach cars to see if it was a Superliner II or Superliner I. First I walked toward the front of the train getting the number of the Transition Sleeper (Crew Car), the Baggage Car, and then I had to walk across the street to get the numbers of the locomotives. The train was blocking the street and the crossing gates were down, so there was no danger of getting hit by cars while walking across the street. I then headed back to the rear of the train taking a couple of photographs of the train and the station along the way. I verified that the coach car that I wasn't sure about was a Superliner II. The only revenue car on this train that is not a Superliner II is the very last Coach Car which is a Superliner I Car.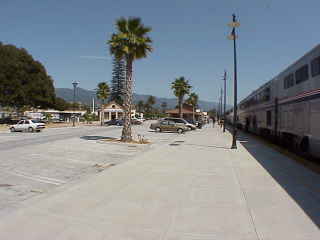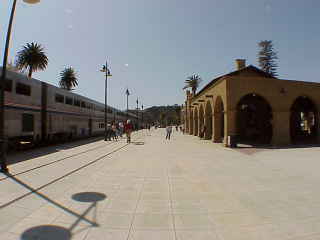 Photos Taken At The Santa Barbara Station
I noticed that there was a huge line of people boarding one of the Coach Cars. I could see that I'd easily have time to walk all the way back to board my sleeping car. When in doubt, I just board one of the coach cars and then walk through the train back to my sleeping car. The risky part is walking from the lead coach car to the rear sleeping car. In the process of doing that, I pass three cars where the doors are shut and I cannot board: the Sightseer Lounge Car, the Dining Car, and the Club Car (usually the Pacific Parlour Car). As I was getting close to the first sleeping car, I noticed that its door was already shut. The next sleeping car up had its door open, but the Attendant for that car quickly jumped in and shut that door! I ran up to that door and knocked, but the Attendant had already left the vestibule area. I could see that the door to the next sleeping car forward, my own sleeping car, also already had its door shut! Thus, I had no choice but to run all the way back past the Club Car, the Dining Car, and the Sightseer Lounge Car to the first Coach Car which did still have its door open. That was the car that had a long line of people boarding, but there wasn't any line at all anymore! Keep in mind, that there has not yet been any boarding call and the train hasn't blown its horn to signal boarding yet. I guess the three Sleeping Car Attendants just thought their work was done and they could lock up their cars. Usually there are people stretching their legs, smoking, or just milling about at the doors until the boarding call. There are so few Sleeping Car passengers on this train that there wasn't anyone milling about any of the Sleeping Car doors this time. Anyway, I did run all the way back to the first Coach Car and managed to board in time before the Attendant closed up the door. I don't know if a boarding call was ever made. It seems the train just took off as soon as all the doors were closed. I think that is about the closest I've every come to being left behind at a station!
Photos of rocket launch towers at Vandenburg Air Force Base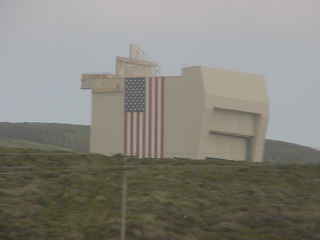 Mothballed Western Space Shuttle Launch Facility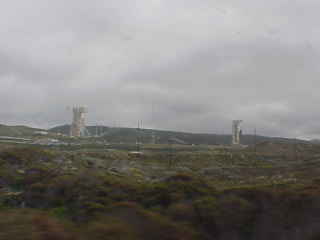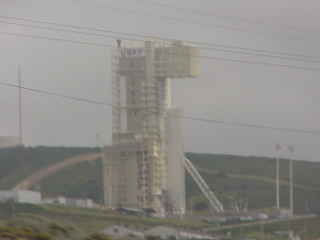 Active Rocket Launch Towers For Satellites

The Amtrak Coast Starlight passes right through Vandenburg Air Force Base
It seems that I have completely forgotten to explain why I am making this trip! Basically, I'm just using up a free travel certificate that I got from the Alaska Airlines Mileage Program. I have already made a number of free round trips from Los Angeles to Seattle in the Sleeping Cars using my Alaska Airlines Mileage. As soon as I have enough miles to make a round trip, I exchange the miles for an Amtrak travel certificate. There always seem to be these rumors that the Amtrak West / Alaska Airlines Mileage Partnership is going to be discontinued soon. First there were rumors that Alaska Airlines wasn't happy with the partnership and wanted to end it. Then there were rumors that Amtrak would back out of it because they now have their own mileage program, "Amtrak Guest Rewards". In any case, I didn't want to be stuck with a huge number of Alaska Airline miles that I could only use for flying. Thus, I trade them in for Amtrak rail travel certificates each time I have enough mileage to do so. Once I have the certificate in my hand, it is good for one year on Amtrak, even if they abolish the partnership.
The certificates that are provided from the Alaska Airliner Mileage Program are only good on Amtrak West trains which are the Pacific Surfliner, the Capitols, the San Joaquin, the Amtrak Cascades and the Coast Starlight. The only one of those that is a long distance train with Sleeping Cars is the Amtrak Coast Starlight. Thus, that is where I want to use my free travel certificates. It only takes 20,000 miles to earn a free round trip for one person in a Standard Room during the off peak season. Because of the school schedule of my children, I didn't expect to be able to do any off-peak travel. Thus, I've been using 30,000 miles to obtain certificates that are good during the peak and non-peak seasons.
This particular trip is being made during the non-peak season, so I actually wasted 10,000 miles. I didn't know I was going to be able to travel this week. Originally, I was scheduled to make several minor rail trips and one major rail trip during March and April. But, the Sacramento trip planned for March 18 flopped due to snow as explained above, and a trip from Los Angeles to Las Vegas that I was supposed to make on Amtrak equipment was also cancelled. A special "Las Vegas Fun Train" was supposed to operate on the weekend of April 12. Due to various reasons, that particular run was cancelled. There will still be two runs in May 2002, but I can't do those because of Fullerton Railroad Days and my children's school schedule. So, a number of the rail trips that I was supposed to make didn't work out. One of my daughters is on school break this week, so this seemed an opportune time to use up one of my Amtrak travel certificates on a 5 day round trip to Seattle. I still have one more certificate that I expect I will use for another trip to Seattle during the peak season in the summer. Plus, I continue to earn more mileage all the time via the use of my Alaska Airlines VISA credit card and by short trips that I occassionally take on the Pacific Surfliner. I might still be able to earn another certificate or two before the Amtrak West / Alaska Airline Partnership is terminated!
I asked the Parlour Car Attendant what time he planned to do the Wine Tasting and he said he would be doing it as soon as we left San Luis Obispo. That is the customary time for doing the Wine Tasting, but I was curious if it had been changed since the schedule change. A while back, Amtrak changed the departure time of the Amtrak Coast Starlight out of Los Angeles from 9:35 A.M. to 10:00 A.M. The schedule of events still shows that the Wine Tasting takes place at 3:00 P.M. That used to work fine when the Coast Starlight departed San Luis Obispo earlier as I believe this train used to depart San Luis Obispo at around 3:00 P.M. With the schedule change, I wasn't sure if they were going to keep the Wine Tasting at 3:00 P.M. or upon departure of San Luis Obispo. I guess they decided to keep it upon departure from San Luis Obispo rather than keeping it at 3:00 P.M.
The train arrived into San Luis Obispo at 3:12 P.M. The scheduled departure time for this train from San Luis Obispo is 3:43 P.M. which gives us a 31 minute layover. The train has been arriving at every station early and departing on time. I'm sure part of the reason is the light load of passengers on the train. When a lot of passengers are getting on or off at every stop, there can be delays at each station to handle the loading and baggage. I had enough time to take a number of photographs of the train and the station and even time to go up on the pedestrian bridge to take some photographs! I was out of the train at 3:12 P.M. and back on board at 3:24 P.M., just 12 minutes later. We departed from San Luis Obispo right on time at 3:43 P.M.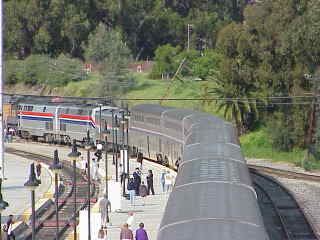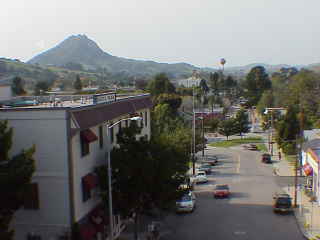 Photos taken at the Amtrak San Luis Obispo Station
I went to the Wine Tasting which was held right after we departed from San Luis Obispo. Three wines were served: two white and one red. I thought they were all quite good, though I prefer reds over whites. While I was in the club car, the Dining Car Chief passed through handing out dinner reservations. Sometimes the Dining Car Chief will give out reservations in the Club Car first and then go through the Sleeping Cars, but this time he went to the Sleeping Cars first and then went through the Club Car. I think the reservations should be handed out in the Club Car first. That way, someone traveling alone doesn't have to go back to their room and miss the Wine Tasting in order to get a desirable seating time. Personally, it doesn't bother me as I ask for the earliest reservations available. That will usually be for 4:45 P.M. or 5:00 P.M. There are almost always reservations available for that time slot as few people like to eat that early.
Actually, I wasn't planning on eating in the Dining Car at all today. When traveling alone, I can suffice on just breakfast and one other meal. I had my usual bowl of Crunchy GoLean with SunSoy milk this morning. I can't seem to avoid getting a Bloody Mary in the morning when I'm on the train. I look forward to them on my train trips and that is about the only time I ever have them. The last time I had one was the last time I was on the Amtrak Coast Starlight and I'm pretty sure that is true for the time before that also. So, there went a few more calories, but I only had one this time. They serve free fruit in the Club Car and I had most of one apple. By the time noon came around, I wasn't hungry, so I skipped lunch. What I really wanted for dinner was a Garden Burger from the Cafe on the train! There are two items I really like on Amtrak trains. One is the Garden Burger and the other is the Tuna Sandwich. They often don't have the Tuna Sandwiches on the Coast Starlight, but they usually have the Garden Burgers. For vegetarians, the Coast Starlight Dining Car menu has become a bit bland. It used to be very exciting. They used to have excellent vegetarian selections for both lunch and dinner, and they were different on the northbound trip vs. the southbound trip and often varied from week to week. Now all they ever have is pasta.
They do have a Garden Burger on the lunch menu in the Dining Car, but in my opinion, it is far inferior to the Garden Burger served in the Cafe on the train. (Unlike the Dining Car which is only open at meal time, the Cafe is open most of the time until about 11 P.M. The Cafe is located downstairs in the Sightseer Lounge Car which is between the Coach Cars and the Dining Car). The Garden Burger served in the Dining Car is light in color. The Garden Burger served in the Cafe is dark and looks a lot like a real hamburger patty. This is the type of Garden Burgers that I have in my own freezer at home. I seem to be in a minority in my preference for this type of Garden Burger. I think it looks and tastes just like a real hamburger, with even a grilled meat flavor to it. I am cheating a little when I have the Garden Burger. I try to avoid eating cheese as much as I can, but the Garden Burger comes wrapped in cellophane with a slice of cheese already on it. The Cafe Attendant just throws the whole thing in the microwave, cellophane and all, to warm it up. But I eat so little cheese, I think this minor infraction will have no impact on my health. My vegetarian friends will not touch it exactly because it looks and smells too much like a real hamburger. My non-vegetarian friends won't touch it because they say it doesn't look, taste, smell or have the texture of a real hamburger at all! I guess it is all in the eyes of the beholder. In any case, I think it is better than anything the Coast Starlight Dining Car has to offer me. Don't get me wrong. The food in the Amtrak Coast Starlight Dining Car is generally exceptional. It really depends on the cook. My first hand knowledge of this comes from the time when I used to eat steaks and chicken. I had the best steak in my life in the Amtrak Coast Starlight Dining Car, and I used to eat a lot of steaks! My friends say that most meals on the Coast Starlight are still excellent.
Anyhow, my plan was to get the Garden Burger in the Cafe if they haven't run out of them. If they have run out of them, then I would go eat Vegetarian Lasagna in the Dining Car. The Wine Tasting finished at 4:40 P.M. and that gave me just enough time to check out the Cafe. They had plenty of Garden Burgers left, so I was all set! I just ate the Garden Burger in my room and didn't show up for my 5:00 P.M. Dining Car reservation.
Our train was making wonderful time until we had to pull into a siding to wait for the Southbound Amtrak Coast Starlight, Train #11, to pass us. The siding was somewhat sounth of Mile Post 226.9 as that was the location of the next detector that we passed. I'm not sure how long we were in a siding, but Train #11 didn't pass us until 5:06 P.M. There was something on the radio about the crossover not in service. In order for us to get out of the siding, we had to back up to get back onto the main track. Our train didn't start heading forward again until 5:13 P.M. I won't know exactly how much time we lost until we pull out of the next station, Paso Robles. We are already at least a half hour late since we were supposed to depart from Paso Robles at 4:45 P.M. The Conductor just announced that we will arrive into our next station in about 30 minutes at 5:45 P.M., one hour late. So much for having made great time all the way up to San Luis Obispo!
The Southbound Amtrak Coast Starlight, Train #11, had a F59PHI in the Amtrak Cascades color scheme in the lead. That train did have a regular Pacific Parlour Car. There were also a couple of CalTrain Commuter Passenger Cars deadheading down to Los Angeles at the end of it as well as at least one express (freight) car.
A few passengers in the coach cars upgraded to sleeping car rooms. I think two or three rooms in my car were taken over by coach passengers who paid onboard to upgrade to sleeping car rooms. That helped to fill up the sleeping cars a bit more. The least expensive way to get a sleeping car room is to upgrade onboard. But, you are really taking a chance. Quite often, all the sleeping car rooms are booked and there are none available. The Conductors also like to leave a few rooms empty. They don't like to fill up every room on the train. It is possible that someone will purchase a sleeping car room at a station that the train has not yet reached. These reservations will not appear on the manifest of the Car Attendant and won't be on the Conductor's manifest if the Conductor boarded the train before the reservation was made. Thus, leaving a few rooms empty will allow these passengers to be accommodated.
Our early good start was too good to be true. We just departed Salinas at 8:26 P.M., just 10 minutes shy of two hours behind schedule! Departing from San Jose at 10:00 P.M., one hour and 18 minutes late, the train had made up a little time. At that point, I went to bed.
Wednesday, March 27, 2002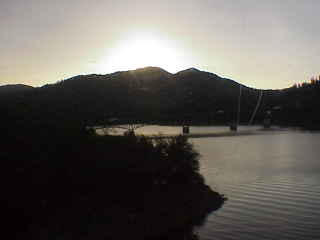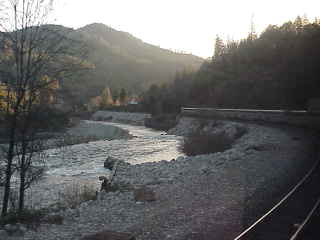 Sunrise near the California / Oregon border
I woke up at about 6:00 A.M. and went downstairs to find that we were still in California and just arriving into Redding, California. We departed from Redding at 6:15 A.M., three hours and one minute behind the scheduled departure time of 3:14 A.M.! Thus, we had lost more than another hour during the night.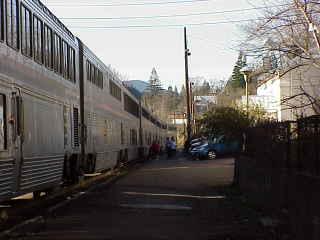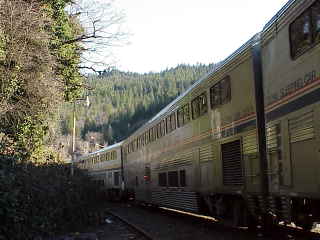 Amtrak Coast Starlight in Dunsmuir, California
I was able to step off the train for a few minutes in Dunsmuir, California. All the smokers were out of the train taking a quick smoke break. I wasn't able to walk more than a few steps beyond the door as I knew this stop would be very short. We departed from Dunsmuir at 8:16 A.M., 3 hours and 12 minutes behind schedule.
One thing nice about the train being late is that you are able to see a lot of scenery that you miss when the train runs on time. In both directions of travel for the Amtrak Coast Starlight, it goes through this beautiful area around the California / Oregon border during the middle of the night. I took a number of photographs of the scenic beauty of this area that can only be seen when the train runs late. Click here to view those photos.
Breakfast is served in the Dining Car on the second day of the Coast Starlight journey in both directions of travel. But, all I wanted for breakfast was my usual bowl of cereal and a glass of Orange Juice. They usually have 3 or 4 different types of cereal right in the Parlour Car and they also serve juice in the Parlour Car. One or two of the cereals are usually of the healthy variety such as Raisin Bran or Muselix. Thus, everything I wanted for breakfast was available right in the club car. Bowls, plastic ware, napkins and milk are set out on a counter. I went for the Muselix and went downstairs to get my glass of orange juice. The Parlour Car also offers a selection of muffins and pastries, but those are too rich for my diet.
The Dining Car started breakfast service around 6 A.M. and continued until after 10 A.M. as passengers wandered in all morning for breakfast. At one point, the Dining Car got filled up and they had to start a list of people waiting to be seated. Since yesterday afternoon, the train seems to have gotten a bit more filled up. Fortunately, the room across from me is still vacant and I can see out the windows on both sides of the train. For a while the Car Attendant was using that as a storage room for used linens as he made up some of the beds in other rooms. He closed the curtain to hide the messy room from passengers walking down the aisle. However, I pulled the curtain back so that I could continue to look out that window. I hope he didn't mind.
Because this train is running 3 hours late, all passengers that are transferring to the Amtrak Empire Builder will be taken off in Klamath Falls instead of in Portland. I guess the bus will take the passengers to meet up with the Empire Builder some place a little further east along the Empire Builder route.
There were a lot of passengers getting off and on at Klamath Falls, Oregon. We spent a few minutes there so I had a chance to walk much of the length of the train and take a few photographs. We departed from Klamath Falls at 10:56 A.M., 2 hours and 31 minutes late.
Earlier this morning when I ate breakfast in the club car, there was a man sitting in there wearing a white shirt with a tie and black pants. He appeared to be the most dressed person that I had seen on the train. At first, I thought he was an Amtrak executive that I was familiar with. But, with a second look, I could tell that it wasn't him. Later in the day, around 12:30 P.M., I saw two Amtrak staff members walk up to him. The one that seemed to be in charge asked: "Did you attempt to physically asault this staff person?" I was still thinking that he might be an Amtrak executive and they were just joking with him. But no. This was serious. I don't know what all the ruckus was about, but they asked him to apologize to the staff member. I didn't hear it, but I'm pretty sure that he did apologize. Otherwise, I'm sure they would have kicked him off the train at the next town. The next surprise was that he didn't belong in the club car at all! He was a coach passenger. I'm just guessing, but I bet that the staff member questioned him as he was walking through the Dining Car and he just pushed past her. It didn't appear that he knew that car was only for Sleeping Car passengers and he could easily have resented someone blocking him from going where he wanted to go. The Amtrak staff members escorted him out of the club car and back out the other side of the Dining Car.
This brings up some differences between a train and a plane. If someone shoved an Attendant on a plane, that would be a federal offense. The plane would make an emergency landing and the passenger would be taken away in handcuffs. On the train, you just get scolded and sent back to the coach cars. If you bring a knife, or anything that can be used as a weapon onto a plane and are caught, you will probably end up in jail. Not so on a train. As a matter of fact, if you forget your knife, you can buy one right on the train! I just did on this trip. I purchased a bottle of wine in the club car to have later, but didn't have cork screw. I purchased the Amtrak Coast Starlight souvenier cork screw in the club car, which is like a jack knife that also comes with a bottle opener and a knife! Thus, I purchased a knife right on the train! Good thing I'm not flying back as I don't think they would let me on the plane with it!
The wine that I purchased was a bottle of Clos Du Bois 1998 Alexander Valley Riserve Shiraz. That was the red wine served during yesterday's wine tasting. I was already familiar with Clos Du Bois and know they make an excellent Merlot. Both Shiraz and Syrah are favorites with my wife and I. However, the only good Shiraz that I have tasted so far seem to come from Australia. I've been told that Shiraz and Syrah are actually the same type of grape, just that it is called Shiraz when grown in Australia and Syrah when grown in America. However, I've recently run across a number of wines from California wineries that label their wines Shiraz. None that I have tried would deserve to be placed in the excellent category, though California does produce a number of excellent Syrahs. Thus, I had come to assume that any Shiraz from California was not going to measure up. But, I've found that Clos Du Bois does have some excellent wines. During the wine tasting yesterday, I was curious whether the Clos Du Bois Shiraz would live up to the reputation of other Clos Du Bois wines or would fall short of the Australian quaility as other Shiraz wines from California have. It looks like Clos Du Bois have kept up their reputation and made the first quality Shiraz that I have tasted from California!
At about 1:15 P.M., the father of a small boy came back to his room and found that the boy had locked himself in and fell asleep. That father banged on the window for more than ten minutes. He even started banging on the wall of the next room. He could see the boy asleep through a crack in the curtain. The father banged on the door so hard that I thought he was going to break the door! Then he started shouting his name loud enough for the entire car to hear! I told him that I have seen Car Attendants get into locked rooms before. I didn't know if they had a standard tool to do this or if it was something they made themselves. The Car Attendant did come along and the father asked what was usually done in emergencies. The Car Attendant said they would probably break the window in an emergency. They then called the Conductor. He made a few measurements and tried to use something that looked like a letter opener. That didn't work very well. Then they got a coat hanger and tried using that. The Car Attendant locked himself in another room and examined the locking mechanism to try to figure out what would have to be done from the outside to unlock the door. The coat hanger finally did it. The boy was OK, he was just really hard to wake up. That was at 1:44 P.M., almost 30 minutes after the father found he was locked out and after 15 minutes of the crew working on trying to pick the lock.
When I was downstairs in the club car, I asked the Attendant when he planned to do the wine tasting. He said that he would be doing it about 3:00 P.M. So, at about 2:50 P.M., I made my way to the club car and found a seat on the side with less sun, which was also the more scenic side. Even though the west side of the train is the best side of the train between Los Angeles and San Luis Obispo, it seems the east side of the train is the best side on the second day of the Amtrak Coast Starlight northbound route. I might have to think about modifying my suggesting about which room to get on the Amtrak Coast Starlight. I've always said: "Even up, Odd down". That is fine if you are just striving to get the best coastal view. But, the coastal view is often in darkness on your southbound travel, especially in winter. You get the best view of the mountains from the odd numbered rooms on the way up and the even numbered rooms on the way down. Maybe the best rooms are: "Even up, Even down". You might be getting the best rooms by always going "even" on the Coast Starlight!
The wines were not very good today. They were O.K., but nothing I'd purchase to take home. After the wine tasting was over at about 4:00 P.M., I went to the cafe to purchase a Garden Burger. Fortunately, they still had a few left! Other than breakfast, this has been my only meal on the Coast Starlight today. I didn't even get to eat an apple today. I should have grabbed one when they had them out in the morning. By afternoon, when I wanted one, they were all gone. There is one problem with the Garden Burger from the cafe. It is on a white bun. Since Garden Burgers are targeted at people that are trying to eat healthy, you would think they would automatically put it on a whole wheat bun. I did read some good news today. Burger King is going to start offering vegie burgers. We can't call them Garden Burgers as that is a trade name from the Garden Burger Company. There are three major competitors in the meatless burger business: Garden Burger, Morning Star and Boca Burger. I think the best tasting of the three is the Garden Burger. Unfortunately, Burger King is going with Morning Star, but I will still patronize them. Fast food is so convenient! Hopefully, the other fast food hamburger places will follow Burger Kings' example. One of them will probably contract with Garden Burger to provide their vegie burgers. If so, that is the fast food place that I will frequent, especially if they use the Garden Burger that looks and tastes like a hamburger to me! Hopefully, they will offer a version without cheese and they will place it on a whole wheat bun. Even though Burger King will be getting their vegie burgers from Morning Star, I heard the stock has gone up for all three meatless burger companies. Burger King's new offering has convinced investors that there is a new awareness that a good portion of Americans want healthier food to be offered at fast food restaurants. Thus, they expect all three meatless burger companies to have increasing sales over the next years.
It is 4:24 P.M. and the Union Pacific (UP) Dispatcher has placed us into a siding. The Dispatcher has not yet explained why we have been placed into a siding, but it is about the right time for the next southbound Amtrak Coast Starlight to pass us. So, we are expecting Train #11 to go by my window any moment.
The train just departed Albany, Oregon, at 4:39 P.M., 3 hours and 9 minutes behind schedule. With all the trips that I have taken on the Amtrak Coast Starlight, I never noticed before that the train tracks seem to go right down the middle of a street in Salem, Oregon. We departed Salem, Oregon, at 5:13 P.M., 3 hours and 10 minutes behind schedule.
The weather was just a little bit chilly in Portland, Oregon. I had time to get off the train and walk all the way to the very end of the trainset and back to my sleeping car. This is a big smoking stop! There were people all up and down the platform puffing on their cigarettes. I took a photo of the Portland Amtrak Station tower. I always thought the lighted signs on the tower were white, but it turns out they are in color.
It was just starting to get dark when we left Portland, Oregon, at 6:45 P.M. and it was definitely dark by the time we reached Vancouver, Washington, just 15 minutes later at 7:00 P.M. The train is running 2 hours and 37 minutes behind schedule. There is some padding at the end of the schedule. If we don't lose any further time, we should be able to get into Seattle around 10 P.M.
The train arrived into Tacoma, Washington, at 9:27 P.M. and we were out before 9:30 P.M. Looks like I'll have to adjust my estimated arrival time into Seattle to be just a bit after 10:00 P.M.
We finally did arrive into Seattle at about 10:30 P.M., just about 2 hours after the scheduled arrival time of 8:35 P.M. Since I didn't have any checked baggage and I knew my way around the station, I headed straight for the taxis and was the second in line to get a taxi. I told the driver where I was going, he knew right where it was and headed right out.
I am staying at the Embassy Suites in Bellevue this time and not at my usual place at the Pioneer Square Hotel. The reason for this is I expect tomorrow to be a full work day for me and I won't have much time for wandering about. Thus, there was no need to hang around my usual haunt of Pioneer Square. The second reason was that I really like Embassy Suite Hotels and I want to explore over time the three Embassy Suite Hotels in the Seattle area. The one in Bellevue is about the closest to the Seattle Amtrak Station at about 10 miles, so I picked that one for this particular trip. This one is due east of the station. Of the other two, one is north of the station and the other one is south of the station in the SEA-TAC airport area. All three hotels are less than 15 miles from the station. The taxi fare to get here was $21. Another $4 for tip brings that up to $25. I have to keep that in mind as round-trip will be $50. That is in contrast to $0 when I stay at the Pioneer Square Hotel as I just walk from the station to that hotel. Even taking a cab to the Pioneer Square Hotel is only $5, including tip! The Pioneer Square Hotel runs between $89 and $129 for the least expensive room, depending on what discounts are available at the time. The lowest I could get this place for was $149 per night. So, staying here with the cost of taxi and all is quite a bit more than staying at the Pioneer Square Hotel. I just have to hope it turns out to be worth it.
I expect to be in my room most of the day on the computer catching up on e-mail and various other backlogged tasks. My plans do include heading out to lunch and dinner. I've already picked out a couple of places that I want to try. I'll probably report on them in my travelogue of my return trip that starts on Friday morning. The travelogue and photos of the return trip should be up by Monday at the latest, so be sure to check back then!
Northbound Consist:

120-- Genesis
118-- Genesis
1253- Baggage Car
39024 1410 Superliner 2 Transition Sleeping Car (Crew)
32112 1432 Superliner 2 Sleeping Car (Utah)
32072 1431 Superliner 2 Sleeping Car (Arkansas)
32096 1430 Superliner 2 Sleeping Car (Nevada)
33028 Superliner Sightseer Lounge (Used As Club Car)
38055 Superliner Dining Car
33031 Superliner Sightseer Lounge / Cafe Car
34111 1411 Superliner 2 Coach Car
34512 1412 Superliner 2 Coach Car
34114 1413 Superliner 2 Coach Car
34116 1414 Superliner 2 Coach Car
34081 1415 Superliner 1 Coach Car
Photo sets from this rail journey:

CLICK HERE
FOR PART II OF THIS TRAVELOGUE,
THE RETURN FROM SEATTLE!
Click here to read more of my travelogues.
Are you interested in rail travel along some or all of this journey yourself? There are very few travel agents that have the necessary knowledge and experience of rail travel to answer your questions and to book a journey that you will remember for a lifetime. TrainWeb has sought out those travel agencies and rail tourism companies that not only have the knowledge to book your travel, but have gained the required experience through extensive rail travel themselves! Click here or visit RAILagencies.com or RAILexcursions.com for a list of these rail travel providers!