Coast Starlight Rail Travelogue
Between Southern California and Seattle, Washington
By Steve Grande Of TrainWeb.com
(http://www.trainweb.com/travelogues/stevegrande/2001b07a.html)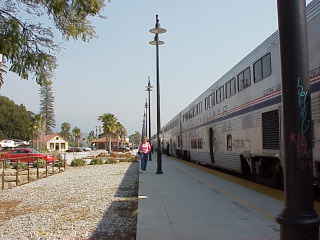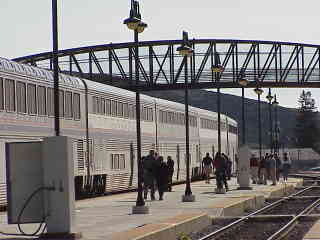 Fri Feb 16, 2001 8:16 AM PT Fullerton, CA
Another relatively last minute decision! Ray Burns is on the final leg of his rail journey returning from Churchill and eastern Canada. Since he already has a room reserved on the Amtrak Coast Starlight for his journey from Seattle, Washington to Los Angeles, California, I realized that I could could take a relatively inexpensive rail trip by sharing that room with Ray. Thus, I booked a Sleeping Car Room for myself up to Seattle and just a return Coach Reservation, which would allow me to share the room that was already reserved for Ray on the way back.
Click here if you would like to read Ray's travelogue and see the photos from his trip.
At first, I had a great deal of difficulty finding a room available for the northbound segment of the trip. Monday will be President's Day and 3-day weekends are often a heavy time for Amtrak travel. I kept trying every few days to get a reservation for the northbound segment. Eventually, I was able to obtain a reservation, which was probably freed up by someone cancelling. The room that I got was Room 13 downstairs in the 1431 car. Being an odd number on the northbound segment meant that the room would not be on the oceanview side of the train. I didn't mind not being downstairs. Sometimes it is nice just to be able to step out at a station and hop back on without having to navigate up and down the stairs with everyone else that wants to get off or on from upstairs. It also means I can get out and clean the outside of my own window if I wish to! I don't even mind being on the oceanside of the train. I can always to go the Pacific Parlour Car or the Sightseer Lounge Car if I want to see the ocean scenery. I've taken this route so many times that I don't mind not having the ocean scenery on every trip.
Shivam Surve, our main programmer at TrainWeb, had just returned from his recent trip home to India. Yesterday was his first day back at work. He came in early today and hung around the Fullerton platform with me until my train arrived.
The trainset that took me from Fullerton to Los Angeles was an Amtrak California Car trainset. Since I was waiting way down near the south/east end of the platform while everyone else was waiting at the center of the platform in front of the station, I was avoiding all the crowds when boarding the train. There were plenty of seats when I boarded the train, but there were no pairs of seats remaining once all the people had boarded at Fullerton.
The Pacific Surfliner train arrived into Los Angeles pretty close to schedule. Since I was way down near the end of the train, I did not have far to walk to the Sleeping Cars of the Amtrak Coast Starlight, which was parked directly across the platform from the Pacific Surfliner train.
Fri Feb 16, 2001 9:30 AM PT Los Angeles, CA
We departed Los Angeles on time at 9:30 A.M. There were a lot of people on the train, but quite a few of the rooms in the Sleeping Cars were still empty. I imagine we will be picking up a lot of people between here and Sacramento and that the train will get quite crowded during some parts of this journey on this 3-day holiday weekend. I went right to the Pacific Parlour Car after boarding and placing my luggage in my room. The Pacific Parlour Car quickly filled to capacity such that there was not one seat or table that was not occupied. There were quite a few pastries, muffins, fruit, and cereals set out in the parlour car. I had a bowl of raisin bran, 2 slices of melon, and one Bloody Mary that I purchased for $4 from the Pacific Parlour Car Attendant, plus a $1 tip.
Usually the Pacific Parlour Car only half fills up at this hour. But, before long, it was too crowded for my comfort and I headed back to my room. Within a short while, my Sleeping Car Attendant, Hakto Hung, stopped by to introduce himself. When he spotted my railroad radio scanner, he surmised that I probably knew my way around the train and would not need much instruction on the features of the car!
Fri Feb 16, 2001 11:02 AM PT Oxnard, CA
The Chief of Onboard Services introduced himself as "Russ" over the P.A. system and then mentioned that the Dining Car would be open for lunch at about 11:15 A.M. I wanted to get in and out on the first seating so that I would be finished by the time we got to Santa Barbara. I don't smoke, but Santa Barbara is a "Smoking Stop" and gives me time to get off the train and check out the equipment. Thus, I headed to the Pacific Parlour Car so that I would be sure to get in on the first call for lunch.
The Dining Car did open a few minutes after the projected time of 11:15 A.M. I got into the first seating and sat with a couple that was taking a trip to Seattle for their anniversary. They said that they always go on a train trip for their anniversary. This time, they were going to just stay in Seattle for one day. They expected me to be shocked that they would be going all the way to Seattle just to stay for one day. I didn't want to spoil what they felt was an unusual distance to travel to stay just one day by telling them that I would only be spending the night in Seattle and heading right back on the same trainset with the same crew!
The couple had taken a number of rail trips together. The man even rode in the head end on a couple of trips that they have taken on tourist railways! He was also very involved in model railroading.
Food service was fast. It didn't take long for Alicia to get our drinks, take our order and deliver our food! Even though the couple I ate with has taken the Amtrak Coast Starlight before, they were still amazed and pleased at the quantity of food that came in each of their orders of Salmon Salad. Trying to keep my quantity reasonable, I immediately cut my Grilled Veggie Flatbread in half and only ate half. As usual, it was excellent and I was sorely tempted to eat the other half!
For quite a few months, I have been eating a much more healthy diet. Though I feel better about the types of food that I now eat, my change of diet has done nothing for losing a few pounds. So, I have recently taken to cutting all my quantities of food in half. I am now eating the same healthy food, but just half the quantity! I knew the only way that I could avoid overeating on the Coast Starlight without skipping meals would be to cut my food in half before digging into it and keeping away from that other half!
Fri Feb 16, 2001 12:10 PM PT Santa Barbara, CA
I finished half my lunch, and all that I had planned to eat, just as the train pulled into the Santa Barbara station at about 11:55 AM, about 15 minutes early. I excused myself from the table and headed down to the platform. Once on the platform, I took a shortcut down the platform to my sleeping car and stopped in to pick up my camera. Quickly going back out to the platform, I headed for the head end of the train. There is a street crossing at the north end of the platform which I crossed. I took one picture of the locomotives and another overview picture of the train and the station. I don't think I've ever walked all the way to the north end of the platform and crossed the street before. I certainly have not done this since they refurbished the Santa Barbara station and extended the platform. I wrote down the numbers on the locomotives, baggage car, sleeping cars, service cars, and one coach car. The "All Aboard!" signal was given so I had to board the train before I had a chance to get the numbers of the rest of the cars. I'll have to try to get those in San Luis Obispo or some stop further north.
I boarded through the second coach car from the Sightseer Lounge Car. I had quite a time navigating my way through the train all the way back to my Sleeping Car. The one and one-half coach cars that I walked through looked pretty full and a number of people were traveling through the aisles trying to get to their seats after re-boarding the train in Santa Barbara. Some traffic was also caused by passengers going to the Dining Car to put their names on the list to be called for lunch.
We departed from Santa Barbara right on schedule!
Bob and Bruce from the Southern California Railway Museum in Santa Barbara will be providing a narration of this journey from Santa Barbara to San Luis Obispo in the Sightseer Lounge Car. I would like to hear the narration, but I really don't want to spend the next 3 hours in the Sightseer Lounge Car.
Suggestion To Amtrak: I've always thought that Amtrak should make better use of their multi-channel audio entertainment system that pumps music and announcements into each room of the Sleeping Car. Whenever they have on-board narrations, they should pump it through one of the many unused audio channels that go to every Sleeping Car Room. Guests would then have the option to either go to the Sightseer Lounge Car or to stay in their room and select the channel of the narration. Guests can select a different channel if they don't want to listen to the narration. That would also free up more space for Coach Passengers and other Sleepting Car passengers that do want to sit and listen in the Sightseer Lounge Car.
Friday, Feb 16, 2001 1:10 PM
The Engineer noted to the Conductor over the radio that he saw whales off to the left. I quickly grabbed my camera and went down the hall to look out the vestibule door. I kept looking for several minutes, but did not see any whales!
Friday, Feb 16, 2001 1:15 PM
The detector gave us an "Integrity Failure" and the engineer stopped the train. The Conductor and Assistant Conductor walked the train on both sides and could not find anything. The Conductors got back on the train as they decided to just take it up to the next detector and see what it says.
Friday, Feb 16, 2001 1:53 PM
No defects at this hotbox detector!
Friday, Feb 16, 2001 2:26 PM
Ray Burns has been trying to reach me on my cell phone. Evidently, he is somewhere enroute where his cell phone is not working as he keeps calling me from pay phones along the way. The last word that I heard from Ray is that his train is running around 20 hours late. There was a freight derailment. From what I understand from the messages that Ray has left me and info from other railfans, the VIA train has been diverted onto a CP route that goes quite far out of the way. Ray was supposed to get into Vancouver at around 7 A.M. this morning. Instead, this delay is expected to put Ray into Vancouver at somewhere between 3 A.M. and 7 A.M. the following morning on Saturday! Ray was trying to ask me if he should cancel the hotel room in Vancouver. I'm trying to get word back to him to hang onto the hotel room. At least that will give him somewhere to stay until checkout time, and if he calls to the front-desk to arrange a late checkout, he might even be able to use the room until early afternoon. Knowing Ray, he probably will not get a good night's rest if they wake him up at 3 A.M. to let him know the train has arrived into Vancouver, even if they do let the passengers remain onboard until 7 A.M. Thus, it would be better for Ray to move to the hotel room immediately upon arrival in Vancouver, arrange for a late checkout, and then sleep from checkin to checkout time. I think Ray would get a better rest that way than breaking up his sleep into 3 short segments. But, I don't know if I'm going to be able to get a message to Ray before he arrives into Vancouver! I suspect his current plan is to cancel the hotel reservation, try to sleep in the train until 7 A.M., and then just hang around the train station until his next train departs at 6 P.M., 11 hours later. I'm sure Ray will try to check his luggage and look around the town a bit. But, with that broken up sleep, he may not be up for much touring! I guess we'll just have to wait and see what happens.
Friday, Feb 16, 2001 3:30 PM San Luis Obispo, CA
I went up and down the platform the entire length of the train at San Luis Obispo taking a few photographs and getting the numbers of the cars that I missed at Santa Barbara. I re-boarded the train at about 3 P.M., picked up a couple of books, and headed for the Pacific Parlour Car to get a seat for the wine tasting.
We arrived into San Luis Obispo quite early around 2:50 PM. However, they sent the Sunset Limited passengers by bus to meet us at San Luis Obipso and that bus had not arrived yet when it was time for us to depart at 3:13 P.M. Thus, we had to wait for that bus to arrive and to load up those passengers, leaving late at 3:30 P.M.
Russ Settell, the Chief of Onboard Services, was great at giving a complete history of the Pacific Parlour Car! Russ has been with Amtrak since 1973 and has seen Amtrak through all of its difficult times and through the evolution of the Amtrak Coast Starlight. He described the entire history of the trainsets used on the Coast Starlight including the process of acquisition of all the Superliner 1 and Superliner 2 cars.
The first train trip that I ever took was on the Amtrak Coast Starlight in 1995. That was just shortly after they had introduced the Pacific Parlour Car. It was before they refurbished the Pacific Parlour Cars. Russ explained how they had acquired the cars in 1994. I knew most of the history of these cars, but the review was great! I will try to go through some of it here, but I don't know if I'll remember it all.
The idea of having a lounge car just for the Sleeping Car Passengers was the brainchild of Brian Rosenwald, at that time, the Product Manager of the Amtrak Coast Starlight. The problem was finding cars that could serve as the lounge car for the Sleeping Car passengers. There weren't enough spare Dining Cars or Sightseer Lounge cars to do the job. But someone mentioned that they knew where to find cars to do the job. Brian found these cars in Taylor Yard, right near Amtrak West's own backyard in Los Angeles. These cars originally served on the Santa Fe "El Capitan" route back in the 1950s. Amtrak had retired them in the mid-1980's and they had been sitting in or near Taylor Yard for 10 years. As an experiment, they were cleaned up and added to the Amtrak Coast Starlight in 1994. It was in mid-1995 that I first traveled on the Amtrak Coast Starlight. Thus, the Pacific Parlour Car was on the very first Amtrak train that I ever traveled on! I think the existence of the Pacific Parlour Car was one of the features that made me fall in love with rail travel on my first experience. Whether TrainWeb.com would exist without the existence of the Pacific Parlour Car on that first train is questionable, but that car certainly did add to the overall positive experience that I had on my very first train trip!
The experiment was a tremendous success! People that experience the Amtrak Coast Starlight with its Pacific Parlour Car, including the wine tastings, champagne parties, morning breakfast buffet, and first class lounge experience, told all their friends and family about the positive experience and could not wait to book their next reservation on the Amtrak Coast Starlight! Just look at me! I could not wait to book my next trip and diverted my entire business life into a new tangent because of the positive experience that I had on the Amtrak Coast Starlight!
After the Pacific Parlour Car was declared a success, further funds to the tune of about 1.5 million dollars per car were invested to upgrade the car to the newly refurbished car that you see today as the Pacific Parlour Car. The bar was restructured as well as the self-service buffet table. The layout of the car was tremendously changed. The 6 booths at the end of the car were kept, but all other tables were ripped out. They were replaced with 8 big comfortable swivel chairs and bar booths with small drink tables. The downstairs was replaced by a big surround sound theatre that seats at least 18 people. There are a total of 5 such Pacific Parlour Cars. At any one time, there are 4 Amtrak Coast Starlight trainsets on the road. One additional Pacific Parlour Car is needed when one of those trainsets needs to go in for service.
Russ also explained about the history of Amtrak's fleet of cars, especially the Superliners. He explained about how Amtrak first began operations on May 1, 1971. That reminds me that the Amtrak Historical Society will be celebrating Amtrak's 30th Anniversary in Chicago on the last weekend in April this year (2001). If you would be interested in attending that conference and going on the Amtrak tours, click here now to go to www.trainweb.com/ahs/2001. I will be attending the Amtrak Historical Society Conference along with Ray Burns and Shivam Surve, also of TrainWeb.
Russ went on to explain how all of the railroads gave their fleets of passenger cars to Amtrak when Amtrak took over the passenger service from the various railroads. Instead of keeping each set of cars operating on the original railroads that owned them, Amtrak just put trainsets together randomly with cars from many different railroads. Hence, each trainset would be made up of cars of various colors and acquired the name of "rainbow" trainsets. Within a couple of years, Amtrak had either retired or repainted all these cars into a red, white, blue and silver color scheme similar to what is in use today. However, most of these cars were built in the 1940s and 1950s and were near the end of their useful life without major refurbishing. Thus, Amtrak needed new cars.
Amtrak went to the only company still building passenger railcars in the United States, Pullman, to have new passenger cars built. That was the beginning of the two-level Superliner I Cars that now operate on the long distance trains throughout most of the United States today. These cars began to be delivered to Amtrak in the late 1970s. In the late 1980s, Amtrak realized that it needed more cars. This time when they sought bids for the building of new cars, the only response they got was from Mitsubishi in Japan. This did not go over well with many members of Congress and another solution was sought.
An arrangement was made with Bombardier to build the new fleet of cars. This arrangement included obtaining the patents and the original tools and dies from Pullman that were used to build the Superliner I cars. Thus, a tremendous amount of savings was realized by not having to come up with a new design and having to have all new tools and dies built for the new cars. My understanding was that it actually cost less to build each Superliner II Car than it cost for each Superliner I Car because of this savings. Some design changes were made, such as automatic flush toilets, an ice chest in the refreshment area, LED displays for car numbers, conversion of the closet space into open storage space in the Sleeping Car rooms, and a number of other minor changes. But, basically, the new Superliner II Cars were extremely similar to the original Superliner I Cars.
Personally, I think one of the most important changes was to use a decor that is more likely to remain timeless. The Superliner I Cars used the color schemes that were popular in the mid-1970s: avocado green, mustard gold, bright orange, and earthtone brown. Though popular in the 1970s, that color scheme soon became dated. Thus, when the first Superliner I Cars were delivered, their decor already looked out of date! The Superliner II Cars have a more neutral color scheme of grey, black, blue, and a high-tech faded purple. I can't think of a time in my life when this combo of colors would have been thought of as being out-of-date, so let's hope this color scheme remains appropriate for the life of these cars. Already Amtrak has refurbished many of the original Superliner I Cars and replaced the old fabrics and panels using the color scheme of the newer Superliner II Cars. The one place that another color is used on the Superliner II Cars is in the Deluxe Bedrooms which also use a deep green for the fabrics. I'm holding my judgement on whether that particular color will remain as timeless as the rest of the car.
After having been given the history of the Pacific Parlour Car and the Superliner cars, the wine tasting started. We were served the three wines that are sold under the name brand of the Amtrak Coast Starlight. These wines are actually produced by the Castoro Cellars Winery. The wines are actually quite good! Unlike the last 2 wine tastings on previous Coast Starlight trips, they only served a little of each of the 3 wines. On the last few trips I have taken on the Amtrak Coast Starlight, they have served 4 different wines and then given you a full glass of whichever wine you liked best! I assume they were not able to do that this time because the crowd was so large. Every single seat in the entire Pacific Parlour Car was taken during the wine tasting! They even had to open up part of the Dining Car to handle the overload! Nonetheless, I enjoyed the wine tasting and even bought a glass of Merlot after the end of the wine tasting.
One of the Amtrak staff members mentioned that today, February 16, 2001, was Russ Settell's birthday (our Chief of Onboard Services) and we all sung "Happy Birthday" to him!
At dinner, I met my match: Ken Wogomon of Fluidmaster Inc. (www.Fluidmaster.com) and his wife! They are also going up to Seattle to just sleep overnight in the Pioneer Square Hotel and will be heading right back on the same trainset with the same crew, just like me! Between this couple and the previous couple that I mentioned earlier, it seems that it is not uncommon for people to travel all the way to Seattle just to enjoy the experience of the train ride on the Amtrak Coast Starlight and hardly spend any time off the train!
Friday, Feb 16, 2001 7:15 PM Salinas, CA
We departed Salinas at 7:15 PM, 58 minutes behind schedule.
Saturday, Feb 17, 2001 8:00 AM
I went to bed early last night, probably shortly after we left Salinas and definitely before we arrived in San Jose. I don't remember San Jose at all, so I must have been sound asleep by then! Since I often don't get enough sleep the night before an anticipated rail trip, I definitely needed the extra sleep tonight. And boy did I get it! I woke up at about 7 AM this morning! That was around 11 hours of sleep. After having read a number of recent studies of the effects of even minor sleep deprivation, I've made a conscious effort to modify my lifestyle to try to get 8 hours of sleep each night. That is after a lifetime of intentionally getting 6 hours of sleep per night at best. I became worried when I realized that I exhibited many of the symptoms of having a sleep deficit: drowsiness in the afternoon, drowsiness behind the wheel and occasionally dozing off at red lights. Some of the bad effects of a sleep deficit include a degraded immune system, increased susceptibility to colds and other illnesses, and most alarming: the danger of killing or seriously injuring oneself and others by falling asleep behind the wheel! My waking hours might be a bit shortened now that I try to get at least 8 hours of sleep each night, but those are very alert and energized hours! I no longer feel I have to push myself through the afternoon and I feel much more capable of tackling the challenges brought on each day.
I did wake up for a few minutes after we arrived into Oakland. I was a bit startled to wake up and see people walking around right next to my bed! I am in Standard Room 13 which is downstairs in the Sleeping Car. The train stopped in such a way as to position my room directly in front of the main entrance to the Amtrak Jack London Square Oakland Train Station! Thus, there were crowds of people going right by my window. I don't know if they could see in, since my room was totally dark and the station is well lit, but it certainly is an odd feeling to be lying in bed while dozens of strangers parade by! I fell right back to sleep and awoke again for just moments in the Oakland yard. The next morning, I found out that 6 roadrailers were added to the end of this train. Four of them had the "Swift" markings on them. A few hours later, I awoke again just for a few minutes. It took me a moment to figure out where we were as my Sleeping Car was positioned all the way up near the head of the platform beyond the covering. It was Sacramento. Except for some dreams, including one about being in this room on the train(!), I don't remember anything else until I woke up in the morning.
I had left my radio scanner on all night with a very very low volume as I will often do on the train. The first announcement that I heard after I awoke was on Channel 80 for Mile Post 316.5. Checking the clock, I realized that we had lost a lot of time as we had not even reached Dunsmuir, California, yet!
I got up, washed, dressed, pushed the call button to signal the Sleeping Car Attendant to make up the room, and headed off to the Pacific Parlour Car for a Continental Breakfast. A full breakfast is served in the Dining Car, but I seldom want more than a bowl of cereal, some fruit and coffee for breakfast. While having my breakfast in the parlor car, we stopped at Dunsmuir and departed at about 7:18 AM, 2 hours and 33 minutes behind schedule. I'm sure the train lost a little time in the Oakland Yard putting the roadrailers on the end of the train, but there is enough padding in the schedule for Emeryville that should have accounted for that. As yet, I have not found out why we lost so much time during the night. The good side of the delay is that I got to see a lot of snow covered mountains and forests between Dunsmuir and Klamath Falls that this train normally passes during the dark of night.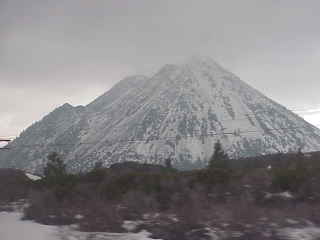 Black Butte (3,903 ft.)
Saturday, Feb 17, 2001 9:56 AM Klamath Falls, OR
The train departed Klamath Falls, Oregon, at 9:56 A.M., one hour and 53 minutes behind schedule. Looks like we made up about 40 minutes so far! The train took about 5 minutes at Klamath Falls to load and unload passengers and baggage. This is normally a smoking stop, even when the train is behind schedule. I was able to take a few photos around the station and even had time to walk through the station to pick up an extra National Timetable, Coast Starlight schedule, and a few extra Alaska Airline mileage claim forms.
Saturday, Feb 17, 2001 10:23 AM
Russ just announced that passengers that are transferring to the Empire Builder, Train #28, will be taken off this train in Eugene and transferred to a bus. The bus will catch up with the Empire Builder by taking a shortcut from the Coast Starlight Route to the Empire Builder Route. Russ also announced, as he is sure to do on almost every announcement, that he is easy to find because he is taller than the average Chief of Onboard Services!
At lunch today, I met another couple that is going up to Seattle to just spend one day! So far, I know of two couples going to Seattle to spend just one day and one couple that is going just to spend the night and return. All of these people have said that the ride on the Coast Starlight is the real vacation! Seattle is a nice place to visit, but is just an afterthought in the mind of these couples. It is the trainride on the Coast Starlight that is important! Next to the actual ride on the train and the scenery, the most enjoyable part of this trip is the Pacific Parlour Car including the atmosphere and events of that first class lounge car. I never realized how many people like taking this train just for the sake of the ride. If Amtrak ever eliminated the Pacific Parlour Car, they would lose a lot more ridership that even I had guessed at!
I think I overdid lunch! I ordered the Garden Burger, which comes with french fries, and a bowl of Minestrone Soup. The potatos were more like potato wedges than like french fries. I wasn't planning to eat any french fries, but wedges are a lot more tempting to me! Nonetheless, I cut my Garden Burger in half and divided the number of potatos in half before starting to eat. I ate all of the minestrone soup and half the Garden Burger and potatos. Everything was delicious! I could have eaten the other half, but I already felt stuffed! Russ mentioned that our chef, Louis, has twice won the award for being the best chef on Amtrak. You can easily tell from the taste of the meals on this Coast Starlight trip that he is an excellent cook! I'm already looking forward to the "Mushroom Encrusted Shiitake Stuffed Chicken Breast" that I will order for dinner this evening and the "Portabello Steak" that I will order on my way south!
Saturday, Feb 17, 2001 7:00 PM Centralia, WA
I found out that there are four couples in addition to myself that are heading right back tomorrow morning on this same trainset with the same staff! Obviously, the enjoyment of the Coast Starlight is enough to constitute the entire four-day vacation for many people! I've met two of the couples: James and Beverly McIntosh and Ken Wogoman and his wife. I don't know who the other two couples are yet, but maybe I will find out on the way back. If Amtrak added a first class lounge car like the Pacific Parlour Car along with its events and amenities to its other trains, I wonder how many more people would be attracted to also take those trains just for the train ride?
Hakto, my car attendant, came by my room at 7:16 PM and gave me a gift bottle of Coast Starlight Chardonnay. Going by my own guideline of $5 per person per day to a maximum of $20 per room, I gave a $10 tip. I was quite satisfied with the service provided by Hakto and look forward to the return trip in his car. According to the ticket, Ray and I will be in Room 3, upstairs in this same Sleeping Car #31!
I'm going to pack up everything now as there are only a couple of hours left to this rail journey. If anything happens further that is unusual, I will be sure to add it to this travelogue! If you have not started to read Ray Burns' travelogue of his trip by rail across Canada and then up to Hudson Bay, you should start reading it now! Click here to go to Ray's travelogue and photos.
Sunday, Feb 18, 2001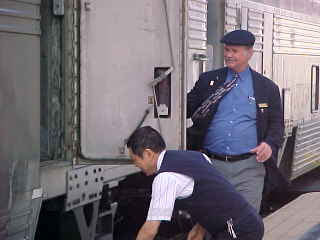 American ingenuity to open a stuck storage door on the train!
I don't plan to write a lot on this southbound segment of my travel. The trainset and the onboard staff is the same as on my northbound travel. However, I have discovered that I have severly undercounted how many people on this train are just traveling up to Seattle to turn right around and come back on the same southbound trainset. The total is now up to 15 people! To read more about this unusual event (or is it so unusual?) and to see the photos and names of the 15 people making this quick turn-around on this Amtrak Coast Starlight, click here!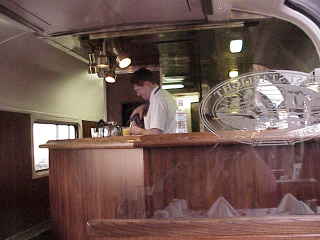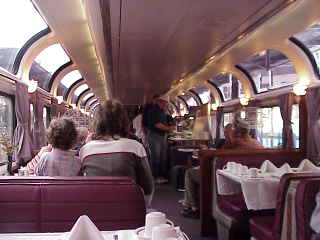 Left: Darren working at the Pacific Parlour Car bar.
Right: Ray Burns working at the Pacific Parlour Car breakfast bar!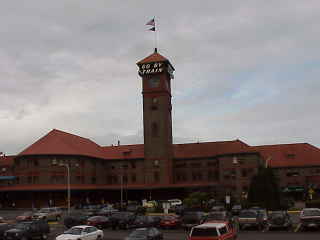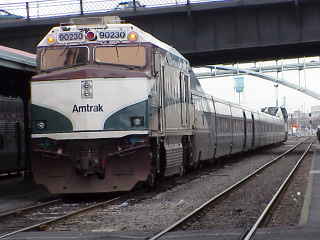 Left: Portland Amtrak Station
Right: Amtrak Crescent Talgo with F40 Control Cab.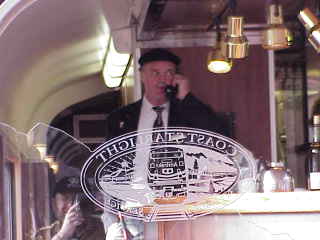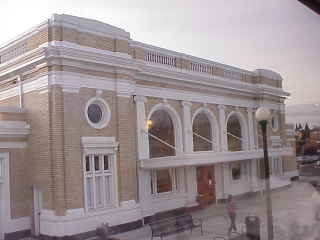 Left: Russ Settell, Chief of Onboard Services
Right: Salem Amtrak Station, Oregon
One final comment: This is the best trip I have ever had on the Amtrak Coast Starlight! The crew was great, the food was great, and the unusual company of the 15 people round-trip up to Seattle and back was an unexpected bonus! The next time that I plan to take a trip on the Amtrak Coast Starlight for pleasure, I will contact Russ (Chief of Onboard Services) by e-mail and find out what his crew schedule is so that I can take another trip with this fabulous crew!
Onboard Staff (Crew #3):

Chief of Onboard Services: Russ Settell (strlghtchf@aol.com)
Dining Car Steward: Mike Garrett
Dining Car Server: Alicia Portillo
Sleeping Car Attendant: Hakto Hung
Pacific Parlour Car Attendant: Daren
Chef: Luis Penya
Asst. Chef: William Haley
Asst. Chef: Carlos Del Carpio
Consist:

113.... Genesis Locomotive
11..... Genesis Locomotive
1257... Baggage Car
39037.. Superliner 2 Transition Sleeper (1410)
32115.. Superliner 2 Sleeping Car (1432 - Washington)
32091.. Superliner 2 Sleeping Car (1431 - Minnesota)
32117.. Superliner 2 Sleeping Car (1430 - Wisconsin)
39973.. High-Level Pacific Parlour Car
38059.. Superliner Dining Car
33037.. Superliner Sightseer Lounge Car
34072.. Superliner 1 Coach Car (1411)
34504.. Superliner 2 Coach Car (1412)
34081.. Superliner 1 Coach Car (1413)
34064.. Superliner 1 Coach Car (1414)
34105.. Superliner 2 Coach Car (1415)
6 Roadrailer Freight Cars, 4 of which had a "Swift" marking.
(The 6 Roadrailers went from Oakland to Seattle)
Photo sets from this rail journey:

Click here for a 360x360 Virtual Tour of the Amtrak Coast Starlight!
Click here for photos and travelogues
from other trips that I have taken on the Amtrak Coast Starlight!
Click here for photos and travelogue
of the rail journey of Ray Burns to Churchill, Canada on VIA Rail!
Are you interested in rail travel along some or all of this journey yourself? There are very few travel agents that have the necessary knowledge and experience of rail travel to answer your questions and to book a journey that you will remember for a lifetime. TrainWeb has sought out those travel agencies and rail tourism companies that not only have the knowledge to book your travel, but have gained the required experience through extensive rail travel themselves! Click here or visit RAILagencies.com or RAILexcursions.com for a list of these rail travel providers!
Click here for photos and travelogue
of the rail journey of Ray Burns to Churchill, Canada on VIA Rail!
Click here for the 15 people that took the 4-day round trip on this Amtrak Coast Starlight!