Santa Fe 3751 Steam Locomotive
Los Angeles to Railfair'99, Sacramento, California
Steve's Travelogue - June 16, 1999
www.trainweb.com/travel/stevelog/1999f16a.html

This segment of my travelogue covers our jouney in the Overland Trail private lounge car pulled by the Santa Fe 3751 steam locomotive from Stockton to Sacramento on our way to Railfair'99 in Sacramento, California.
Below left is a photo of the Daylight locomotive and below right is a photo of part of the passenger section of the Talgo train that was built to travel between Los Angeles and Las Vegas:
Click on each link below to view each set of photos:

Click here to view video clips.
If you have any difficulty with the above links, please send e-mail to me about which link is broken. Since I am uploading all these files from the hotel each night, I do not have the time to review them all. I have selected just the video clips that I thought were worthwhile, but I have not had the time to filter which photos are not worth posting. Thus, for now, I have posted all of the photos that we took.
As most of you who are frequent visitors to TrainWeb already know, you can click on any photo on this page to display a larger image of that photo.
Format:
YEAR MON DA DAY Actual-Departure-Time (Scheduled-Departure-Time) Time Zone
1999 JUN 16 WED 05:30 Pacific Time Best Western Stockton Inn, Stockton, CA
Ray and I got up at our usual 5:30 A.M. with a wake-up call from the front desk. Since I didn't get finished posting to the web until 2 A.M., I only got about three and a half hours of sleep. This should be a short day today. We've only been allocated two and one half hours to get from Stockton to Sacramento. If we get everything into our booth and can check into the hotel early today, I can probably take a nap to catch up on some of the sleep that I missed last night.
1999 JUN 16 WED 06:30 Pacific Time Union Pacific Stockton Yard, CA
Even though we called last night to have a taxi for us at the hotel by 6:10 A.M. and told them to take their time, the taxi was already waiting out front by 6:00 A.M. ! We managed to get ready quickly and get out the front door by the time that we had planned.
We took the taxi to the UP Yard. The taxi driver, Michael Haninger, took us right up to the steam locomotive and then down past the train right to the last car. Ray invited him onboard and we gave him a bit of a tour of the private cars. Michael said he takes trains from time to time and was planning on visiting a relative in Colorado by taking the California Zephry through the Sierra Nevada and the Rocky Mountains. Below is a photo of Michael Haninger by the private cars.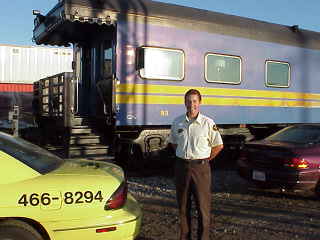 1999 JUN 16 WED 06:45 Pacific Time Union Pacific Stockton Yard, CA
The locomotive blew its whistle for the first time today.
1999 JUN 16 WED 08:15 Pacific Time Union Pacific Stockton Yard, CA
We are on the roll heading out of the yard!
1999 JUN 16 WED 08:45 Pacific Time Union Pacific Stockton Yard, CA
After starting, the train paused in the yard from about 8:20 until after 8:45 A.M.
1999 JUN 16 WED 09:00 Pacific Time ACE Station, Stockton, CA
Finally got on the roll and passed the new Altamont Commuter Express (ACE) station and an old boarded up passenger station.
1999 JUN 16 WED 09:35 Pacific Time MP 113.5 CH 27 (160.515) Thornton
We traveled the Union Pacific Canyon Subdivision from Stockton to Sacramento.
1999 JUN 16 WED 09:50 Pacific Time MP 121.3 CH 27 (160.515) Phillips
Stopped for a maintenance inspection by Phillips and should be on the road shortly.
1999 JUN 16 WED 10:05 Pacific Time MP 124 CH 27 (160.515)
UP Detector Mile Post 124, No Defects, Train Speed 46 MPH, Temperature 46 Degrees.
1999 JUN 16 WED 11:02 Pacific Time CH 96 (161.550)
Just finished backing through Haggin Yard to switch from the UP track to the SP track. The train is in communication with Elvas Tower. They need to send someone out with a key to the manual switch since they don't have a key to the switches on this train.
I captured a video clip of the Santa Fe 3751 Steam Locomotive going backwards at the wye which you view by clicking on the link near the top of this page.
1999 JUN 16 WED 11:02 Pacific Time CH 96 (161.550)
Originally I guess we were suppose to head straight down the main track around the curve over to the California State Railroad Museum track. Instead, the plan is to send us through one of the sidings in the freight yard.
The SF 3751 engineer is reluctant to take the train via that route since he is not familiar with the weight of rail used on each of the tracks in the yard and whether those rails will be able to hold something as heavy as our locomotive. The rail used in freight yards is usually a lot lighter than that used on the main line. In the freight yards, there isn't as much traffic and trains move a lot slower than on the main line.
The Yardmaster said that they brought the 4449 through the yard without any problem. The engineer then asked if the Yardmaster could direct our train through the same route taken by the 4449. The engineer said that our train is of similar build and weight so we should not have a problem following the same route taken by the 4449. There was also a concern about the tight switches and points in the freight yard which were installed for modern engines and not for the old heavy steam locomotives.
1999 JUN 16 WED 12:10 Pacific Time Sacramento UP Yard
Our train has been sitting here for about an hour and we have no idea yet when we will move nor where they will be parking our train for the day. We are hoping they will take this train down to the Museum Yard so that we can just move all our boxes right from the Overland Trail private car into the Museum Roundhouse. If they leave the train in the yard for the night, we might have quite a logistics problem of trying to get all the things that will be in our booth from the yard to the museum!
1999 JUN 16 WED 12:28 Pacific Time Sacramento UP Yard
The eastbound Amtrak California Zephyr Train #6 just passed by our stopped train.
1999 JUN 16 WED 12:45 Pacific Time Sacramento UP Yard
We finally started moving, but I'm not sure where they are moving us. As we move slowly through the yard, the car lurches each time we start and stop. This is something that I have seldom ever experienced on Amtrak, but I guess that is the difference between riding in a passenger train and riding in a freight train!
The Daylight locomotive can be seen on the other side of the yard. We might be able to get closer to it where I can take a photograph.
1999 JUN 16 WED 13:13 Pacific Time Sacramento UP Yard
When you travel at the end of a freight train, you have to be prepared for lots of unexpected delays, and even an extra overnight that wasn't planned! We are still sitting in the Sacramento UP Yard without any word as to when we will be pulled into the museum yard, or even if we will be pulled into it today!
I just got word that our Santa Fe 3751 has already gone ahead of us into the museum's yard. We'll just have to continue to wait to see when we will be pulled in.
1999 JUN 16 WED 15:00 Pacific Time Sacramento UP Yard
The box cars were pulled off and the 3751 tool car was connected onto the back of the Tioga Pass, the car with the open platform. Then, a yard switch engine pushed us down to where the 3751 steam locomotive and BNSF diesel locomotive 4419 was waiting for us. They connected us back up to the locomotive section of our train. Thus, our current consist is the 3751, the 3751 tendor, the 4419 BNSF diesel locomotive, the Overland Trail, the Tioga Pass, and the 3751 tool car. I'm not sure if there is anything behind the tool car other than a yard switch engine.
1999 JUN 16 WED 15:10 Pacific Time Sacramento UP Yard
Warren M. Scholl, Manager, Technical Training & Rules, Burlington Northern Santa Fe (BNSF), who was also one of the Engineers when the Santa Fe 3751 Steam Locomotive came through Fullerton on January 12, 1999, is a representative for BNSF for this journey and is a consultant to the operation of the steam engine for this trip.
Warren had been working in the heat in the 3751 most of the day. We invited Warren to relax for a few moments in the Overland Trail lounge car and provided him with a cold Snapple beverage. For about 20 minutes we about what the plans were to bring the Overland Tail into the museum yard, plus some totally unrelated topic about the future of the internet.
The plan now is for several trains to parade into the museum area and then stop in the museum area. That is suppose to happen sometime around 3 or 4 PM, but everything seems to be running late today.
1999 JUN 16 WED 16:00 Pacific Time California State Railroad Museum
I'm not sure exactly what happened when, but as it got close to 4 P.M., everything started happening rather quickly! Our goal was to drop off all our equipment for Railfair and all our luggage as close to the museum roundhouse as possible. Our exhibit is right in the roundhouse, so that would be the most convenient for all the boxes that we brought.
A huge prosession of trains, many of them steam trains, slowly made there way into the yard of the Cafifornia State Railroad Musuem. Rail crews had to temporararily lay rails across the main line between the bridge and the Sacramento Amtrak Station so that we could cross over that set of tracks. I took a photo looking down the bridge over the Sacramento River from inside the Overland Trail. Normally that would be an impossible photo to take from inside a passenger car since train tracks do not normally cross the main line at that point!
We rapidly packed up in case an opportunity presented itself to unload closs to the roundhouse. We were stopping and starting several times for several minutes, so it was not something impossible to expect.
Our car did end up stopping right smack in front of the roundhouse! Someone suggested that we put all our boxes out through the service door in our car to get them off the train quickly right by our destination. We handed every box that we brought out the private car service door and had it placed on the gound by the rails. The Railfair'99 people were kind enough to hold up the entire procession of trains for an extra couple of minutes so that we could get all of our stuff onloaded out the service door!
The trains eventually continued further south down that track slowly. Ray hopped off the train to guard our boxes. When the train stopped again, we unloaded the two dollys and a few suitcases that we brought with us. Some of the unloading had to be done while the train was in slow motion heading south on the tracks!
We had to pull the dollys loaded up wtih our suitcases a couple of hundred feet to get back to where Ray was guarding our unloaded boxes.
We moved all our equipment into the rail museum to our booth space. For some reason, there seems to be some misunderstanding that TrainWeb is working the Caltrans booth. When we told our contact at Amtrak West to come visit the TrainWeb booth at Railfair'99, she was surprised at she had heard that TrainWeb would be working the Caltrans Amtrak California booth. When we arrived, Caltrans had our badges for us, but they were all labeled with the Caltrans name instead of the "www.trainweb.com" company name!
WIthin a few hours, we had everything set up in our booth and headed for our hotel.
A big thanks from TrainWeb to those of you that have spread the word about TrainWeb's coverage of this event to the railroad clubs and organizations to which you belong and to the railroad newsgroups, forums and chat sessions in which you participate! Please do continue to get the word out to those rail organzitions and internet lists that are not yet aware of this event! Just tell them to go to the web page at "www.trainweb.com/3751" or "www.trainweb.com/3751/railfair.html".
If you have your own web site and wish to link to any of these web pages, or if you write for a railfan publication and would like to mention any of these URLs, please feel free to do so. Once we post a page at TrainWeb, we do not remove it nor change its URL. Thus, the URL of the web pages of coverage of this event are valid today, will be valid tomorrow, and will still be valid a year from now, and beyond! Also, if you wish to use any of these photos in your own web site, you are welcome to do so as long as you mention that the photo was provided courtesy of "www.trainweb.com" and make that a link to our web site. If you would like to use any of the photos in a rail publication or for any other purpose in print, you are also welcome to do so as long as you do mention that the photos were provided courtesy of "www.trainweb.com". (Please mention our actual "www.trainweb.com" URL and not just that the photos were provided by "TrainWeb"). You do not need to obtain advance permission from us before using any of our photos.
Be sure to follow our return journey from Sacramento to Los Angeles that will start on Monday, June 28, 1999 and arrive into Los Angeles on Wednesday, June 30, 1999! Also, check "www.trainweb.com/whatsnew.html"daily for any updates that we might post during Railfair'99. If you plan to come up to Sacramento, stop by the TrainWeb booth in the Roundhouse! We will have tags that you can wear so that TrainWeb visitors at the fair can identify each other!
Click herefor the next segment of this rail journey.
Click herefor the previous segment of this rail journey.
Visit our Rail Magazine promotion trading partners:
Click here to add your print rail magazine.