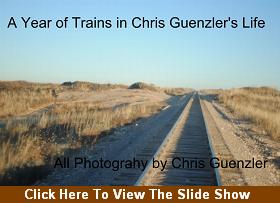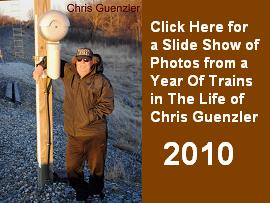 A Year of Trains in Chris Guenzler's Life: 2010
This page is the index to all the photos in this slide show.

This slide show was first shown at Winterail 2011 in Stockton, California, and is a summary of the railroad events and photos taken by Chris Guenzler in 2010. This is a pretty lengthy slide show of 287 photos. If you don't wish to view them all in one sitting, just note where you left off and you can come back anytime and resume with the last slide that you viewed.

CLICK HERE to view other railroad slideshows.
CLICK ON THE FIRST LINK BELOW TO BEGIN THE SLIDE SHOW
or click any other link below to view a particular photo:


Visit our Rail Magazine promotion trading partners:
Click here to add your print rail magazine.