Amtrak Superliner Transition Sleeper
Back To Previous Slide / Up To Index / Forward To Next Slide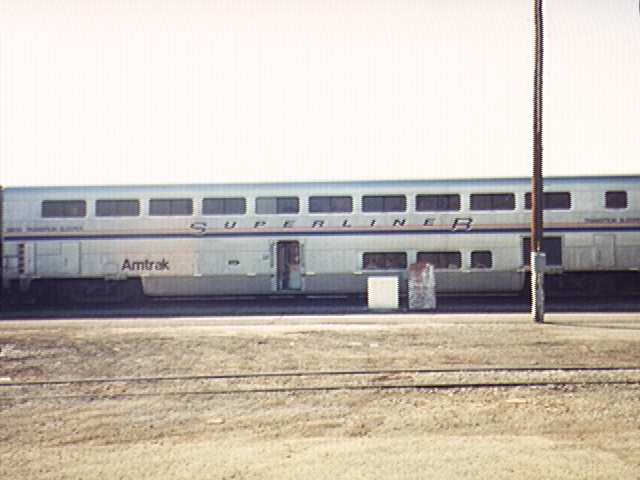 Click on above photo for a larger image.
This is where the crew sleeps except for the Sleeping Car Attendants. The Superliner Transition Sleeper is very similar to a regular Superliner Sleeping Car. One difference, however, is that there are NO Deluxe or Family Rooms in the Transition Sleeper. There is one Special Bedroom ("Handicapped Bedroom"), but all the other rooms are configured as Economy Sleepers. Downstairs there is a crew lounge area.
There is also a door downstairs which would allow access to any single level baggage car. Because this car can connect to a double level Superliner car on one end and a single level baggage car on the other end, Amtrak always tries to place this car between the baggage/mail section of the train and the passenger section of the train. Thus, trains with a Transition Sleeper usually have all the baggage/mail cars at the front of the train between the locomotive and the Transition Sleeper. The Transition Sleeper is then followed by the regular Sleeping Cars, the Dining Car, the Sightseer Lounge Car, and then the regular Coach Cars.
Sometimes Amtrak uses the Transition Sleeper for paying passengers. This was done for quite a while on the Southwest Chief. The crew lounge area was turned into a First Class Lounge area. The train crew slept either in an older Dormitory Car or in vacant rooms in the other Sleeping Cars. Due to Amtrak's accute shortage of equipment, Transition Sleepers are being used more and more to accommodate paying passengers.
Just a side note: Sleeping Car Attendants sleep in Room #1 of the Sleeping Car for which they are responsible. They do not sleep in the Transition Sleeper. Room #1 is upstairs in the Sleeping Car right next door to the upstairs restroom. The Car Attendants Room has special equipment needed by the Car Attendant including a lighted panel that indicates which rooms are calling for his attention.
---
The photos in this slide show were taken in the mid-1990's by Steve Grande on his Amtrak travels throughout the nation. The size of the photos is purposely smaller as disk space was expensive and download speeds were slower at that time.
Visit our Rail Magazine promotion trading partners:
Click here to add your print rail magazine.