360 Image of BNSF 4419 Cab
www.trainweb.com/railfair99/360_bnsf4419.html
360 by 360 degree image of the inside of the BNSF 4419 Cab.
To move around the 360 x 360 photo in any direction, use your mouse to display a pointing finger in the direction in which you wish to move, then click or hold down the left mouse button. The closer you place the finger to the edge of the image, the faster the view will move in that direction. Back the finger away from the edge and the image will move more slowly. If you wish to zoom in on an object, move the image so that object appears in the center of the view. You will see a "+" when you place your pointer at the center of the view. Hold down the left mouse button and the image will zoom in on that object. To zoom out, move the pointer to the side until you see a "-" appear. You can then hold down your left mouse button as the view zooms out! You will be able to look in all directions around the photo, including directly up and down. There is a TrainWeb logo usually at the bottom which covers the image of the tripod on which the camera was mounted.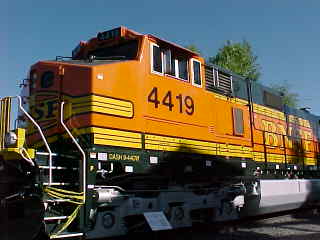 Click here for a larger image of the above photo.

Click here for more photos of BNSF locomotive #4419!
Burlington Northern Santa Fe Railway C44-9W (DASH 9)
The latest in diesel-electric locomotives technology from General Electric, this C44-9W (Dash 9-44CW in BNSF terminology) is a 6000 horsepower melding of a low-emissions diesel power plant, AC traction motors, high capacity main electric generator, invertors, and high sensitive computer systems.
Date Constructed: 1998
Type: C44-9W
Builder: General Electric
Gauge: 56-1/2"
Power: 6000 HP Engine
Fuel: Diesel
Weight: 420,000 lbs.
Owner: Burlington Northern Santa Fe Railway
Location: Ft. Worth, Texas
Visit related pages from this and other web sites:
Click below for pages in the directory of TrainWeb sites: