Lets Talk Trains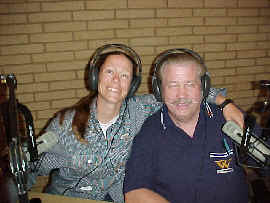 CLICK HERE TO LISTEN TO THIS SHOW FROM THE ARCHIVE!
CLICK HERE FOR PHOTOS OF THIS EVENT!
10 January 2004, Saturday, 10am-Noon Pacific Time
The show on Saturday, 10 January, was broadcast live from the Santa Fe Express Cafe at the Fullerton Train Station with the cooperation of TrainWeb.com.
As part of the live broadcast, Chris Guenzler surpassing 775,000 miles of rail travel was celebrated! Many of the regulars were at this live broadcast, even some of the old San Diegan Club gang! There was a special cake made to celebrate the rail travel milestone of Chris and everyone around was offered some.
The Lets Talk Train show broadcasts/streams live on the Internet every Saturday from 10am to noon pacific time and can be found by going to the Where page on the Lets Talk Trains website found at letstalktrains.us. You can also find other scheduled guests and topics on the Timetable page of the website.
Lets Talk Trains is also available when you want to listen to it on a 24/7 basis. A link to access the archived shows is also available on the Where page of the website.
CLICK HERE to go to the Lets Talk Trains website now!
**************************
Richard Hamilton
Whats Happening On The Rail In San Diego?
SanDiegoRail.com
P.O. Box 1654
Chula Vista, CA 91912-1654

Host of Lets Talk Trains
letstalktrains.us
Saturdays 10AM to noon
West Coast time