Union Pacific's Operation Lifesaver Special
www.trainweb.com/oli_special.html
The Union Pacific Railroad is currently operating a special train on behalf of Operation Lifesaver, Inc. through the Western United States. The purpose of this train, which just completed its tour of Southern California, is to further promote safety at highway-rail grade crossings and around railroad property. Guests on board this train's excursions are treated to an Operation Lifesaver presentation, Operation Lifesaver videos, and a remote view of the railroad from a camera mounted on the locomotive (to potentially see those who try to beat the train). One aspect of this train is the Trooper On the Train Program, where local law enforcement officers ride at the head end of the train. If they see people illegally trying to beat the train in their car, bicycle, or on foot, they will radio to units on the ground to pull over and cite those violators. On Sunday, September 19 alone, over one dozen motorists were ticketed! Numerous pedestrians were also cited or arrested for trespassing on the railroad or throwing objects at the train. Media coverage of this train included KTLA TV-5 (independent), KABC TV-7 (ABC), KTTV TV-11 (FOX), and KMEX TV-34 (Univision).
TrainWeb's Matthew Melzer worked on this train during its weekend in Southern California, and photos from him will be posted soon! In the meantime, the following photos from TrainWeb's Andrew Held are available.
---
Sunday, Sept. 19, 1999 Compton, CA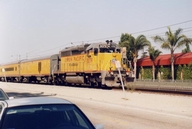 Photo Set 1 (Andrew Held)
Click here to visit Operation Lifesaver's web site!
Click here to visit California Operation Lifesaver's web site!
Amtrak California's Media Release regarding rail safety and the UP Operation Lifesaver train.
Visit our Rail Magazine promotion trading partners:
Click here to add your print rail magazine.