California Rail 2020
Annual TRAC Meeting
November 22-23, 2002
At The Embassy Suites On The River In Old Sacramento
http://www.trainweb.com/news/2002/2002k23a.html
Progress... Waiting for a Signal!
Click here to view the photo highlights from this event.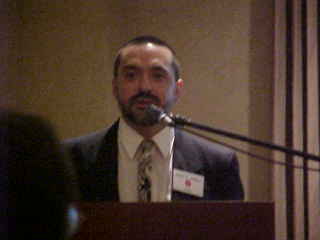 Alan C. Miller, TRAC Executive Director
9:30 am Welcome Alan C. Miller, TRAC Executive Director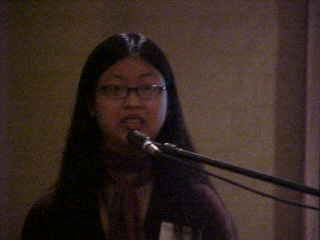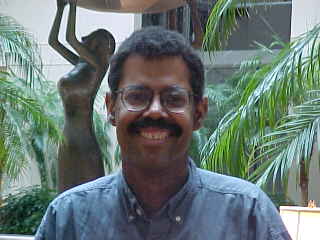 Left: Trinh Nguyen - Right: Terry Preston
9:35 am Legislative and Electoral Summary Trinh Nguyen of the Surface Transportation Policy Project and Terry Preston of the transit advocacy and marketing group Odyssey 2000 give an overview of what happened in the Legislative and Election this year.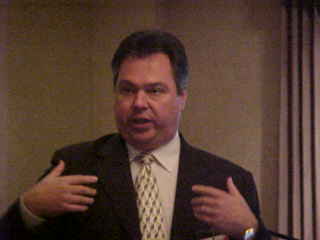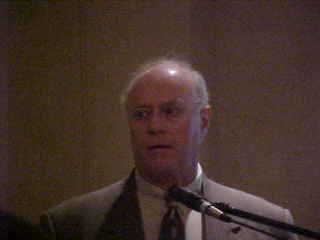 Left: Wayne Williams - Right: Dan McNamara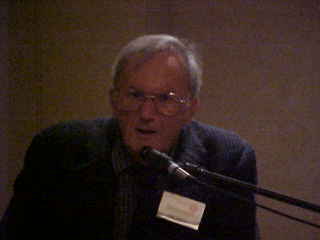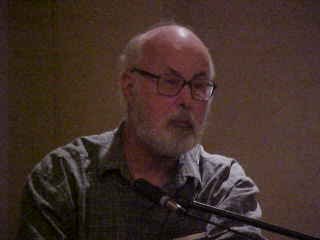 Left: Walter Strakosch - Right: James R. Mills
10:00 am A World View on High-Speed Rail featuring the latest developments from Europe and some critical views of the California situation from: Siemens Marketing and Business Development Director Wayne Williams, TRAC VP Dan McNamara, Walter Strakosch (formerly with Federal Transit Agency) and former President Pre Tempore of California Senate James R. Mills.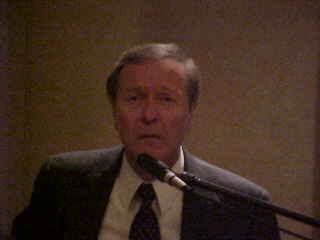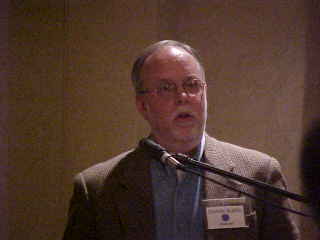 Left: Warren Weber - Right: Dennis Kuklis
11:00 am A new financial structure for state supported service Warren Weber (Caltrans) Dennis Kuklis (Amtrak West).
11:45 am Board Statements
12:15 pm Board Vote
12:30 pm Surfliner Survival James R. Mills (Former President Pro-Tempore of California Senate)
1:00 pm Presidential Statements and Vote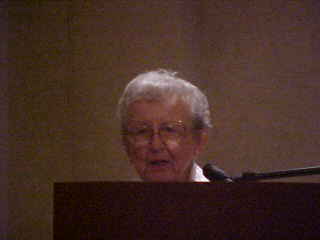 Doris Briggs
1:15 pm How Amtrak Is Surviving Dennis Kuklis of Amtrak giving the financial picture Alan C. Miller of TRAC filing in some of the political details. Doris Briggs progress report on getting AARP to support passenger rail.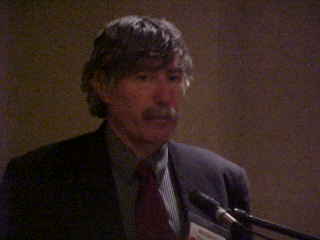 Richard F. Tolmach
1:45 pm Missed Marketing Opportunities James R. Miller with a case history on the east of Chicago corridors, Brian Perkins of State Senator Jackie Speier's staff on the Baby Bullet project, Steve Cohn of Sacramento City Council on a new Sacramento regional rail project.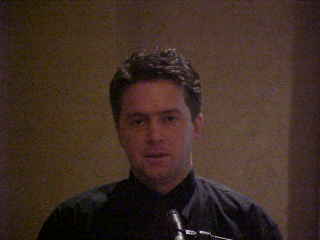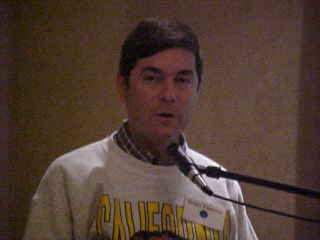 Left: Jim Allison - Right: Brian Perkins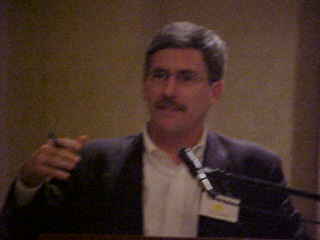 Steve Cohn
2:30 pm Northern California Commuter Corridor Jim Allison, Capitol Corridor Senior Planner, with a presentation on the CCJPA progress, Brian Perkins of State Senator Jackie Speir's staff on the Baby Bullet project, Steve Cohn of Sacramento City Council on a new Sacramento regional rail project.
3:15 pm VP / Treas / Sec Statements & Vote
3:30 pm TRAC Member Forum
Sunday walking tour of the South Line light rail extension starts at 10 am at 13th Street Station, and will last about 90 minutes. Regional Transit asks us to remain on public streets, sidewalks, and alleys, since there may be test cars operating on the right of way.
---
The conference starts with an 8:30pm Friday November 22 hosted reception for paid attendees honoring former Senate President Pre-Tem James R. Mills at TRAC headquarters, featuring hors d'oeuvres, wine, cheese and deserts.
Our Saturday Nov. 23 conference sessions are at the Embassy Suites in Old Sacramento. Registration starts at 9:00am.
Planned sessions on Saturday beginning at 9:30am include:
A post-election overview on the new legislative landscape, transportation measures, and the impact of budget problems on California's operating and capital improvement programs.
What's in store for commuter services, including presentations on ACE, the Capitol Corridor and the Peninsula's Baby Bullet project.
Alternative views of the pending new deal from the feds on state-supported service, featuring representatives from Amtrak, and Warren Weber, Chief of Caltrans Division of Rail presenting the state of the State Rail Program.
A high speed rail session featuring the latest developments from Europe and presentations by Siemens Marketing and Business Development Director Wayne Williams and TRAC Vice President Dan McNamara.
At the end of the session, a TRAC member's forum on issues and priorities for the organization.
Also, on Sunday, we will host a tour of the downtown section of Regional Transit's new South Line.
---
New TRAC Board of Directors:
DON BING
Ventura County

Don Bing is a resident of Ventura County. Don has been a TRAC member since 1983 and has served on the Board of Directors for most of that time. Recently Don coordinated the current revision to TRAC's bylaws.

Don is a candidate for the Moorpark Citizens Transportation Advisory Committee which works directly with Ventura County Transportation Commission. Professionally, Don is a Compliance Officer for a major mortgage banking institution where he works with attorneys to address regulatory issues.
ADRIAN BRANDT
San Mateo County

As a lifelong San Francisco Peninsula resident, I've been actively following in Bay Area and state rail transportation politics ever since becoming a regular Caltrain commuter in the late 80's. I joined TRAC, MTS, NARP and Peninsula Rail 2000 during the time leading up to the successful 1990 Prop. 116 initiative campaign jointly spearheaded by TRAC and PCL.

Since that time, I went on to serve on the board and then as president of Peninsula Rail 2000 (now BayRail Alliance) -- the largest Bay Area rail transit advocacy and consumer group. During my service on the Caltrain JPB's Citizens Advisory Committee, my fellow committee members twice elected me to be chair.

From numerous train trips here and in Europe, I have first-hand experience of a wide variety of rail equipment types and services and have a good sense of what works and what doesn't in public rail transit -- whether it be urban, intercity or high speed rail.

My current top priorities/interests include Caltrain's electrification and extension to downtown San Francisco's Transbay Terminal as well as concurrent -- and substantial -- enhancement and integration of complementary Amtrak California Corridor services. In addition, I am monitoring the rail elements in the current MTC-sponsored "Bay Crossings" study, which range from additional transbay BART, a transbay SF-Oakland FRA-compliant rail tube, and the establishment of a Dumbarton Bridge corridor commuter rail service linking ACE, BART and the Amtrak Capitols in the Union City/Fremont area with Caltrain at Redwood Junction in Redwood City.
NEIL BJORNSEN
Los Angeles County

It has been both an honor and a pleasure to serve on the TRAC Board of Directors this past year; a position I wish to maintain for the good of the organization. The issues are many and complex. My extensive experiential knowledge of transportation and transportation issues, backed by forty successful years in the industry, both in the private and public sectors and having the privilege of direct experience with both rail and rail interfacing modes; could be considered an asset to the TRAC organization.
ROGER CHRISTENSEN (New TRAC VP)
Los Angeles County

I have recently been appointed to LAMTA's Citizen's Advisory Council. In recent years I have been active on many of the Southern California rail advocacy fronts: Friends4Expo (the group that convinced the MTA to choose light rail for the Exposition corridor), the Transportation Committee of the Angeles Chapter of the Sierra Club, Southern California Transit Advocates, all the recently formed "friends" groups ... Friends of the Red Line, Friends of the Green Line (LA can be a surprisingly friendly place) ... and also a member of the Pacific Railroad Society and RailPac. My work schedule allows me to regularly attend MTA Board and Committee Meetings which I monitor (and occassionally speak at) to report what's happening to fellow rail advocates.
MICHAEL DICKERSON
Los Angeles County

B.S. Economics / Transportation 1964 Ohio State University.

I have a lifelong interest in railroads and transit and particularly their economic contributions both historic and projected. I have been on the TRAC board three years. Last year I was one of the three members of the by-laws committee, which successfully updated the by-laws. In addition to TRAC, I have served on:

The Southern California Association of Government Transportation Coalition Board (four years); Glendale California Transportation and Parking Commission (six years); Los Angeles County MTA Citizens Advisory Board (twele years).
BRUCE JENKINS
Santa Clara County

I have served on the TRAC Board for five years, the last three years as secretary, I would like to continue to serve as I feel that I can make a vital contribution to the organization.

As the board's Santa Clara County representative, I attend Peninsual Corridor Joint Powers Board (Caltrain JPB), Capitol Corrdior Joint Powers Board (CCJPB), Coast Rail Coordinating Committe (CRCC), San Joaquin Rail Committee, Trans Bay Terminal and High Speed Rail Authority (HSRA) meetings.

The restoration of the "Coast Daylight", and the extension of the San Joaquin over Tehachapi are projects that need our help. As Director I will give the projects my utmost attenon.
BILL KERBY - New TRAC Treasurer
Sacramento County

Expanding passenger rail in California is my passion. TRAC has moved this state from pouring more concrete into thinking more clearly about moving people efficiently while leaving as small an impact on the environment as possible. I can help continue the progress fostered by TRAC from my home base in Sacrament. As your treasurer, I have learned procedures and practices that meet the standars of our revised bylaws. As an instructor whose teaching assignments include rail transportation, I bring a non-confrontational style to implementing our mission. Decades of service at California State University at Sacramento in administrative and academic posts have taught me the effective way to deal with public-policy makers and corporate decision makers.
RON KILCOYNE
Los Angeles County

Ron Kilcoyne was one of the founding directors of TRAC in 1984, serving until 1989 and also again during the mid 90's. Ron also was one of the founders of Peninsula Rail 2000 (now Bayrail Alliance) in 1983 where he served as President until 1990. He has over 22 years of professional and management experience in the transit industry including serving as Manager of Research and Planning for AC Transit and General Manager of Santa Clara Transit. He was instrumental in building two of the three Metrolink Stations in Santa Clarita (the only city other than Los Angeles that has more than two stations). Mr. Kilcoyne is now employed by Korve Engingeer in the Los Angeles office where he is engaged in numerous bus and rail studies.

Since joining NARP and CRC in the 1970's Mr. Kilcoyne has been a strong advocate for growing rail passenger service in California and throughout the U.S.
DAN McNAMARA
San Mateo County

I returned to TRAC Board last year because of the renewed activity in high speed rail. I was the president of TRAC for several years. While president I was involved in the development of the original high speed rail legislations by TRAC.

I'm considered the HSR expert at TRAC. In the 1980s in working for Flour Corporation on the American High Speed Rail Project. I began my career working for Utah Construction, Dillingham, Kaiser, and J.A. Jones on several rail related projects. These projects include coal processing in the Powder River Basin and rail projects in Africa, Australia and South America.

I would like to stay on the TRAC Board to see the high speed rail project through to its conclusion.
JAMES R. MILLS
San Diego County

I am a former member of the California State Senate, and for ten years served as President Pro-Tempore of the Senate. I authorized legislation which initiated the state rail program and provided funds for the first California Amtrak 403(b) service. I also co-authored the Transportation Development Act of 1971, creating the largest public transportation funding source in any state, as well as Proposition 5 of 1974, which made highway funds available for construction of rail projects subject to a vote by county. More recently, I served as Chair of the LOS-SAN Committee and as a member of the High Speed Rail Commission. I would be pleased to serve as a member of the TRAC Board.
ESTELLE SHIROMA
Yolo County

Since April 1997, I have been a regular rider on the Capitol Corridor trains from Davis to Emeryville, where I work as an environmental consultant. Given my three-hour commute each day, I decided that I could not afford to be an uninvolved passenger, riding the train day in and day out and listening to complaints from other passengers when things went wrong. Despite the many positive aspects of the train service, there were many issues that needed to get someone's attention. On-time performance and more trains scheduled to meet rider demand continue to be the highest priority for regular riders. After a few months as a daily commuter, I was transformed from a rail passegner into a rail passenger advocate. In 1998, another regular rider and I launched a website (http://www.trainweb.org/capitolcorridorcommuters) for Capitol Corridor riders. The website provides a forum for disseminating and exchanging information about train service and pre-dates the official Capitol Corridor website. I even found a willing sponsor - trainweb - at a TRAC meeting! Since then, I have served as a liaison between passengers and the Capitol Corridor Joint Powers Authority and Amtrak when passengers - or service related issues arise. I have also provided necessary feedback to the cities of Davis and Sacramento regarding parking issues at the stations and participated as a member of the Sacramento Intermodal Station Area Working Group, representing the passengers as stakeholder. Through all of these experiences, I have learned the value of having a voice to effect positive change.
RICHARD F. TOLMACH New TRAC President
Sacramento County

I was a founding member of TRAC and want to continue to lead the organization. I have had over 20 years experience in planning and analyzing rail passenger service. I wish to continue to serve in promoting new train services for TRAC. Train service has a future if we keep it cost effective and popularly priced. I will continue to do the most to promote these goals.
HAL WANASELJA
San Francisco County

Mr. Wanaselja has more than 39 years of experience in all areas of railroad engineering and planning, including operations, project management and construction management for high speed rail, commuter rail, light rail, freight rail and rapid transit projects. He has served in various capacities on rail projects over the years ranging from Project Manager to Technical Advisor. Mr. Wanaselja's broad foundation of rail expertise provides a sound basis from which to manage projects ranging from rail feasibility studies to final transit and rail station design projects. A recent relevant project for which Mr. Wanaseljia was Railroad Operations Manager was the San Gabriel Valley Grade Crossing Study. This study evaluated exisitng and future traffic operations at 79 grade crossings along two rail lines in Los Angeles and San Bernardino Counties and recommended a broad program of improvements. Mr. Wanaselja worked with the railroads (Amtrak, Metrolink, Union Pacific and Southern Pacific) to learn existing levels of train traffic and to develop future projections. He also analyzed existing rail operational practices in the corridor and changes considered by the railroads as a result of the SP-UP merger.

RELEVANT EXPERIENCE: Vehicles AMTRAK Vice President of Operations. As the first Vice President of Operations at the startup of Amtrak, responsible for all intercity passenger train operations nationwide, involving 13 railroads, 20,000 route miles, and over 200 daily passenger trains. Responsibility also included capital improvements such as equipment acquisition and new stations. Managed the selection and procurement of all the passenger rolling stock that Amtrak acquired from the private railroads as part of initiating Amtrak service. This included assessment of the condition of over 3,000 passenger cars and locomotives throughout the country, and selecting which ones Amtrak would purchase. Also negotiated an acquisition agreement with the Budd Company to procure 12 additional high speed Metroliner multiple-unit cars to institute hourly Metroliner service in the Northeast Corridor.
Click here to view the photo highlights from this event.
Train Riders Association of California (TRAC)
926 J Street, Suite 612
Sacramento, CA 95814
(916)557-1667
To join TRAC or for more information,
click here to visit www.CalRailNews.com
Visit RAILadvocacy.com For More Information On Other Rail Advocacy Efforts.