Operation Lifesaver Special Train
From Oceanside to San Diego, California
http://www.trainweb.com/news/2002/2002h28a.html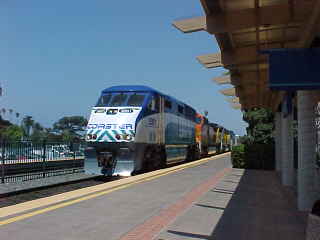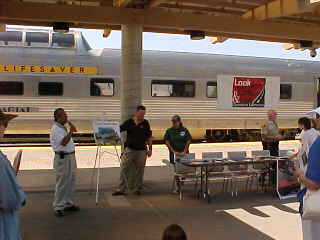 By Matthew Melzer of TrainWeb.com

Steve Grande received a last-minute phone call from Richard Hamilton, webmaster of SanDiegoRail and co-host of the internet radio talk show Let's Talk Trains, on August 27 informing him of an Operation Lifesaver special train that was to operate from Oceanside to San Diego. Steve e-mailed me the morning of, truly in the eleventh hour, asking if I could cover the event. So, here I am! At 9:30 AM, the trainset for the special cruised by the Fullerton station enroute to Oceanside (presumably from Los Angeles Union Station or Metrolink's Taylor Yards) for a 12 Noon departure for San Diego. I would have to take Amtrak Pacific Surfliner train 772 to get to Oceanside in time. It departs Fullerton at 10:12 AM and gets there at 11:34 AM, which appeared to be enough time. At 9:50, I went downstairs to the Amtrak ticket office, purchased my ticket, and I was on my way.

Train 772 arrived at 10:14 AM, and took six minutes to depart due to a group of senior citizens boarding. No worries, as it could still get me to Oceanside in good time. Soon walked by me none other than Charles Roebuck III, the Administrative Chief of the Pacific Surfliner Product Line. He went to sit downstairs in my coach, so I went down to say hi. He immediately recognized me, and I got caught up on things with this most agreeable and friendly Amtrak manager, as we hadn't seen each other for a few months. He was on this train to check up on a new hire who was working the Cafe car. Mr Roebuck detrained in San Juan Capistrano to head back to his office at Los Angeles Union Station, and I went back upstairs to my seat. After a classically gorgeous ride along the Pacific coast, we passed the Coaster Stuart Mesa Maintenance Facility, where I spotted the Operation Lifesaver (OL) special, which was a very good sign. We arrived into Oceanside at 11:46 AM, twelve minutes late.

Operation Lifesaver had a table set up with media packets and children's materials about rail safety. I soon spotted many familiar faces from Operation Lifesaver, and I greeted Richard Hamilton, who had apparently only known about the special train since the previous day himself. Ten minutes later, the train arrived into Oceanside. Its consist was as follows:
Coaster F59PHI #3001
BNSF DASH9-44CW #5337
UP SD70M #4904
Amtrak F59PHI #454
Amtrak Horizon Coach #54500
Silver Lariat Private Car (AMTK #800190)
Metrolink/Operation Lifesaver Caboose #MW01
The train crew emerged from the caboose, and a modified Operation Lifesaver presentation began. A small crowd of San Diego Sherriff Deputies, Oceanside Police Officers, Oceanside Firefighters, and civilians, were on hand to watch. Instrumental in organizing law enforcement for this event was San Diego Sherriff Deputy Dennis L. Mahar, who is also an Operation Lifesaver Presenter himself, and a railfan. After the presentation, an 'all-aboard' call was made for all those who were riding the train. I boarded and headed for the dome of the Silver Lariat, a beautifully restored Budd-built dome diner (originally a women's and children's chair car), made for the Chicago, Burlington, & Quincy's California Zephyr, and often used in special private UP trains. As it turned out, there was more than enough room in that car for everyone who was riding. Riding in the caboose was Amtrak mechanical officer Jack Wilson, who is the one who arranged the assembly of this train. He supposedly tried to get full-length dome #10031 to be used as an additional passenger car to the Silver Lariat, but all he could muster up was a Horizon coach. Fortunately, that car was not even needed. It was not clear, however, why the dome was not available, as it was not in regular service on this day. There must have been some other, perhaps mechanical, reason. On board the Silver Lariat, there was a beautiful layout of cold sandwiches, fruit, vegetables, salad, shrimp, cheese, and chocolate-covered strawberries. I got myself a little bit of everything, went back upstairs, and sat across from Richard for the ride to Solana Beach. We departed Oceanside at 12:20 PM, traveling at a restricted maximum speed of 55 mph due to the caboose, and arrived in Solana Beach around 12:40.
Photos from the Special Train: