ORANGE COUNTY TRANSPORTATION AUTHORITY
CELEBRATES ITS BILLIONTH BUS CUSTOMER
Major Milestone Reached For Transit Authority That
First Started Bus Service In Orange County In 1972
http://www.trainweb.com/news/2002/2002e28a.html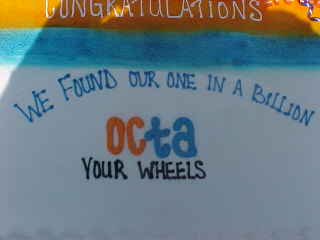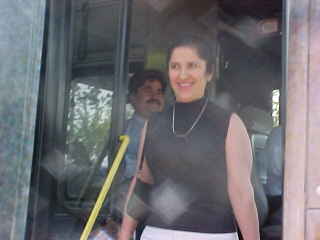 Martha Izaguirre, OCTA's 1,000,000,000th Bus Customer !
TrainWeb usually only covers rail related events, but this event was held at the Fullerton Transportation Center, directly across from our office and the Amtrak / Metrolink Fullerton Santa Fe Depot. We decided to cover this event because of its proximity to the rail station and our office.
Additional Photos:
Set #1 / Set #2 / Set #3
FULLERTON -- Amidst balloons, confetti, cake, and festive music by Fullerton's Troy High School Marching Band, the Orange County Transportation Authority (OCTA) today celebrated the reaching of a major milestone -- its billionth bus customer.
To help commend the occasion, OCTA officials were on hand at the Fullerton Transportation Center in Fullerton to celebrate and present the billionth customer with several prizes and awards as they officially stepped off OCTA bus number 2152 at the end of Route 43.
"It is not every day that we get to celebrate our billionth customer," said a proud OCTA Chairman and County Supervisor Todd Spitzer. "In fact, it took thirty years to reach this impressive milestone. OCTA's next billion, however, won't take nearly as long to achieve. With just under 62 million annual customers last year, we are presently the fastest growing transit system in the entire United States."
With assistance from several sponsors, OCTA officially honored the lucky customer at the celebration event with a lifetime OCTA bus pass, a year's worth of free groceries from Albertson's, and four annual passes to Disney's California Adventure and Disneyland Park.
The event was a culmination of a month long marketing campaign by OCTA to bring attention to its achievement and create suspense on when and where the milestone would actually occur.
With a tagline asking the question, "Are you the billionth one?," OCTA publicized the upcoming event through advertisements on its buses, bus shelters, bus schedule book, www.octa.net web site, and a variety of radio, newspaper, and direct mail ads.
Bus service has grown significantly in Orange County over the last 30 years. In 2001, OCTA serviced just under 62 million customers, an impressive 10 percent increase from the previous year. To help handle its growing demand for service, OCTA has significantly increased frequency on its major bus routes and increased its number of buses on the road by over 20 percent.
In the coming months, OCTA plans to further increase frequency on several routes to help reduce wait times and for the first time, introduce 24-hour "Night Owl" bus service on selected routes. Possible Express Bus Service linking Riverside and Orange counties is also being explored to help give communities another hassle-free travel option between the two counties.
OCTA's fixed-route bus service first began in 1972, under the Orange County Transportation District (OCTD). In 1991, as part of the consolidation of various transportation agencies, OCTD was merged into OCTA. Since then, bus service in the county has been operated by OCTA.
For more information about OCTA's Billionth Customer, its "Are You The Billionth One" marketing campaign, and bus service, please visit OCTA's Web site at www.octa.net.
Also, for more information, visit: http://www.octa.net/busrail/routes/billion.asp
HISTORY OF BUS SERVICE IN ORANGE COUNTY
1970 -- Orange County voters approve the creation of the Orange County Transportation District (OCTD).
1972 -- OCTD conducts an extensive study into Orange County's transportation needs and places five fixed-route buses into service, carrying more than 38,000 passengers during their first month of service.
1973 -- Bus ridership during OCTD's first full year of operation reaches 944,503 passengers.
1974 -- OCTD carries more than 3.5 million passengers during their second year of service.
1975 -- Annual bus ridership grows to nearly 8 million passengers.
1978 -- Ridership continues to grow at a fast pace, topping 18.5 million passengers.
1979 -- Gas shortage prompts more commuters to turn to public transit, causing bus ridership to skyrocket to 2 million passengers per month; OCTD purchases 175 new buses to meet growing ridership demands.
1985 -- More than 30 million passengers travel on OCTD buses.
1991 -- OCTD merges with the Orange County Transportation Commission to crate the Orange County Transporation Authority (OCTA).
1992 -- OCTA buses carry more than 45 million passengers on 65 different routes around Orange County.
1995 -- Bus System Improvement Project leads to a complete overhaul of OCTA's bus system for the first time in 12 years. Customer service and efficiency improve, and ridership jumps 10 percent as a result.
1997 -- OCTA purchases 60 new low-floor buses, adding convenience for passengers.
1999 -- Point-to-point bus service introduced, as unproductive and duplicative bus routes are eliminated, 12 new routes and over 100,000 additional service hours are added, and bus routes are straightened into a more efficient and easily understood grid pattern.
2000 -- Sixty-one Liquefied Natural Gas (LNG) buses added to OCTA's fleet, reducing emissions and improving air quality.
2002 -- OCTA operates 625 buses on 79 routes with an annual ridership of almost 62 million people. It currently is the fastest-growing bus system in the nation.
May 28, 2002 -- OCTA honors its billionth bus customer at the Fullerton Transportation Center in Fullerton.
Who wants to be the first when you can be the billionth?
Exactly how much is a billion? Well, in this case a billion is just one, and the one could be you.
The Orange County Transportation Authority (OCTA) is reaching an important milestone -- the billionth rider. And sometime in May, that person is going to step onto the bus. When they do, OCTA will be there to mark the occasion in a big way. The billionth rider will receive a years' free groceries at Albertsons, four annual passes to the Disneyland® Resort, where you can enjoy a year of magic and adventure at both Disneyland® Park and Disney's California Adventure® Park, and an OCTA lifetime pass.
You might be the one to get us to our first billion. So what're you waiting for?
The bus. They're your wheels. Use'em.
Find out more at www.octa.net
Orange County Transportation Authority (OCTA)
550 South Main Street, P.O. Box 14184,
Orange, California 92863-1584
(714)560-OCTA (6282)