Metrolink 91 Line
(Riverside - Fullerton - Downtown Los Angeles)
Grand Opening Celebration
Monday, May 6, 2002
http://www.trainweb.com/news/2002/2002e06a.html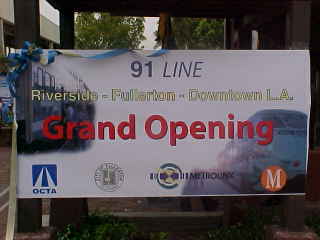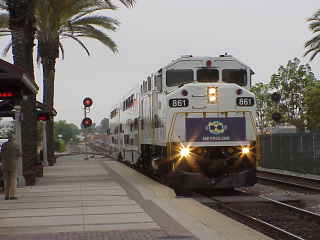 METROLINK'S NEW "91 LINE" PROVIDES CONGESTION RELIEF FOR COMMUTERS
Commuter railroad's newest line will link Riverside, Fullerton, and Downtown Los Angeles
(News Release From Metrolink)
Photos From TrainWeb:
Set #A-1 / Set #A-2 / Set #A-3 / Set #A-4 / Set #A-5 / Set #A-6
Set #B-1 / Set #B-2 / Set #B-3 / Set #B-4 / Set #B-5 / Set #B-6 / Set #B-7 / Set #B-8 / Set #B-9
Set #C-1
LOS ANGELES, CA, THURSDAY, MAY 2, 2002: On Monday, May 6, Metrolink will add a new route to its schedule -- the new 91 Line, which will link Riverside, Fullerton, and Downtown Los Angeles with 10 trains each weekday. Trains on the 91 Line will start from Riverside Downtown and Union Station, making stops at the Metrolink stations in Riverside-La Sierra, West Corona, Fullerton, Norwalk/Santa Fe Springs, and Commerce. The 91 Line will offer commuters a comfortable, stress-free way to get to employment centers in the Inland Empire, Orange County, and Downtown Los Angeles - instead of joining thousands of commuters on the 91 freeway corridor. The trip between Riverside and Union Station will take approximately 90 minutes.
As an incentive for riders to use the new 91 Line, Metrolink passengers with any ticket or monthly pass that has Riverside-Downtown, Riverside-La Sierra, West Corona, Pedley, or East Ontario as either its origin or destination may use that ticket or pass to travel to stations on the 91 Line within parallel zones. For example, a passenger who normally takes a Riverside Line train from Pedley to Los Angeles and back can use that same ticket on the 91 Line to go from Riverside-La Sierra to Los Angeles and back. This reciprocity gives passengers more freedom of choice with regard to train schedules and stations.
The 91 Line is Metrolink's first new line since 1995, when it opened the Inland Empire-Orange County Line.
For more information about specific routes and schedules, visit Metrolink's website at www.MetrolinkTrains.com or call (800) 371-LINK.
Metrolink is Southern California's regional commuter rail service and is in its tenth year of operations. The Southern California Regional Rail Authority, a joint powers authority made up of an 11-member Board representing the transportation commissions of Los Angeles, Orange, Riverside, San Bernardino and Ventura counties, governs the service. Metrolink continues to be on one of the nation's fastest growing commuter rail services, operating over six routes through a six- county, 416-mile network. A total of 128 daily Metrolink trains serve 51 train stations, with an average daily ridership of over 32,000 passengers.
---
METROLINK "91 LINE" BRINGS NEW COMMUTER RAIL SERVICE TO ORANGE COUNTY
OCTA and Local Officials Inaugurate New Route Which Will Help Ease
Congestion in Heavily-Traveled Riverside-Fullerton-Los Angeles Corridor
(OCTA News Release)
FULLERTON - Orange County Transportation Authority (OCTA) officials joined representatives from Metrolink and the city of Fullerton today to officially open Metrolink's newest commuter rail line through Orange County. The "91 Line" establishes direct service between Riverside-Fullerton-Los Angeles and becomes Metrolink's third line serving Orange County.
"91 Line" trains will make 9 stops a day at the Fullerton Transportation Center and will also service Downtown Riverside, Riverside-La Sierra, West Corona, Norwalk/Santa Fe Springs, Commerce, and Los Angeles Union Station. They will also begin stopping at the Buena Park and Yorba Linda Metrolink stations when they officially open in the spring of 2004 and 2005, respectively.
The route is expected to attract 800 passengers a day, and joins the "Orange County Line" and the "Inland-Empire-Orange County Line" in providing commuter rail service to Orange County. OCTA will contribute $330,000 in Measure M funds annually to Metrolink to help pay for "91 Line" operations.
"Traffic congestion on the 91 Freeway has reached a crisis situation and is projected to get even worse during the next few decades as Riverside and Orange Counties continue their fast pace of growth," said OCTA Chairman & County Supervisor Todd Spitzer. "The '91 Line' will definitely help in our effort to improve mobility between the two counties."
---
Celebration in Fullerton, California:
91 Line
(Riverside - Fullerton - Downtown LA)
Grand Opening
Monday, May 6th, 2002
Fullerton Rail Station
120 East Santa Fe Avenue, Fullerton
(Between Harbor and Pomona)
8:45 a.m.
8:45am - 9:15am Networking Reception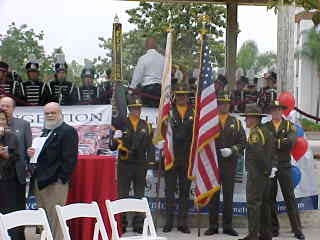 9:15am - 9:17am Introduction of Color Guard and Band
Director Art Brown
9:17am - 9:19am Presentation of Colors
Orange County Sheriff's Department Honor Guard
9:19am - 9:23am National Anthem
Troy High School (Fullerton) Marching Band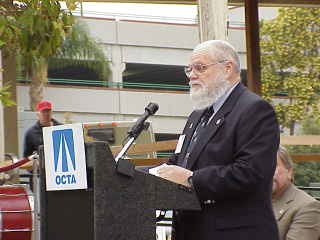 9:23am - 9:27am Opening Remarks
Director Art Brown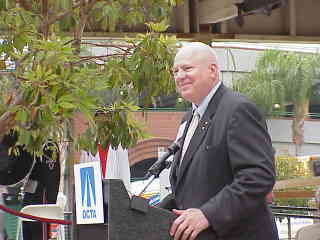 9:27am - 9:30am Welcome to Fullerton
Mayor Don Bankhead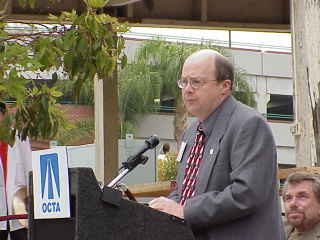 9:30am - 9:35am OCTA Remarks
Vice Chairman Tim Keenan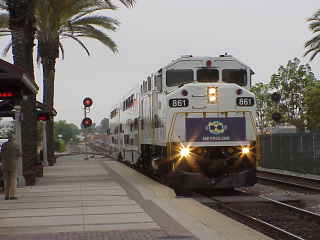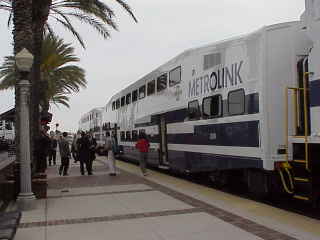 9:35am Arrival of Train
Drumroll/Fanfare from Band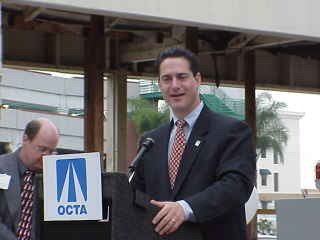 9:39am - 9:41am Closing Remarks
Chairman Todd Spitzer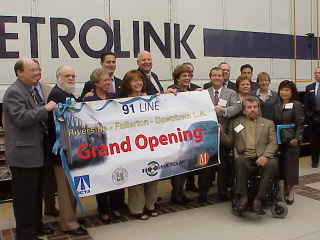 9:41am - 9:45am Photos with VIPs and Train
9:45am Train Departure
Fanfare from Band
---
Celebration in Los Angeles, California:
METROLINK
The Grand Opening
Of The New 91 Line (Riverside - Fullerton - Downtown LA)
May 6, 2002 At Los Angeles Union Station
Congestion Relief
Event Schedule

Welcome & Introduction
Bill Alexander, Vice Chair, Southern California Regional Rail Authority and Mayor, City of Rancho Cucamonga
Keynote Speaker


Jeff Morales, Director, California Department of Transportation
Distinguished Speakers

John Fasana, Board Chair, Los Angeles County Metropolitan Transportation Authority and Councilmember, City of Duarte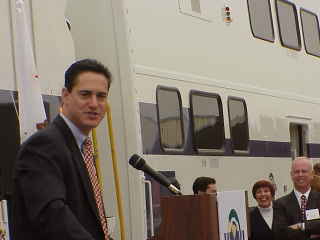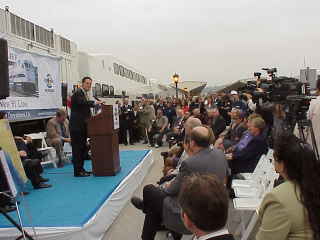 Todd Spitzer, Board Chair, Orange County Transportation Authority and Supervisor, County of Orange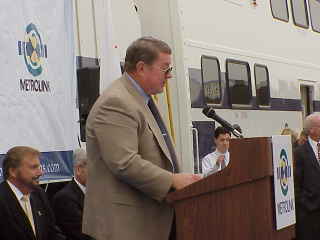 Ron Roberts, Board Member, Southern California Regional Rail Authority, Vice Chair, Riverside County Transportation Commission and Mayor, City of Temecula
Introduction of Other Dignitaries
Train Boarding
11:45 AM
METROLINK
---
Metrolink 91 Line (Riverside - Fullerton - Los Angeles) Facts:

Started operations on Monday, May 6, 2002, first day of service.
The first westbound train left Downtown Riverside at 5:40 A.M.
The first eastbound train left Los Angeles at 5:45 A.M.
Stops in Downtown Riverside, La Sierra, West Corona, Fullerton, Norwalk, Commerce, & Los Angeles.
Is projected to have an average daily ridership of 800 passengers.
Has an annual operating cost of $1,896,200.
Total expenditures for set up was $940,000.
Metrolink 91 Line Orange County Facts:

First service in Fullerton, California, departed Fullerton at 6:18 A.M. on May 6, 2002, for Los Angeles.
Stops a total of 9 times a day in Fullerton.
Will also stop at the Buena Park (scheduled to open spring 2004) and Yorba Linda (scheduled to open spring 2005) stations when they are completed.
Third Metrolink line to serve Orange County (others being the "Orange County Line" and the "Inland Empire - Orange County Line").
OCTA's share of set up was $330,000 from Measure M funds.
Portion of track through Orange County is 19.9 miles.
---

Metrolink 91 Line (RIVERSIDE - FULLERTON - DOWNTOWN LA) Schedule

TO LOS ANGELES            #701   #703   #705   #707
Riverside-Downtown       +5:40a +6:40a +2:30p  5:55p
Riverside-La Sierra       5:49a  6:49a  2:39p  6:04p
West Corona               6:00a  7:00a  2:50p  6:15p
Fullerton                L6:23a L7:23a L3:13p L6:38p
Norwalk/Santa Fe Springs L6:33a L7:33a L3:23p L6:48p
Commerce                   --     --   L3:33p   --
L.A. Union Station        7:10a  8:10a  4:02p  7:25p

TO RIVERSIDE              #700   #702   #704   #706   #708
L.A. Union Station        5:45a  6:25a 12:45p  4:20p  5:25p
Commerce                   --     --    1:01p   --     --
Norwalk/Santa Fe Springs  6:08a  6:48a  1:10p  4:43p  5:48p
Fullerton                 6:18a  7:01a  1:20p  4:53p  5:58p
West Corona              L6:41a L7:24a L1:43p L5:16p L6:23p
Riverside-La Sierra      L6:52a L7:35a L1:54p L5:27p L6:34p
Riverside-Downtown        7:17a  8:03a  2:17p  5:50p  6:55p

+ Passengers board train from the South platform
L Train may leave up to five minutes ahead of schedule

Note: Metrolink Trains #700, #701 and #702 were already in operation prior to May 6, 2002. The first run of Metrolink Train #700 was actually on September 8, 1997! I traveled on the inaugural run of that train and you can click here to read my travelogue. Metrolink Trains #700, #701 and #702 run opposite to the commute traffic. They bring passengers out of Los Angeles during the morning commute and passengers into Los Angeles during the evening commute, which is opposite of the direction that most people want to travel during those hours. These three trains are really an equipment move to get the trains to where they were most needed at those hours. However, Metrolink did a very smart thing to stop at the stations along the route of the equipment move as there are a number of people that find these scheduled times useful. This is especially true between Fullerton and Los Angeles where there are people ready to head into Los Angeles at almost any hour, including the early evening. Metrolink Trains #703, #704, #705, #706, #707 and #708 are all new trains that were inaugurated on May 6, 2002. That adds 6 more trains to the number of trains that will be stopping at the Fullerton Station and can be seen live at www.RAILcams.com
---
Behind the Scenes with Ray & Steve:
This was an event that we almost missed! Ray and I have had to cover so many news events over the last few weeks, that we almost forgot about this one. We covered the Clean Air Railroad Technology Event at Union Pacific in Sacramento on April 10, 2002, then the Alameda Corridor Grand Opening Ceremony in Los Angeles on April 12, 2002. On Tuesday, April 23, 2002, we covered the unexpected BNSF / Metrolink incident Then, we departed on the Amtrak Coast Starlight on Wednesday, April 24, to cover the Amtrak Historical Society meeting and didn't get back to Fullerton until Tuesday evening, April 30. Wednesday through Friday we had little time to do anything other than get ready for Fullerton Railroad Days held on Saturday and Sunday, May 4 & 5, 2002. We were hardly rested and definitely not caught up with our work when we returned to our office the next morning, Monday, May 6, 2002!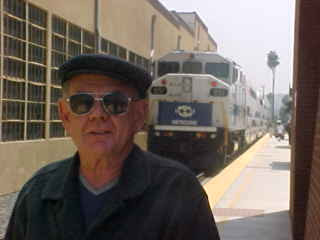 Ed Von Nordeck
Ray Burns was in the office when Ed Von Nordeck dropped in to let us know that there would be a ceremony for the new Metrolink route held in Los Angeles today. Ray then gave me a call to let me know. I was still in my car about half way to the office. Ed let us know that there would be a special V.I.P. train coming through Fullerton on its way to the celebration in Los Angeles.
A short while later, Michael Litschi from OCTA Media Relations came by our office to provide more details on the celebration and the V.I.P. train. Michael arranged for Ray and I to be able to take the V.I.P. train to Los Angeles so that we could cover the ceremonies in Fullerton and Los Angeles as well as the V.I.P. train itself. Michael also made sure that we received copies of the Metrolink and OCTA Press Releases which you read above.
We want to thank both Ed Von Nordeck and Michael Litschi for keeping us abreast of the planned celebration events for this new Metrolink route. We did have this event marked on our calendar, but with the packed schedule from the last two weeks, we hadn't had time to check if there were any important items on the adjenda for this week! Even so, we were not aware of the significant ceremonies that were planned for this new route.
When I arrived at the station, I went out to the station platform in Fullerton to see if there was any indication posted about this new train. To my surprise, there were banners, posters and balloons everywhere along with a full band playing music and the Color Guard in preparation. Pastries and refreshements were also being served. A stage and podium had been set up along with several chairs for an audience. I already had one camera with me and Ray came down from the office with the other one. We gathered up as much literature as we could so that we could present the names of speakers at the event along with their photographs. In addition to the photographs of each speaker, there are many other photos from the events posted below.
Ray and I rode the V.I.P. train from Fullerton to Los Angeles and took photographs at that event also. An Event Schedule was provided and we were able to post the names and affiliation of each speaker which you viewed above.
The V.I.P. train departed Los Angeles about 11:45 P.M., about an hour ahead of the regularly scheduled #704 train on the new Metrolink 91 Line. We decided to ride it all the way to Riverside rather than get off in Fullerton. Ray and I had not been to the Metrolink Station in Riverside for quite some time. Now that this Riverside Downtown Station was going to be getting a lot more Metrolink service as well as serving as a new stop for the Amtrak Southwest Chief, we wanted to refresh our memories on the layout of this station as well as the scenery along the route of this line.
The train arrived into Riverside Downtown around 1:15 P.M. We took a number of photographs in the station and then headed over to Applebee's, a restaurant that is a short walk from the station. We weren't going for lunch. Metrolink had been courteous enough to provide a box lunch for everyone on the V.I.P. train. We were already quite full from that box lunch. We were just heading over to Applebee's for some refreshments and a place to wait in the cool indoors until it was time for the earliest westbound train to leave for Fullerton. That would be Metrolink Train #705 which departs from Riverside at 2:30 p.m.
When we arrived back at the Riverside station at about 2:15 p.m., we ran into Ed Von Nordeck again who had just arrived on the eastbound Metrolink train. After a short conversation, we boarded our train and headed back to Fullerton!
Photos From TrainWeb:
Set #A-1 / Set #A-2 / Set #A-3 / Set #A-4 / Set #A-5 / Set #A-6
Set #B-1 / Set #B-2 / Set #B-3 / Set #B-4 / Set #B-5 / Set #B-6 / Set #B-7 / Set #B-8 / Set #B-9
Set #C-1