Irvine Pedestrian Bridge
(http://www.trainweb.com/news/2001f09a.html)
The Irvine Pedestrian Bridge opened at a ceremony
on Wednesday, June 13, 2001, at 4:45 P.M.
Click on any photo on this page for a larger image of that photo.
Click on each link below to view additional sets of photos of the event:
Set #1 / Set #2 / Set #3 / Set #4 / Set #5 / Set #6
Click here for preliminary photos that were taken on
Saturday, June 9, 2001, before the bridge was open.
Click here to take a virtual tour of the Irvine Station Platform
prior to construction of the pedestrian bridge.
---
ATK-01-102
FOR IMMEDIATE RELEASE
June 12, 2001
PEDESTRIAN BRIDGE BUILT AT IRVINE TRANSPORTATION CENTER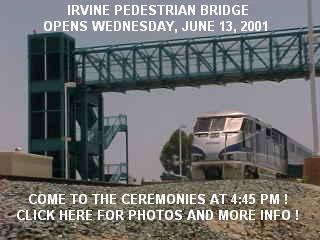 Los Angeles -- A Pedestrian Bridge has been constructed over the railroad tracks at the Irvine Transportation Center allowing passengers to access the station's two rail platforms safely, conveniently and without walking directly across the tracks.
A dedication ceremony to open the new Pedestrian Bridge will be held on Wednesday, June 13, beginning at 4:45 p.m. City dignitaries and representatives of Caltrans, Amtrak West, Metrolink and Orange County Transportation Authority will participate in the ceremonies. A ribbon cutting ceremony across the Pedestrian Bridge, and Amtrak and Metrolink trains breaking through paper banners will be part of the program. The Irvine Transportation Center is located at 15215 Barranca Parkway at Ada Street.
The bridge is 127 feet long and spans the station's two railroad tracks. There is an elevator tower and stairs at both ends -- near the station building and at a new platform constructed for the second railroad tracks. The bottom of the bridge is 29 feet above the tracks.
The elevators and stairs serve three levels, ground and bridge levels for access to the station and platforms, and a second level for future service. New landscaping has been added near the bridge towers and platforms, and both platforms now include overhead lights and passenger shelters.
The Irvine Transportation Center opened in July 1997 and is served by 22 daily trains of Amtrak California's Pacific Surfliner and the commute trains of Metrolink.
---
GRAND OPENING CEREMONY

IRVINE TRANSPORTATION CENTER
PEDESTRIAN OVERCROSSING

Wednesday, June 13, 2001
Ceremony Begins at 4:45 p.m. -- 5:30 p.m.
4:40 P.M.
IRVINE HIGH SCHOOL JAZZ QUARTET
BACKGROUND MUSIC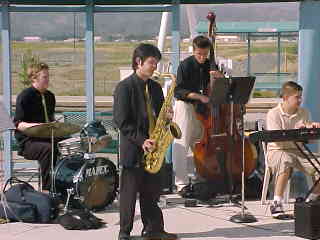 4:45 P.M.
MASTER OF CEREMONY
WELCOMING, CALL TO SEATS, INTRODUCE THE MAYOR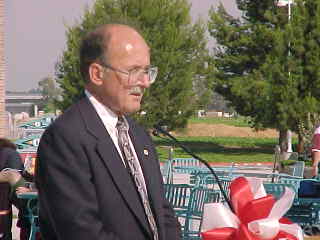 4:50 P.M.
LARRY AGRAN, MAYOR, CITY OF IRVINE
INTRODUCTION REMARKS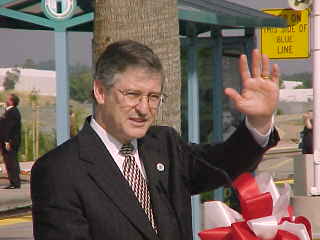 4:53 P.M.
PAT MERRILL, CALTRANS RAIL PROGRAM
WHAT THIS PROJECT MEANS TO THE STATE RAIL PROGRAM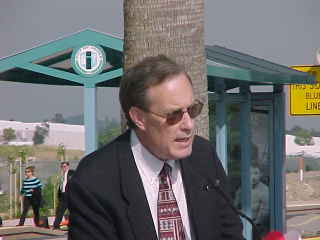 4:55 P.M.
LYNN BERBERIAN, ASSISTANT GENERAL MANAGER, AMTRAK
PRESENTS ENHANCED SERVICE (SURFLINER)

5:00 P.M.
ARTHUR LEAHY, CHIEF EXECUTIVE OFFICER OF OCTA
AGENCY COOPERATION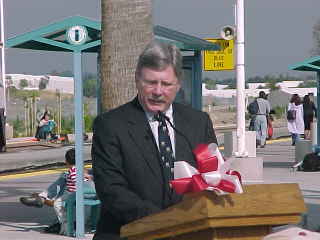 5:02 P.M.
M.J.GESTINE, PROJECT MANAGER, CITY PUBLIC WORKS DEPARTMENT
CREDITS FOR WORK PERFORMANCE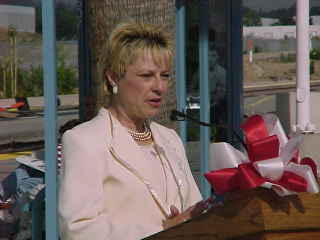 5:09 P.M.
KEN NELSON, DIRECTOR, CALTRANS, DISTRICT 12
CLOSING COMMENTS
BAND FILL-IN
5:12 P.M.
MAYOR
CEREMONIAL RIBBON-CUTTING AT STAIR TOWER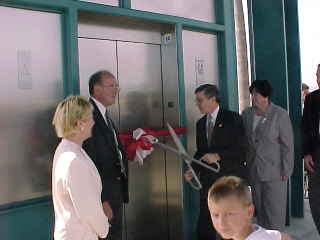 5:15 P.M.
LEE GOLDENBERG, RAIL PROGRAM ASSOCIATE, CALTRANS
A) PROCESSION TO PLATFORM TO HANG BANNER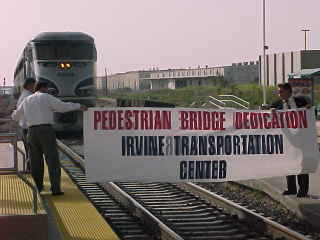 B) BAND DRUM ROLL
AMTRAK AND METROLINK TRAINS BREAK BANNER