Hyrail Rail Testing Truck
www.trainweb.com/misc/hyrail.html
On Monday, February 8, 1999, a Hyrail rail testing truck came through the Fullerton Santa Fe Depot and detected a track defect right in front of WebCams #1 and #2. Later in the day, a rail repair crew came to the site and replaced the rail. If you were watching WebCams #1 or #2 at that time, you would have seen live coverage of this repair. For those of you that missed it, we've posted the highlights below.
Sperry Rail Service is one of many high-tech companies specializing in detecting rail defects. Jan Olejnik is one of the Sperry Rail Service field operators that uses this equipment. Jan gave us a bit of an overview of the rail testing truck and a chance to take photographs of the truck and equipment. Click Here to see those photos now.
Click Here for inside & outside photos of the Hyrail rail testing truck.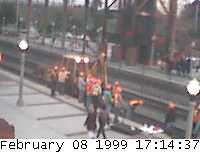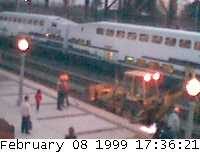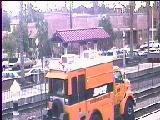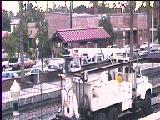 Visit related pages from this and other web sites:
Click below for pages in the directory of TrainWeb sites: