Maps Of Amtrak & Other Rail Routes
Where To Buy Them
www.trainweb.com/maps/buy
Where to buy maps of the Amtrak national passenger system and other rail routes.
---
Railroads of the Continental United States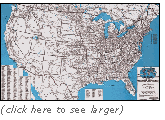 The Railroads of the Continental United States is the industry standard railroad map, and is currently used by thousands of transportation professionals. The complete U.S. rail system as well as southern Canada and northern Mexico are displayed in this 30" x 48" map. Printed in four-colors, the highly detailed map shows more than 4,000 cities, towns, and station points. Reporting marks on the map are indexed for more than 600 railroad companies to identify operations. Intermodal hubs and interchange points are clearly represented.
Click here and select Continental under the Printed Maps section to order the above map. The Map is available in both a rolled and laminated format. Or ... look further down on the order form for the bonus offer where you can order both the Continental and the U.S. Railroads Map at a discount.
Click here for information on other printed railroad maps offered by DeskMap Systems, Inc.
Click here for information on DeskMap's Professional Railroad Atlas and other rail map products.
---
Click here for more information on the U.S. Railroad Traffic Atlas with maps that show mainlines, shortlines, Amtrak, commuter and tourist lines. Amount of traffic is shown by line thickness.
---
Click here to order a map of United States Railroads through BORDERS.COM online bookstore for $7.95. This map also shows the rail lines throughout the United States with the Amtrak routes highlighted in yellow. This map is published and distributed by Map Link. (ISBN 0-929591-27-5)
Visit related pages from this and other web sites:
Click below for pages in the directory of TrainWeb sites: