Amtrak Metrolink Fullerton Santa Fe Depot
www.trainweb.com/fullerton/index.html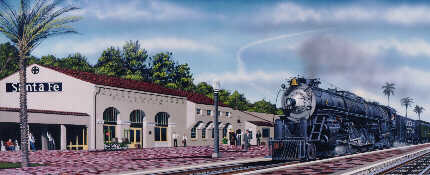 Above graphic courtesy of the Southern California Railway Plaza Association
Click here for a larger image of the above photo and availability of reproductions.
The City of Fullerton, California from a rail perspective. History, attractions, merchants, lodging, events, transportation, schedules, webcams, photographs and more are featured for the rail traveler and others interested in trains.
Photos of the Fullerton Santa Fe Depot by Geno Dailey
Fullerton City Information
History / Police
Downtown Fullerton: Restaurants, Shops & More!
Attractions / Lodging / Transportation
Fullerton Historical Theatre Foundation (Fox Fullerton)
City of Fullerton Video Clip (2.6MB)
Fullerton Santa Fe Depot Information
Virtual Tour of the Depot!
Station Photos
Getting to Fullerton by Rail
Santa Fe Express Cafe
Big Smokey's Shoe Shine & Repair (For Historic Info Only)

Southern California Railway Plaza Association (SCRPA)
Train Travel Meetup Group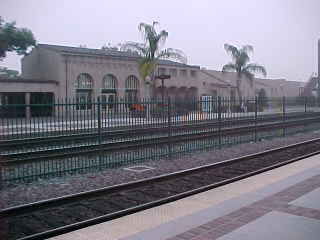 The City of Fullerton was started as a station for the Santa Fe Railroad. George H. Fullerton, a land agent for the railroad, re-routed the railroad through this city which was originally planned to be bypassed. Edward and George Amerige, brothers and founders of the city, drove the first stake for the townsite in 1887.
Recently restored, the Fullerton Santa Fe Depot has become the hub of rail activity for Orange County and is currently served by over 50 Amtrak and Metrolink passenger trains each day! The Amtrak Pacific Surfliners stop at the station almost hourly and provide convenient rail transportation up and down the California coast from as far south as San Diego to as far north as San Luis Obispo. The Fullerton Depot is also served daily by the Amtrak Southwest Chief which follows the route of the historic Santa Fe Trail east to Chicago.
Just 35 minutes northeast of Fullerton via the Amtrak Pacific Surfliner is Los Angeles Union Station (LAUS) where guaranteed connections are provided to the Amtrak Coast Starlight, the Amtrak Sunset Limited, the Amtrak Texas Eagle and the Amtrak San Joaquins. The Amtrak Coast Starlight provides transportation to San Francisco, Portland and Seattle with rail connections to Vancouver. The Amtrak Sunset Limited provies service as far east as New Orleans and the Amtrak Texas Eagle provides service to Chicago via Texas. The Amtrak San Joaquins provide transportation throughout the California inland valley all the way to the San Francisco Bay Area and Sacramento.
Numerous Burlington Northern Santa Fe (BNSF) freight trains also pass through the station around the clock on three tracks heading east to Cajon Pass, south to San Diego and Mexico, and west to Los Angeles. Plentiful seating at the station, including food and beverage service right at the platform from the Santa Fe Cafe, has made this station one of the most popular locations for watching and photographing trains in southern California!
The Fullerton Santa Fe Depot has plentiful parking, including long-term garage parking for Amtrak travelers with a pass obtained from the Amtrak Ticket Office. Historic downtown Fullerton is within walking distance from the depot and features numerous shops and restaurants. Of special interest to rail history buffs would be The Old Spaghetti Factory and Spadra. The Old Spaghetti Factory is in the original Union Pacific Station building adjacent to the depot and has a view of the tracks. Spadra, a fine Italian restaurant, is across the parking lot from the depot and used to be the station for the Pacific Electric red intercity trolley car system.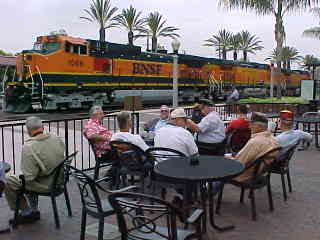 With all the rail activity through the Fullerton Depot, it is a natural gathering spot for railfans far and wide! There is plentiful seating up and down the entire platform on both sides of the tracks. The Santa Fe Express Cafe has patio tables right on the station platform and is a favorite place for railfans to hang out with a cup of coffee or a snack.
Train Travel Meetup Group
If you enjoy travel by train, then you should come to our monthly Train Travel Meetups that are held near the Fullerton Depot. The Train Travel Meetup Group is not a passenger rail advocacy group nor a nuts & bolts railfan group. We are just a bunch of people that like to get together and discuss our rail travel experiences in a relaxed atmosphere over some food and drinks! If you like to travel by rail, or are interested in getting started in rail travel, then you should come to our meeting! If you have questions about travel on Amtrak, VIA Rail Canada, or on most other excursion and tourist railways, bring your questions to the meeting. Someone will probably have answers to your questions! Click here if you would like more information about this group.
TrainWeb Office
TrainWeb had an office at the Fullerton Santa Fe Depot directly above the Amtrak Ticket Office from September 1, 1997 until June 1, 2005. After that, TrainWeb moved a few blocks down the street to acquire a storefront and inventory space for our new division called TrainParty.com that sells railroad themed party supplies. However, that grew so rapidly that we had to move TrainWeb out of California all together to a nationally more central location where shipping would be faster and cheaper and greater storage space for our inventory would be much less costly. If you take the Amtrak Southwest Chief east that departs from the Fullerton Depot every evening and travel until you reach the La Plata Amtrak Station in Missouri, you will be right across the street from the new TrainWeb facility! Click here for more information about our new facility in La Plata, Missouri, and click here to visit SilverRails.com where you will find information about all of our railroad related ventures!
Click here for photos and a list of people that have visited the TrainWeb office from out of state and from out of the country!
Visit our Rail Magazine promotion trading partners:
Click here to add your print rail magazine.