DINNER/MIXER
FOR FRPA MEMBERS, GUESTS AND FRIENDS
Wednesday, April 4, 2001
at Fullerton Elks Lodge, Brea Blvd. at Harbor in Fullerton
(http://www.trainweb.com/frpa/news/010404.html)
Social Hour (No Host Bar) 6:00 P.M. Dinner 7:00 P.M.
Program includes a review of the finalized plans for Fullerton Railroad Days 2001, and a Video Railroad Excursion featuring the famed 3751 Restored Santa Fe Locomotive with first hand comments provided by a very proud member of the crew, FRPA Vice President George Barlow.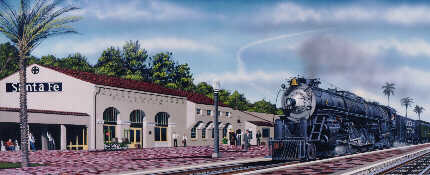 Operational Famed 3751 Steam Locomotive to be Featured at Railroad Days 2001!
Arrangements have been made with the San Bernardino Railroad Historical Society and Burlington Northern Santa Fe Railroad, to bring the 3751 to Fullerton Railroad Days 2001. This huge engine will be huffing and puffing live steam as it will be displayed on sidings provided by the City of Fullerton at the Restored Fullerton Santa Fe Station. Water will be pumped into its tender by a classic 1902 "American" horse drawn steam fire engine pumping 1000 gallons of water per minute. Fire engine sponsored by the California State Firefighters Association and our local Fullerton Fire Department in the interest of fire prevention.
Plan now to attend our dinner/mixer and learn about this historical artifact that may one day be a central feature display in our Railway Plaza Museum. You will enjoy the video presentation, Santa Fe Employee Recognition Special, Steam on the Santa Fe, a special excursion train for Santa Fe employees. You'll follow this train as it travels from Los Angeles thru the most scenic parts of California, Arizona and New Mexico. Along the way you will see Cajon Pass, the Mojave Desert and the Arizona mainline. This fast-paced trip drew huge crowds as thousands gathered trackside to view this engine along the route to Chicago. Come and Share this historic journey.
Not a member? Click here to join today!
Make your reservations now! Print out this web page, indicate the number of persons in your party and select entrees, Chicken or Halibut, enclose the page along with check and mail prior to March 28, 2001 to our offices at: Fullerton Railway Plaza Association, Inc., P.O.Box 3987, Fullerton, California 92834.
---

MENU
Your Choice:
*Grilled Chicken Marsala
*Char-Broiled Halibut
·Rice ·Vegetables
·Dinner Salad
·Rolls

$15.00 per person
No Host Bar
Please reserve for a party of ___________ for the FRPA Dinner/Mixer on Wednesday,
April 4th. Enclosed find a check for $ _______________ made out to FRPA.

Chose: _______ Chicken _________ Halibut

Fullerton Elks Lodge
Brea Blvd. at Harbor Blvd., Fullerton

Signed: _________________________________________________________

Address: ________________________________________________________

Telephone: ______________________________________________________

Please return reservation and check before Wednesday, March 28, 2001.