Depot Inn Tour Number 1
www.trainweb.com/depotinn/tour1.html

Escorted van tours are available of nearby attractions on some weekends. Dates will soon be posted on this page or contact the hotel to have your e-mail address added to their mailing list for upcoming events. These will include a tour of (1) the many historic railroad artifacts throughout the inside and outside of the hotel itself, (2) a walk through the "Exhibition of Amtrak History" (starting February 23, 2008), (3) a visit to the restored historic La Plata Santa Fe (Amtrak) Depot, (4) a brief drive through down town La Plata and a view of the historic Victorian homes: the McLorn House and the Doneghy Home, (5) a drive through Amish farm land with a stop at the Amish Country Store, (6) a extended stop at the Walt Disney Hometown Museum in Marceline housed in the restored Santa Fe Depot including a look at the original Santa Fe 2546 Steam Locomotive in E.P. Ripley Park, (7) a stroll down Main Street Marceline, the inspiration for Disney's Main Street USA and (8) dinner at the Pear Tree Restaurant (food & beverages not included). Information about escorted van tours to other nearby attractions will be posted to this page at a later date.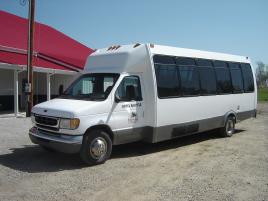 Depot Inn & Suites 22 Passenger Shuttle & Tour Van
You can also tour most of the above attractions in your own rented car. Contact the Depot Inn & Suites to arrange to pick up and drop off a rental car at the hotel. In addition to the above, there are many points of interest less than an hour drive from the hotel. Information about these other attractions is available in the hotel lobby.
RELATED LINKS:
Visit related pages from this and other web sites:
Click below for pages in the directory of TrainWeb sites: