2010 New Years For Train Enthusiasts
at The Depot Inn & Suites and Silver Rails Event Center
in La Plata, Missouri
TrainWeb.com/newyears2010.html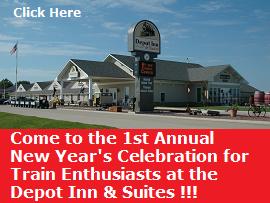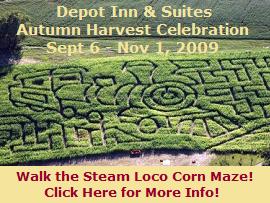 New Years: Come to the First Train Enthusiasts' New Year Celebration in La Plata, Missouri!
Sep & Oct: Walk the Steam Loco Corn Maze at the Depot Inn & Suites Autumn Harvest Celebration!
There will be a 2010 New Year Celebration at the Depot Inn & Suites with events scheduled from New Year's Eve on Thursday, Dec 31, 2009 through Sunday, January 3, 2010, at the Depot Inn & Suites in La Plata, Missouri.
So far there are a number of people from the Southern California Train Travel Meetup Group planning to be there including Stephen Grande and his wife, Bob Manning and his wife and Chris Guenzler. And of course the whole TrainWeb crew including Ray Burns and Shivam Surve (back from India) will be there. From the Depot Inn & Suites Tom and Kelly Marshall, Maria Snodgrass, and Shelli Tucker will be there along with the rest of the Depot Inn & Suites staff.
Stephen Grande and Bob Manning and their wives will be departing from Fullerton on the Amtrak Southwest Chief on Tuesday, December 29, 2009 and arriving into La Plata on New Year's Eve, Thursday, December 31, 2009. They'll both be leaving from La Plata on Sunday evening, January 3, 2010, on the westbound Amtrak Southwest Chief.
Train enthusiasts throughout the nation are invited to come celebrate New Year's Eve in La Plata. This will probably be the first of a new tradition of New Years for Train Enthusiasts at the Depot Inn & Suites. Come and take part in a new railroad tradition! Maybe this new tradition will never gain the notoriety of the "Mooning of Amtrak", but at least you can participate while still keeping your pants up!
In order to get the economics of this event to work there is a 3-night minimum stay at the hotel. But I'm sure everyone wants to be there by New Year's Eve at the latest and wouldn't want to leave till the end of the weekend anyway! When you call to make your reservation, be sure to mention you are coming for the Train Enthusiasts New Years. The hotel rooms are all blocked out and only available to those attending this event.
I know New Years Eve is still a long way off but there are only 30 rooms at the hotel and a lot of train enthusiasts from across the nation may want to participate in the first year of this new annual tradition. I'm posting this here now so that members of this group will have the first opportunity to make their travel plans and reservations.

Click Here For More Photos of the Silver Rails Event Center
If you need any help with train, plane, hotel or car reservations, please call Carole Walker at 877-459-5900. A rental car is not needed if you only plan to come for this Train Enthusiast New Year's Extended Weekend Event as shuttle service will be provided. But if you will want to go off on your own, car rentals are available. Either call Carole at 877-459-5900 or click here for additional travel information.
For those of you would like a bit more time railfanning in La Plata, come early, stay late, or both, and join Chris Guenzler on his extended stay in La Plata from December 27, 2009 through January 5, 2010! (Those are the latest/earliest dates you can arrive/leave from La Plata if you want to travel using Amtrak Guest Rewards). If you extend your stay either way you'll be able to join Chris on some of his railfan sightseeing in the area.
More details about this event will be posted at a later date but now would be a good time to start thinking about making your travel plans and reservations!
We hope to see you there! Happy New Year!
Links for more information:
Visit related pages from this and other web sites:
Click below for pages in the directory of TrainWeb sites: