Amtrak Station Platform
Grand Opening at
Richmond Intermodal Transfer Station
16th Street & MacDonald Avenue, Richmond, California
http://www.trainweb.com/cities/ric/2001g19a.html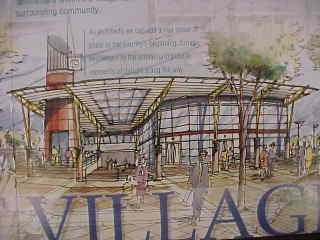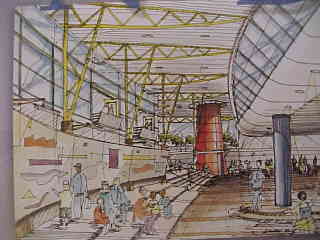 Integration of transportation within an urban pedestrian environment.
Providing the solution to urban sprawl by developing a mixed-use pedestrian oriented transit village in Richmond's Historic Downtown.
The Richmond Intermodal Station is unique. It is the only station in the BART system with direct access to Amtrak.
The first phase of this project involves the construction of a center boarding platform for Amtrak riders to directly access the BART station below.
Creation of the Nevin Avenue Pedestrian Plaza and Station will follow. This multi-modal transit station will provide "real" time transit information, waiting area, restroom facilities and a community policing sub-station.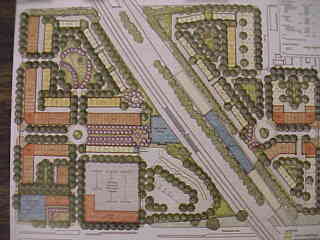 The Richmond Tranist Village, to be built on 16 acres, will encompass the development of a mixed-use pedestrian oriented village that integrates living, working, retail and cultural activities with a multi-modal transit station. The design of this project evokes an old world village charm lost in most new developments. The pedestrian linkages allows people to flow efficiently to the various destinations within the village, as well as the surrounding community.
As architects we can add a real sense of place to the journey's beginning, bring excitement to the arrival, and provide moments of delight along the way.
Click the below links to view each set of photos
of the Grand Opening event:
Set #1 / Set #2 / Set #3 / Set #4
Set #5 / Set #6 / Set #7 / Set #8
Click here to read the Amtrak News Release.
---
You are cordially invited
to attend the
Grand Opening
of the new
Amtrak Station Platform
at
Richmond Intermodal Transfer Station
16th Street & MacDonald Avenue

Thursday, July 19, 2001
at 10:00 a.m.
---
Richmond Transit Village and Intermodal Station
Project Development Team
AC Transit
Amtrak
BART
Calthorpe Associates
Caltrans
Capitol Corridor Joint Powers Authority
City of Richmond
Contra Costa County
Contra Costa Transportation Authority
The Olson Company
Richmond E.D.C. and Downtown Association
Richmond Redevelopment Agency
Union Pacific Railroad
VBN Architects
WestCAT
West Contra Costa Transportation
West Contra Costa Transportation Advisory Committee
Funding and Financing Partners
AC Transit (Federal funds)
Amtrak
BART ("Mint Station" funds)
Contra Costa Transportation Authority (Measure C)
Federal TEA-21 (Transportation for Livable Communities)
Department of Housing and Urban Development (HUD) - Economic Development Initiative Grant
Richmond Redevelopment Agency
State of California (PTA, Proposition 116, STIP, ITIP, RTIP)
For more information regarding Richmond Transit Village contact Richmond Redevelopment Agency at 510-307-8140
---
Comments from Steve Grande of TrainWeb:
Ray Burns of TrainWeb will be covering this event. Photos are expect to be posted and announced in "What's New" (http://www.trainweb.com/whatsnew) on or before Monday, July 23, 2001.
I hope that this revitalization of the Amtrak Richmond Station indicates that some thought is being given to restore Amtrak Coast Starlight services to this station. The Amtrak Coast Starlight used to stop at this station, but that service was discontinued a few years ago. Now, the Coast Starlight just flies through the station without stopping. The Amtrak California Zephyr also goes through this station without stopping. I don't know if it used to stop in Richmond, but it would be a great convenience to many travelers if would stop at this station in the future.
A number of years ago, I discovered that the Amtrak Coast Starlight stopped serving this station the hard way. This was long before I had developed working relationships with travel agencies that were expert in rail travel and was at a time when I was still calling 1-800-USA-RAIL to make my travel arrangements. (Amtrak had not yet developed an on-line booking capability). I told the agent that I wanted to travel from Los Angeles to Richmond so that I could transfer over to BART. The agent attempted to book the reservation, and then sounded confused when the computer would not process her request properly. She was aware that Richmond had been a stop on the Coast Starlight, but like myself, was not aware that the stop had been removed from the route of the Coast Starlight. She had to call her supervisor for help. Her supervisor was aware of the schedule change and let us both know that the Amtrak Coast Starlight no longer served Richmond. I was a bit lost at first as to what to do as this is the only convenient connection point to BART. I think I found an alternate route, not as convenient, by transfering at Oakland.
Richmond, California, is the only place where Amtrak and BART platforms are right next to each other. They are just a few steps apart. As pointed out by the above press release, Richmond is a really convenient way for anyone coming in or out of the bay area to connect to the Amtrak trains. BART is a rapid transit service that not only serves downtown San Francisco, but also serves much of the east side of the bay with convenient bus locations throughout the area. It seems to be the perfect transfer point for passengers coming into or going out of town on long haul trains like the Amtrak Coast Starlight and the Amtrak California Zephyr.
Click here to view a map of the BART system so that you can see how convenient it would be for travelers with origination and destination points throughout the bay area to have a convenient transfer point between the BART system and the long haul Amtrak trains.
The only other place that the Amtrak Coast Starlight comes anywhere near BART is at the Oakland Station. There, however, you have to transfer to a bus that takes you to the BART station that is about a mile from the Amtrak station. I've walked this route a number of times pulling my luggage along and beat the bus! A mile between stations that requires a bus transfer or a long walk is not what I consider a convenient transfer between the two systems. I have no idea how one gets between the BART system and the Amtrak California Zephyr as the California Zephyr no longer serves the Amtrak Oakland Station as it once did.
Opening up the new Richmond Intermodal Transfer Station is a big step in the right direction. The next step to take is to have the Amtrak Coast Starlight and the Amtrak California Zephyr once again make use of this station so that the passengers will have convenient rapid access to much of the entire bay area without having to resort to unnecessary bus transfers, cab fares or car rentals.