OKJ - Jack London Square
Oakland, California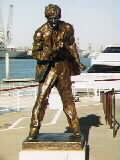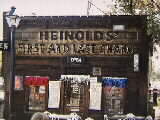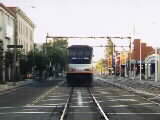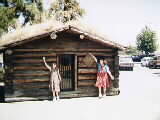 Click on any photo above to view a larger image.
Oakland & Jack London Square, California - a stop along the Amtrak train routes. Who was Jack London anyway and what are those pictures featured above? The train in the center of the bottom row above is either an Amtrak San Joaquin or an Amtrak Capitol made up of Amtrak California Cars slowly moving right down the middle of a public street as it proceeds through Jack London Square! The statue is of Jack London himself. Click here for information about Jack London and the rest of the above photos!
Jack London Square is one of my favorite places for a weekend getaway and provides a good excuse to book a round trip rail tour! Rail meetings (NARP, TRAC, RailPAC or combined meetings) are held quite often at the Spaghetti Factory in Jack London Square and I try by best to attend all of them. Jack London Square is also one of the favorite places of my kids as they like all the interesting little shops.
Please select one of the following:

There are 3 hotels conveniently located to Jack London Square (in alphabetical order):
Z Hotel Jack London Square, 510-452-4565
233 Broadway, Oakland, CA 94607
(formerly "Best Western Inn At The Square" - no railroad view rooms).


Jack London Inn, 510-444-2032
444 Embarcadero West, Oakland, CA 94607 (some railroad view rooms).


Waterfront Plaza Hotel, 510-836-3800
10 Washington Street, Oakland, CA 94607
right in Jack London Square at the waterfront (some railroad view rooms).


Visit our Rail Magazine promotion trading partners:
Click here to add your print rail magazine.