Dr. Adrian Herzog
10 July 1948 - 28 February 2001
(http://www.trainweb.com/advocate/adrianherzog.html)
The following message was taken from the All-Aboard List on Thursday, March 1, 2001, and has been posted here with permission:
My dear friend and colleague, Dr. Adrian Herzog, passed away last night at his home in Northridge, California. His exact cause of death has not been determined, but a heart attack is suspected because he suffered from hypertension.
Adrian was just 52. He was born in Switzerland, but had been a U.S. citizen and lived in the Los Angeles area since he was a small child.
Often bombastic, Adrian was a delight to have as a friend and colleague. He cared deeply about his friends and coworkers.
In real life, Adrian was an astrophysicist, and Chairman of the Physics Department at California State University, Northridge. He was proud that his department was one of the leading departments in the State of California. Before becoming department chair, for many years he taught premed students. Adrian consulted to a number of organizations, including NASA and the Jet Propulsion Laboratory. His other accomplishments are too numerous to mention.
Adrian was interested in a number of areas, including his passion for trains, ships, and planes. He was equally skilled at discussing any of these subjects. Adrian enjoyed politics; he became involved in the Democratic Party as a teenager. While in college, Adrian was a part of Bobby Kennedy's California campaign. He was part of the entourage in the kitchen in the Los Angeles hotel when Bobby Kennedy was fatally shot.
Besides being one of the guiding lights of URPA, Adrian was a member of NARP and several state organizations. He spent tens of thousands of his own dollars through the years on behalf of rail causes. He and the late Byron Nordberg were business partners in the consulting firm of NHA, Inc. (Nordberg-Herzog Associates).
His last Amtrak trip was to Sacramento to the NARP meeting in February. Prior to that, in early January he traveled from Los Angeles to Washington by train for some Washington meetings, and returned via Jacksonville on the Sunset Limited. That was the last time I saw him.
We talked on the telephone almost every day, sometimes several times a day. Adrian always wanted to be completely informed of everything that was going on. He made major contributions to the Selden Plan, and created the written paper on the matrix theory. Arrangements were underway for him to testify before Congress in the coming weeks.
It is extremely difficult for me to express how much I am going to miss Adrian. He was a brilliant man who was happy to share his knowledge and wisdom. The other members of URPA today are all stunned by his sudden departure. He will be sorely missed. Needless to say, the A-A list will be much less lively by his absence.
Adrian and his wife, Dora, have been married for less than 10 years. He had no children. He is also survived by his mother.
Bruce Richardson
Jacksonville, Florida
---
I did not know Adrian as well as Bruce knew him, but I did see and speak with Adrian at almost every local NARP and RailPac meeting. I liked talking with Adrian as he was the first person who I ever met that had ideas so far from the norm of the traditional ideas on improving passenger rail. Coming from a libertarian bent myself, I could not wholeheartedly endorse perpetual govenment funding for any transportation mode, not just rail. In trying to find solutions to make passenger rail more financially viable that were less contradictory to my own politcal viewpoint, Adrian's ideas certainly gave me some food for thought! (See: http://www.trainweb.com/tip). The last time that I saw Adrian was on his last Amtrak train trip returning to the L.A. area from the NARP meeting in Sacramento in February. Matt Melzer and I traveled together with Adrian on the train and then on the Ambus from Bakersfield to Los Angeles. As usual when listening to Adrian talk about his experiences, views and "adventures", the time passed quite quickly, even on the bus! I certainly will miss the "spice" that Adrian lent to any discussion with his alternative viewpoints.
Steve Grande
Fullerton, California
---
Click on the photo below for a larger image.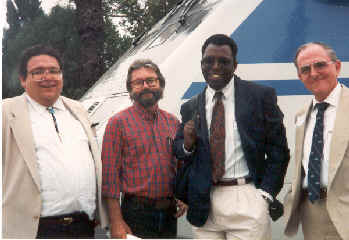 This 1993 above photo was taken at the Santa Barbara, CA, station while the group was preparing to ride the California demonstration run of the X-2000 trainset, which can be seen behind them. Left to right: Dr. Herzog; RailPAC San Joaquin Valley Director Clyde Amaral; RailPAC Director Anthony Lee; and Western Rail Passenger Review Editor Russ Jackson.