Amtrak Coast Starlight
Pacific Palour Car
The Pacific Parlour Car is the First Class Lounge Car on the Amtrak Coast Starlight. It is only open to those passengers traveling in the Sleeping Cars. At this time, the Coast Starlight is the only Amtrak train to feature such a car.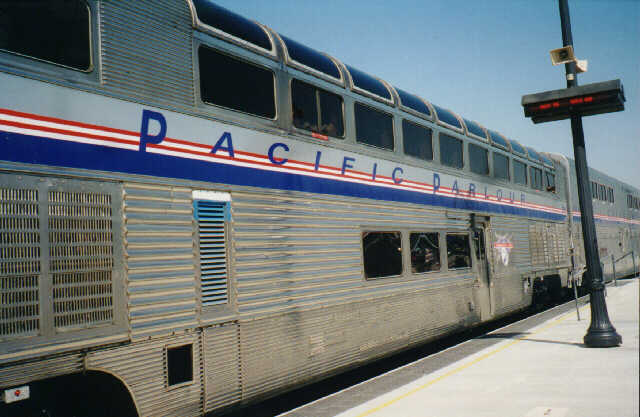 I have written at length about the Pacific Parlour Car in many of my travelogues about my travels on Amtrak Coast Starlight. As I run across those travelogues, I will post a list of links to them here. In the meantime, you might want to click here to go to my list of travelogues related to the Amtrak Coast Starlight, or click here for a lot of other information available about the Amtrak Coast Starlight on the web.
Links to a lot of photos and info
about the Amtrak Pacific Parlour Car:
Click on any photo below to view a full size image.
Overview
Movie Theater
Bar Seating
Swivel Seats
Tables
Self Serve Area
Game Cabinet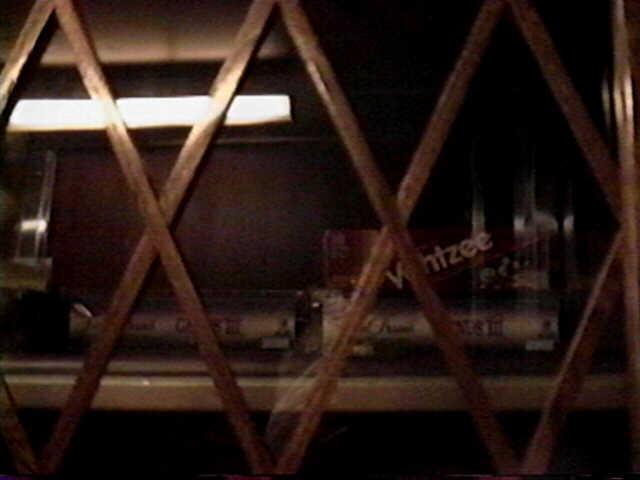 Magician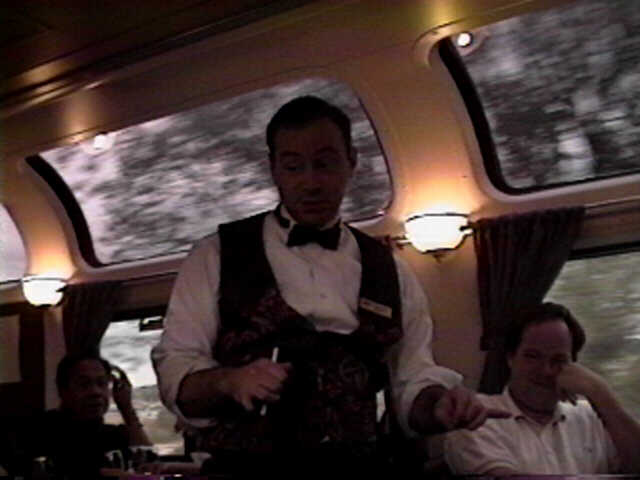 The Pacific Parlour Car was added to the Amtrak Coast Starlight temporarily as an experiment to see what effect it might have on ridership. I think that it was only supposed to be on the Coast Starlight until September of 1995. Evidently the Pacific Parlour Car turned out to be quite popular and has had a very positive effect on ridership. Not only was the Pacific Parlour Car retained, but it has been completely refurbished and remodeled to better serve its purpose!
The Pacific Parlour Car enhances the experience of rail travel so much that I usually book Sleeping Car accommodations on all trips over 6 hours on the Amtrak Coast Starlight. Even if I am only traveling from Los Angeles to San Jose, I always book a Sleeping Car room so that I can experience the Pacific Parlour Car.
The Pacific Parlour Car is already open when passengers start to board in Los Angeles and probably also in Seattle. As soon as you board the train and put your things in your room, you can head right for the Pacific Parlour Car to enjoy a light morning breakfast of coffee, juice, muffins and pastries! There is a new special self serve area in the car which is capable of keeping hot food hot and cold food cold.
Each afternoon around 3pm there is either a wine or champagne tasting which is also served along with fruit, cheese and crackers. The fruit, cheese and crackers are available from the special self serve area. The wine or champagne is brought to your table and poured into your glass by the Car Attendant. You will usually be poured one glass from each bottle being sampled. For wine tasting, that is usually 3 different bottles, and for champagne tasting, 2 different bottles.
There is no charge for any of the wine or champagne being tasted. There is also never a charge for any of the food and non-alcoholic beverages served in the Pacific Parlor Car. However, you can purchase bottles of any of the wines or champagnes being tasted. Bottles purchased will be placed into a special canvas sack with the logo of the Pacific Parlour Car. We found a red Zinfandel that we really liked and purchased a couple of bottles. You can also purchase cocktails, beer and wine in the Pacific Parlour Car. They usually have a fine selection of unique beers from microbreweries.
Live entertainment is provided usually right after the tasting. The live entertainment is a magician or musician and they often will make balloon animals for the children.
Downstairs in the Pacific Parlour Car is a small theater that can seat up to 19 people. There are 6 rows of chairs in the theater, 2 seats in each row on one side of the aise and 1 seat in each row on the other side of the aisle plus one seat by itself. There is a large TV built into the wall at the front of the theater. I'd guess it is about a 30" screen and is mounted high to be above the heads of people in rows in front of you. There is also a very high quality sound system. When I watched a movie there, it was first come first serve. There were a number of videotapes which seemed as current as the new releases that you would find in a video store. Whoever requested the theater first got to play whatever movie they wished. There are blinds on each window in the theater so that the room can be made dark even during the daytime. There are also very decorative lights in the theater which can be dimmed to any level desired.
At night, the lights in the entire Pacific Parlour Car are brought to a low level to achieve a relaxed and romantic atmosphere. There are several types of seating in the car. At the end nearest the Sleeping Cars are large swivel chairs that are very comfortable. Next, there are long couches with small tables suitable for drinks, very much like the seating you will find in cocktail lounges. Finally, nearest the bar, are 6 booths with tables. These work real well for playing games, especially if you have kids along. These tables are much larger than what was previously used in the Pacific Parlour Car before it was remodeled. At the end of the car nearest the Sleeping Cars there is a cabinet full of games. You can just open the cabinet and take out whatever game that you wish to play.
The windows seem much better than they have ever been before in the Pacific Parlour Car. I don't know if they did anything in remodeling the car to change the shape or design of the windows, but it is now very enjoyable to look out the windows. Prior to the remodeling, the windows of the Pacific Parlour Car had a dirty brown tint to them. The windows were probably so old that an exterior wash was of little help. These windows were obviously brand new and very clear and clean.
There is one drawback to the remodeled Pacific Parlour Car. They used to be empty most of the time except for the wine or champagne tasting. If you wanted an empty place to go on the train to read or sip a cocktail other than your room, that was the place to go! It was like a quiet little undiscovered cafe with just a few patrons, except when tasting time came! With the new changes, the Pacific Parlour Car is now a pretty busy place all day long! I never had a problem getting a table in the car to play a game with my kids, but we would often find there was only one table open when we went to sit down. The same is true of the other seating too. You will almost always find the type of seating that you want available, but you will often find yourself sitting in the last of that type available!
The unusualness of this seating situation could be because the train was full since it was the travel time for the Thanksgiving holiday. Or it could be that the amound of seating of each type comes pretty close to matching peak demand. The Pacific Parlour Car is only open to those in the Sleeping Cars and there can only be so many booked into the Sleeping Cars. So, unless everyone comes to the Pacific Parlour Car at the same time, which is very unlikely, the amount of seating of each type might be just right!
If you plan to travel in the Coast Starlight, I'd strongly recommend that you book a room in the Sleeping Car, even if your travel does not involve an overnight stay on the train. It will be well worth it to experience the new Pacific Parlour Car.
If you think it is too expensive to upgrade to the Sleeping Car for just daytime travel, do a bit of figuring first. Calculate what it will cost for meals for everyone in your party, plus what you might purchase for food and beverages on board between meals. For Sleeping Car passengers, all meals served in the Dining Car are included in the fare. Also included is all the food and non-alcoholic beverages provided in the Pacific Parlour Car, plus the wine or champagne during the tasting. Depending on how many are in your party, how far you are traveling, and what type of Sleeping Room you book, you might not find that it actually costs that much more to go first class!
Information from James H. H. Lampert: The Pacific Parlour Cars are all vintage Budd "El Capitan" high-level cars from the Santa Fe. Such cars were the prototypes for the Superliners, and "El Capitan" coaches were once common in Superliner consists, in some cases still retaining their original "hopper" toilets. Note, however, that all sleepers in Superliner consists are actual Superliner cars (by Pullman-Standard or Bombardier); the original Santa Fe El Capitan train did not carry sleepers, and no other Santa Fe passenger train used high-level cars.
For those of you getting ready to send me e-mail about my spelling of "Parlour", please don't. That is the spelling that is used on all of the literature in the Pacific Parlour Car itself. You will find other Amtrak literature that uses the more conventional spelling of "Parlor" and even find references to this car as the "Parlor Car" or "First Class Lounge Car" with no reference to the word "Pacific". The official name of the car is the "Pacific Parlour Car.
The Coast Starlight Product Line, can be contacted at: National Railroad Passenger Corporation, 810 N. Alameda St., Los Angeles, CA 90012, (213)683-6950, (ATS)761-6950, Fax (213)891-3588 . If you have been influenced at all by the information and photos provided by TrainWeb to travel on The Coast Starlight, I'd certainly appreciate a mention of that in any feedback that you might send!
Click here to view some inside and outside photos of what the Pacific Parlour Car looked like before it was remodeled.
Links to a lot of photos and info
about the Amtrak Pacific Parlour Car:
---
Please select one of the following:
Parlour Car Promotional Info / Old Pacific Parlour Car
More Amtrak Coast Starlight Information
Accommodations Index / Superliner Index

Visit our Rail Magazine promotion trading partners:
Click here to add your print rail magazine.