Pacific Business Class
www.trainweb.com/accommod/pacificclass.html
Pacific Business Class on the Amtrak San Diegans
Click here for the latest updates!
Amtrak&reg Presents
New Pacific Business Classs
More Than You'd Expect From A Train Ride.
For a more comfortable trip and premium amenities,
Pacific Business Class is the way to travel.
For just a small charge, you can step-up to Pacific Business Class and enjoy a very extra -ordinary experience . Just ask our conductor.
Guaranteed, Spacious Seating ...
Pacific Business Class seats are bigger, more comfortable and offer more legroom than most first-class domestic airline seats. Each has fold-down trays, bright, overhead reading lights and an electrical outlet for laptop computers. You can use Railfone&reg or your cellular phone at anytime.
The Food Service Car ...
Just a car away is Amtrak's cafe car fully stocked with a variety of snacks, sandwiches, soft drinks, beer, cocktails and your complimentary amenities. Check out the menu on the reverse side for today's tempting selections then visit our friendly attendant who is eager to provide you with excellent service.
Time Periods for Available Amenities ...
Passengers traveling in the morning will be greeted with a buffet style setting that includes muffin, Danish and Juice ready for you to help yourself. You can then relax at your seat with the Wall Street Journal, The USA Today or the Tourist Magazine. Passengers traveling in the afternoon will receive a comlimentary split bottle of wine and a package of cheese and crackers. Peanuts, pretzels, juice and coffee will always be available. Just visit the beautiful Amcafe and ask the service attendant.
Amtrak&reg -- The Way To Go!
CUISINE

Special Sandwich ... 3.50
Chicken Sandwich ... 3.00
Cheeseburger ... 2.75
Jalapeno Cheeseburger ... 2.75
Gardenburger (Served on Whole Wheat Bun) ... 2.75
All-Beef Hot Dog ... 2.50
Burrito ... 1.75
Pizza ... 2.25
Chicken Wings ... 2.25
Rice Bowl ... 3.25
Cup of Noodle ... 1.50
Cup of Mashed Potatoes (Different Flavors) ... 1.50
Hot Breakfast Sandwich (Egg, Honey Ham and Cheese) ... 2.75
BEVERAGES

Coffee or Tea ... 1.00
Herbal Tea ... 1.00
Iced Tea ... 1.75
Soft Drinks ... 1.00
Hot Chocolate ... 1.00
Bottled Spring Water ... 1.25
Fruit Juice ... 1.75
Milk (2% Low Fat) ... .75
WINE & SPIRITS

Domestic Beer ... 2.75
Premium Bottle Beer ... 3.75
Stone Micro Brew Beer ... 4.00
Cocktails and Liqueurs ... 4.00
California Wines (Half Bottle) ... 5.50
SWEETS & SUNDRIES

Cookies ... 1.25
Candies ... 1.25
Kettle Chips ... 1.25
Smoked Almonds ... 1.50
Peanuts ... 1.25
Pretzels ... 1.25
Jerky ... 2.00
Breath Minds ... 1.00
SNACKS

Muffin ... 1.50
Bagel (with Cream Cheese) ... 1.50
Cinnamon Roll ... 1.50
Danish Pastries ... 1.50
Dry Cereal (with Milk) ... 1.75
Fruit Yogurt ... 1.50
Fresh Fruit Plate ... 2.00
Fresh Salad ... 2.75
Cup of Soup (Ask Your Attendant) ... 1.75
SOUVENIRS, ETC.

Amtrak Playing Cards ... 2.00
Souvenir Postcards (4) ... 1.00
Batteries ... 3.25
Antacid or Pain Relievers ... 1.25
Amtrak West&reg
---
2000-January-15:
My daughter, Jodina, and I traveled round-trip to San Diego from Fullerton, California in Pacific Business Class and found the following notice in the back of the chairs in front of each of us:
National Railroad Passenger Corporation, 810 North Alameda Street, Los Angeles, CA 90012
Amtrak®>>=== The New Pacific Business Class Service
November 20, 1999
Dear Guest,
Thank you for boarding Amtrak San Diegan's new Pacific Business Class car, where our service is more than you would expect from a train ride. It gives me great pleasure to introduce the service that we will be providing to you, our valued guests.
If you are traveling between the hours of 6:00 A.M. and 12 P.M., you will be treated to a buffet style setting that includes muffins, danish, and juices ready for you to help yourself. For guests traveling in the afternoon (from 12:00 P.M. until the last trains at night), light snacks will be available in the car for your enjoyment, and there will be a complimentary bottle of wine with cheese and crackers -- just present your ticket receipt to the Lead Service Attendant in the Cafe car and you will receive them.
USA Today and Wall Street Journal newspapers will be onboard Monday through Friday, with weekend editions on Saturday and Sunday. There will be a coffee and tea setup along with magazines in the car. The Pacific Business seats are bigger and offer more leg-room than most first-class domestic aircraft seats. Each has a fold-down work tray, bright overhead reading light, and outlets for your laptop computer. You can use the GTE Railfone or your cellular phone, and coming in the year 2000, we will have the new San Diegan phone cards on sale at stations or onboard. These can be used on or off the train.
One car away, a convenient cafe server (Lead Service Attendant) is waiting to serve you a wide variety of snacks, sandwiches, soft drinks, beer and cocktails, and don't forget the San Diegan Private Label Wine, with the 1/2 bottles of wine coming onboard in February.
Just think, for a small charge, you can step up and into a spacious car and a separate world. A hearty welcome to all! Sit back, relax, and enjoy your ride on the San Diegan, where service is first.
In service to all.
Sincerely yours

Charles B. Roebuck III
Administrative Chief-San Diegan Service
AN EQUAL OPPORTUNITY EMPLOYER
---
1999-November-11:
Ray Burns and I came up in Pacific Business Class in the Amtrak San Diegan as we usually do when we are connecting with the Amtrak Coast Starlight. Even though it is only one stop, it is about a 40 minute ride and the train tends to be very very full since it is also the train during the rush hour. I've taken this train before in Unreserved Coach and have had to stand the entire way to Los Angeles! Pacific Business Class avoids that problem.
There weren't too many seats remaining in Pacific Business Class, but we did find two together facing the reverse direction of the train. As you might already know, there is no longer a Car Attendant dedicated to the Pacific Business Class car on the Amtrak San Diegans. Personally, I like this situation better. I was able to immediately get my coffee and orange juice. When there was a Car Attendant, it would often take 30 or 40 minutes before they got to each passenger after they boarded. Often, on this short segment, I would be almost in Los Angeles by the time they came with some coffee! This was not necessarily the fault of the Car Attendant, it is just that it takes some time to attend to dozens of people. Self-service can often be a lot faster.
There was one major drawback: Without a Car Attendant, the hundred or so pastries that were placed in the car, according to the Conductor, were taken by the 45 passengers that boarded the car prior to Fullerton leaving no remaining pastries for those boarding in Fullerton! Unfortunately, I think they might have to move the pastries to the Cafe Car and only give them out on presentation of a Business Class ticket stub like they do for the wine and cheese in the afternoon.
---
The information below is obsolete!
It is posted here for historical purposes only.
---
Below you will find a description of the Pacific Class Service on the Amtrak San Diegans as described just after it began on Wednesday, February 18, 1998. You can compare the below description to the newer description and change of services which I believe began on October 31, 1999 with the national change in Amtrak schedules.
The purpose is to offer first class service to Pacific Class passengers at their seat. An attendant will provide beverages, snacks, newspapers, magazines, a pillow, blankets, and fill orders as requested. The attendant will also be responsible for maintaining a clean car, to see that the restrooms are stocked, to see that passengers detrain at their stop, and all other duties as assigned.
* Attendant to provide first class service at passenger's seat:
Day services: coffee; juice; pastries and fruits as well as additional amenities listed below.
Afternoon Tea services: finger sandwiches; pastries; tea and juice as well as additional amenities listed below.
Night services: Chilled wine and champagne; fruit cups; cheese; crackers; and coffee as well as additional amenities listed below.
Additional Amenities:
Major Newspsper or Magazine
Pillows and Blankets
Laptop Outlets
GTE Railfone Service
Spacious seating with more leg room and legrests
Cafe car is just one car away
The surcharge above coach class varies depending on trip length. Check with your travel agent or call Amtrak reservations at 1-800-USA-RAIL (872-7245).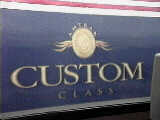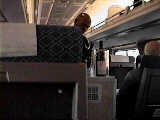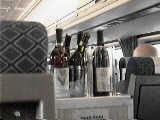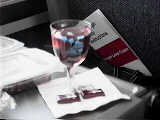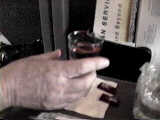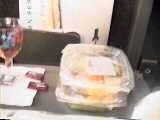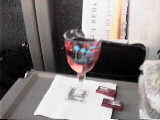 Visit our Rail Magazine promotion trading partners:
Click here to add your print rail magazine.