Tickets For The
Inaugural Amtrak San Joaquin Direct Service
Between Sacramento and Bakersfield, California
February 21, 1999
www.trainweb.com/travel/stevelog/sg990120/tickets.html
The following are the tickets that Ray Burns and I used for the inaugural Amtrak San Joaquin direct service between Sacramento and Bakersfield, California.
Ray started out in Anaheim, California and met me at the Fullerton Station. Thus, the first and last tickets are between Anaheim and Fullerton. Then we took Custom Class on the Amtrak San Diegans to Los Angeles. From there, we took the Amtrak Coast Starlight from Los Angeles to Sacramento. We had a standard bedroom, but spent pretty much the entire trip in the Pacific Parlour Car.
We arrived into Sacramento close to midnight and spent the night in the Vagabond Inn. The next two tickets are the tickets that got us on the inaugural revenue run from Sacramento to Bakersfield, Train #702, which departed at 6:20 A.M. on Sunday, February 21, 1999.
After spending some time in Bakersfield, Ray Burns then returned on the first direct service revenue Amtrak San Joaquin from Bakersfield back to Sacramento. Ray was the first person to have his ticket taken by the Conductor. When the Conductor punched Ray's ticket, the Conductor told Ray that he was the "First passenger to ever go to Sacramento" on this direct Amtrak San Joaquin train!
I had an urgent family matter to take care of so I took the 4:25 PM bus from Bakersfield back to Los Angeles and then Amtrak San Diegans Train #584 back to Fullerton. I made it back to Fullerton by 7:47 P.M. After returning to Sacramento, Ray Burns slept at the Vagabond Inn and then returned back to Anaheim the next day via the Amtrak Coast Starlight and the Amtrak San Diegans.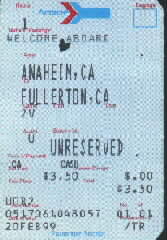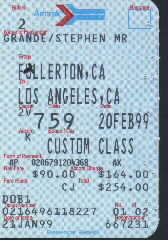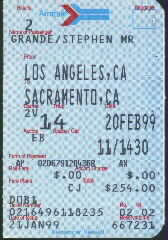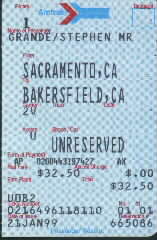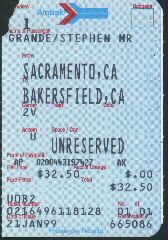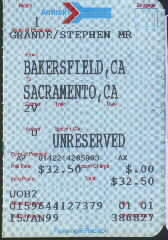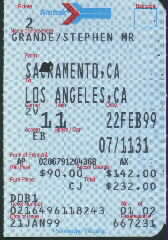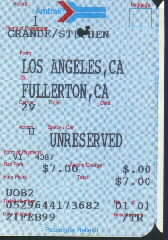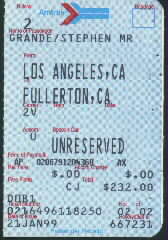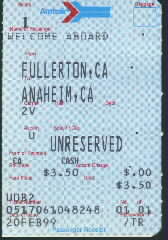 Visit our Rail Magazine promotion trading partners:
Click here to add your print rail magazine.