Amtrak California Zephyr
Martinez, California - Chicago, Illinois
January 3, 1999 - January 5, 1999
Steve's Travelogue
www.trainweb.com/travel/stevelog/sg990102.html
This travelogue web page will cover not just my journey on the Amtrak California Zephyr, but will also cover my journey from Fullerton, California to where I boarded the California Zephyr in Martinez, California. Linked from this travelogue you will find both still pictures and short video clips of this journey through the Sierra Nevada and Rocky Mountains! This eastward trip into Chicago by rail was taken during the worst snowstorm experienced by the midwest in 30 years!
I started this journey from the TrainWeb office which is right at the Fullerton Amtrak Station. The real purpose of this entire journey is just to travel on the Amtrak Adirondack between Schenectady, New York and Montreal, Quebec, Canada and also on the Amtrak Ethan Allen Express between Schenectady and Rutland, Vermont. Other than these two routes, I have already traveled all of the Amtrak miles except for a few short routes near Chicago.
I haven't had too much luck traveling Amtrak during the first couple of weeks in January for the past two years. Two years ago, my entire family got stranded in Seattle when heavy snow caused avalanche warnings that closed all eastbound routes and heavy rain washed away the tracks blocking our return south! One year ago I traveled the route of the Amtrak Vermonter from New York City up to St. Albans, Vermont. However, I was unable to reach my destination of Montreal via the Amtrak Thruway Bus as the border was closed due to massive ice storms in the area! An attempt to reach Montreal via the Adirondack failed as all passengers were turned back at Schenectady, New York due to the continuing ice hazard.
After those two experiences, you might wonder why I'm making a third attempt at travel in the colder parts of the United States at this time of year. There are three main reasons: (1) the only Amtrak miles that I have left to complete are in the colder climates, (2) there is a lot of snow on the ground at this time of year which is great for snow covered scenery, and (3) my children have 3 weeks off from school at this time of year. It is easier for me to travel for 1 of the weeks my children have off from school than to travel while my children are still in school.
What are the my hopes of success on this journey? It is much too early to predict. Unfortunately, cold temperatures and snow storms have swept over much of the area into which I am about to travel. Airports have been closed in Chicago and some segments of interstate highways have been closed in the states where I will travel. My hope is that this weather will not continue and that any affect the weather has had on rail traffic will be cleared by the time my train gets to those areas.
Originally I was going to fly to Montreal, travel the routes in that area that are the purpose of this journey, and then return home by rail. In making my plans, I noticed that I had just enough time to make the entire journey by rail if I took the Southwest Chief. Unfortunately, the Southwest Chief was already booked solid for this holiday period. I tried the Texas Eagle, but since it only operates 4 days per week, I couldn't get it to fit within the timeframe I had available. The last resort, and the one I ended up with, was to make my way to northern California and take the California Zephyr east.
In order to do this entire trip by rail and get it all to fit within the time I had available, I violated some of my own rules and recommendations. Normally, I will never book a connection between two long-distance Amtrak trains where there is less than 6 hours between the arrival of one and the departure of the next train. I will normally stay overnight when the layover is shorter than 6 hours. But, in this case, the California Zephyr is scheduled to arrive into Chicago at 4:20 PM and the Lakeshore Limited is scheduled to leave at 7:30 PM, just a little more than 3 hours later! That isn't a good connection to rely on when heavy snows are causing delays and closures of other transportation modes all over that area! I'll just have to cross my fingers and see how that turns out.
My next problem connection is where the Lakeshore Limited arrives into Schenectady, New York at 11:25 AM and the Adirondack leaves that station at 12:53 PM, less than 90 minutes later! This is a guaranteed connection. I wouldn't mind too much if Amtrak ends up busing me to Montreal as I should still be able to cover my Adirondack mileage the next day on my return trip. Keep in mind that an Amtrak guaranteed connection does not mean they will get you on your connecting train. A guaranteed connection just means that Amtrak will find some other way to get you to your destination or put you up in a hotel to take the same train on the following day (but no guaranteed that you will have a room on the train if you booked a sleeping car, though you will get a refund for the accommodations not used).
So, as you can see, this journey is going to be a timing challenge!
Starting Out
Since much of my rail travel from Fullerton to Martinez, California in order to get to the Amtrak California Zephyr was either in darkness or dense fog, I have not filed separate travelogues under those routes for this journey. Instead, I will include my notes about those segments right in this travelogue.
I took a bit of an odd detour at the start of this journey. I planned to the Amtrak San Diegan down to San Diego and catch the Amtrak Thruway bus to Bakersfield from there. The reason I did this was so that I could sleep undisturbed on the bus for several hours and to insure that I would get a seat during this heavy holiday travel. As it turned out, my southbound Amtrak train #584 was running about 30 minutes late. Thus, instead of boarding at 7:47pm, I boarded about 8:18pm. This delay meant that I would not have enough time to change to the thruway bus if I went all the way to San Diego. So, instead, I got off at Solana Beach, one stop and about 26 miles before San Diego. The bus arrived in Solana Beach about 9:45pm which gave me about a one hour wait for the bus that would arrive at 10:45pm.
Once I got on, I was quite happy that I had taken this detour! The bus was just a bit more than half full. But, since people traveling alone tend to sit at unoccupied pairs of seats, almost every pair of seats was taken! There was only one empty pair of seats left, right up against the bathroom in the back of the bus. Since I don't usually recline my chair much, this suited me just fine!
I had organized my baggage in a certain way knowing that I would need to be able to fit it on a bus and on the Amtrak San Joaquins. First, I had my heaviest bag that is on wheels. This is a large square case that I noticed a lot of Conductors themselves use. On the bus, this case goes into the luggage area. On the Amtrak California Car of the San Joaquins, it fits nicely in that special space between single seats and the walkway partition. Second, I have two other carry-on bags: my backpack and a carry bag. I've loaded each of these in a way that I know they will fit in the overhead storage bins in both the bus and in the California Cars. All three bags also fit very nicely into my standard (economy) bedroom in the Superliners. Thus, except for my large bag on the bus, all my luggage can stay with me as "carry-on" and I know I won't have problems fitting them anywhere.
I fell asleep immediately once the bus had departed the Solana Beach station. I woke up just momentarily at Oceanside and San Juan Capistrano. Somewhere around Oceanside we hit the U.S.Customs checkpoint and the bus was boarded by a Customs Agent. Many people that don't live in California find it rather odd that there would be a U.S.Customs stop that is totally within the United States and not at the border. I know I did on my first visit to California! But, evidently, U.S.Customs finds it useful to have a checkpoint between Los Angels and San Diego as well as one at the border.
The Customs Agent announced that he would need to see documentation of everyone on the bus who was not a U.S. citizen. How was he to know who was a U.S. citizen? He asked! If you said you were a citizen, then he was done with you and went on to the next person. If you said you were not a citizen, then he took a look at your documentation. I assume the Agent would be more adamant about documentation if you could not speak English. When he was done, he thanked everyone for their cooperation and we were on our way again!
I pretty much slept through Santa Ana and any other stops we may have made. The next stop that I do remember was Los Angeles Union Station. The bus was just about full. I had planned to get out of the bus when we stopped at the 7-11 Convenience Store just after Glendale, but I didn't wake up again until we were pulling into Bakersfield at 4am ! Thus, except for waking up for a few moments here and there, I did get about 5 hours of sleep on the bus.
Bakersfield was shrouded in dense fog. The bus driver announced that he could not let us out of the bus until the ticket office was open. 4am I think is the earliest that I had ever arrived into Bakersfield by bus. Usually they arrive somewhere between 4:15am and 4:45am. We spent a long time in the bus and I dozed off a few more times. From about 4:30am I could here the Amtrak engineer and conductor talking over my radio scanner. The crew was all onboard the train already, including the onboard service crew. However, they had switched locomotives and were having some difficulty getting everything working.
The Bakersfield ticket office opened up about 4:45am and they let us off the bus. I got my additional piece of luggage from under the bus and headed right over to where the train would board. Listening to my scanner, I heard they were having difficulty getting the train to move. Eventually they did manage to back it down into the station. I boarded and got one of the single seats that I like. The only thing this seat does not have is an electric outlet. There is one at the table for 4 people in front of me. I should have enough battery power for this trip, but if I don't, I can just ask the people in front of my if I can plug my extension cord under their table!
Because of the difficulty in getting the train started, we departed from Bakersfield at 5:12am, 12 minutes late. By the time we got as far as Stockman, we were running 48 minutes late. Since this train was scheduled to arrive into Martinez at 9:55am and the California Zephyr is scheduled to leave Martinez at 11:26am, we still have plenty of time for the connection even if the train were to run over an hour late.
The train finally arrived into Martinez around 10:45am. That was still about 40 minutes before the scheduled departure of the California Zephyr. I was glad that I was wearing my heavy ski jacket as the weather was really cold! There can be an amazing contrast between the weather in northern and southern California. In southern California we had been experiencing a mild winter heat wave and I wasn't wearing any jacket at all while waiting for the southbound San Diegan! But, in Martinez, it was very cold.
The California Zephyr arrived a bit late at Martinez. Sam of Sam's Steel Rails West had lent me his new Sony Digital Camera which takes short video clips with sound. With that camera, I took a short video of the Amtrak California Zephyr arriving into Martinez.
Click here to view that clip now. (401k)
The Amtrak California Zephyr departed Martinez at 11:40am, about 14 minutes late. By the time we had departed from Sacramento, we were only 5 minutes late.
The Conductor was very friendly and looked concerned when he noticed the connection that I planned to make in Chicago. With the bad weather back east, he said we'd just have to wait to see if any delays developed.
The Car Attendant for this car came by and introduced himself as "Jesse". After he asked if I was familiar with the accommodations and I answered "yes", he wandered off again.
An announcement was made over the Public Address system that lunch would be by reservation only and that the steward would be going around the train to accept reservations. This was a new experience for me. Dinner is usually by reservation but lunch has always been first come first served! The Dining Car staff told me that this was an experiment to see if this works better.
I made my reservation for 12 noon figuring to get lunch done before we started to climb up into the Sierra Nevada. At my table was a couple and another man traveling alone. All were heading for the east coast and thus would remain on this train all the way to Chicago. They were a bit concerned about making their connections, but nobody had connections as close as what I was making.
1999 JAN 03 SUN 13:27
They just made an announcement over the Public Address system on the train: "Although the train is running pretty close to on-time, expect that we could lose time, lots of time, before we reach Chicago. Please keep in mind that we are the only thing moving right now. Chicago received 20 inches of snow last night and is expect to get another 6 to 8 inches of snow. The airports are referring their passengers to us since we are the only thing moving."
So, what this means for my plans of getting to Montreal, I don't know. I will still just have to play it by ear.
Below are 5 video clips of the Amtrak California Zephyr rounding curves through the Sierra Nevada. If you don't have a high-speed internet connection, you might want to just view one or two of them as they are all pretty similar (i.e., the head end of the train rounding curves through the snow in the Sierra Nevada). Clips #4 and #5 might be the best of the five.
The video clips below are of scenery from train as it winds its way through the Sierra Nevada:
The following video clips are of Donner Lake and the Donner Pass in the Sierra Nevada:
Click here for photos of this segment of the Amtrak California journey through the Sierra Nevada.
Click here for photos taken around Helper and on the way to Green River, Utah.
1999 JAN 04 MON 08:53
Well, here it is Monday and we headed out of Helper, Utah at 8:30 A.M., just 11 minutes behind schedule! They are still making announcements over the P.A. system that we could lose a lot of time before we get into Chicago due to the bad weather. When I woke up around 6 A.M. this morning, I found that the Car Attendant had slid a USA Today under my door. The top headline reads: Storm triggers travel chaos - Nation feels shock waves as winter snarls Midwest. Further reading indicates that Chicago was hit with their worst snow storm in 30 years which dumped over 22 inches of snow on Saturday. The weather forecast shows that more snow is due for Chicago and most of the midwest for both today and tomorrow!
I think the jury is still out on my Car Attendant, Jesse. He seems to do everything with perfect efficiency. There was hot coffee and juice ready at the beverage station when I boarded the train and then again when I awoke at 6 in the morning, the bathrooms have always been clean when I've gone in, he introduced himself fairly quickly after I had settled into my room and gave me a complimentary beverage coupon, and he had a newspaper at my door when I awoke this morning. So why would I not give him the highest marks as a Car Attendant?
I don't think we started out on the best foot. When he introduced himself, he did it without a smile. It was just a curt: "I'm your Car Attendant, Jesse." After he asked: "Are you familiar with the room?" and I answered: "Yes, I've done quite a bit of Amtrak travel," he seemed to have just grunted and walked away. Maybe that was just my perception. Later I noticed that there was a stack on schedules and other California Zephyr information on the downstairs luggage rack. I took a couple of each myself. Usually the Car Attendant is expected to distribute these to each room. The other problem was our odd interaction about getting the bed ready at night. About 7 P.M. I saw Jesse setting up the bed in the room next to mine. I asked him if he could please set up my bed while I was away at my reservation in the Dining Car, sometime after 8 P.M. He asked me what time it was now and I told him it was 7:03 P.M. Then he mumbled about needing to do something with the sheets before then. Trying to cooperate, I said that he could do my bed now or anytime that would be convenient if he wanted to do it before 8 P.M. He didn't reply at all, so I wasn't sure what he was planning to do!
When I returned from Dinner, I did find that my bed was all made. I had taken away my videocamera and computer. All that remained on the seat was my backpack and carrying bag. I was curious what he would do with them when he made the bed. Most Car Attendants will just completely make the bed and set the bags on top of the bed. Jesse had no touched the bags at all and didn't unfold that part of the mattress. I suppose that was good that he didn't want to disturb by bags.
I just saw some wildlife out the window. It looked like it could have been 4 antelope. I wasn't able to get my still camera out fast enough to get a photograph. However, I do have my videocamera running and it might have captured them on tape. I started the videocamera running when I boarded the train in Martinez. It has been recording the entire time except when the light level got so low at night that even the 0 LUX feature of the camera didn't help. Thus, I now have a video recording of the entire journey through the Sierra Nevada and hope to do the same today for the journey through the Rocky Mountains. I'm powering the camera off the AC outlet in the room and this time am using a surge protector. I'm not sure what happened on my trip on the Sunset Limited, but somehow the entire innards of the videocamera got fried. Fortunately it was under warranty, but it came back from repair with a comment that they had to replace just about every circuit! I've used my videocamera and notebook computer on many trips and never had a problem with the AC power on the train before.
1999 JAN 04 MON 10:18
The train is quite full, but that is to be expected for being right after the holidays. Many people are heading home after visiting friends and relatives. There were some passengers in coach that wanted to upgrade to the Sleeping Car. They had Standard (Economy) Room 2 and Deluxe Room D in this car (0632) open, but that was from a couple of "no shows". The Conductor wanted to leave them vacant for a couple of stops just in case the "no shows" showed up down the line. I don't know if someone moved into Room D, but Room 2 is still empty. Evidently the Car Attendant was having problems with the sliding door which was off the tracks. I assume they didn't want to place anyone in there with a broken door.
I took a walk though the coach cars and they all seemed to be quite full except for the last one with loading number 0613. That car appeared to be totally empty. I don't know if they were holding that aside for somewhere down the line where they expect a lot more coach passengers to board, such as Salt Lake City or Denver. I checked that car before we arrived at those cities.
I decided to skip breakfast this morning after having had both lunch and dinner on the train yesterday. For lunch I had a barbecued breast of chicken sandwich along with a bowl of minestrone soup. I also ate about half of a turtle pie for desert. For dinner I had the chicken Kiev served with rice and corn along with a salad and roll. I had been looking forward to a hot apple pie for desert, but the kitchen didn't get the supplies they had expected. Thus, all they had was the turtle pie again. Unfortunately I gave in and ate the entire slice this time! I guess I was disappointed from not being able to just have a slice of apple pie. In any case, all of the food served onboard was good. I have had chicken Kiev on the train before that was not prepared very well. This time it was prepared quite well. I still think it is the chef that makes all the difference. Most Amtrak trains get the same food supplies. Some Amtrak chefs cook up an excellent meal while others make meals out of the same supplies that are barely edible! The Dining Car staff has also been very friendly and helpful on this journey. They have gone well beyond "service with a smile."
Yesterday we had a guide onboard from the California State Railroad Museum who gave a running dialog about the history and sights along the rail route from Sacramento to Reno. I think they have a volunteer from this museum on every California Zephyr train. They get off in Reno and then board the eastbound Zephyr to narrate for that train. Today, one of the Car Attendants will be pointing out the sights on our trip through the Rocky Mountains. I think he said his name was Kurt Katz.
1999 JAN 04 MON 14:03
I was hoping to have the vegetarian plate for lunch. Yesterday the vegetarian lunch was pasta in a cream sauce. I wish I had ordered it. The barbecue chicken sandwich was fine, but I think I would have like the pasta better. No luck today. They changed the vegetarian dinner to be a baked potato stuffed with grilled vegetables. That sounded good, but if not made right, can taste like a bunch of raw vegetables sitting on top of a cooked potato. I decided not to risk it and just went for a cheeseburger. I think I blew that decision again. Someone else at my table had the baked potato and it looked pretty good! The cheeseburger was pretty good too. I had a bowl of vegetable soup to go along with the cheeseburger. There were no salads for lunch today. Evidently the lettuce had gone limp and they threw it out. They server said that the kitchen expected to get some fresh lettuce before dinner time.
Click here for photos taken between Grand Junction and Dotsero, Colorado.
Today has been a busy day looking out the window. I usually get quite a bit of work done on the train, but that will have to wait until this evening and other days this week. This is probably the most scenic day of the entire rail journey and I wanted to take as many photos, video clips, and monitored the continuous videocamera recording as much as possible. Those functions will not be as essential on the other parts of this rail journey as they are today.
The following video clips were taken as we went through the Rocky Mountains and canyons:
1999 JAN 04 MON 16:18
A good reason to bring a railroad radio scanner along: Sometimes the engineer will announce when he sees wildlife and which side of the train it is on. Since he is at the head of the train, he sees it before anyone else. By the time the onboard crew chief can announce the wildlife spotting over the P.A., it is usually too late. Below you can see the photo I took of a herd of elk. This photo isn't as clear as I would have liked, but I only got one chance at the herd before the train curved out of view.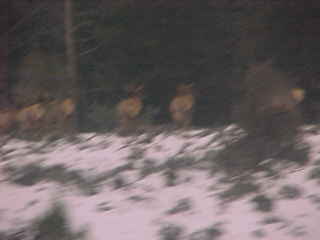 1999 JAN 05 TUE 08:52
I got up around 6 A.M. and had breakfast. With the bad weather in Chicago and the expected delays, I don't know when, where or whether I might be having supper this evening. Breakfast and lunch might be the only meals offered to me today so I figure I better eat while food is available!
At Omaha, Nebraska, I stepped off the train. Ed from radio station WOW (590AM County 94.1FM) met me at the platform. Sorry, Ed, but I seem to have lost your e-mail that contained your last name! If you don't mind me posting it here, just e-mail it to me and I'll post it here! Ed has read most of the books that I've recommended about rail travel. We just talked a bit about Amtrak travel and about how this trip was going so far. Ed gave me a copy of a cassette of train music that he had compiled for the station. Thanks Ed!
We left Omaha, Nebraska at 7:59 A.M., just 49 minutes after the scheduled departure time of 7:10 A.M. However, we are now stuck just a few miles east of Omaha before the Creston, Iowa stop waiting for the 9 hour late westbound California Zephyr to past us. Evidently there is some problem with the signal ahead of us. There is a signal maintainer working on it. Either our train or the westbound California Zephyr is suppose to switch off the main track to let the other one by, but there is some problem doing that because of the signal and switch. So, here we sit and wait!
The latest story is that they tried to throw the switch by hand but it got stuck. They are now going to try to put the switch back to the original position by hand. They are hoping that maybe the act of trying to throw the switch by hand has cleaned off whatever had the automatic mechanism jammed. They are going to try to see if the Dispatcher can switch it remotely under power.
New plan: They are going to back our train into a wye that we passed just a few feet back. Then, they will let westbound California Zephyr Train #5 pass us. We will then be able to pull out of the wye and continue on our way east.
That plan worked, but we ended up at the next station, Creston, Iowa, 2 hours and 26 minutes late! We are sure shrinking down my layover time in Chicago fast!
We had to stop again at mile post 351 at another switch. I think we are waiting for another train coming the other way. There are two sets of tracks here. A maintenance of way (MOW) employee in a truck conveyed to the dispatcher that he saw no reason why we could not use these switches. I guess that is a good sign!
Click here for photos taken between Dotsero, Colorado and Burlington, Iowa.
1999 JAN 05 TUE 17:25
For the past two hours, the Conductor has been making announcements over the P.A. about missed connections. So far, there only appear to be 3 missed connections. One if for people connecting with the Texas Eagle. They are being taken off in Galesburg, Illinois and will be bused to a city to meet up with the southbound Texas Eagle. I didn't get the numbers of the other two missed connections, but they were two short-haul trains with 3 digit route numbers. Those people will be taking the California Zephyr all the way to Chicago. A bus or van will then take those people to their final destinations.
We just left Galesburg and there has not been any announcement about the Lakeshore Limited yet. The Conductor said that we will be making connections with all trains that have not yet been announced. He also said that he would let us know if this train gets any later and if there are any further announcements about missed connections. The Conductor said that we were scheduled to arrive into Chicago at 7 P.M., but that forecast was made a couple of hours ago before we encountered a couple more short delays.
They way I see it, the California Zephyr should get into Chicago about 8:10 P.M. That includes throwing out the built in slack at the end of the schedule. Hopefully they will hold the Lakeshore Limited that long and not have it leave at its scheduled departure time of 7:30 P.M. I don't believe it would be possible to send out a bus to catch up with the train and I don't think that Amtrak plans to foot the bill on an overnight bus trip for any connecting passengers. I'll just have to see what happens when I get to Chicago!
The Engineer has just notified the Conductor that this train does not have a Flashing Rear End Device (FRED). I know that the Southwest Chief just about always has one, especially when it is trailing a number of express cars. On one of my travels, we got delayed for about an hour in the Chicago yard before departure while they called a mechanical person in to get it working.
The purpose of the Flashing Rear End Device is so that the Engineer can apply the brakes from the rear of the train in case there is a block in the air hose that prevents him from applying all the brakes from the front of the train. The normal position of the brakes is to be set (locked). Air pressure is used to release the brakes. The Engineer can put the train into an emergency stop condition by "dumping" the air out of the brake system. If there is a blockage in the air system between the locomotives and the cars, then any cars behind the blockage will not have their brakes applied. This can be dangerous if the brakes cannot be applied in enough cars to counter the inertia of the train to stop it within a safe distance. The Flashing Rear End Device, by allowing the Engineer to also dump the air from the rear of the train via radio control, can effectively get the brakes to be applied in all the cars, even if there is a blockage in the air system.
The F.R.E.D. is not as essential on a passenger train as it is on a freight train. Since passenger trains are short and light compared to freight trains, braking in the locomotives alone can have quite a stopping effect on the train. It is also possible for the Conductor, or any passenger for that matter, to pull the emergency stop lever in any car which will dump the air from the brake system and put the train into an emergency stop condition. This is an option not available on freight trains (although it used to be an option when freight trains had cabooses!).
On a passenger train there are power and communication cables that run the length of the train in addition to the air brake system. I don't know if it exists, but it would be possible for the air to be dumped from all the cars of a passenger train electronically because of the communication cables. These types of cables do not exist on freight trains so that option is not even possible. That makes the F.R.E.D. critical on freight trains for safety.
A number of Amtrak trains are now starting to carry express freight using modified standard box cars at the end of the train. These box cars do not have communication cables. Hence, it can be just as important to have a F.R.E.D. at the end of a passenger train that is hauling a number of these express cars, such as the Amtrak Southwest Chief often does.
1999 JAN 05 TUE 18:20
Just 7 minutes before Princeton, Illinois! We'll be through Princeton at about 6:30 P.M. Princeton is 104 miles out of Chicago and my train, the Lakeshore Limited, is scheduled to leave at 7:30 P.M. My best guess now is that we will get into Chicago at 8:15 P.M. if we have no further delays. Assuming the Lakeshore Limited does wait for the California Zephyr passengers to arrive, I'm now looking at the Lakeshore Limited arriving into Schenectady, New York at least 45 minutes late tomorrow. There is only about 90 minutes to my connecting train in Schenectady, so I'll have to hope the Lakeshore doesn't lose much time enroute or hope that the connecting train arrives late! Without paying attention to my own rule of planning at least 6 hours of layover time between trains, one late train can really snowball through all the plans!
1999 JAN 05 TUE 22:47
Ready for the age old problem of what to tip the Car Attendant? If you've read my previous comments on the subject, you will know that I have blended recommendations from other rail travel books along with what I've seen people do in practice. I use the rule of thumb of $5 per person per day, but max out at $20 for the trip unless I've asked the Car Attendant to do something out of the ordinary (such as bring meals to the room). Since most cross country trips are 3 days, I'll usually calculate that as $15 and throw in an extra $5 to make a total of $20 as long as the Car Attendant didn't leave out anything that I thought was minimally expected. I also end up tipping at least $10 on a single day trip on the Coast Starlight and $20 on a two day trip regardless of whether I'm traveling alone or with someone as the service is usually superior on the Coast Starlight. However, once I've calculated by my rule of thumb, I will move the final amount up or down depending on my opinion of the overall service by the Car Attendant.
Having read my comments above about my Car Attendant on this trip, I was very undecided as to whether to go with a $10 or $20 tip. The final judgment was based on whether he came to offer help in taking the carryon luggage from the room down to the vestibule. Most Car Attendants will do this and this is usually when I give them their tip. This Car Attendant did not do that and this is one time I could have used the help. I wouldn't have asked him to take down everything, but with 3 bags, even taking down one would have been a great help! Thus, it wasn't difficult in the end to decide on the $10 tip.
I didn't verify the time that we arrived, but I think my prediction was pretty close. There were several more announcements about connections. For most people making connections, we arrived in time for the connections, or their connecting train was running late leaving Chicago. The most important announcement for me was the one about the Lakeshore Limited. The Lakeshore Limited was delayed and wouldn't be leaving for quite some time.
I checked in at the Metropolitan Lounge in the Chicago Station. They will always hand you a check in slip that allows you to come and go from the lounge without checking in again. They also give you a sticker for each piece of carry on luggage which has the number of your train. You place one sticker on each piece of luggage. They had me sign a clipboard next to my name that showed the train that I would be boarding. They also apologized that the train would not be leaving until sometime between midnight and 1 A.M. and immediately handed my $10 in cash to make up for the meal that I would not be getting onboard the train. I put my luggage in the room with the rest of the carry on luggage, but first pulled out my notebook computer, the power cord, and a spare battery.
The Lakeshore Limited had arrived into Chicago very late. The same crew would be taking the train out that had just brought it in. Due to some union or safety rules, they could not take the train back out until after a specified number of minimum hours had elapsed. Thus, instead of leaving at 7:30 P.M., the train was now scheduled to leave at 12:30 A.M. at the earliest! I wouldn't have minded a delay of an hour or two. I even desired it or I would have missed the connection myself, but 5 hours?
That meant that my 90 minute layover in Schenectady between trains was definitely not going to work. I had been working away on alternative plans just in case this did happen. I did find something that might just work! Basically my next rail segment would take me to Schenectady which would be the origin of two round trips: one to Montreal and one to Rutland. The problem was that the train to Montreal left too early. The train to Rutland didn't leave until 6:45 P.M. If I reversed the order of the two trips, I could make the plan still work! However, it would require some adjustment. The return train from Rutland would not get me back in time to take the train to Montreal. The only fix to this was to take a taxi from Rutland, Vermont to the nearest station of the train that goes to Montreal: Fort Edwards. It is only 44 miles from Rutland to Ft. Edwards, not an unreasonable taxi ride. The fare might be a bit expensive, but it would salvage the time and expense of this cross country rail journey to accomplish the desired goal.
Now came the hardest part: How do I change my tickets so that I make the round trip to Rutland first and then the round trip to Schenectady? I went to the Amtrak ticket counter. After looking at my tickets, the ticket agent said the change could not be made because I had some sort of discount "All Aboard" fare. I reminded the agent that the reason that I wanted to make the change was because there was no way that my train would arrive into Schenectady to make the connection. She said that I would have to wait until I arrived into Schenectady and they would take care of me there!
I'm sure you can understand why I did not want to do that. Before I attempt a swap in the two dates I'd have to make sure hotel space was available and seating was available on the trains. I didn't want to do that in the few minutes I'd have in Schenectady before the train is to leave! I had a feeling I'd run into this problem at the Amtrak Ticket Counter. Thus, I went into Plan #2. I called 1-800-USA-RAIL and just booked the tickets that I needed outright. The total came to $72 with my AAA discount. For another $17, I added Custom Class to my segment to Rutland, Vermont. That took care of the rail reservations! When I get back, I'll get a refund on the two sets of round trip tickets that I wasn't able to use due to missed connections from the weather. That should cover much of this $89 expense.
Next, I called up both the hotel in Montreal and the hotel in Rutland. Neither one gave me any problems about swapping the dates around. I even got the phone number of a local taxi company from the hotel in Rutland. I'll give them a call in the morning to reserve a taxi for Thursday morning. So, I was all set with my new plan to do the round trip to Rutland first and to Montreal second!
At least, I thought I was all set. Then, I noticed how much of an impact that 5 hour delay of the departure of the Lakeshore Limited was going to have. I didn't think there would be any chance that the delay of a train scheduled to arrive in the morning would give me a problem in boarding an early evening train. I was wrong! With the Lakeshore Limited originally scheduled to arrive into Schenectady at 11:23 A.M., the 5 hour delay would put it into Schenectady at 5:23 P.M., just 22 minutes before the departure of the train for Rutland! Now I can only hope that the Lakeshore Limited makes up some time or that the Rutland train is running late.
If I don't make the connection to the Rutland train, I will at least get to do the longer Amtrak segment that I haven't done yet: the Amtrak Adirondack to Montreal. I have traveled on that train before, but only as far as Schenectady. This trip will complete my mileage on that route. If I don't cover the tiny Amtrak segment between Ft. Edwards and Rutland on this trip, then that will be the only Amtrak mileage I haven't covered after I complete a few short routes in and out of Chicago. I might eventually be left with having to make a special trip just to cover that one tiny segment!
Click here for the travelogue of the next segment of this rail journey.
Consist:

19--- Genesis Locomotive
12--- Genesis Locomotive
1176- Baggage Car
39042 Superliner Transition Sleeper
32011 Superliner I Sleeping Car (0633)
32030 Superliner I Sleeping Car (0632)
32028 Superliner I Sleeping Car (0631)
38011 Superliner Dining Car
33006 Superliner Sightseer Lounge Car
31524 Superliner Coach Car (0610)
34097 Superliner Coach Car (0611)
34045 Superliner Coach Car (0612)
34085 Superliner Coach Car (0613)
????? Express Freight
Visit our Rail Magazine promotion trading partners:
Click here to add your print rail magazine.