Southwest Chief Travelogue
www.trainweb.com/travel/stevelog/sg980203/index.html
On this web page you will find the travelogue of my Amtrak rail travel on the Southwest Chief to get from Los Angeles to Chicago so that I can start my journey on the inaugural run of the Amtrak Texas Eagle / California Train. The frequency of posting updates will depend on the quality of cellular service along the route and finding time to upload during dwell time when communication is the most stable.
Note: You can bring up a full size photo of any image on this page by clicking on it. All photos were taken "live" while on this rail journey unless otherwise noted. "Stock photos" that have been posted from previous rail journeys are indicated in the text directly below those photos.
TUE 08:20 PM PT 02/03/98 Los Angeles CA - Ch 47 160.815 (Mission Tower)
Well, I'm on the way! There has been tremendous rain storms in California today. You know what they say: "It never rains in southern California, but when it does, it pours!" All Amtrak San Diegans that normally run north of Los Angeles are now being turned back at Los Angeles. Service on the San Diegans between San Diego and Los Angeles is running as normal, but no trains are being allowed to run north of Los Angeles. Metrolinks which operate north of Los Angels have been cancelled, and even the Amtrak Coast Starlight has been cancelled!
Steven Reynolds of TrainWeb.org/reynolds was going to take the Amtrak San Diegan from Santa Barbara down to Fullerton and join Mike Kimura to do a bit of railfaning in Fullerton. Then Steven Reynolds was going to join me on the Southwest Chief as far as Barstow. Unfortunately, he had to cancel that since there weren't any Amtrak San Diegans running from Santa Barbara south today!
Although the Southwest Chief does operate through Fullerton, I had decided to board it at its point of origin in Los Angeles. In the past I had always boarded it in Fullerton, but this time I wanted to see what the boarding was like in Los Angeles and I wanted to enjoy the bon voyage party that features Champagne, fruit, cheese, and finger sandwiches. When you board in Fullerton, they are just cleaning everything up and will often refuse service to the people that board in Fullerton.
In order to get to Los Angeles, I had decided to take the Metrolink train that starts from Riverside and runs through Fullerton at 6:22 PM. Since that train really exists just to reposition equipment, it is running counter to the rush hour traffic and is practically empty. Because of delays caused by the intense rain, this train arrived into Fullerton more than 30 minutes late. Thus, I arrived into Los Angeles at about 7:30 PM, which was still 50 minutes before the Southwest Chief was scheduled to depart.
While waiting for the boarding call, I puchased a one way ticket from Los Angeles to Fullerton to use after the Texas Eagle pulled into Los Angeles on Monday. If my some miracle, the Texas Eagle pulls into Los Angeles at 7:10 AM as scheduled, than that only gives me 10 minuts to buy my ticket to make the 7:20 AM San Diegan! I won't have to worry about that now that I have already purchased my ticket.
Just before I left the TrainWeb office today, our shipment of TrainWeb T-Shirts and TrainWeb Caps arrived. That was good considering that I have told many people that I expect to meet on the Texas Eagle that they will be able to find me by just finding the guy wearing the TrainWeb T-Shirt and Cap! I have brought along 7 of these T-Shirts and will wear them on my journey both to help publicize TrainWeb and to help people find me. Unfortunately, all the T-Shirts are identical so it will look to everyone else like I just brought one shirt for this long trip!
TUE 08:20 PM PT 02/03/98 Los Angeles CA - Ch 36 160.650
In Los Angeles, they board everyone requiring Red Cap assistance first starting as early as about an hour before departure. Mostly older people and others than have difficulty walking long distances use the Red Caps as it is a LONG walk from the waiting room to the platform. Other people that use Red Caps are those individuals or groups that have brought more luggage than they can handle! Anyone can actually use the Red Cap service. You don't have to be old, handicapped or burdened with too many bags. However, do note that a tip is expected for this service though not required. $1 per bag should be more than enough. It is a way to achieve "pre-boarding" without breaking any rules!
At about 8 PM they started the boarding for everyone else. They divided the line into 2 categories: Sleeping Car Passengers and Others. Sleeping Car Passengers were boarded through Gate F and all others through Gate D. Sleeping Car passengers were boarded first. I was the second person through the gate and headed out in the lead of everyone since I knew exactly where I was going, to Track #12 and then up the stairs or ramp on the right. I am a very fast walker. Thus, I was surprised to find an elderly gentleman right at my heals as I looked behind me while walking up the ramp! Though, I'm not sure why I should be surprised. My mom, who I probably got my fast walking from, can outpace me and she is 86 years old!
The Car Attendants arrived just moments after we got to the Sleeping Cars, but well ahead of everyone else. I handed him my ticket and he ripped it out. Although taking tickets is the job of the Conductor, Car Attendants will often do it on trains that run at late hours so that passengers can go right to bed without having to stay awake until the Conductor comes to take their ticket. When he saw I was in Room 2, he said: "Ah! Right next to my room!" I said: "Yes, right next to the coffee!" Then he mentioned that I obviously knew my way around the car. Later he asked me if I might want to move because there were empty rooms and Room 2 is right next to the bathroom and refreshment area which tends to be noisier than other rooms. I told him that I didn't mind that. I often get Room 2 since I book my reservations so far in advance and they start with the lowest room number first. Since Room 1 is assigned to the Car Attendant, Room 2 is the lowest room number to be assigned to passengers.
I can tell already that this is going to be a great trip! The coffee and juice were all set up when I went upstairs (and coffee was available until well after midnight). There was juice, cups, and everything else readily available, and since this is a Superliner II Sleeping Car, plenty of ice!
Ralph, my Car Attendant dropped in to make sure everything was O.K. Then Bernadet Cole, the Chief of Onboard Services, dropped in to wish me a wonderful journey. Ralph, announced that we have onboard one of the best Amtrak chefs who has one many internal contests with his culinary skills. The items being served in the Dining Car at the bon voyage party were delicious and I certainly enjoyed the Champagne and 2 refills! Glynn Scott, the server, told me that I could take a bottle back to my room with me if I wished, but I thanked him and declined. I want to get something accomplished on this trip! I sat and ate with that same man that had kept up with my fast pace up the ramps. He was returning back to Kansas City after having visited a relative in Los Angeles. As with most people I have met that puposely select rail as their mode of travel, he really enjoys traveling by rail! Bernadet stopped by again and asked each of us how we were doing!
TUE 09:36 PM PT 02/03/98 Fullerton CA - Ch 36 160.650
I had printed up 80 copies of information about the Amtrak Historical Society including registration forms that I wanted to bring with me on the Texas Eagle, but forgot to bring them along! Using my cellular phone from Los Angeles Union Station, I called up Ray Burns who works with me at the TrainWeb office. He was planning on meeting me along with Mike Kimura when the Southwest Chief pulled into Fullerton. I asked him to get those forms off my desk and hand them to me as I passed through the station. That worked like clockwork! Ray and Mike were right at the door as the Car Attendant opened the door. Ray handed me the package and I was all set! There was no problem with time as the Southwest Chief always takes at least 5 minutes to load passengers in Fullerton. Fullerton is where all the passengers from San Diego and Orange county board the Southwest Chief, including many that are transferring from the northbound Amtrak San Diegan. There are usually a few dozen passengers that board at this station.
------------------------ Riverside CA - Ch 72 161.190
TUE 10:35 PM PT 02/03/98 San Bernardino CA - Ch 72 161.190
I went downstairs to the vestibule as the train started to make its way across the fly-over in the San Bernardino yard. I didn't know if our Car Attendant would be opening the door, but I wanted to be there just in case. If nobody is getting on or off your car at a station, the Car Attendant often will not open the door to your car, especially in the middle of the night. If you have a nice Car Attendant and they see you standing there, they might open it, or at least open the window if there isn't time to step off the train.
While I was standing there, my Car Attendant came downstairs to take care of one of the rooms. When he saw me standing there, he came over and opened the door for me to step off. He asked me if I also had friends waiting to great me in San Bernardino and might have friends at every stop! I do think he was joking, but I explained to him that TrainWeb is actually located right in the Fullerton Depot and gave him one of my cards. The air was clean and cool outside and it felt great to step outside even though there was a light drizzle.
We had one passenger get on in the #31 Sleeping Car that wasn't expected. Actually, he was ticketed to get on in Los Angeles. If you don't get on where expected and don't call well inadvance to notify Amtrak of you change in plans, then you are regarded as a "no show". Since the Car Attendant of the #31 car wasn't expecting anyone to board his car in San Bernardino, he didn't bother to open the door. It if wasn't for the fact that I was standing in the vestibule of the #30 car wanting to step out for a breath of fresh air, the Car Attendant might not have opened the door to the #30 car either. That passenger might have gotten left behind! He had an Amtrak cap on, the kind I have seen Amtrak employees wear but have never seen for sale as a souvenier. So, that passenger is either an Amtrak employee, retiree, or found a souvenier that I have never found for sale!
While standing outside the car I noticed a tremendous amount of water pouring out from under the car, directly from under where the shower is located. While in the vestibule I had noticed from the sound that someone was taking a shower. I wondered if the shower drain just dumped directly out of the train. I know the toilets are no longer allowed to do that. I'll have to ask Vince McGraw who trains car maintenance people over at Amtrak Intercity about that. My other thought was that this was from the rain water coming down on top of the car, but it just wasn't raining that hard to produce that much water all in one spot.
I just heard that there may be a lot of buses meeting this train in Barstow from the cancelled Coast Starlight. The Conductor wanted to find out how many buses and how many passengers. The only way to do that is to call the ticket agent at the Barstow station. Evidently this Conductor didn't get issued a cell phone as he had no way to call the station. Instead, he asked if the BNSF Dispatcher would do him a favor and call the station to find our how many buses and people would be meeting the train in Barstow. The BNSF Dispatcher agreed to do that.
TUE 11:45 PM PT 02/03/98 Victorville CA - Ch 72 161.190
The Car Attendant opened the window at Victorville. It was left open for a while even after we left the station. He had to take care of something, but was back in about 10 minutes to close it. I knew better than to stick my head out, especially at night. We passed a freight while the window was open and I'm pretty sure anyone that stuck their head too far out the window would have lost it!
He said that 9 were getting on in Barstow from the Coast Starlight. I don't know if that is 9 people for the entire train, which isn't too many, or 9 just for this Sleeping Car, which would be quite a few!
WED 12:20 AM PT 02/04/98 Barstow CA - Ch 32 160.590
------------------------------------- Ch 27 160.515
------------------------------------- Ch 55 160.935
Very odd. Only two people got on at Barstow. They said they were the only ones that were on the bus. I stepped off the train for a moment and noticed that they were taking the bus away on a flatbed truck! It was a Greyhound bus. That looked very odd as the bus just barely fit on top of the flatbed. The people were very far down the platform. The Conductor had been misinformed that there were only Coach passengers getting on. Thus, both the Conductor and my Car Attendant had to help this couple carry their luggage all the way down most of the length of the train from the Coach section to the Sleeper section. The Conductor told me that there were suppose to be 6 people on the bus, but these people said they were the only ones on this bus.
As soon as the couple boarded, the wife immediately asked, almost demanded: "Do you have an empty bedroom so I don't have to sleep in the upper bed?" The way she asked it was almost as though she felt she had a right to demand an extra bedroom at no charge so that both of them could sleep in the bottom bed. Because of the cancelled connecting Coast Starlight, I think there were quite a few extra bedrooms and the Car Attendant complied with her wishes.
WED --:-- AM PT 02/04/98 Needles CA - Ch 36 160.650
WED 07:29 AM MT 02/04/98 Kingman AZ - Ch 36 160.650
------------------------------------- Ch 55 160.935
WED 10:30 AM MT 02/04/98 Flagstaff AZ - Ch 55 160.935
WED 10:36 AM MT 02/04/98 Flagstaff AZ - Ch 55 160.935
WED 11:29 AM MT 02/04/98 Winslow AZ - Ch 72 161.190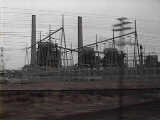 Power Station
This is a huge electric power station that generates electricity for much of the Southwest as far as California and uses 100 hopper cars of coal a day, each containing 100 tons of coal for a total of almost 4 million tons of coal a year!
WED 01:07 PM MT 02/04/98 Gallup NM - Ch 36 160.650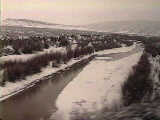 The Little Colorado River
Above is a photo of the Little Colorado River that we followed for a short while. There was snow everywhere, including on parts of the river that were frozen over.
We lost quite a bit of time during the night just as I had expected. Whenever there are "flash flood warnings", trains have to travel at 20 MPH instead of the customary 79 to 90 MPH. In worst case, that can cause the train to take 10 hours instead of 2.5 hours to cover about 200 miles through the desert! We weren't that bad off. We only lost about 2.5 hours and ended up into Flagstaff at about 10:30 AM instead of 7:50 AM.
Except for waking up for a short while at 7:30 AM around Kingman, Arizona, I slept pretty late. I didn't wake up until we arrived at Winslow, Arizona at 11:30 AM. Lunch was at Noon. I ate with 2 other guys that had boarded in Fullerton, California and were heading for a visit to the east coast. Another person that joined us at the table was from Kansas City and was returning from a month long vacation in Flagstaff. He was the person that let me know that the train didn't arrive into Flagstaff until about 10:30 AM.
The lunch menu had 3 choices: an open face roast beef sandwich, a chicken salad and a pot pie, plus a children's selection. We all decided on the open face roast beef sandwich which was excellent! It was served with mash potatoes and vegetables. Since I slept through breakfast, I was starving and managed to leave absolutely nothing behind! Susan was our server. All of the staff on this train has been very friendly and helpful and appears to be doing everything they can to please the passengers
The Conductors have been very good at keeping the passengers informed about the status of the train. In the morning they explained about the "Flash Flood Warnings" and why we had to travel so slow. Looks like we are continuing to loose time, however. The Conductor said this is another one that you can chalk up to "El Nino". Lightning struck a signal last night and took out the entire signal system for several miles. So far, we have reports from two other trains. One says they are out for 23 miles and the other said they are out for only a couple of miles. BNSF has rules that don't allow trains to go any faster than 20 MPH when the signals are not functioning, even if there is a clear view ahead for miles. We are stopping at every signal and waiting for permission from the dispatcher to proceed. Then, we travel very slow once we do proceed.
The crew is now checking on a couple of "high water bridges" up ahead. If you followed the news, a Southwest Chief derailed late in 1997 because one such bridge failed after a flash flood. These are very small bridges that are only a few feed long and usually go just a few feet over runoff areas. There isn't much of a drop from these bridges, but any weakening of the structure from high water could be enough to get the tracks out of alignment. Thus, we are still continuing on very slowly.
We just passed a Santa Fe (BNSF) maintenance of way (MOW) truck with a worker standing outside, possibly working on repairing the signal systems. My clock says that it is 3:02 PM Mountain Time. That would mean that we are at least a couple of hours behind. Checking the last hotbox detector that we passed, I think it will be at least another hour or two until we get to Albuquerque. I think we might pull into Albuquerque somewhere between 2 and 3 hours behind schedule.
Looking at the good side, the slow moving train gave me a great opportunity to get a very stable cell phone signal so that I was able to upload this travelogue update and photo!
WED 04:12 PM MT 02/04/98 Albuquerque NM - Ch 32 160.590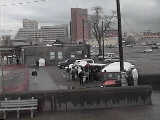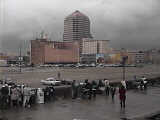 The above two photos are about everything you can see from the train and the station in Albuquerque.
In the photo on the left you can see the Albuquerque Amtrak Station. It is the small grey building. In the background you can see the tall Bank Of New Mexico building. In the foreground you can see the lunch wagon that sells New Mexico Burritos and other food items. You can also see a small school bus that is a convenience store on wheels. These both meet every Amtrak Southwest Chief as they arrive.
In the photo on the right you can see one of the tables that are set up by Native Americans to sell jewelry and other craft items. This is just one of several such tables you will find on the station platform. To the left in the photo is a bank of four pay telephones. These are the only pay telephones convenient to the platform and there is sometimes quite a line of people waiting to use these phones! You can also see the Chef from our train taking a break on the platform.
The westbound Amtrak Southwest Chief arrived into Albuquerque just a few minutes after we did and had to wait 20 minutes outside the station until our train was ready to leave.
WED 04:47 PM MT 02/04/98 Albuquerque NM - Ch 32 160.590
When the steward came around to take dinner reservations, I made mine for 5:15 PM. The first was at 5:00 PM, but I wanted to try to upload a few items while we still had good cellular services from Albuquerque. At dinner, I sat with a young mother traveling with her 3 year old daughter. We found a number of things in common that we could talk about since I often travel with my two daughters. She was heading for Buffalo, New York and was taking the train because she didn't like flying. Despite the statistics, she would have preferred to have driven over any other mode of transportation, but she did not want to drive alone with just her daughter. She was traveling in the Coach Car. I told her that she should try traveling in a Sleeping Car sometime and maybe she would then change her mind about driving for long distance travel.
I had the vegetarian lasagna for dinner along with a salad and some red wine. Both our meals were very good. The desert of hot apple pie a la mode was quite good too, but I shouldn't have eaten that much. I felt like I could have been rolled out of the diner!
WED 05:59 PM MT 02/04/98 Lamy NM - Ch 32 160.590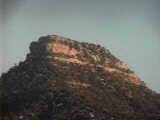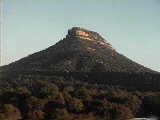 The above two photos are from my previous trip on the Southwest Chief and show Starvation Peak. In the early 19th century, this distinctive flat-topped, rock-capped mesa, became the last stand of 30 Spanish settlers who, according to legend, fought off attacking Navajos with rocks, but starved to death when the Indians surrounded the peak. Starvation Peak can be seen about 70 minutes after leaving Lamy if heading east, or 25 minutes after Las Vegas if heading west.
WED 07:31 PM MT 02/04/98 Las Vegas NM - Ch 32 160.590
I think I already mentioned that this train, which is usually difficult to book at the last minute, is not very crowded. It is missing all of the Coast Starlight passengers that would have connected with it because of the cancellation of the Coast Starlight and might also be missing just about everyone that expected to come in on a connecting train or bus from north of Los Angeles. Even so, there are quite a few occupied sleepers in this car.
Usually the luggage rack downstairs by the vestibule is full of suitcases by the time the train has come this far. Right now, the only suitcases in the rack are the two from the couple that got on from the bus in Barstow. I can't figure out why the people on this train have an unusually light load of luggage.
WED 09:15 PM MT 02/04/98 Raton NM - Ch 32 160.590
WED 10:10 PM MT 02/04/98 Trinidad CO - Ch 32 160.590
WED 11:25 PM MT 02/04/98 La Junta CO - Ch 32 160.590
THU 12:14 AM MT 02/04/98 Lamar CO - Ch 55 160.935
THU --:-- AM CT 02/04/98 Garden City KS - Ch 55 160.935
THU --:-- AM CT 02/05/98 Dodge City KS - Ch 55 160.935
THU --:-- AM CT 02/05/98 Hutchinson KS - Ch 55 160.935
THU --:-- AM CT 02/05/98 Newton KS - Ch 55 160.935
THU --:-- AM CT 02/05/98 Topeka KS - Ch 55 160.935
THU --:-- AM CT 02/05/98 Lawrence KS - Ch 55 160.935
THU 09:16 AM CT 02/05/98 Kansas City MO - Ch 30 160.560
We are now less than 2 hours behind schedule, so we must have made up some time during the night!
I had hoped to step off the train in Kansas City and stretch my legs. That would also have been a good opportunity to get the car numbers of the locomotives and express cars. But, having made up about an hour in time, I got a bit thrown off!
When I woke up, I recognized that we were on the approach to Kansas City. Looking at my clock, I wondered how that could be since we shouldn't be to Kansas City for at least another hour! By the time I got dressed and ready to head out, there wasn't enough time remaining to do much walking around. Instead, I uploaded and download my e-mail and files that needed to be updated. I had a very hard time of it. Even though my cell phone showed 100% as the reception level, it was not consistent and my connection was dropped several times. Usually I'm only able to connect at 4800 baud, but the clear connect here automatically got me connected at 7200 baud. Unfortunately, it is easier to maintain a 4800 baud cellular connection than a 7200 baud connection. I don't know how to force it to connect at a lower speed, so I was left with the frustrating experience of trying to reconnect many times before I was able to upload my files.
THU 09:45 AM CT 02/05/98 Kansas City MO - Ch 30 160.560
THU 11:53 AM CT 02/05/98 La Plata MO - Ch 30 160.560
Getting up later than I expected almost meant that I missed breakfast. So, I headed down to the first call for lunch at 12 noon! The reason I had hoped to be in time for breakfast was that I knew the menu would be the same as yesterday. Breakfast would be something different for me as I didn't eat breakfast on the train yesterday. The same 3 items were on the lunch menu again. I ordered the open face roast beef sandwich with mashed potatoes and string beans. It was delicious yesterday, so I figured I couldn't go wrong with that. Another item on the menu was a chicken salad which the other two people at my table ordered. I don't remember the third item or the child's item. The lunch today was every bit as good as yesterday, but I think I would rather have had a breakfast item today!
One person at my table was retired and did quite a bit of travel by train. He lived in Virginia and was heading home after a long vacation in Arizona. The other person at my table was a woman who originally planned to drive across the country. Hmm. This pair sounds a lot like two others I've eaten with on this trip, but they are a totally different set of people! Both were enjoying their travel. The woman was in coach but wished that she could have afforded to travel in a sleeper. The retired man was in a Standard Bedroom, but had tried to reserve a Deluxe Bedroom. Evidently, even though this train is not booked solid, the Deluxe Bedrooms are totally booked.
THU 01:00 PM CT 02/05/98 Fort Madison IA - Ch 30 160.560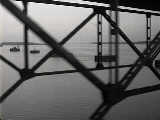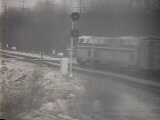 The photo on the left was taken as from my window in the Amtrak Southwest Chief as we crossed from Iowa into Illinois over the wide Mississippi River on a 3,347 foot long steel bridge. This bridge has the world's largest double-track, double-decker swing span. The bridge pivots to allow river traffic to pass!
The photo on the right was also taken from my window and shows the lead locamotive of our train passing a signal as we round a curve.
THU 01:58 PM CT 02/05/98 Galesburg IL - Ch 30 160.560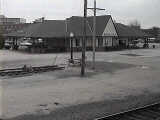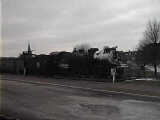 Galesburg is the birthplace of poet Carl Sandberg and hosted a Lincoln-Douglas debate in 1858. The left photo above is the Galesburg Amtrak Station. It is set quite far back away from the tracks. You can see another set of tracks that terminates closer to the station. I would assume that passengers trains used to use the tracks closer to the station before they were torn up. There is a "bus stop" type shelter right up close to the tracks with the official "Amtrak Galesburg" plackard. The photo on the right is of a four car steam train complete with locomotive and caboose that is displayed just a block north of the station.
The journey seems to be longer than my usual perception of travel on the Southwest Chief to Chicago. Perhaps it is because I often take the Southwest Chief as the very last segment of my rail journey back to California and then it seems to go by much faster than I would like!
THU 02:46 PM CT 02/05/98 Princeton IL - Ch 85 161.385
If anyone knows the road frequencies used between Fort Madison and Princeton and/or the mile posts, please let me know by sending e-mail to: steve@trainweb.com. I seem to be missing them on my radio charts. I also found several mileposts between La Plata and Fort Madison that I didn't have listed on my chart previously.
I expect that the above will be the last photos that I will take from the Southwest Chief. We are getting close enough to Chicago that I need to start to re-pack all my equipment. The only thing I will leave out to pack last is my notebook computer in case I wish to place any further comments into this travelogue before arriving into Chicago.
THU 03:05 PM CT 02/05/98 Mendota IL - Ch 66 161.100
THU 03:58 PM CT 02/05/98 Naperville IL - Ch 66 161.100
THU 05:02 PM CT 02/05/98 Chicago IL - Ch 66 161.100
The train stopped to drop off the express cars before backing into the station. My Sleeping Car ended up being just one car away from the entrance to the station building so I didn't have far to walk. Sometimes they bring the train straight into the station which places the sleepers far from the station entrance.
I'm staying at the Quality Inn Downtown. The rooms are nice and the daily rate is about $80. The taxi driver was friendly, but I could tell he was a little upset that he had to drive such a short distance. I'm sure he would now go back to the station to the end of the taxi line and hope for a longer drive next time. He did continued to talk friendly, but maybe it was the way he mentioned that I could have walked to the hotel that gave me the clue that he wasn't happy with my destination. Actually, we went several blocks from the station to the hotel. I could certainly walk it in under 15 minutes. However, the last time I tried a hike that long a distance with my luggage with wheels, I made it fine but my luggage wheels self-destructed! I think those are made for rugs and hard floors found in airports, not for sidewalks and streets!
The fare came to $2.60, but I let him keep the change from a $5 bill. That should help compensate some for having to go back and wait at the end of the taxi line in the station. He seemed happy with it!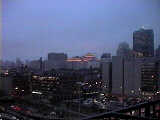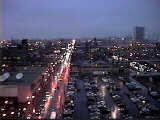 The Quality Inn Downtown is the same place that I stayed in during the Chicago layover on my last rail trip in January. The view from the room was the same. Above you can see two evening photos that I took from my balcony on my last stay at this hotel.
Well, that is the end of this travelogue! If you find errors in this travelogue, please feel free to e-mail your corrections to me at: steve@trainweb.com. I have quite a backlog of corrections to previous travelogues, but I do eventually get around to making the updates. So, if you don't hear back from me right away, that doesn't mean I don't appreciate your feedback. Be patient and I'll eventually get a response back to you and get those corrections posted!
Follow Up:
A few corrections were brought to my attention by David Curlee right after I finished posting this travelogue on Thursday, February 5. First, he mentioned that Amtrak trains do not use the fly-over in San Bernardino. I was aware that Metrolink trains did use this fly-over and just assumed that we were going to do the same as I saw us approaching it. At that time I went downstairs to prepare to step out at the station and did not see how we actually did get to the station. Also, David mentioned that the Coast Starlight no longer connects with the Southwest Chief. I actually knew that, but it didn't occur to me until the next day that this was the case. I was thrown off because the Conductor really did say and assume the bus meeting the train in Barstow would be from passengers on the Coast Starlight. I have to assume that those two trains did have a connection for so long and a bus connection was made for late arrivals, that he was just used to assuming such passengers were from the Coast Starlight. That answers another item that I thought was odd. I had never seen Amtrak use Greyhound to carry passengers from a late train and it was a Greyhound bus that met the train. On the other hand, Barstow is a regular Greyhound stop and these passengers were probably just regular Greyhound passengers coming to the train station. He also mentioned that Barstow does not have a ticket agent. That probably accounts for why the Conductor and Dispatcher had such a hard time trying to reach the Barstow Ticket Agent to find out how many people were coming off the bus! Even back when the Coast Starlight used to connect with the Southwest Chief, these passengers were usually bussed to San Bernardino which does have an agent. That is probably what caused some of the confusion.
General Information:

My Name: Steve Grande
My Car Number: 0430
My Seat/Accommodation: Standard Bedroom 2
Train Route: Southwest Chief
Train Number: 4
Direction: Northeast from Los Angeles to Chicago
Onboard Crew:

0430 Car Attendant: Ralph Carrington
Dining Car Steward: Edwin
Dining Car Server: Glynn Scott
Dining Car Server: Susan
Cafe Car Attendant: Eduardo
Chief of Onboard Services: Bernadet Cole
Consist (car numbers):
You will probably have to modify the number of cars and the Amtrak assigned numbers listed below. The list below is just a guess.

Lead locomotive:
Locomotive #2:
Baggage Car:
Superliner Coach #3 (0412):
Superliner Coach #2 (0411):
Superliner Coach #1 (0410): 31517
Sightseer Lounge Car: 33048
Superliner Dining Car: 38059
Superliner Sleeping Car #1 (0430): 32080 Idaho
Superliner Sleeping Car #2 (0431): 32070 Alabama
Express Cars:
Visit our Rail Magazine promotion trading partners:
Click here to add your print rail magazine.