Steve's Winter 1998 Amtrak Travel
January 3 - 10, 1998
http://trainweb.com/travel/stevelog/sg980103/sg980103e.html
This is the travelogue of the segment of my round trip rail travel from New York City to St. Albans, Vermont, on the Amtrak Vermonter.
Vermonter - Train #56
The baggage car of the Vermonter
The Windsor Locks Canal Company
Friday, January 9, 1998, 3:01PM, Springfield,MA
What an adventure! Last night I decided to try to go up on the Vermonter instead of the Adirondack to Montreal. The computer showed that the Vermonter did run yesterday in both directions, so I crossed my fingers and hoped it would do so today. The computer showed that the Adirondack was sold out in both directions for today and yesterday, but on the Internet Reservation System, "Sold Out" doesn't always mean "Sold Out." I have found that anytime seats are unavailable, the train is listed as "Sold Out." Also, if you try to book too far in advance, such as a year in advance, and those trains have not yet been listed in the online reservation system, they can also come back as "Sold Out." You might sometimes find Thruway Buses as being listed as "Sold Out" months in advance. That doesn't really mean they are sold out either. Buses don't seem to be entered into the reservation system as early as train and thus will be shown as "Sold Out" even when there aren't any reservations for them at all yet. Just keep in mind that "Sold Out" can sometimes mean "Unavailable" for some other reason. Check with 1-800-USA-RAIL if you have questions about the availability of a particular bus or train that doesn't seem likely should be sold out.
Anyway, I'm pretty sure the reason the Adirondack was listed as "Sold Out" for yesterday and today, and even the Thruway Bus between Montreal and St. Albans was listed as "Sold Out" for yesterday, is because of the ice storm and state of emergency in Montreal. However, as of last night the Vermonter and the Thruway Bus were listed as available for today, and the Adirondack was listed as available for the return journey for tomorrow. I made those reservations at http://reservations.amtrak.com and then went across the street to Penn Station and picked them up at an automatic ticket machine. Thus, I was holdling in my hands Amtrak tickets for a trip up to Montreal via the Vermonter and Thruway Bus, and a return back the following day on the Adirondack!
In the morning, I got on the internet again and went to http://reservations.amtrak.com to make sure that all trains were still scheduled to run today. I then used the "Train Arrival" feature to find that the Vermonter had left Washington, DC on-time in the morning and was still running on-time. To make double sure of what was going on, I went to the live webcam that shows the Departures/Arrivals in Philadelphia 30th Street Station and found that the Vermonter was listed on the board and expected to leave right on schedule! To see the Departures/Arrivals board in the Philadelphia 30th Street Station yourself, go to the web page at http://trainweb.com/webcams.html and select that item from the list.
I checked out of Hotel Pennsylvania a day early and went across the street and down into Penn Station. I looked at all the Departure and Arrival screens and the status on everything looked fine on them. I then checked the main Departure board and the Vermonter was listed to depart on time. I then went to one of the food places in the station and purchased a muffin and some coffee. I find it more pleasant waiting there than in the designated waiting area. As a side note, there is a great assortment of Amtrak, New Jersey Transit and Long Island Railroad schedules in the Amtrak waiting area and at the information booth that is right next to the waiting area. If you need to get an Amtrak National Timetable, Northeast Timetable, or Amtrak Vacation Planner, you can get them from the Amtrak Information Booth.
The Vermonter was scheduled to arrive into New York at 10:55 AM, but not scheduled to leave until 11:20 AM. I left the eating place at 11 AM and went to look at the Arrival display screen. It showed that the Vermonter had already arrived and was on Track (Gate) 10. Thus, I knew it would be boarding at Gate 10, even though the Departure screen did not show a gate for that train yet. I stood by the top of the stairs at Gate 10 and waited for the announcement.
The announcement came at 11:10 AM and it wasn't what I wanted to hear. The train would be going to St. Albans, Vermont, but there would be no bus service from St. Albans to Montreal! I stood at the top of the stairs while others went down to board the train. I had to make a last minute decision about whether to go or not! Well, I figured this train was going to make the entire run of the Vermonter to St. Albans. If I took the train, I'd finish another segment of Amtrak rail travel. I don't count the ThruWay Buses in my quest to travel all of the Amtrak miles. Thus, I wouldn't be missing out on any part of the Vermonter rail travel by not taking the bus on to Montreal. I decided to board the train and headed down the stairs!
I had a Custom Class ticket and found it to be at the very end of the train. There are only 18 seats in Custom Class. The rest of the car is the Cafe Car and that part of the car is seperated from Custom Class by a curtain. Actually, they are using a Club Class Car for Custom Class, so this is a really nice Custom Class! There are two seats on one side of the aisle and just one seat on the other. There are only 6 rows in Custom Class. Free non-alcoholic beverages and newspapers are provided. There is plenty of leg room, the fold down tray tables are extra big, and the seats are large and plush with big arm rests.
I waited until noon my time (Eastern Time) and then called Slotsy Tours & Travel when they opened at 9 AM Pacific Time. I told them about my change of plans. They booked a room at the Comfort Inn on Fairfax Street in St. Albans, Vermont, just one and a half miles from the station, for $63 for the night. In case you ever plan to go to St. Albans, Vermont, the phone number of that hotel is 802-524-3300, but I'd recommend that you just have Slotsy Tours & Travel book your whole trip: Amtrak, hotels, air, car rentals and all!
Slotsy Tours & Travel also booked another reservation for me at Hotel Penn for tomorrow night and moved my New York to Los Angeles flight to the same time on the next day. Another reason you should consider using Slotsy Tours & Travel is because of their experience and understanding of how travel plans can change right in the middle due to circumstances that can affect Amtrak travel. They won't be surprised about your circumstances and will be able to find accommodations for you near a station when necessary. Where most other travel agents wouldn't have a clue about what to do, they can help you figure out alternative Amtrak routes and plans, if that should become necessary.
In Springfield, an announcement was made that everyone going to Montreal should go up to the first car. I thought that everyone on the train already knew this train was not going on to Montreal, so I wasn't sure why anyone with that destination would be on the train. But, since I thought they might be announcing something about transportation to Montreal, I went up to listen. Evidently there were about a dozen people on the train that expected to go on to Montreal! Some said that the ticket agents where they boarded the train told them that everything was operational, or they hadn't heard anything about a cancellation. I don't know what announcents had been made on the train prior to New York City, but I know that a clear announcement about the cancelled Thruway Bus Service had been made in Penn Station in New York!
I was really glad that I had thought of making that hotel reservation at 9 AM! The Conductor said that all the hotels in St. Albans and in Burlington, Vermont, were booked solid! I called my hotel to check on the status of my reservation. I explained to them that I was on the train and might get there late, depending on what time the train arrived. Since I used a credit card guarantee, they said that my room would be waiting for me when I got there! I asked if they had any more rooms and they said that they were booked solid! They also explained that Amtrak had just called to see if they had any vacancy and they had to explain that they did not. So, the Conductor was right this time, and I was real glad I thought of making that reservation earlier!
There was a person in the front car explaining all about the situation to the people who had planned to go on to Montreal. He wasn't the Conductor. I'm not sure who he was, other than I'm pretty sure he was an Amtrak employee. He explained that the border was closed to normal traffic because of the emergeny situation. He explained that the roads were covered with ice, that power was out in most places, and said that Amtrak had called all the hotesl and found they were all full, even 25 miles south of St. Albans to Burlington, Vermont! Evidently, people that flew into the area were also being turned back at the border and the airlines were filling up all the hotels with those passengers!
The person recommended that everyone that had expected to go to Montreal either get off here and take a train back to where they started or book a hotel right here in Springfield and wait until transportation was available all the way through to Montreal. Either way, he said there would be no charge. Passengers who stayed here for northbound transportation could just use their ticket stubs to board that train. Passengers who wanted to return to where they started could do so free of charge and then get a refund on their ticket. The person also explained that the ice storm and weather emergency was not created by Amtrak and Amtrak would not be paying to put people up in hotels. Amtrak would be glad to take people back to where they started and give them a refund, but would not pay for overnight accommodations. He also said that it was made clear ealier in the day that bus service was not available. Several people objected to that statement, but many of those were French Canadians and other foreign visitors that had limited understanding of English.
Almost all the Montreal bound passengers got off in Springfield. Amtrak helped them locate a hotel. We got delayed about 15 minutes or so while their baggage was removed from the train, including from the baggage car.
Palmer, MA between Springfield and Amherst (not a station)
The train does an odd thing at this point. It leaves an east-west railroad to go onto a north-south railroad. In order to do that, it has to change direction. I had noticed that from New York City to New Haven, Conneticut, we had an electric engine. In New Haven, they took that engine off and put on a regular diesel locomotive. That was at the front of the train. But then they also brought in a another diesel locomtive and put that at the tail of the train!
Now I see why! In Palmer, they shut down the train, the engineer walks through the train to the other end, and they powered it back up. The diesel at the end of the train has now become the lead of the train! The Conductor announced that we will be going backwards for the rest of the way and that is normal for this train. He explained that anyone that feels uncomfortable going this way can move forward in their car and will find other seats that face the other way. This is not true in Custom Class as the seats all face the same way. I don't mind that. I usually sit facing backwards when I am in a private room in the sleeping car.
Friday, January 9, 1998, 5:10PM, Brattleboro, VT
Friday, January 9, 1998, 5:40PM, Bellows Falls, VT
We are still running 15 minutes late. I guess they have this schedule pretty tight, making it difficult to make up any of the time that was lost in Springfield.
Strangest restroom I have ever encountered on an Amtrak train! It is at the other end of this car, in the Cafe section. However, it is marked that it is for Custom Class passengers only. It is one of those lare restrooms like they have for handicapped, though I think a handicapped person might have a problem maneuvering onto the toilet seat. That is usually not the case on other Amtrak trains. There is usually at least one toilet in each car for people in wheelchairs. Actually, I'm pretty sure by the position of the sink and toilet, the designers really expected people only to sit while using this toilet on the train! I can usally guess at where to find everything that I need in a train, especially in the restroom. The only thing you have to watch out for is using common sense to locate the "Flush" button will usually send you right to the "Call Attendant" button! In this restroom, however, common sense doesn't do you any good at all! My first challenge was trying to figure out how to lock the door. There was a latch that didn't seem to stick. A big sign said "Lock On Left, Push to Lock, Pull to Unlock." I tried pushing the latch to the left, but to no avail. This didn't seem right. Then, I noticed an arrow on that sign actually pointing to the left. The button to lock the door was actually this great big handle opposite from the side that the door opens! Once I realized that, it was easy to lock and unlock the door. It wasn't obvious because the door is really huge and both the sign and the handle are on the opposite side of the door away from the handle! Next challenge was trying to find the paper towels. I looked in the obviouse places, but could find none. There had to be a dispenser somewhere! Then, I saw it. A great big sign on the mirror indicating that the paper towels were up and under the mirror directly above the seat. Sure enough! Obviously they had to add these huge signs telling people how to lock the door and how to find the paper towels because common sense would not lead you to where to find these items!
I'm not sure, but I think we just went through Windsor-Mt.Ascutney,VT without even stopping. It must be my imagination. The Conductor announced, after we passed it, that we had just left Windsor.
Friday, January 9, 1998, 7:11PM, Randolf, VT
Very strange, but the horn on this train sounds very much like the whistle on a steam train! I've not been around steam trains that much, but when I was a kid, I used to have a lionel train set with a model steam engine. The horn on this train sounds like the whistle on the model steam train, only a lot bigger! These look like the same engines as on the San Diegans, but the horn sure sounds different!
Looks like we made up some time and are only about 4 minutes behind schedule.
Friday, January 9, 1998, 9:10PM, St. Albans, VT
There were only 5 passengers remaining on the train with me being the only person in Custom Class, when the train arrived in St. Albans. That isn't surprising considering that everyone that had planned to take this train to Montreal either never boarded it, or they got off in Springfield to wait for the next train that would have a bus connection to Montreal.
I went inside the station. It had a nice little waiting room that was kept warm. There is a soda machine in the room and an assortment of Amtrak literature. The only schedules out on the shelves were for the Lake Shore Limited. In all my travels, I have observed that Amtrak station often don't have schedules for the trains that serve that station but will often have plenty for some train that does not go to that station. That does make logical sense. If someone wants a schedule, they will most likely want one for the train they will be taking! Thus, those run out quickly. Schedules for trains that don't go to that station will be in low demand and you can expect a small supply to last a very long time!
I asked the agent in the station if he could still issue tickets or if I should wait for morning. He said he could issue me one right now. So, I purchased a ticket for the journey from St. Albans, Vermont, back to New York City, Custom Class, for tomorrow morning. The railfare was $50.50, the Custom Class surcharge was $26, for a total of $76l.50, including the AAA discount. If you want to take the full length of the Vermonter, you might want to start in Washington, DC where it begins its northbound journey at 7:30 AM.
Best I could guess, this was the evening agent that is just here for a few hours to meet the arriving train each evening. The regular agent that runs the station seems to be the morning agent who arrives at 6 AM and sees the train off at 8 AM. I saw they had Vermonter hats and T-Shirts for sale. The evening agent wasn't sure where they were kept. I told him that wasn't a problem. I'd be down in the morning early and would see if I could buy those items from the morning agent.
Friday, January 9, 1998, 10:00PM, St. Albans, VT
Comfort Inn & Suites, 167 Fairfax Road (Route 104) Exit 19 from I-89, St. Albans, Vermont 05478, 802-524-3300 or 800-228-5150.
I really like this hotel! The hotels in smaller towns always seem to give you far more for your money than the older (and sometimes even newer) hotel in big cities. The cost of this room is far less than the room in the Hotel Pennsylvania, but it is easily twice the size of the Hotel Pennsylvania room! There are two big queen beds. They also have a TV that gets a lot of channels, but most importantly a 24 hour weather channel and 24 hour news channel. Hotel Pennsylvania only gets a few channels and no 24 hour news or weather channels at all! Local calls are free and they have a phone outlet right next to the table along with an AC outlet, making it very convenient to use your computer in the room.
I'm actually looking forward to completing my quest to cover all the Amtrak routes (and then the VIA routes in Canada). I prefer small towns to big cities. Once I've covered all the rail miles, I can design trips where I can spend evenings in small towns instead of needing to be near the stations at major connection points. I'm looking forward to visiting a lot of small towns along the Amtrak routes that are like St. Albans, Vermont.
If you visit here, there is a taxi that meets the train, probably more than one depending on how many people usually get off the train on that day in that season. The entire Amtrak crew also stays at this hotel. It takes two cabs to get all of the crew over to the hotel, which doesn't take long since the hotel is only about a mile from the station. The taxi took three crew members to the hotel, then came back in about 20 minutes to pick up the only 3 passengers that needed a cab, which included me. We were all going to the Comfort Inn also! The cab was then going to come back to the station again to pick up the last of the crew members that would be staying at this hotel. I think the last crew included the Engineer and a Conductor, but they weren't ready to leave yet as they were still "puting the train away."
I found out that the crew comes back to the station on a taxi at 7 AM. I want to look around the area a bit and maybe take some video, so that is a bit late for me. I'd like to be down at the station by 7 AM at the latest. The taxi place, Smith Taxi (802-527-0161) doesn't open until 6 AM, so I will call them at that time and see if they can get a cab over here earlier. The fare is only $2.50 between the hotel and the station because it is so close.
If you need to rent a car when you visit this place, I found this information in the room: "Low Cost Car Rentals, Free Local Deliver, Low Milage Cars, Train Station Drop, Office Hours: 8 - 7 Monday, Wednesday, Friday, 9 - 3 Saturday, 800-286-2189, 802-524-2189, North Main Street, St. Albans, Vermont." I'm always having difficulty finding car rental places near train stations that are open at the hours that the train arrives or leaves, so the "Train Station Drop" caught my attention. I'm sure that means you can just drop the car off at the station when you go to the station to catch your train. There is a place that does that in Flagstaff, Arizona, also. But, I think you can't pick up the car when the train arrives at 9:10 PM. You probably have to get your car the next day, but it does sound like they will deliver the rental car to your hotel for free!
Continuing to listen to the Weather Channel, http://weather.com, they are saying that the ice storm that hit Montreal was the worst they have ever had. They are showing video from both Montreal and from northern Vermont. The biggest problem seems to be the tremendous amount of ice on the tree branches. Those branches then break, even some branches that are over 30 inches thick! If there are power lines under the trees, then those get cut. If there are roads under the trees, those branches become a hazzard and can sometimes completely block roads. Branches that big aren't something you can just get out of your car and move out of the way by yourself! Plus, there is always the danger that one of those branches could fall on your car as you are going under them. A state of emergency has been declared in both Montreal, the area around it, and in northern Vermont. That is where I am, about as far north as you can get in Vermont! I haven't seen much of it yet as it is still dark out. I'll get a better first hand view of things tomorrow. I think those people waiting for the next train that will have a connecting bus to Montreal might be waiting a while!
Saturday, January 10, 1998, 07:53AM, St. Albans, VT
A company south of the station platform.
The Vermonter waiting for departure in the cold morning air.
The Vermonter is one of the Amtrak NortheastDirect Service trains.
St. Albans Amtrak Station side view.
St. Albans Amtrak Station - track side view.
The Vermonter uses a "Club" car for their "Custom Class" service which makes it really nice!
Just 18 comfy roomy seats in the Vermonter "Custom Class!"
Well, here I am, back on the Vermonter again! I got up at 5:30 AM and was ready to leave the hotel by 6 AM. I called the taxi and they sent one right over. I had just enough time to check-out, and pick up a cup of coffee and donut at the complimentary continental breakfast. Although the hotel told me last night that the continental breakfast would be available by 7 AM, everything was all set up by the time I came down at 6:05 AM!
The taxi got me down to the station pretty quickly. I went in and purchased a Vermonter Cap and T-Shirt. The T-Shirt was a Medium and the last one. The Ticket Agent said they sell thousands of them every year. He wasn't surprised when I told him that the Cafe Car was out of these items.
I left my luggage in the waiting room and walked down the cold icy platform a bit. The platform had been well shoveled and sanded, but I think much of it was just hard ground, maybe frozen mud. The center of town appears to be just one block from the station. I saw an open bakery a block down from the platform and walked over to it. I had to zip up my jacket tight as the air was pretty cold and there was a slight breeze. But, the air was very clean and refreshing!
I purchased a local newspaper for 50 cents from the rack. The headline read: "STATE OF EMERGENCY - National Guard attacks ice-storm damage." Almost the entire newspaper was filled with nothing but coverage of the ice-storm. It was amazing in that the only way this had affected me personally was to disrupt my rail travel plans. Many people were without electricity, heat and telephone service. Most roads were closed and there was a ban on driving in many areas. People were warned to stay in doors and to not let their kids play outside because of the danger of falling branches and ice. Emergency repairs crews could not work through the night because of the danger of falling branches.
Somehow, I've managed to be in a narrow corridor where there is electricity and heat and which is clear of falling branches. Well, I guess that actually makes a lot of sense. Evidently, the path of the Adirondack was not clear of the effects from this storm and that is why it didn't run. Thus, I was kept out of the affects of the storm because Amtrak wasn't runing into areas affected by the storm!
Don't quote me on this as I might not have gotten this story exactly right. If I understood what was told to me correctly, the father of the St. Albans Ticket Agent used to own the taxi company, but he sold it to someone else. However, he still works for the taxi company and continues to take the Amtrak crew to the hotel at night and bring them back in the morning.
The St. Albans Amtrak Station is a small two story building, but would be the envy of many Amtrak stops along the system. The upstairs is vacant at this time, but used to be rented out to the JC's.
There are 4 passengers onboard so far as we depart St. Albans. They must have turned the train around before bringing it out. Last night my seat was facing the reverse direction of travel. I'm sitting in the exact same seat again, and I am still sitting in the reverse direction of travel!
Saturday, January 10, 1998, 08:30AM, Burlington-Essex Jct, VT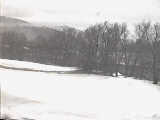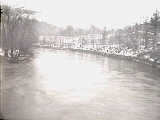 A lot of snow, rivers and mountains on much of this route!
Saturday, January 10, 1998, 08:58AM, Waterbury-Stowe, VT
Saturday, January 10, 1998, 09:12AM, Montpelier-Barre, VT
Saturday, January 10, 1998, 09:47AM, Randolph, VT
Saturday, January 10, 1998, 10:35AM, White River Junction, VT
Saturday, January 10, 1998, 10:59AM, Windsor-Mt. Ascutney, VT
Saturday, January 10, 1998, 11:10AM, Claremont, NH
Saturday, January 10, 1998, 11:32AM, Bellows Falls, VT
Saturday, January 10, 1998, 12:05PM, Brattleboro, VT
Saturday, January 10, 1998, 12:53PM, Amherst, MA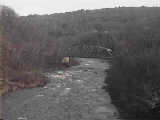 Figured out my problem yesterday with the lack of room in the larger restroom. The sink is a folding sink! When folded up out of the way, there is plenty of room. Another weird item is that when I returned from the restroom, my notebook computer had fallen off the seatback table and into my seat! Strange that it didn't fall down while I had been sitting in my seat. I never had to keep pushing it back onto the center of the table to keep it from falling off, so I don't know why it picked this particular moment to fall off! Forturnately, it just fell into the soft seat cushion so there was no damage. I don't know what would have happened if it fell directly to the floor!
Saturday, January 10, 1998, 01:34PM, Palmer MA
This is not a station, but it is once again where they switch from the north-south railroad tracks to the east-west railroad tracks and reverse the direction in which the train is traveling! Once again they announced that anyone that is uncomfortable traveling backwards should grab their seat tag and go to a seat that faces the other way.
Saturday, January 10, 1998, 02:00PM, Springfield, MA
Starting in Springfield, Amtrak goes onto its own frequency which is Channel 54 - 160.920. There are quite a few trains that serve Springfield with destinations both north and south and east and west. From here trains head off to Boston-MA, Washington-DC, Chicago-IL and St.Albans-VT plus all points in between. The yard is pretty large and there are usually several Amtrak mail and express cars in the yard. Springfield is a major U.S.Mail handling facility for Amtrak and a new larger mail handling facility is in the process of being reconstructed right near the station.
Saturday, January 10, 1998, 02:58PM, Hartford, CT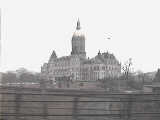 Connecticut Marble Capitol Building With Gold-Leafed Dome.
Saturday, January 10, 1998, 03:11PM, Berlin, CT
Saturday, January 10, 1998, 03:22PM, Meriden, CT
Saturday, January 10, 1998, 03:45PM, New Haven, CT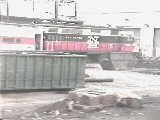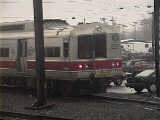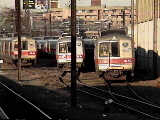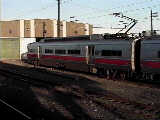 New Haven locomotive and other Conneticut Commuter Cars.
Saturday, January 10, 1998, 04:32PM, Bridgeport, CT
Saturday, January 10, 1998, 04:58PM, Stamford, CT
Saturday, January 10, 1998, 06:00PM, New York, NY
Radio Frequencies:
These are only approximate, but close!
54-160.920-Springfield,MA to New York City,NY (Amtrak Channel)
46-160.800-Springfield,MA to Palmer,MA
73-161.205-Palmer,MA to St. Albans,VT
Electric Outlets Again!
I immediately found the electric outlet when I boarded this car. There was already someone siting in that seat and he had his notebook PC plugged into it! Guess I'm far from the only one that knows there is at least one outlet in each car! He got off at Springfield, Massachusettes, and I moved into his seat. I didn't want to use up my batteries unnecessarily since I knew I would need all 3 of them tomorrow if I didn't manage to get the same seat. I think the outlet is about in the same position in this car as in the previous ones, but because it is configued as a Cafe/Club Car instead of a regular coach car, the seat numbers are different. This one is at seat numbers 36 and 37.