Steve's Winter 1998 Amtrak Travel
January 3 - 10, 1998
www.trainweb.com/travel/stevelog/sg980103/sg980103a.html
This is the travelogue of the segment of my journey on the Amtrak Southwest Chief from Fullerton, California to Chicago, Illinois.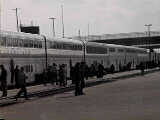 Amtrak Southwest Chief in Albuquerque, New Mexico
Southwest Chief - Train #4
Saturday, January 3, 1998, 09:39PM, Fullerton, CA
The train arrives about 15 minutes late and leaves about 23 minutes late. I'm in room number 2 of the 31 car (0431). I'm almost in the right position on the platform when the train arrives. The Conductor is waiting at the door. He tears out my ticket and directs me to my room. I cross the path of my Car Attendent in the vestibule. He repeats the directions to my room, but I don't get very far since a lady is searching through her luggage. After waiting a couple of minutes, she decides to step out of the way and let me get up the stairs.
The Car Attendant invites me to quickly go to the Dining Car where finger sandwiches and champagne is still being served. I've been through this before. At Fullerton, it is like arriving at a party when everyone else is leaving! I decline. I'll catch the party right from the start on my next Southwest Chief trip as I will be boarding in Los Angeles.
After enjoying about 30 minutes of travel through my home turf, I go down to the Cafe Car and get a Tuna Sandwich and 2 White Zinfandels. They don't exactly go together, so I finish the sandwich before starting on the wine. There is something about Amtrak Tuna Sandwiches that I really like. I don't eat them too often as I am usually full from the meals from the Diner which are included in the cost of my Sleeping Room ticket.
Saturday, January 3, 1998, 10:37PM, San Bernardino, CA
There is supposed to be one passenger boarding my Sleeping Car here, but they are a "no show". The Sleeping Car Attendant comments on how cool and nice the temperature is out on the platform. I step out on the platform and enjoy the cool air. I agree with him. He steps back in and says he is going to adjust the temperature of the car to make it cooler. I suggest that he not adjust the whole car just on my opinion as he will probably end up freezing everyone else out of the car! I tend to like it cool and always keep my personal room temperature setting at maximum cool.
I stand outside my sleeping car for a while. I'm on a very narrow platform wedged between the Southwest Chief and a Metrolink train. There is only about 10 feet between the trains. A young boy steps out and comments that the Metrolink only has one locomotive. I explain that is because it only has 3 relatively light passenger cars to pull. Our train is pretty long and has 3 locomotives.
I notice that my sleeping car is the very last passenger car on this train. This train only has two sleeping cars: 0430 and 0431. The Car Attendant reminds me that he will have coffee ready in the morning. We leave San Bernardino at 10:42pm, about 23 minutes late.
Sunday, January 4, 1998, Early Morning, Flagstaff, AZ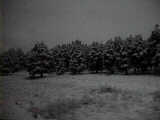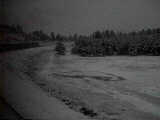 Snow covered forests just before Flagstaff, Arizona.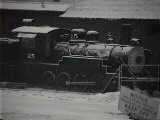 This old steam locomotive and tender was right outside one of the Amtrak stations in either Arizona or New Mexico, but I don't remember exactly which one.
Sunday, January 4, 1998, 01:44PM, Albuquerque, NM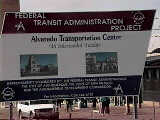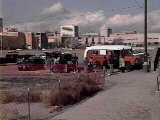 A new multi-modal transportation center is being built at the Albuquerque station to replace the rail station that was burnt down a few years back. The little school bus and lunch wagon meet every train into Albuquerque and provide items that are not available on the train. Native Americans set up tables and sell jewelry at the platform.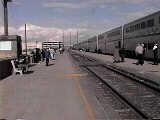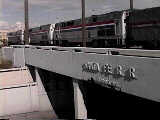 Photos of the Amtrak Southwest Chief at the Albuquerque platform.
This is a regular service stop for the train. We got in a bit early, but they needed all the time they could get. The toilets in car 30 have not been working, so everyone in the 30 car has had to share the toilets in the 31 car. I didn't find that a problem as there was always at least one available downstairs whenever I have been down there. They expect to get the toilets repaired while the train is being serviced in Albuquerque.
I did quite a bit of walking up and down the platform taking various photos of the train, the station, and the surrounding area. The train left right on time at 1:44 PM.
Sunday, January 4, 1998, 03:08PM, Lamy, NM
Looks like the Car Attendant of my car is also having to be the Car Attendant of the 30 car! Evidently, the Car Attendant of the 30 car got sick at the last moment before the train left Los Angeles and hasn't been able to work. I was wondering why a Conductor greeted me at the door instead of my Car Attendant and why a Conductor has been at one of the Sleeping Car doors at almost every stop. My Car Attendant has been very responsive and curtious which is almost amazing with the workload and long hours he needs to put in trying to handle both cars. At Flagstaff I heard that there were 51 people in the two Sleeping Cars.
Even with this heavy workload, the Car Attendant has made sure there is fresh coffee and juice in both cars all day, delivered the morning newspaper, and brought complimentary beverage coupons to every room. Also, probably by coincidence, both last night and this morning when I wanted the seats converted to my bed and visa versa, the Car Attendant was right outside my door as I stepped out! I asked him to do the bed when he got a chance, but he did it right away both times.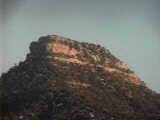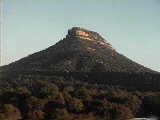 Starvation Peak about 30 minutes outside Las Vegas, New Mexico.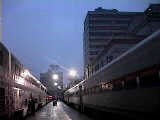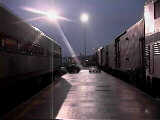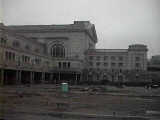 Kansas City in the early evening. This was once a large and busy station.
Monday, January 5, 1998, 03:40PM, Chicago, Illinois
This is the hotel that I stayed at in Chicago: Quality Inn Downtown, 1 Midcity Plaza, Madison At Halsted, Chicago, IL, Fax: 312-829-8151, Phone: 312-829-5000, rate per night: $99. I don't know exactly how far it was from the station as I didn't get a chance to check a map, but it must have been really close since the cab fare was only $2.50. I don't think it was close enough to walk with luggage as the cab driver seemed to have driven several blocks.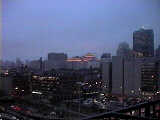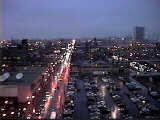 The above photos were taken from the balcony of my hotel room. Like New York City, it never seems to get dark outside in Chicago. There is so much light from the buildings, cars, and street lights, that the sky always seems to be lit! This might especially be true when there is a low cloud cover to reflect the light from the city back down.
Visit our Rail Magazine promotion trading partners:
Click here to add your print rail magazine.