Amtrak Coast Starlight
Thanksgiving Travel November 26 - 29, 1997
Travelogue and Photos by Steve Grande
www.trainweb.com/travel/stevelog/sg971126.html
Amtrak Coast Starlight Travelogue of our family
over the 1998 Thanksgiving Holiday.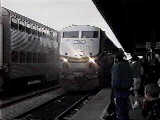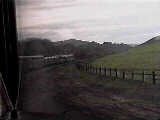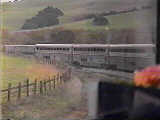 Before I started this trip, I expected to take a break from taking notes, writing up a travelogue or taking any pictures, except maybe a few of my family enjoying themselves over this Thanksgiving holiday. However, a few things happened along the way to change all that!
Listening to the radio while we were getting ready to leave, I heard that there was a severe storm watch for the Santa Barbara - San Luis Obispo area for late morning. Our train was scheduled to go through that area from noon until 3pm! Looked like we'd be heading right into it! As it turned out, I think we must have run just a bit behind the storm. We got some rain, but it looks like our home area got much harder hit than anything that we encountered along the way.
We had to take an Amtrak San Diegan at about 8AM into Los Angeles where we would catch the Coast Starlight at 9:30am. That train arrived into Fullerton about 20 minutes late. Being the day before the holiday, the train was very full! Nonetheless, we did manage to get seats, all-be-it, not quite together. The rain did start coming down pretty hard as we approached Los Angeles.
I carefully looked for the Coast Starlight as we approached Los Angeles Union Station. It would either already be in the station or be on the tracks approaching the station. I wanted to find out as soon as possible if our train would have one of the newly remodeled Pacific Parlor Cars.
The Coast Starlight was already at the platform as we started to pull in. We passed by the head of the train first and the sleeping cars. I started to look for our sleeper, car number 1431. First we passed the crew dorm car, transition sleeper car number 1410. Then we passed the first sleeper, car number 1432. As I was looking at the door to our sleeper, car number 1431, who should I see but Ashley Woullard! Ashley was the Car Attendant on our very first Amtrak journey! She was also my Car Attendant on my trip to Texas last summer and was the Car Attendant on the car next to mine on my recent trip on the Sunset Limited.
After getting off the San Diegan, we headed to the left on the platform toward our Sleeping Car. It was pouring rain but the platform is covered. Rain was leaking through in torrents in a few spots. Ashley was getting some other passengers settled in and didn't notice us until we were almost on top of her. When she did notice us, she gave each of us a big hug! She had seen me a couple of times in the last few months, but the last time she saw my children was more than a couple of years ago when we were on our very first Amtrak trip and she was meeting my wife for the first time on this trip.
We settled in pretty quickly in the family room. In no time, my kids already had a game out and were playing away! I only wondered for a moment if any coffee would be ready, but then I remembered that our Car Attendant was Ashley. Of course there would be coffee ready! I went upstairs without a doubt in my mind and, sure enough, the coffee and accoutraments were ready.
On many prior trips on the Coast Starlight, I had gone to the Pacifc Parlour Car as soon as I boarded the train knowing that pastries and muffins would soon be available. However, on most of those travels, nothing was available until we were well underway. I made the mistake of waiting this time as everything was out and being served long before the train even left Los Angeles Union Station. By the time my family got to the Parlour Car, most of the Chocolate Chip Muffins, my kids' favorites, were gone! But, they still had plenty of other muffins, pastries, fruits, coffee and juices. I was very pleased to see that the Pacific Parlour Car was ready and serving as people boarded even though we made the mistake of waiting. That is a change that I had always thought was needed.
Later, I found out that it is a new policy of the Pacific Parlour Car to be open and serving as soon as passengers are allowed to board. I think this is a major improvement of the service.
As I write this, I'm in the Pacific Parlour Car heading toward horseshoe curve just north of San Luis Obispo. It is dusk right now because the trian is running about 2 hours and 20 minutes late. This is the very reason why I recommend that people travel north on the Coast Starlight as their first experience. Otherwise, they end up going by 2 hours of beautiful surf pounding the coastal cliffs of California in total darkness if the train runs the least little bit late during winter!
The Parlour Car is pretty full right now and has been that way most of the day. We had no problem finding one of the 6 tables empty each time we arrived in the Parlour Car, but all 6 tables have been full most of the time that we have been in the car. This car is much more popular after the remodeling. I have to say the difference between the old Parlour Car furnishings and the new is like the difference in the decor between Denny's and the Velvet Turtle.
---
Well, it has happened again! The above part of the travelogue was written while I was traveling on the Coast Starlight during my travel. This part is being written on January 5, 1998, well over a month later! Things got a bit busy traveling with my family and I didn't get a chance to write as much as I would have liked during the trip. I'll try to write a few of the highlights from memory, but my memory usually fades pretty fast after a trip. I did take quite a bit of video and I will post a number of stills from that video below. Actually, my oldest daughter, Jodina, took most of the video and selected the highlights from it to be show here.
The service onboard was supurb in all parts of the car. There was no doubt that it would be in our Sleeping Car with Ashley Woullard as the Car Attendant. Her normal route is the Sunset Limited, but she was substituting on this trip for someone that was out sick.
We greatly enjoyed the wine tasting on the way up. We liked the red Zinfandel so much that we purchased two bottles of it. Both bottles were opened and finished at the Thanksgiving Dinner. There was a large gathering of family at the house of my wife's sister, so there was only enough for one glass for each person. On our return trip back south, they still had that wine available and we purchased two more bottles to take home with us!
I met Brian Rosenwald, Product Manager of the Coast Starlight, for the very first time on this journey. Unfortunately, since he was his family and I was with mine, we only got about 10 minutes to talk. I saw him a number of times in the Parlour Car relaxing and talking to passengers later in the day. Unfortunately, I had some urgent business with my family and didn't get another chance to talk with him (such as helping my daughters with some school work due on Monday! That always tends to put a little crimp on the enjoyment of a rail trip.)
We had the same train and exact same crew coming back home as we had going up. The timing just worked out that way. We took the Coast Starlight on Wednesday out of Los Angeles to arrive that same evening in San Jose. The Coast Starlight would then travel on to Seattle by Thursday night, leave Friday morning to head back south, and pick us up in San Jose again on Saturday morning!
The train was so busy on the way north because of the Thanksgiving holiday that we didn't get our customary gifts when we left the train. But, we got all of our gifts for both the north and south segments before we left the train at the end of our southbound segment!
I can't remember a lot of what happened on the trip after 6 weeks, but I do know that we had a very enjoyable time which was greatly enhanced by the newly remodeled Pacific Parlour Car. I did play a number of games with the children on the large tables in that car, enjoyed a cocktail with my wife in the bar type seating area, and watched a movie with my kids in the new theater downstairs that seats 19.
Entertainment on the Amtrak Coast Starlight is provided under contract by ZEBRA Entertainment. The Magician on our trip handed me a card that read on the back: "David Skale, Magician, Clown, Entertainer and a really nice guy." Also on the back was Brian Rosenwald, General Manager of The Coast Starlight, contact information. The front of the car reads: "Clowns & Characters -- more than 100 available! Singing Telegrams, Outrageous Gorillas, Magicians, Bands, D.J.'s, Karoke, Carnival & Company Picnics. $10 off with card. (818)906-3809" The entertainment on the Coast Starlight is usually pretty good, so if you are in need of any of the above, you might want to contact them.
Brian D. Rosenwald, General Manager of The Coast Starlight, can be contacted at: National Railroad Passenger Corporation, 810 N. Alameda St., Los Angeles, CA 90012, (213)683-6950, (ATS)761-6950, Fax (213)891-3588, or by E-Mail at: UBR0@L1.Amtrak.Com. If you have been influenced at all by the information and photos provided by TrainWeb to travel on The Coast Starlight, I'd certainly appreciate a mention of that in any feedback that you might send to Brian Rosenwald!
Below are links to pages of photographs that were taken on this journey that have been filed into different areas of TrainWeb. After reviewing each page, use the "BACK" button on your web browser to return to this page. These pages do not have an explicit link back to this travelogue page.
CLICK HERE
To Read More Rail Travelogues
And View More Photos Of Rail Travel!

Are you interested in rail travel along some or all of this journey yourself? There are very few travel agents that have the necessary knowledge and experience of rail travel to answer your questions and to book a journey that you will remember for a lifetime. TrainWeb has sought out those travel agencies and rail tourism companies that not only have the knowledge to book your travel, but have gained the required experience through extensive rail travel themselves! Click here for a list of these rail travel providers!
Visit our Rail Magazine promotion trading partners:
Click here to add your print rail magazine.