Steve's Fall '97 Amtrak Journey

Sept 28 - Oct 7, 1997
www.trainweb.com/travel/stevelog/sg970929.html
Amtrak travelogue of Steve's Fall 1997 rail trip from September 28 through October 7, 1997. My itinerary was a flight from Los Angeles to New York City, a night in Hotel Pennsylvania, the Amtrak Maple Leaf from New York to Albany, the Amtrak Lake Shore Limited from Albany to Boston, the Amtrak Northeast Direct Twilight Shoreliner from Boston to Washington,DC, the Amtrak Silver Palm from Washington,DC to Miami, a night in a hotel in Miami, the Amtrak Silver Star from Miami back to New York City, the Amtrak Silver Meteor from New York City to Jacksonville, Florida, just a few hour stay in the Marriott in Jacksonville, and finally the Amtrak Sunset Limited from Jacksonville back to Los Angeles.

After this trip I will only have one more "major" trip to take in January 1998 to complete every mile of every major Amtrak route in the United States. I will still have some minor segments to complete such as the Amtrak Kansas City Mules, the Empire Builder segment between Seattle and Spokane, and a few other short routes. I do expect to have those completed sometime in 1998 or 1999.

In the photo above you can see my notebook computer on the foldout table in a Standard (Economy) Viewliner Bedroom. This table is a bit larger than the foldout table in the Superliner. You can also see my radio scanner, trip timer and Amtrak Travel Guide for the Silver trains. The handle on the window is only for the emergency exit. You can also see the route schedule laying on the computer and a couple of cups in the cup holders. The cup holders on the Viewliner are much deeper than those on the Superliner.

Note: I am currently in the middle of this Amtrak Rail Journey. To reduce cellular modem costs, I am only uploading the full-size photographs when I am in hotels. You can click on many of the images below to view a full-size photograph, but at some point in this travelogue you will find I have not unload the remaining full-size photographs. Those will be available after I return from my Amtrak journey on October 7th.
Please select one of the following:

American Airlines - Los Angeles to New York City
Is it my imagination or are airline seats continuing to shrink? I spent all but the last hour of my flight planning my rail trip. In the last hour I decided to do some work on my computer. Good thing I didn't try to work on my notebook computer earlier. The maximum reclined seat in front of me prevented the notebook computer screen from opening to a viewable position! That has never happened to me before and I'm sure passengers seated in front of me have been reclined to the maximum position. Maybe someone has better knowledge about this but it seems to me that the airlines are puting seats closer and closer together in an attempt to carry as many people per flight as possible.
If you are contemplating your first trip by Amtrak, don't worry about encountering an experience like this on the train. I have never seen seats on any Amtrak train that are as small as or as tightly packed as coach seats on any airline. The width and distance between seats on different types of Amtrak passenger cars varies, but all have plenty of room compared to any airline coach seat. The largest seats with the greatest amount of leg room are the coach seats in the Amtrak Superliner Coach Cars and in the Metroliner Club Cars. The amount of legroom in those seats is enough for a child to stand between your seat and the seat in front of you without bumping knees! (Families traveling with small children in coach find this is often the favorite place that kids like to stand when they get out of their seats).
The more that I travel by airline the less I seem to appreciate it. I think this is only partially because I'm spoiled by the roominess and first class service of traveling by train. I'm sure part of it is because of the reduction of in-flight services, the higher density of airline seating, airport traffic & parking, and the ever growing intrusion of airport security. If I didn't need to fly one-way on these journeys so that I could explore the east coast by rail over a shorter period of time, I'd avoid flying all together!
Hotel Pennsylvania, New York City
Sunday, Sept 28, 1997, 6:00 PM EDT, New York City, NY

Hotel Pennsylvania
I stayed in a "single" room in the Hotel Pennsylvania. Most modern hotels don't have a concept of a "single" room anymore. They all have either king or queen beds or even two king or queen beds per room. That way, every room in the hotel will fit the need of just about everyone. But, when the Hotel Pennsylvania was built, I guess they thought that some rooms should be singles. What you see in the photograph is the entire bed and the entire width of the room! You are not looking at just the left side of the bed, there is nothing but a wall beyond the right end of the photograph!
The room is pretty simple and inexpensive by New York City standards, about $99 to $109 per night. It is also directly across the street from Penn Station and even used to have a tunnel over to the station.
New York City Penn Station
Monday, Sept 29, 1997, 6:50 AM EDT, Penn Station, NY

New York City Penn Station
I got up this morning at 5:40 AM and was into the station at about 6:30 AM. As New York goes, the station was fairly empty. There were only a few dozen people in sight, but they all seemed to be heading to one destination or another. I stopped at one of the few bake shops that was already open and had coffee and a muffin. The people were friendly and the food was good.
I then proceeded to wander about the station with my video camera hoping to get some good shots that I could later convert to stills. From a bit of a distance, I taped the information booth. Shortly after that, the Amtrak staff person in the information booth called me over. In the typical New York fashion she informed me that it was "illegal" to video tape in the station and that I would be arrested if the police saw me doing it!
I thanked her for that information, put away my video camera and headed over to the Amtrak police to confirm her statement. The Amtrak police were very friendly. Sure enough, they confirmed that video taping in the station is not permitted without advance permission from Station Services. Any of you consititutional attornies know if that is true? In any case, I didn't plan to test my own limited knowledge of the constitution in this area of the law. The officer in the Amtrak Police station said that it was a matter of privacy. They were concerned that people not get taped who didn't intend to end up on film.
For those of you that fear this is a general policy throughout the Amtrak system, forget it. New York City is very unique in many respects and I'm sure this is one of them. I've never had any problems with video or still photos in any other station. It would have been nice if they had signs posted along with the "No Smoking" signs like "No Video Taping," but that might be inviting a challenge.
I noticed that the officer in the Amtrak Police station was using his computer. I asked if he ever surfed the web. He said he did and was aware of the Amtrak Police Web Site. I gave him my card and told him about TrainWeb. He wished me a good journey and I left the Amtrak Police Station with a friendly goodbye.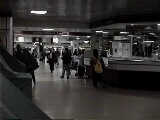 The above photograph is of the Amtrak Information Booth in Penn Station. To the left you can see some "push carts" that are not yet open because of the early hour. These are similar to the "push carts" that you often see in suburban shopping malls. If you look real close, especially in the full size photograph, you can see the lady leaving the Amtrak Information Booth. Little did I know then that the reason she was leaving was to come over to tell me that video-taping is not allowed in Penn Station!
Maple Leaf - Train #63
New York City, NY to Albany-Rensselear, NY
Monday, Sept 29, 1997, 7:20 AM EDT, New York City, NY
I boarded the coach car and sat on the right side of the train. It didn't take long before I realized that most of the scenery was on the other side of the train. When I saw someone leave the train, I moved myself and my "hat check" over to the other side.
Monday, Sept 29, 1997, 8:43 AM EDT, Poughkeepsie, NY

Radio: Channel 36 - 160.950 - Croton-Harmon,NY to Rhinecliff,NY. Note: Channel 36 might have started prior to Croton-Harmon. I started seeking the road channel only as of Croton-Harmon. Also note that the start and end location of the radio frequencies in this section are only approximate. I didn't make detailed notes of where they changed, but the information provided should give you some idea what channel to tune to and when if you travel this route.
Radio: Channel 64 - 161.070 - Rhinecliff,NY to Albany-Rensselaer,NY.
Radio: Channel 46 - 160.800 - Albany-Rensselaer,NY.
Monday, Sept 29, 1997, 10:10 AM EDT, Albany-Rensselaer, NY

Monday, Sept 29, 1997, 12:03 PM EDT, Albany-Rensselaer, NY
We arrived in Rensselaer, New York, just a few minutes late. I only spent about 3 minutes inside the station. The station was modern and a decent size. There was a coffee shop and a gift shop inside along with plenty of seating for waiting passengers. After taking a quick look around, I went back outside.
There was a light drizzle of rain with a very mild cool breeze. The sky was overcast as it had been all morning. Believe it or not, that is my favorite weather! Maybe I should consider moving to Seattle. Rain is very rare in Southern California and when it does rain, it comes down in tourants for a very short while. Yes, I know, somebody wrote a song about that. In any case, I do appreciate the rare times that I get to experience days like this. Most people were wearing light jackets or raincoats and hats. I just had a short sleeve polo shirt on which seemed to be just right for this weather for me! Though, if I was going to stand out there for a couple of hours longer, I might have needed something a bit warmer.
I watched my train depart the station. Another train was then assembled in the station with a lot of Amfleet cars and was just going to deadhead back to New York. That is, they just needed to get these cars to New York and the train would be traveling without passengers. To my surprise, the locomotive was of an older vintage that I have only seen in museums and photographs. I don't know the model number (proving my claim of being a "rail travel fan" and not a real "railfan"), but any railfan would be able to identify it immediately. From the front, this locomotive has reminded many of the face of a clown. This is in sharp contrast to the new Genesis locomotive that have a look of serious business.
Lake Shore Limited - Train #448
Albany-Rensselaer, NY to Boston, MA
Monday, Sept 29, 1997, 11:10 AM EDT, Albany-Rensselaer, NY

Radio: Channel 46 - 160.800 - Albany-Rensselaer,NY to Boston,MA.
A bit later, two trains seemed to arrive at the same time. One was the Amtrak Adirondack heading for Montreal. The other was the Amtrak Lake Shore Limited. This is where the Lake Shore Limited is split into two segments, one to head to New York City, and the other to head to Boston, my destination. They first let everyone off of the train. People that were bound for Albany got off as well as New York and Boston passengers who just wanted to have a smoke or stretch their legs.
There seemed to be well over a half-dozen Amtrak workers out on the platform whose job it was to get these trains seperated. They ran into a few problems but eventually seperated the New York section from the Boston section. There was some shuffling back and forth of locomotives so that each section would end up with its own set.
The train bound for Montreal was boarded first and departed the station. Then, a call was made to re-board the passengers onto the two segments of the Lake Shore Limite who had just left to stretch their legs. No new passengers are allowed to board the New York segment of the Lake Shore Limited in Albany as their are several other "locals" serving that route. New passengers are allowed to board the Boston segment as this is the only train to go east from here. I boarded the train and didn't have much problem finding a seat next to the window by myself. The Car Attendant sorted the passengers sending people travling along to the front coach and couples and families to the rear coach where group seating and pairs of seats were available together.
Monday, Sept 29, 1997, 12:15 PM EDT, Pittsfield, MA

This is the Pittsfield, Massachusettes, Amtrak station. No, not that huge building. I don't know what that is. The little thing in the foreground that looks like a bus stop is the Amtrak Station! I found the little red railroad car shack just a bit down the tracks from Pittsfield.
Monday, Sept 29, 1997, 4:01 PM EDT, Boston, MA

This is heavy rail commuter equipment of the "T" in Boston. Behind the train is South Station Postal Annex where I used to work the grave yard shift during the Christmas rush while I was in college.
Radio: Channel 64 - 160.920 - Boston, MA. I heard the Conductor say: "Let's go to the Amtrak Channel." Upon scanning to find what channel they went to, I found them on channel 64 (160.920). Whenever the Conductor switched to another channel, he'd say things like: "Let's go to Channel 1" or "Let's go to Channel 2." When they did that, I could not find them on Channel 2 and there isn't any Channel 1 in the set of railroad frequencies. Instead, I'd find them on some other AAR channel totally unrelated to the channel number that was called out. In most of my experiences across the rest of the country, the Conductor calls out the actual AAR channel number, as in: "Let's go to thirty-thirty." All I could imagine is that everyone at Amtrak in the northeast has radios pretuned to just the few channels that they use which don't corespond to the normal channel numbers for AAR frequencies.
Northeast Direct Twilight Shoreliner - Train #67
Boston, MA to Washington, DC
Northeast Direct

While in the waiting room, I would think it quite a coincidence if David Bowe was the Conductor on this train. I know he is on some of the trains out of Boston. He sends out regular bulletins about Amtrak and especially keeps me up to date on the progress of the electrification project of the NEC between New York and Boston. If by rare chance he did end up being the Conductor on this train, I figured I'd find out when he came to collect the tickes.
Well, the Car Attendant took my ticket as I boarded the Viewliner Sleeping Car. They rarely do that, but it does happen from time to time, especially when passengers are boarding very late at night. That way, the passengers can go right to sleep and not wait for the Conductor to come around to collect the tickets. Although 8PM is not that late, this train used to be the "Night Own" instead of the "Twilight Shoreliner" and used to depart at 10 PM. Maybe because of that, it just became a regular practice that the Car Attendants collect the tickets instead of the Conductor in the Sleepers.
In any case, it didn't click with me that I wouldn't be meeting the Conductor on the train since my ticket was already collected. As it turned out, David Bowe was the Conductor on that train! He send me an e-mail the following morning telling me that he found my name on the manifest, but figured it was another Stephen Grande. There are quite a few of them in Boston, my original home town. He saw my door closed with the blind drawn and didn't want to wake me if I was asleep, especially if I wasn't the right Stephen Grande! So ... we came pretty close to meeting face to face. Maybe we can make a point of meeting next time I head through Boston.
Monday, Sept 29, 1997, 07:30 PM EDT, Boston, MA
One of the first things I noticed as I boarded the train was a design on the windows of the Viewliner. This design was stuck to the windows in a manner similar to how advertising is stuck to bus windows. From walking along the outside of the Viewliner, I could barely see in at all. From the inside of my room looking out, the view was like looking through a spaghetti strainer, but with more holes. To the eye, it doesn't seem to interfere with the view. But, I'm not sure that a camera isn't going to take a picture that looks like it was taken through a spaghetti strainer! I'm trying to figure out why they did this. It is not to sell ad space on the train since there is no ad. It is just a design. It might be a nice design to celebrate the innauguration of the Twilight Shoreliner, but it is a bit gaudy for everyday display. I was thinking that it might be for privacy. Since many of the Northeast Corridor (NEC) stations have high level platforms, people on the platform can easily see into every lit room as they walk by them at night. This isn't as much a problem outside the NEC since there are few, if any, high level platforms. (I did not find anything on the windows of the Viewliners on the other segments of this rail journey).
Tuesday, Sept 30, 1997, 09:00 AM EDT, Washington, DC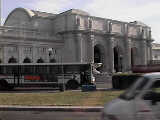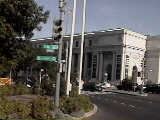 Washington Union Station & Old Post Office Building
Metropolitan Lounge - Washington, DC
Metropolitan Lounge Representative, Customer Services: Diana Price
Silver Palm - Train #89
Washington, DC to Miami, FL

Jefferson Memorial/Washington Monument/Washington Metro
If you look closely at the bottom of the first picture, you can also see a Washington Metro Train emerging from the subway about to head over the bridge. The next photo shows that same train heading over the bridge. Both of these photos were take from my room on the Amtrak Silver Palm as we headed south out of Washington, DC.
Staff:

Chief Of Onboard Services: Julie Cook
Sleeping Car Attendant: Louis Jackson
Radio: Channel 32 - 160.590 - Petersburg,VA to Savannah,GA. Note: Channel 32 might have started prior to Petersburg. I started seeking the road channel only as of Petersburg.
Radio: Channel 66 - 161.100 - Wildwood,FL to Miami,FL. Note: Channel 66 might have started prior to Wildwood. I started seeking the road channel only as of WIldwood. Also, Channel 32 - 160.590 - was in short use around the Tampa, Florida, area before they returned to Channel 66.
Detectors:

Mile Post 033.7 Ch 32
Mile Post 107.6 Ch 32
Mile Post 421.0 Ch 32
Mile Post 440.4 Ch 32
Mile Post 474.6 Ch 32
Mile Post 485.0 Ch 32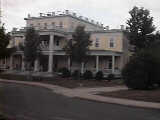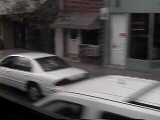 I like these little towns where the tracks seem to go right down the middle of the main street!
I just noticed something about the venting in the Viewliner Standard Bedroom. There are sliding vents under each window and there are two fans. You have a thermostat control in the room that lets you set the temperature which seems to work quite well. You can also set each fan independently to low, medium or high. The fans seem to correspond to the beds rather than the chairs. One fan could be adjusted to blow at the person in the lower bunk and the other fan adjusted to blow at the person in the upper bunk. The vents under the windows seem to be for each person when they are sitting in the seats. Each person can open or close their own sliding vent. However, there does seem to one item out of my control. Directly under each window vent is another vent. Each of those are radiating quite a bit of hot air into the room. There isn't any fan blowing it in, it is just quite hot and radiating that heat. This seems weird as it is fighting against the cool air I have blowing in. It isn't much of a problem since the cooling system is able to generate a lot more cold air than the heating source can generate warm air. I can only take a stab at the purpose of this heat source. Maybe the heating element of the car is always on and if I selected the room to be warmed, the hot air from this heating element would be blown into the room. If you know the answer to this mystery, please send it by e-mail to me at steve@trainweb.com.
Tuesday, Sep 30, 1997, 11:50 PM EDT, Savannah, GA
I just had an interesting experience. Alvin McGrath, Jr. wrote an e-mail to me that I received while I was on this train. He said he'd like to meet me when the train went through Savannah, Georgia. I had planned to meet with other TrainWeb visitors as my train passed through their towns, but these have never come to fruition. Usually the cause was my train being very late and interferring with other plans of the person who was to meet me. Well, this time it did work out. We had an all too brief chat. We probably didn't talk for more than 3 minutes, but it was still great to meet another Amtrak fan along the route. I didn't know how long the train was going to remain in the station, but when I saw the Conductor throw away a cigarette that he had barely started, I knew he needed to get the train rolling!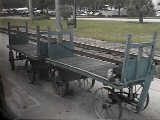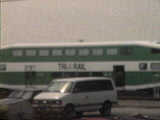 These are some old luggage wagons that were out on the platform of one of the stations in Florida along the Amtrak Silver routes. The second photo is a picture of the Florida Tri-State commuter trains. As you can see, they are the same cars as used by "GO" in Toronto, "Metrolink" in Southern California, and the new commuter line between Dallas and Ft. Worth.
Wednesday, Oct 1, 1997, 01:00 PM EDT, Miami, FL
There are souveneirs here! I purchased a "Florida Amtrak Service" white T-Shirt in "Large", the largest size available, and a "Amtrak Silver Service" black polo shirt in "Extra Large." I also purchased an Amtrak Silver Service burlap carry bag that had the names of the 3 Silver Trains. The had other souveniers such as cups, mugs, glasses, umbrellas, etc.
Silver Star - Train #92
Miami, FL to New York City, NY

Florida Tri-Rail Commuter Service
The above photo is not of the Amtrak Silver Star, but was a photo taken of a Florida Tri-Rail Locomotive from my Viewliner window.
Staff:

Sleeping Car Attendant: Robert (Bob) McIntosh
Chief of Onboard Services: C. A. Harrington
Detectors:

Ch 66 - No Defects - Total Axles 052 - Ft. Lauderdale
Ch 66 - No Defects - Total Axles 052 - Amatol (sp?), Florida
Ch 66 - No Defects - Total Axles 052 - West Palm Beach
Ch 66 - Mile Post 952.1 - (btw W. Palm Beach & Sebring, FL)
Ch 66 - Mile Post 829.3 - (btw Sebring & Winter Haven, FL)
Ch 32 - No Defects - Total Axles 052 - Orange City, Florida
(btw Sanford & DeLand, FL)
Ch 32 - Mile Post 592.0 - (btw Jacksonville,FL & Savannah,GA)
Ch 32 - Mile Post 572.0 - (btw Jacksonville,FL & Savannah,GA)
Ch 32 - Mile Post 551.1 - (btw Jacksonville,FL & Savannah,GA)
Train Length 1240 - Total Axles 060 (where did we get 8 more axles?)
Ch 66 - Mile Post 414.1 - (btw Savannah,GA & Denmark,SC)
Ch 66 - Mile Post 395.4 - (btw Denmark,SC & Columbia,SC)
Ch 66 - Mile Post 371.6 - (btw Denmark,SC & Columbia,SC)
Ch 32 - Mile Post 033.7 - (btw Rocky Mount,NC & Petersburg,VA)
Ch 32 - Mile Post 017.4 - (btw Petersburg,VA & Richmond,VA)
Thursday, Oct 2, 1997, 09:00 AM EDT, Miami, FL
Radio: Channel 66 - 161.100 - Miami,FL to Orlando,FL.
I stayed at the Howard Johnsons Hotel on Biscayne Boulevard last night. With the AAA discount, it was only $79 per night before tax. The hotel was quite nice, certainly much better than the Hotel Pennsylvania in New York in terms of room quality and ammenities. My room was at the end of the hall on the 7th floor. The room had two huge double beds with a large sliding door window that went out to an open air balcony overlooking the water, the cruise ships, and downtown Miami.
I notice that the Miami Metromover was directly across the street from my hotel. After putting together information from a number of resources, I found that it would have been possible for me to take the Metromover to the Metrorail, the Metrorail to the Tri-State Rail, and the Tri-State Rail to an Amtrak Station. If I had done that, I could have saved about $30 in cab fares and experienced just about every mode of rail transportation that Miami has to offer. Unfortunately, that route would bypass the Miami Amtrak Station, since Tri-Rail doesn't serve that station, and left a whole in my coverage of all the Amtrak miles. But, for next time, if I'm ever just coming to visit this area, I know how to avoid the $18 cab fare each way plus tip!
Amtrak has a pretty nice setup in this station. It is a very modern facility. I hear this is an industrial area and a rather bad part of town. There is plenty of parking which pretty much goes unused because of the questionable safety of leaving a vehicle here overnight.
The have large model train setup behind enclosed glass. The layout is of the station and the area around the Miami station. The model train layout includes a model of the station and replicas of both Amtrak trains and Florida Tri-Rail Trains. I didn't think of shooting any video until afterwords. I guess my experience in Penn Station has got me spooked about using a video camera in enclosed stations. I won't hesitate to use the camera out on an open platform, but I'm a bit concerned about taping in an enclosed station after that last experience.
There is a ton of available seats in the waiting room. Most of them face the model railroad display. Above the display is a fairly good size television set. They had "Weird Science" playing on it. I felt a little self conscious pulling out and working on my computer in the waiting room while a movie was playing about a couple of computer nerds that live their life vicariously through their programs, but I did it anyway!
While I was working away, a dog that looked like a big black retriever on a leach came over and sniffed all over my luggage and backpack! It took me a moment to realize they were going around the station looking for drugs. The lady behind me got up and ran away. Not that she had any drugs. She left all her luggage on her seat. The agent was trying to calm her saying that if she didn't bother the dog, the dog wouldn't bother her. She just replied: "It has teeth, doesn't it? If it has teeth, then it can bite!" After the agent left, she returned to her seat.
Thursday, Oct. 2, 1997, 11:10 AM EDT, Miami, FL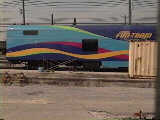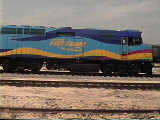 Florida Fun Train
The train left right on schedule! Bob, the Car Attendant, came by and offered to explain about the room which I replied wouldn't be necessary. He let me know that he would soon have coffee, tea, apple and orange juice in the refreshment area along with ice. Bob also said that he would have cookies and anything else that he might be able to obtain from the Dining Car or Cafe Car available in the refreshment area and that he would later be stopping by with some complimentary wine and mints. He did live up to his word and make all those items available! Bob said to just ring if there was anything at all that I needed.
Thursday, Oct. 2, 1997, 11:35 AM EDT, Hollywood, FL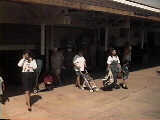 Hollywood Train Station
Thursday, Oct. 2, 1997, 11:54 AM EDT, Ft. Lauderdale, FL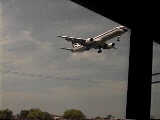 Near Ft. Lauderdale Airport
Thursday, Oct. 2, 1997, 12:14 PM EDT, Deerfield Beach, FL
Thursday, Oct. 2, 1997, 12:24 PM EDT, Delray Beach, FL
Thursday, Oct. 2, 1997, 12:50 PM EDT, West Palm Beach, FL
Bob just came to my room with a gift from the Amtrak Silver Service. It was a box that contained a wine glass engraved with "Silver Star", "Silver Meteor" and "Silver Palm" and a bottle of Sutter Home Sauvignon Blanc from California! Well, I will save as souveniers the glass, the box and even the paper stuffing because they all have Amtrak logos on them. But, I won't be saving the wine since it doesn't say anything about Amtrak on it and isn't even from the east coast! Down the hatch!
Thursday, Oct. 2, 1997, Sebring, FL
I don't know what time we stopped at Sebring as I was off having lunch in the Dining Car. I was very fortunate to be seated with Jose Zorrilla. He was just finishing up lunch as I was seated at his table. We got to talking about train travel and he brought up the internet. I explained what I did and quite a bit about TrainWeb. He was traveling from Florida to Los Angeles, but he booked his reservations only one month in advance. Since accommodations on the Sunset Limited fill up pretty quickly, Amtrak Vacations booked him via the Silver Star to New York, the Lakeshore Limited to Chicago, and the Southwest Chief to Los Angeles. I don't want to put down Amtrak Vacations as they can sometimes be a great place to book Air-Rail travel and to get trip insurance for your Amtrak travel, but they didn't discuss with him the options of going via the Sunset Limited or even the ability to book a room all the way from Washington,DC to Los Angeles via the Capital Limited / Southwest Chief through train. That is why I always suggest checking with one of the travel agencies with a lot of experience that are listed on the TrainWeb Agencies Page at http://trainweb.com/agencies.html.
Jose Zorrilla seemed to be fairly experienced at exploring the web and was aware of Amtrak's page on the web. We talked quite a bit about both trains and the web and expect to meet this evening for dinner. We stayed so long at lunch time that they had to politely kick us out so they could start to get the car ready for dinner!
So far, this sleeping car is pretty empty. I'm in room 8 and Jose Zorrilla is in room 12 and I think there are a couple of other people in this car. Other than that, most rooms are empty. I suspect that more might be joining us as we go through additional large cities in the south like Orlando, Jacksonville, Savannah, etc. I'll keep my eye on that.
The luncheon selection in these single level dining cars is usually pretty limited, but I thought it was quite good. I had a grilled breast of chicken sandwich which was served with some type of chicken noodle soup.
Thursday, Oct. 2, 1997, 3:10 PM EDT, Winter Haven, FL
Thursday, Oct. 2, 1997, 4:01 PM EDT, Kissimmee, FL
Radio: Channel 66 - 161.100 - Miami,FL to Orlando,FL.
Radio: Channel 32 - 160.590 - Orlando,FL to Denmark,SC.
The transition point from Channel 66 to Channel 32 is only approximate. I know they were using Channel 66 in Winter Haven and were using Channel 32 by the time we got to Orlando. The switch was somewhere between those two stations.
Thursday, Oct. 2, 1997, 4:35 PM EDT, Orlando, FL
Three Japanese people with big professional movie cameras and sound recording systems just walked by my window. This is far from the first time I've seen Japanese film crews both on and off the Amtrak trains. Do they have more movies about Amtrak in Japan than in the states? The Engineer just said over the radio: "Smile! You're on Candid Camera!" I've heard some people say that the Japanese are not interested in our trains because their trains are so much more "high-tech," but you can't convince me from my experiences that they aren't fascinated by the Amtrak equipment!
We left Kissimmee about 9 minutes late, but we arrived quite early into Orlando. I didn't realize this until I started to think we must be loosing a lot of time since we had to stay at the Orland station so long. When the train started moving, I checked the clock and saw that it was leaving right on time! Thus, the only reason the train stayed so long was because it cannot leave until the scheduled departure time. Guess there must have been some padding in the schedule for Orlando!
Thursday, Oct. 2, 1997, 4:53 PM EDT, Winter Park, FL
Thursday, Oct. 2, 1997, 5:17 PM EDT, Sanford, FL
I know in some parts of the country people appear to have a very strong accent relative to people from other parts of the country. However, the southern drawl of the Engineer of our train is so strong that I can't make out a single word that he utters over the radio! Hopefully, the Conductors and Dispatchers are much more used to that accent and can understand it a lot better than I can! I can understand the Conductor completely when he talks on the radio.
Thursday, Oct. 2, 1997, 5:39 PM EDT, DeLand, FL

As I was going down the corridor in my Viewliner Sleeping Car, I was wondering what she was doing standing out in the middle of the corridor. Then I realized her mother was probably using the toilet and there is noplace to go when your travel companion kicks you out of a Viewliner Bedroom while you wait for them to use the toilet.
Thursday, Oct. 2, 1997, 6:27 PM EDT, Palatka, FL
Thursday, Oct. 2, 1997, 8:12 PM EDT, Jacksonville, FL
I just returned from a pleasant dinner with Jose Zorrilla. This time I brought an Amtrak National Timetable, an Amtrak Northeast Timetable and and updated San Diegan schedule for him, items which were not provided to him by Amtrak Vacations. He should find these quite useful for the rest of this trip and in planning future trips. We continued our discussion of trains, computers and the internet over dinner.
Since I had a late lunch, I had my dinner at the 7 PM seating instead of the earlier 5:30 PM seating. We both had the stuffed red peppers. Looks like we even have a bit in common over our eating philosophy. I try to just eat one meal each day when I'm on the train, but he manages to do that all the time. When I first started traveling by train, I used to eat all 3 meals plus any snacks or happy hour munchies provided. Like a cruise ship, that will leave you with more pounds when you get off the train than you had when you got on. Since then, I've learned to always skip at least one meal each day on the train and to not even eat two meals if I'm not hungry at the dinner call. There is no rule that says that you have to eat everything that is provided just because it is included with the price of your ticket! The one thing that is not included in your ticket is a personal trainer to help you get the weight off that you might gain on the train.
Both of us feel the most important thing is to reduce fat in the diet and that the best way to do that is to limit meat consumption. I'll have an occassional steak maybe once a month or maybe a fast-food hamburger once in a while, but generally I stick to either chicken or turkey and will always pick an interesting vegitarian dish whenever available. That is one thing I like about Amtrak travel. They always have a vegetarian item on the menu and it is often something interesting and delicious.
This time they had stuffed red peppers. They were stuffed with rice and black beans instead of meat plus some very mild salsa. They also had a bit of cheese. I could taste the cheese but I didn't see any. It was served with two types of mellon, red grapes, a salad and a roll. I had the same item on my trip down on the Silver Palm. It was just as good this time as it was on the trip down which was quite good! I ordered a glass of white zinfandel to go with that and skipped desert. Some type of peanut butter pie and key lime pie was on the desert offering. I just had a cup of coffee as my desert. Although the meal is complimentary, alcoholic beverages are a little extra. My wine was $3. After dinner, we both left a tip and headed off to our rooms.
On the way out, we realized we missed a chance to step off the train for about a half hour. We got into Jacksonville, Florida, a little early and the train had to await its scheduled departure time at 8:12 PM. They were just closing up and getting ready to head off.
On my way through the sleepers I noticed that they had filled up quite nicely, just as I had predicted. I guessed a lot of people would be boarding at places like Orlando and Jacksonville, and they did!
Here is a little note for those of you that need to charge batteries on the train: you need to be careful. Trains do lose power from time to time. With most modern chargers, this can be a problem. Many new chargers will first discharge the battery before it starts to charge up the battery. It is very important to do that with NiCads if you don't want them damaged by the "memory effect." If you charge a battery on the train and the train loses power for a short while, many of these new chargers will start the "decharge/recharge" cycle all over again! Thus, if it seems to be taking much longer than usual to charge up your battery, it may be that the train lost power for a short time during the charge cycle.
Actually, I had even left my computer running while I went off to eat. Fotunately, when the power goes out, the battery in the notebook computer keeps everything running just like a back-up power supply. Thus, nothing was lost during the short power outage while I was away at dinner.
Well, here we are in Jacksonville, Florida! The city that I passed through yesterday, am here again today, and will be returning to on Saturday for about 10 hours to wait for the westbound Sunset Limited.
The road frequency is still Channel 32, 160.590. The wording has changed. It starts out with "Equipment Defect Detector." I thought it was going to say "Equipment Defect Detected." Maybe the Engineer though so too. The train decellerated in the middle of that sentence, sort of like your car would do if you just took your foot off the gas without applying the breaks. But, then the train quickly re-accelerated as the detector finished its report.
Thursday, Oct. 2, 1997, 10:30 PM EDT, Savannah, GA
Thursday, Oct. 2, 1997, 11:54 PM EDT, Denmark, SC

Radio: Channel 66 - 161.100 - Denmark,SC to Rocky Mount,NC.
Radio: Channel 32 - 160.590 - Heading north after Rocky Mount,NC.
The transition point from Channel 66 to Channel 32 is only approximate. I know they were using Channel 66 in Columbia,SC when I went to sleep and were using Channel 32 when I woke up just before arriving in Rocky Mount,NC. The switch was somewhere between those two stations.
Friday, Oct. 3, 1997, 01:08 AM EDT, Columbia, SC
Friday, Oct. 3, 1997, ??:?? AM EDT, Camden, SC
Friday, Oct. 3, 1997, ??:?? AM EDT, Hamlet, NC
Friday, Oct. 3, 1997, ??:?? AM EDT, Southern Pines (Pinehurst), NC
Friday, Oct. 3, 1997, ??:?? AM EDT, Raleigh, NC
Friday, Oct. 3, 1997, 07:55 AM EDT, Rocky Mount, NC

I woke up to find that we were running about an hour late and that the road channel had switched from 66 back to 32 again. An hour late isn't too bad. They could make some of it up. Between Washington,DC and New York City,NY, this train only drops people off and doesn't pick anyone up. That is the only circumstance under which the train is allowed to leave ahead of schedule since nobody is expecting to board the train at a set time. The schedule allows the train up to 4 hours and 50 minutes to get from Washington, DC to New York, NY. That would be an average speed over 225 miles of about 50 miles per hour. That stretch of track is the Northeast Corridor (NEC) which has no freight interference and no grade crossings and where trains commonly run up to and over 100 miles per hour! Thus, if we don't have any further delays, my guess is that we will still come into New York early, even though we are already running about one hour late.
The dining car made there first announcement over the P.A., which was to call numbers for people who were awaiting seating for breakfast. That has to mean this train is quite full! Usually the first call to breakfast is to let people know that breakfast is being served and to come down to the diner if you wish breakfast. If they are already calling numbers, that means the diner filled up with just the people who tried to get in early before the first announcement.
Friday, Oct. 3, 1997, 09:20 AM EDT, Petersburg, VA
Friday, Oct. 3, 1997, 10:02 AM EDT, Richmond, VA


Marina at inlet to Potomic River south of Lorton, VA

Auto Train in Lorton, Virginia

Friday, Oct. 3, 1997, 11:40 AM EDT, Alexandria, VA

George Washington National Masonic Memorial

Friday, Oct. 3, 1997, 12:44 PM EDT, Washington, DC
Friday, Oct. 3, 1997, 01:24 PM EDT, Baltimore, MD
Friday, Oct. 3, 1997, 02:27 PM EDT, Wilmington, DE
Friday, Oct. 3, 1997, 03:04 PM EDT, Philadelphia, PA

Radio: Channel 32 - 160.590 - Heading North Out Of Rocky Mount,NC.
Radio: Channel 54 - 160.920 - Wilmington,DE to New York,NY.
The transition point from Channel 32 to Channel 54 is only approximate. I know they were using Channel 32 in Petersburg,VA and then were using Channel 54 in Wilmington,DE. The change could have been anywhere between those two stations, even as early as Washington,DC.
A large group of about 40 people boarded the train last night and all came to the diner at the same time at 6:30 AM for breakfast. Since the diner doesn't even hold that many people, that created quite a problem! Some people that tried to enter the dining car before 7 AM didn't get seated until after 8:30 AM! I wasn't even out of bed at that time so I avoided that problem. Lunch was my first meal of the day.
The lunch crowd wasn't too large. I came in on the first call, there were plenty of empty seats, and I stayed through the last call. Since so many people had to eat breakfast later than they expected, it was probably still to early for many to be hungry for lunch yet.
We are currently running about 1 hours and 20 minutes late. That should still be plenty of time for me to get into New York to catch the southbound Silver Meteor at 7:05 PM this evening. But, if this train falls behind much further, I'm going to have to seriously start to consider getting off at Newark, New Jersey, and taking the Silver Meteor south out of there at 7:23 PM.
Friday, Oct. 3, 1997, 03:46 PM EDT, Trenton, NJ
Friday, Oct. 3, 1997, 04:24 PM EDT, Newark, NJ
Friday, Oct. 3, 1997, 04:45 PM EDT, New York, NY

The train arrived into Penn Station in New York in plenty of time for me to make my connecting train at 7:05 PM. Arriving late just means I have less time to wait in the Metropolitan Lounge.
Metropolitan Lounge - New York Penn Station
The lounge was pretty crowded when I arrived. As a matter of fact, the entire station was very crowded when I arrived. This is right in the middle of the rush hour in New York and people are rushing to take trains everywhere. They have some type of Executive Club here at the New York Amtrak Station. It seems to be a plan where certain commuters with upgrade rail accommodations also get access to the Metropolitan Lounge. Plus, there are just a lot of trains coming and going at this hour in the in New York!
In most of the Amtrak Metropolitan Lounges, you can find electricity for your computer and you will find pay telephones. Sometimes you can even find a phone line that I you can use with a credit card with your computer. Most of the Metropolitan Lounges also have at least one computer for use by the people in the lounge. There is seldom anyone ever using those computers. They usually have one or more online services installed such as America Online, but I don't remember ever seing one with a modem hooked up. The computer in the New York Lounge was running Windows 3.11, but you had to know to type "win" to get it going since it came up to a "C:>" prompt when booted up. Two different older versions of America Online were installed, but there wasn't any modem hooked up. There was a phone jack, but I didn't try it with my computer to see if it was live. There were phones in various places around the lounge, but I didn't check to see if they were the type that you could plug in your telephone and use with a credit card.
Silver Meteor - Train #97
New York City, NY to Jacksonville, FL
Detectors:

Ch 54 - Mile Post 071.7 - (btw Wilmington,DE & Baltimore,MD)
Ch 32 - Mile Post 959.5 - (btw Kingstree,SC & Charleston,SC)
Ch 32 - Mile Post 978.9 - (btw Kingstree,SC & Charleston,SC)
Ch 32 - Mile Post 400.2 - (btw Charleston,SC & Yemassee,SC)
Ch 32 - Mile Post 421.0 - (btw Charleston,SC & Yemassee,SC)
Ch 32 - Mile Post 440.4 - (btw Charleston,SC & Yemassee,SC)
Ch 32 - Mile Post 551.1 - (btw Jesup,GA & Jacksonville,FL)
Ch 32 - Mile Post 572.0 - (btw Jesup,GA & Jacksonville,FL)
Ch 32 - Mile Post 592.0 - (btw Jesup,GA & Jacksonville,FL)
Train Length: 1073 feet, Speed: 81 mpg, Axles: 48
Radio: Channel 54 - 160.920 - New York City to Wilmington,DE.
Friday, Oct 3, 1997, 07:15 PM EDT, New York, NY

After I boarded the train and got all set up, I heard this load noise from the Public Address (P.A.) speaker that sounded like a jack hammer! It was relentless! This wasn't the first time that I had heard this noise in the Viewliners. It also happened on I believe my very first trip in a Viewliner which I think was on the Lake Shore Limited.
The source of this problem seems to be in the P.A. system itself. I don't know if this is the exact same Viewliner Car that I had the last time that problem occurred, or if this is just a problem common to the Viewliner P.A. systems. The last time I had to endure that noise, I complained to the Car Attendant and he shut the P.A. system off.
I didn't have a chance to complain this time before they already went ahead and shut the P.A. system off. The Car Attendant then went around to every room to tell us that he would let us know when the Dining Car started serving and would also notify each of us personally of any important announcements.
So, if you end up in a Viewliner Sleeper and the P.A. sounds like a jack hammer, just be aware this is a common defect in the Viewliners. Just tell the Car Attendant and they will turn off the P.A. system for the car. However, make sure you tell your Car Attendant to let you know about important announcements that are missed.
Friday, Oct 3, 1997, 07:33 PM EDT, Newark, NJ
Friday, Oct 3, 1997, 08:10 PM EDT, Trenton, NJ

Sometimes I totally forget to mention important features of Amtrak accommodation if I myself don't find them very useful. There is an audio/video entertainment center in each Viewliner Sleeping Car, even in the Standard Viewliner Bedrooms. There are usually 5 channels of programming available. The first 3 are music and channels 4 and 5 are movies. At this very moment, channels 1 and 2 are carrying music in my room, channel 3 is empty, a movie has not yet started playing on channel 4, and "Liar, Liar", a current hit in the video stores and cable TV, is playing on channel 5. Using headphones, each person in the room can select their own channel and set their own volume. I don't think Amtrak supplies headsets so it would be a good idea to bring your own. Just the standard headsets that you use with portable CD and tape players should work fine. In addition to a set of channel/volume/lighting controls above each seat, there is also a control set by the upper bed. Then, there is one more set above the television itself. The volume control above the television is the only one in the room that will put the sound through the room speaker. All the other volume controls only put the sound out through the headphone jack.
My understanding is that there are 4 movies available, all current hits in video stores and cable television. Two movies play at the same time on different channels and they are run continuously throughout the day and night. At least that is the way it is suppose to be done. Better double check to make sure it will be that way on your train before you plan to enjoy a midnight movie!
A couple of rooms down we have a family, or at least a mom and a bunch of kids. She is the type of mom that likes to screem at the top of her voice: "Keep it down! Stop making so much noise!" This should be an interesting trip. I think the Car Attendant is going to have his hands full. They've already gone through the common occurance of one of the kids locking themselves into the bedroom before being taught how to unlock the door! I wonder what happens if they have a kid that is too young or too stupid to follow instruction yelled through the window on how to unlock the door. I'm sure they must have a master release for such emergencies.
Well, I already had a decent lunch today and even had half of a peanut butter chocolate pie for desert. Both the sandwich and the desert were excellent! I don't want to top that off with another meal today. Thus, I went down to the snack bar and bought a couple of glasses of red wine and a bag of fat free pretzels. That should hold me until tomorrow. It is almost 8:30 PM and they haven't even started serving dinner yet. I know what that means. The whole train will pile into the Dining Car for the first call since everyone has had a chance to work up an appetite waiting so long and most people don't want to eat any later than 8:30 PM. I think I'll avoid that madhouse and the possibility of being assigned a number that won't be called until 10 PM.
The Car Attendant brought another complimentary bottle of wine in a box with a glass engraved with the name of each Amtrak Silver Train. Hmm. That makes 2 complimentary sets when I took 3 Amtrak Silver Trains. I guess the Car Attendant on the Silver Star didn't give any gifts out.
Is it Christmas time already? Seems a bit early for that. I just passed what looked like an entire neighborhood with lights on their houses.
A side tip for those of you that bring a cell phone when traveling. I just switched to NexTel for my voice cell phone calls. For $89 per month I get 400 minutes of cell time each month. When I am out of my local area, it only costs an additional 15 cents per minute for long distance. There are NO roaming charges with NexTel. However, NexTel doesn't offer modem or fax capability yet. Thus, I have kept my Motorola analog phone to use with my modem. Since I only need that phone for 5 or 6 weeks out of the year, I got it on a plan with a low monthly rate and a higher per minute rate. Because of roaming, long distance, and minute charges, calling while on the road costs me about $1.15 per minute. Thus, I need to keep those calls short. I just use it to upload e-mail that I've prepared offline, download new incomming e-mail, and upload short files to the web. When I'm in my local calling area, I get 2 hours per month of free calls to one phone number of my choice. I selected my dial-up modem number so that I could use my cellular modem for 2 hours per month for free when I'm anywhere in Southern California! The plan that I have on my analog phone is from Airtouch Cellular, costs me $24.95 per month, gives me 30 free minutes to any number in addition to the 2 hours free to the one selected number. Above that, calls are 49 cents per minute, but I will just use my NexTel cellular phone for all other calls.
Friday, Oct 3, 1997, 08:49 PM EDT, Philadelphia, PA
There were a lot of guys with dogs on the platform. Since they weren't blind and pets are not allowed on Amtrak, I can only suspect they are narcotics agents with dogs sniffing for drugs again. It looks like they brought enough dogs to do all the cars at the same time! I don't use drugs but I do find this rather intrusive. Well, at least it doesn't come close to being as intrusive as airline security.
Friday, Oct 3, 1997, 09:16 PM EDT, Wilmington, DE
Friday, Oct 3, 1997, 10:08 PM EDT, Baltimore, MD
Friday, Oct 3, 1997, 11:07 PM EDT, Washington, DC
Saturday, Oct 4, 1997, ??:?? AM EDT, Richmond, VA
Saturday, Oct 4, 1997, ??:?? AM EDT, Petersburg, VA

Radio: Channel 54 - 160.920 - New York,NY to Petersburg,VA.
Radio: Channel 32 - 160.590 - Petersburg,VA to Jacksonville,FL.
The transition point from Channel 54 to Channel 32 is only approximate. I know they were using Channel 54 in Wilmington,DE and then were using Channel 32 in Petersburg,VA. The change could have been anywhere between those two stations.
Saturday, Oct 4, 1997, 03:29 AM EDT, Rocky Mount, NC
Saturday, Oct 4, 1997, ??:?? AM EDT, Fayettesville, NC
Saturday, Oct 4, 1997, ??:?? AM EDT, Dillon, SC
Saturday, Oct 4, 1997, ??:?? AM EDT, Florence, SC
Saturday, Oct 4, 1997, 07:15 AM EDT, Kingstree, SC
Saturday, Oct 4, 1997, 08:16 AM EDT, Charleston, SC

The scenery along most of the three Amtrak Silver routes is "trees." Thick forests, thin forests, tall pine forests, just all sorts of forests! I am still amazed when I read in books about the "megalopolis" that supposedly stretches all the way from Boston to Washington,DC. There are suppose to be so many cities and so many suburbs that they all interconnect to form one continuous gigantic city. It certainly looks that way when you examine photographs taken from space of the lights on earth at night. However, if your only experience of the east coast was by train, you'd report of the nature of the east coast would be totally different. You would report that the east coast was mostly dense forests as far as you can see with an occassional large city or small town seperated by many miles of wilderness! If there are few forests left on the east coast, they must all be located on the land that is within 300 yards of the railroad tracks on both sides! Between the occassional city or town that pops up every few hours, it hardly looks like there are signs of civilization along much of the routes of the Amtrak Silver trains!
From time to time you will also find bridges and rivers that pop into view as well as some famous national sights in the nation's capital and in Philadelphia and other cities.
Saturday, Oct 4, 1997, 09:06 AM EDT, Yemassee, SC

Saturday, Oct 4, 1997, 10:05 AM EDT, Savannah, GA
Alvin McGrath, Jr. was at the Savannah station again as my train pulled in. We hadn't planned to meet this time, but I saw him walking by my window with his children. The train was pretty close to schedule this time so Alvin and I were able to talk longer. We talked about my trip and about his upcoming Amtrak journies in November and December. Once again, we had to stop mid-sentance as the conductor yelled: "Board!" But, I'm sure we'll finish that conversation via e-mail!
Saturday, Oct 4, 1997, 11:00 AM EDT, Jessup, GA (Brunswick)
Saturday, Oct 4, 1997, 12:30 PM EDT, Jacksonville, FL

There are souveneirs here! I purchased another black "Amtrak Silver Service" polo shirt and another while "Amtrak Florida Service" white T-shirt. This time the largest size they had was just "large." I also purchased a tan Amtrak baseball cap. They had some other shirts in smaller sizes and a few other Amtrak souveniers available.
Yesterday I gave some thought to what I would do while I was in Jacksonville for over 10 hours. I can work in an Amtrak Metropolitan Lounge for as many hours as I need to wait. I pretty much have everything I need since there is electricity and usually desk space in those lounges. There is also unlimited free coffee, soda, and sometimes snacks. However, there is no Metropolitan Lounge in Jacksonville.
I wasn't looking forward to sitting in a regular waiting room chair trying to get some work done off battery power for 10 hours. The station really isn't near anything, so even if I wanted to do a little sightseeing, I'd have to take a taxi somewhere. I heard about the "Landing" as a good place to tour. That sounded nice, but I really wanted to catch up on some work. If I was going to tour Jacksonville, I think I'd want to schedule a layover for a couple of days and go into town and the waterfront to do it right. There is a lot to see here.
Instead, I decided it would be worth it to stay in a hotel room for the 10 hours. That would give me a place to work and a telephone to use that wouldn't cost $1.15 per minute or more as the cellphone does. With America Online's new pricing structure, I can get on with a local call from almost anywhere in the country and stay on for as long as I want. The cost of the local call from hotels usually run about 50 cents to 75 cents per call and is even free sometimes.
America Online makes it real easy to connect to the internet while you are on the road. Your computer first connects to a free 800 number to obtain a set of phone numbers local to the hotel. I always keep the White Pages from the hotel room hand to find what prefixes are a local call to the hotel and pick matching prefixes from America Online. I then have my computer call an America Online local access number and I'm on for as long as I want for just 50 or 75 cents total!
If you don't like the America Online interface to the internet or to e-mail, no problem! Netscape Communicator rides right on top of your AOL connection. Just minimize AOL on your screen and bring up Netscape. The only drawback is that the AOL program doesn't know you are doing anything while you are in this mode and will try to log you off once in a while. To avoid that problem, just go use the AOL browser to look at a different web page every 5 minutes or so ... just so the AOL program knows that you are doing something. You might also be able to ride on top of AOL with the latest Microsoft web browser, but my version won't do that. It just keeps telling me the port is already open and won't work through the AOL connection.
Anyway, back to my story about getting a hotel room. I left e-mail for Randy over at Slotsy Tours & Travel. He made an unconfirmed reservation for me over at the Jacksonville Marriott (904-296-2222) and left a message on my voice-mail. With an unconfirmed reservation, I had until 4pm to show up and wouldn't be charged if I was a "no show". They had a weekend special for $79 per night with free breakfast, which I unfortunately would not be around to enjoy.
A van was waiting outside the Amtrak Station. I got in with another couple and a lady. The lady was going to the downtown Greyhound bus station. As it turned out, the other couple was also going to the Marriott to stay until the Sunset Limited's departure that evening! The driver gave us a little break since the 3 of us were going to the same place. He charged $20 per person instead of $25. Except for the detour to the Greyhound station, it would have been about a 20 minute ride from the Amtrak Station to the hotel. I was wondering if it might have been a lot less expensive for the 3 of us to share a taxi instead of taking this van. When we realized the 3 of us would be returning for the same train in the evening, we made arrangements for the van to come back to pick us up at 9:45 PM. The van driver said that would be enough time to get to the Amtrak Station by about 10 PM and still give us 37 minutes to wait for our train, assuming it was on time.
The other couple was mentioning how they didn't sleep very well because the train was rocking so much. I guess perception of that is all relative. They seemed to want the hotel partially to catch up on some of the sleep they missed last night. It can be more or less rocky depending on whether you are at the end of a car (more rocky) or the middle of the car (less rocky), and the position of your car in the train. Cars toward the center of the train seem to experience less rocking while those closest to the end of the train or near the locomotives will experience a bit more. But, I have been in cars in all of those positions and the rocking has never really bothered me. There have been a few exceptions, usually when I was in the most rocky part of the train while it was going over some rought track at high speed trying to make up some time. But, that has been pretty rare for me. I actually like the "gentle" rocking while falling asleep. I find sleeping perpendicular to the tracks as you can do in the Superliner Family Room and Deluxe Bedrooms, more soothing than sleeping parallel to the tracks as in the Standard (Economy) Bedrooms. I think that is because sleeping perpendicular to the tracks gives a head to toe rocking sensation where parallel to the tracks rolls you from side to side. As I said, this motion is very mild so don't get the idea that it is like a ship in high seas! I'd compare it more to taking a nap in a hammock. But, some people may be more sensitive to that motion.
While on the topic of "falling out", now might be a good time to talk about the upper bunks in the Sleeping Cars. I suppose it has happened, but I have never heard of anyone falling out of one. I have a difficult time seeing how that could happen if the Car Attendant has prepared your upper bed, or you have prepared it yourself properly.
There are two straps with hooks that attach to rings in the ceiling. These two straps along with a single cross strap effective block the side of the bed where you would fall out. The straps do not strap you in, the just hand loosely from the ceiling down to the side of the bed so that any attempt to roll out of the bed would be blocked. Even though I can't see how anyone could roll out of bed even with these straps slack, I personally like them taught. The only problem is, if you tighten them up, then it is impossible to connect them to the ring in the ceiling! There is a simple solution to this. Attach the hooks to the ceiling rings BEFORE you lower the bed all the way. You have plenty of slack until the bed is completely down. The same is true when you want to disconnect the hooks in the morning. Just put the bed up a little before you unhook the straps. Also, every Car Attendant tucks the bed sheets in as tight as if he just got out of boot camp! You have to squeeze yourself in like you were getting into a sleeping bag. Personally, I like my room cool at night and just want one thin sheet on me. Thus, I "untuck" the covers before I get into bed. If you don't "untuck" the tight covers, you will find that you probably couldn't fall out of bed even if there were no straps!
One last item on the bunks. In the Viewliner, I like to sleep up top because I can leave my computer and everything else set up below without disturbing anything before I go to bed. Also, from up top, I can open my window and watch the night view go by. As long as you turn off ALL lights inside your room and close the blinds into the hallway as much as possible, you can usually see out the window even at night. This is especially true if there is a full moon or you are traveling through cities. Also, the Viewline top bunk is even with the window so you can see out even when you recline completely. In the lower bunk, you would have to sit up to see out the window. When you open the top bed, you will see the matress and covers for the lower bunk is sitting on top of the matress and covers of the upper bed. Just unfold the mattress with covers and leave it right on top of the other mattress. This will give you a double thick matress for more comfort and raise you an inch making you pretty even with the window level. Unfortunately, there are no windows in the upper bed in the Superliners. Thus, in those, I put everything away and sleep on the lower bed each night.
The hotel was very nice. The room was very large and modern. I was in an end unit on the 4th floor overlooking the pool. This room was less expensive but certainly a lot bigger and nicer than the Hotel Pennsylvania in New York! Not wanting to waste time eating in a restaurant, I ordered room service. The meal prices were in the $6 to $7 range for lunch. I noticed that you could order Pizza Hut and have it prepared in the hotel and brought right to your room. Not having had Pizza since before this trip started and not likely to have it till it was over, I decided that would make the ideal lunch, being a pizza lover!
It rained for just a short while, but was otherwise sunny the rest of the day. I hear Florida weather is often like that. I just about unpacked and repacked everything in preparation for the next segment of my travel. Unlike the Viewliner, a suitcase doesn't fit into a Standard (Economy) Bedroom very well. Actually, a suitcase doesn't fit in a Viewliner Standard Bedroom very well either unless you can lift your suitcase over the top of your head and maneuver it into what is essentially a hole in the ceiling! But, using the upper bunk as a staging area, I've gotten pretty good at doing just that.
I like to move everything that I will need for my journey in a Superliner Sleeper into one carry-on bag plus my backpack. That way, I can leave my larger suitcase in the main luggage rack near the vestibule door and only take my two smaller bags into the room. This usually is pretty easy for me to do, though a little harder for the Sunset Limited since it is the longest route that Amtrak has. That is, unless you want to consider the Capitol Limited and Southwest Chief, which together are really a single route. Though, the train changes name, numbers and sits for over 8 hours in Chicago.
Once all repacked, I was ready to get down to work! The setup was great. They have a lamp on the desk and the base of the lamp has two grounded electrical outlets for your computer equipment and a phone jack for the modem. I was set up and running in no time without all the usual hassles with phone adapters and extension cords.
I also just discovered an ironing board and iron in the closet. A nice touch, even if I don't plan to use them at this time.
Saturday, Oct 4, 1997, 06:57 PM EDT, Jacksonville, FL

I'm just typing away here in the hotel and it seems like I'm in another world. It doesn't seem like I need to get ready to catch that van back to the Amtrak Station in a little over two hours. Just seems like I was always here typing away and can just stay here endlessly typing away!
Sunset Limited - Train #1
Jacksonville, FL to Los Angeles, CA
Staff:

Sleeping Car Attendant (0131): Ed Lemons
Sleeping Car Attendant (0130): Ashley Woullard
Dining Car Service Attendant: Mary Lou
Dining Car Service Attendant: Maurice
Dining Car Steward: Bill Knott
Dining Car: Tony (Chef), Armanda (Chef?), Bret (Chef?)
Chief of Onboard Services: Bill Harrison
Conductor from New Orleans: Richards
Detectors:

Ch 66 - Mile Post 0673.9 - (btw Jacksonville,FL & Lake City,FL)
Ch 66 - Mile Post 0697.5 - (btw Lake City,FL & Madison,FL)
Ch 66 - Mile Post 0673.9 - (btw Lake City,FL & Madison,FL)
Ch 66 - Mile Post 0719.0 - (btw Lake City,FL & Madison,FL)
Ch 66 - Mile Post 0738.5 - (btw Lake City,FL & Madison,FL)
Ch 84 - Mile Post 0648.5 - (btw Atmore,AL & Mobile,AL)
Ch 84 - Mile Post 0749.2 - (btw Gulfport,MS & New Orleans,LA)
Ch 84 - Mile Post 0770.9 - (btw Gulfport,MS & New Orleans,LA)
Ch 84 - Mile Post 0781.4 - (btw Gulfport,MS & New Orleans,LA)
Ch 84 - Mile Post 0786.7 - (btw Gulfport,MS & New Orleans,LA)
Ch 84 - Mile Post 0791.9 - (btw Gulfport,MS & New Orleans,LA)
Train Length: 962 feet, Axles: 44
Ch 96 - Mile Post 0036.1 - (btw New Orleans,LA & Schriever,LA)
Ch 96 - Mile Post 0049.6 - (btw New Orleans,LA & Schriever,LA)
Ch 96 - Mile Post 0064.4 - (btw Schriever,LA & New Iberia,LA)
Ch 96 - Mile Post 0076.1 - (btw Schriever,LA & New Iberia,LA)
Ch 96 - Mile Post 0094.4 - (btw Schriever,LA & New Iberia,LA)
Ch 96 - Mile Post 0177.4 - (btw Lafayette,LA & Lake Charles,LA)
Ch 96 - Mile Post 0210.0 - (btw Lafayette,LA & Lake Charles,LA)
Axles: 48, Speed: 66 miles per hour
Ch 96 - Mile Post 0242.1 - (btw Lake Charles,LA & Beaumont,TX)
Ch 27 - Mile Post 0444.0 - (btw Beaumont,TX & Houston,TX)
Ch 27 - Mile Post 0433.6 - (btw Beaumont,TX & Houston,TX)
Ch 27 - Mile Post 0422.0 - (btw Beaumont,TX & Houston,TX)
Ch 27 - Mile Post 0413.5 - (btw Beaumont,TX & Houston,TX)
Ch 27 - Mile Post 0402.6 - (btw Beaumont,TX & Houston,TX)
Ch 96 - Mile Post 0156.4 - (btw Houston,TX & San Antonio,TX)
Ch 96 - Mile Post 0227.7 - (btw San Antonio,TX & Del Rio,TX)
Ch 96 - Mile Post 0243.0 - (btw San Antonio,TX & Del Rio,TX)
Ch 96 - Mile Post 0257.4 - (btw San Antonio,TX & Del Rio,TX) - 79mph
Ch 96 - Mile Post 0274.5 - (btw San Antonio,TX & Del Rio,TX)
Ch 96 - Mile Post 0287.9 - (btw San Antonio,TX & Del Rio,TX)
Ch 96 - Mile Post 0292.8 - (btw San Antonio,TX & Del Rio,TX)
Ch 96 - Mile Post 0304.7 - (btw San Antonio,TX & Del Rio,TX)
Ch 96 - Mile Post 0311.0 - (btw San Antonio,TX & Del Rio,TX)
Ch 96 - Mile Post 0327.7 - (btw San Antonio,TX & Del Rio,TX) - 74mph
Ch 96 - Mile Post 0345.5 - (btw San Antonio,TX & Del Rio,TX) - 79mph
Ch 96 - Mile Post 0359.0 - (btw San Antonio,TX & Del Rio,TX) - 68mph
Ch 96 - Mile Post 0362.0 - (btw San Antonio,TX & Del Rio,TX)
Ch 96 - Mile Post 0369.2 - (btw San Antonio,TX & Del Rio,TX)
Ch 96 - Mile Post 0374.0 - (btw Del Rio,TX & Sanderson,TX) - 57 mph
Ch 96 - Mile Post 0386.0 - (btw Del Rio,TX & Sanderson,TX) - 72 mph
Ch 96 - Mile Post 0471.9 - (btw Del Rio,TX & Sanderson,TX) - 40 mph
Ch 96 - Mile Post 0485.1 - (btw Del Rio,TX & Sanderson,TX) - 70 mph
Ch 14 - Mile Post 0521.5 - (btw Sanderson,TX & Alpine,TX)
Ch 14 - Mile Post 0579.1 - (btw Sanderson,TX & Alpine,TX) - 79 mph
Ch 14 - Mile Post 0580.7 - (btw Sanderson,TX & Alpine,TX)
Ch 14 - Mile Post 0595.7 - (btw Sanderson,TX & Alpine,TX) - 75 mph
Ch 14 - Mile Post 0603.9 - (btw Sanderson,TX & Alpine,TX) - 39 mph
Ch 14 - Mile Post 0615.5 - (btw Alpine,TX & El Paso,TX)
Ch 14 - Mile Post 0626.0 - (btw Alpine,TX & El Paso,TX) - 57 mph
Ch 14 - Mile Post 0688.2 - (btw Alpine,TX & El Paso,TX) - 77 mph
Ch 14 - Mile Post 0706.8 - (btw Alpine,TX & El Paso,TX)
Ch 14 - Mile Post 0721.5 - (btw Alpine,TX & El Paso,TX) - 61 mph
Ch 14 - Mile Post 0734.5 - (btw Alpine,TX & El Paso,TX) - 59 mph
Ch 14 - Mile Post 0748.4 - (btw Alpine,TX & El Paso,TX) - 60 mph
Ch 14 - Mile Post 0765.5 - (btw Alpine,TX & El Paso,TX) - 74 mph
Ch 14 - Mile Post 0776.2 - (btw Alpine,TX & El Paso,TX) - 68 mph
Ch 14 - Mile Post 0788.8 - (btw Alpine,TX & El Paso,TX) - 65 mph
Ch 14 - Mile Post 0800.1 - (btw Alpine,TX & El Paso,TX) - 69 mph
Ch 14 - Mile Post 0811.5 - (btw Alpine,TX & El Paso,TX) - 68 mph
"Malfunction Detected!"
Ch 96 - Mile Post 0
Radio: Channel 66 - 161.100 - Jacksonville,FL to Madison,FL.
Radio: Channel 84 - 161.370 - Pensacola,FL to New Orleans,LA.
I don't know where, but sometime during the night between Madison and Pensacola, Florida, the road channel changed from Channel 66 to 84.
Saturday, Oct 4, 1997, 09:30 PM EDT, Jacksonville, FL

I packed up everything and headed downstairs to check out of the hotel. I knew the van would be at the hotel by 9:45 PM to pick us up and heading down at 9:30 PM would give me plenty of time to take care of that. When I got out of the elevator, the van driver was already waiting in the lobby. I got quite a surprise when I checked out! I was quoted $79 for the room, but I was only charged $39.50 plus tax! I guess they pro-rate the room if you don't spend the night. This would be a great place to wait out your train connection in Jacksonville if it didn't cost $50 for the round-trip van fare! The van driver told me that the Ramada in is a lot closer to the train station, is about half the price of the Marriott, but it isn't as nice. That might be a viable option if all you plan to do is rest between trains. But, if you intend to see the sights in Jacksonville, I think the Marriott is more centrally located.
The van driver gave me the Sci-Fi/Fantasy book he just finished reading: "The Warlock In Spite Of Himself" by Christopher Stasheff. He gave me a bit of a review of the book and we briefly discussed Isaac Asimov and Robert Heinlin, two authors of which I have read all of their works of science fiction. He also discussed a bit of Arther C. Clark, an author that wrote books I liked when he used to write them by himself. I like science fiction, but I really don't like fantasy. That isn't the topic here, but there is quite a difference between the two. I have a hard time refusing something given to me by someone that means well, so I did take the book. But, I'll probably pass it on to someone that will appreciate it more than me.
We left the hotel at about 9:45 PM for what should have been a 20 minute ride. That would get us to thte Amtrak Station at least a half hour early. When we came to a railroad crossing just before the station, there was the longest freight train I have ever seen in my life going by! I didn't panic as I felt we had plenty of time. It was about 10:20 when I checked my watch and the Amtrak Sunset Limited wasn't even due into the Jacksonville station until 10:22. Even then, it couldn't leave until 10:37 PM. However, this freight train was really long! I didn't worry at all about missing our train, but I probably should have been. When the freight train finally got out of the crossing and we pulled into the Amtrak station, I could see that the Sunset Limited was already in the station and boarding! There was a long line in the station as the Conductor was taking tickets and directing people to their train cars as they left the station.
It seemed I had barely boarded the train and put my stuff away that the train was on the roll. So just how close did I come to missing this train?
Saturday, Oct 4, 1997, 10:37 PM EDT, Jacksonville, FL

The moment I got to the train, I recognized the Car Attendant. I had a good feeling about this Car Attendant, but I didn't know why. I know it wasn't the Car Attendant I had on the last trip I made on the Sunset Limited for that was Ashley Woullard. Ashley was also the very first Car Attendant I ever met on my very first Amtrak trip. That was back in the summer of 1995 on the Amtrak Coast Starlight. However, I was certain he had been my Car Attendant on the Sunset Limited before, even though it has been a while since I traveled on the Sunset Limited prior to the trip in which Ashley was the Car Attendant.
I glanced at the Car Attendant's name tag and saw that his first name was "Ed". I quickly did a computer search through my travelogues for the name " Ed ". The only one I came up with was a Car Attendant that called himself "Mr. Ed" who was on the return trip from Disneyworld my kids and I took on March 15, 1996.
I started to read about that report and "Mr. Ed". "Mr. Ed" turns out was one of those few Amtrak Car Attendants that I would put in the excellent category! He goes beyond the call of duty to make sure his passengers have everything they need to enjoy their travel. Could this be the same "Mr. Ed"? He was very friendly and helpful the moment I got on the train, the beds were already set up, and there were mints on both pillows. So far, he matched the description from my previous trip. Then I read that he always had hot coffee ready, from the time I woke up until I went to sleep. Well, that seemed a good way to double check things. Most Car Attendants pull the plug long before 10:37 PM! I went over to the coffee urn, and sure enough, there was plenty of hot coffee available. Not only that, but he didn't have just those little creamer cups. He had a whole quart of coffee creamer sitting in ice next to the coffee urn! Now there is something that does things my way! I figured it had to be him.
The next time he came by, I asked him if he ever calls himself "Mr. Ed". He said: "That's me! I sometimes call myself Mr. Ed!" I was starting to have a really good feeling about this trip. We talked a bit about my previous trip on the Sunset Limited and how my children had a wonderful time. I reminded him how my daughter drew a special freehand drawing of the Lion King for him. She is pretty talented at drawing and he was amazed when he saw the quality of her freehand art when she had just turned 11 years old. He did remember that! I was especially pleased to find out that he will be with us for the entire trip to Los Angeles. Since the Sunset Limited starts in Orlando rather than Miami, they only need one set of service staff instead of changing as they used to in New Orleans.
I asked "Mr. Ed" what his real last name was. He said: "Sourpuss." I said: "No, really ..." and then looked at his name tag to quickly realize that I will never forget his name again with that answer. His real name is Ed Lemons!)
When I first started riding Amtrak trains, I used to worry that someone would get upset at me for plugging my computer into the "110 Volts -- Razors Only" outlet. I stopped worry about that when I saw another passenger request and receive permission to plug their high wattage hair dry into the outlet. The Car Attendant told them to go ahead, and if it blew the circuit, to let him know so he could reset the circuit breaker!
When Ed saw my notebook computer, he asked if I had a surge protector for it. He said he had some spare ones in case I needed one! Now that is really thinking ahead for your passengers! I didn't ask for one. I've been using computers on the Amtrak trains for over two years and have never had any problem, even though power interruptions and voltage fluctuations are quite common. Someone with a background in electronics will have to give me the real story, but I've always assumed I was in good shape with a battery powered notebook even when plugged into the outlet. I figured the notebook was really battery powered, and thus not subject to power interruptions or fluctuations, and all the AC power did was to keep the battery charged up. If I'm wrong on this one, someone can send e-mail to me to correct me. But one last note, I don't push my luck beyond that. When the power does go out in the train, I unplug everything just incase the power surge that comes through when the power goes back on is bad for any of the electrical things I bring along.
So the adventure and saga of the Sunset Limited begins! I have no idea what is in store for us yet, but the Sunset Limited has a reputation of being VERY late into Los Angeles. That is fine with me since I don't have a train to catch and is just extra "free" hours of travel my Amtrak as far as I'm concerned. However, it can be a serious problem for those passengers expecting to make "guaranteed" connections. It can also be very hard on the crew having to apologize for events that are beyond their control and putting up with frustrated and angry passengers.
The last time I was on the Sunset Limited, it came into Los Angels 12 and 1/2 hours late, arriving at 6:30 PM instead of 6:00 AM! Some people were bussed as far north as Sacramento! Others were put up in a hotel to catch the Coast Starlight on the following day with no guarantee that Sleeping accommodations would be available for Sleeping Car passengers. Just a hint from me: If you are going to connect to the Coast Starlight from a westbound train in Los Angeles, do yourself a favor and schedule a one night layover in Los Angeles. You will travel in your westbound train a lot more relaxed knowing it doesn't matter what time your train arrives into Los Angeles!
Even though the train left Jacksonville right on time, passengers are already being told to expect a late arrival at points west. They've told the passengers they don't know how late the train will arrive in various locations, but that they will know more in the morning. They are saying that this is because of track work. I know that some of it is because of track work, but I also know that a lot is due to a tremendous backlog of freight trains all along this route. There are so many freight trains backlogged that we have the equivalent of gridlock during rush hour.
In some parts of the country, I have heard that there are so many freight trains parked in sidings either waiting for crews or waiting for opposite running trains to pass on single track, that there often are no sidings available into which freight trains can pull off the main track to let Amtrak pass. When that happens, all the Sunset Limited can do is just follow the slow freight train in front of it, sometimes for hundreds of miles until an available siding of adequate length is found so that Amtrak can pass it. This can get the Sunset Limited hours behind schedule!
The people in the room next to mine asked Ed for an extra pillow. If there are empty sleepers, this usually isn't a problem. However, the Sunset Limited often fills up its sleepers for some parts of the route, and this car seems a little short on pillows. There are often 2 pillows per bed, but there seems to be only one per bed this time. I had 2 in my room, but I'm only using one bed, so I gave them one of my pillows. Except when I go to sleep, I'm always trying to find places to stuff the pillows out of the way, especially when I'm given 4 of them! I usually don't use a pillow except when I go to sleep anyway.
I don't like big lights in my room at night. Actually, I like to make it completely dark so I can see out the window. But, if I'm working, I prefer the reading lights instead of the big overhead light. When I tried to turn on a reading light, it didn't work. I tried another one. That didn't work. I tried the upper bunk one and that didn't work either. I told Ed and he went down to check the circuit breakers. Sure enough! One of them had flipped. He reset the breaker and I had my lights!
Saturday, Oct 4, 1997, 11:55 PM EDT, Lake City (Gainesville), FL

Already running 16 minutes late! A bit hard to see the station, but it looked rather small with a good size parking lot. I saw a couple of cars in the lot about to leave. Thus, a couple people probably got dropped off by friends or family here to board the train.
Sunday, Oct 5, 1997, 12:39 AM EDT, Madison, FL

This stop is a "gazebo"! There is just a little open air gazebo by the tracks, maybe 15 feet in diameter, with a couple of park benches inside. It has a "Madison, Florida" sign on it. The gazebo, a flagpole and a small empty parking lot seem to be the whole station! I'm not sure why we are sitting here so long. The train is late, but we seem to be sitting here for a long time. I'm not sure why. I don't hear anything on the radio. We got in at 12:40 AM, just one minute after our scheduled departure time, but didn't leave until 12:52 AM, back to 13 minutes behind schedule!
I just heard over the radio that the delay was due to signal trouble. In other words, the track ahead was probably clear for us, but the signal falsely indicated that we could not proceed.
Sunday, Oct 5, 1997, ??:?? AM EDT, Tallahassee, FL
Sunday, Oct 5, 1997, ??:?? AM CDT, Chipley (Panama City), FL
Sunday, Oct 5, 1997, ??:?? AM CDT, Crestview (Ft. Walton Beach), FL
Sunday, Oct 5, 1997, 05:45 AM CDT, Pensacola, FL

Radio: Channel 66 - 161.100 - Jacksonville,FL to Madison,FL.
Radio: Channel 84 - 161.370 - Pensacola,FL to New Orleans,LA.
I don't know where, but sometime during the night between Madison and Pensacola, Florida, the road channel changed from Channel 66 to 84.
I went to breakfast early this morning. On my way down, and to my pleasant surprise, the Car Attendant in the next car was Ashley Woullard again! This is the same Ashley that I just got through writing about above! It was bound to happen that after 120,000 miles of Amtrak travel in just two years, I'd eventually have to start seeing some familiar faces! We were very happy to see each other. This is going to be a great trip with the two best Car Attendants of Amtrak on the same train!
The conversation at breakfast was enjoyable. Two of the people were traveling together and were on the train for the fist time. One of them decided this was the best way they had ever traveled and planned to make this the only way they will ever travel in the future! This was from a person whose last segment was in First Class on an airplane and was just traveling in a Coach Seat on this train! The other person didn't like the light swaying of the train and decided this would be there last train trip!
Bill was the Dining Room Steward and was a very friendly, funny and helpful person. Our Dining Car Service person was also very friendly and helpful. With the staff that I have met on this trip so far, this train could definitely challenge the best of the Coast Starlight in excellent service! This is a far cry from what I have experience on some of my past Sunset Limited travels.
Sunday, Oct 5, 1997, 07:29 AM CDT, Atmore, AL

Mobile River & Bayou Sara
This is near the site of Amtrak's worst disaster in history. On September 22, 1993 at 2:50 AM, the eastbound Sunset Limited plunged off the bridge and into the waters of Big Bayou Canot drowning 47 passengers. Two barges had broken loose, hit the bridge and caused a severe misalignment of the tracks just before the Sunset Limited arrived. Normally, such damage to the tracks would break the electrical continuity of the tracks and signal the train to stop, but this misalignment was such that the continuity wasn't interrupted. When I was at a recent rail meeting in Dallas, I spoke to someone who was on a car of that train that plunged off the bridge. He was in the upper level of a Superliner Coach Car and was able to swin to safety. The car landed in only about 7 feet of water, but some on the lower level were not able to get out. Compare the worst disaster in Amtrak history where the vast majority of passengers left the train without injury to any airline disaster where there is seldom a survivor. Our train stopped before we headed over the Mobile River and then we proceded slowly after receiving clearance.
Bill, the Dining Car Stewart, just made his first announcement of the morning: "This is Bill, the Dining Car Stewart. If you would like to join us for breakfast, please come to the Dining Car at this time. The coffee is fresh, the food is hot, the attitudes are great, and it is a beautiful morning!"
Sunday, Oct 5, 1997, 08:41 AM CDT, Mobile, AL
Sunday, Oct 5, 1997, 09:21 AM CDT, Pascagoula, MS
Sunday, Oct 5, 1997, 09:46 AM CDT, Biloxi, MS
Sunday, Oct 5, 1997, 10:04 AM CDT, Gulfport, MS

I just heard that a lot of Amtrak service staff do not like to work the Amtrak Coast Starlight. I never even thought about that, but I guess it does make sense. Seeing how the Coast Starlight is the undisputed leader of the Amtrak fleet when it comes to customer service, I just assumed that any Amtrak service person would consider it an honor to work on such a crack team. But, there is a downside for service staff.
Brian Rosenwald, the Product Line Manager for the Coast Starlight, likes to run his line like an exclusive resort or restaurant. You will be treated as a First Class Guest on the Coast Starlight, but I guess the service staff gets the same restrictions placed on them that staff in a exclusive resort might find. The service staff is not allowed to eat in the Dining Car on the Coast Starlight. On almost all other trains, there is usually one or two tables at the end of the Dining Car reserved just for the staff. The staff used to be allowed to eat downstairs in the Pacific Parlor Car, but that is no longer the case now that it has been converted to a Big Screen TV Movie Theatre. Thus, the Coast Starlight staff must now take their meals in the crew car break area. I guess there is a very sharp dividing line on the Coast Starlight between passengers and staff and they are not suppose to mingle except in a professional capacity.
I can see both sides of the argument on this one. Personally, I like to fraternize with the staff. If I had my way, I'd not only allow the staff to eat in the Dining Car, but I'd require that they eat with the other passengers and not sit at their own table! That actually is the policy of many cruise ships, at least for staff at the upper levels. I'd consider just about any Amtrak staff that you are likely to encounter on the train to qualify for this upper level status and be allowed to sit with the passengers. Many passengers, including me, would find conversing with staff members over a meal very interesting and entertaining. If co-mingling between passengers and staff is disallowed at meals to give passengers a first class service impression, then they better also move away from serving "bunk house" style and stop placing strangers at the same table to eat together. If the Coast Starlight administration is concerned about giving passengers First Class service, then I'd say the "bunk house" seating policy is more damaging to their credibility than having staff eat in the dining car! I don't mind eating with strangers too much, but I'd mind eating with the staff a lot less! At least some of them aren't strangers by the time we get to sit down and eat.
Probably the most disturbing to staff is the feeling that you are a "second class citizen" on the Amtrak Coast Starlight. The passengers alway come first and the passengers are always right when it comes to a complaint. The staff has no say and no defense.
I can understand that Brian Rosenwal is trying to establish a "corporate culture" in the Coast Starlight staff. Basically, the Coast Starlight policy is that it doesn't matter whether the customer is right or not, we will always assume they are right. Of course, that can rile up a staff member when they get chewed out for not having done anything wrong. I can see how the best staff would take this especially hard since it would be perceived as their excellent level of service not being appriciated when falsely blamed by a passenger. However, the service provided by the average Car Attendant is far from that which gets provided by Amtrak's best Car Attendants. How do you instill an attitude of service excellence in average Car Attendants? I think Brian is just trying to accomplish that and maintain the high customer service reputation of the Coast Starlight. His methods do have some unfortunate ramnifications for some of the best service staff, but I can't think of any alternatives. If some of the best service staff on Amtrak do not want to work on the Coast Starlight for that reason, that is probably good. The rest of the Amtrak routes need as many excellent staff people as they can get.
Sunday, Oct 5, 1997, 10:52 AM CDT, Bay St. Louis, MS

Sunday, Oct 5, 1997, 11:59 AM CDT, New Orleans, LA
Radio: Channel 22 - 161.100 - New Orleans,LA.
Radio: Channel 96 - 161.550 - New Orleans,LA to Beaumont,TX.
The schedule shows an expected arrival time of 1:10 PM CT, but we arrived just before noon. Most people are getting off the train to do a little touring of New Orleans before our scheduled 2:05 PM CT scheduled departure. On every trip I have ever taken on the Sunset Limited except for the last one into New Orleans, the train has always arrived 2 to 3 hours before departure time. The last time I was through here, I found a flyer on the train advertising a tour on New Orleans for the Amtrak Sunset Limited passengers. I decided that I wanted to take that tour with my children. Unfortunately, I think that was the time we had to detour through Hattiesburg and arrived late into New Orleans. Thus, no tour!
If you do get off in New Orleans, it is often impossible to get back on through the station until they make a boarding call, about 10 minutes before the scheduled departure. You may be able to get back on by going outside the station and back in through some other way near the tracks bypassing the station building itself altogether. However, be aware that this violates all safety rules! When you are in the station, you will find they are very adamant in not letting anyone out the doors to the platform until the boarding call, even if you only wanted to step off the train for a few minutes!
I've got quite a bit of work cut out for me, so I'm just going to remain onboard and continue to try to catch up with things. And ... I really want to avoid hanging around the station twidling my thumbs waiting for the boarding call!
While we were in New Orleans they added another Sleeping Car to the train. The power went on and off quite a few times.
Sunday, Oct 5, 1997, 01:55 PM CDT, New Orleans, LA

A large Japanese film crew just came onboard. This is the same film crew that I saw at the Orlando Amtrak Station the other day! They evidently have official sanction from Amtrak. They plan to do some filming from the head end on this trip (from the cab of the locomotive). They have a lot of people and a lot of equipment. There seems to be a main cameraman and a soundman that is connected to the camera with a wire and follows the cameraman around. There is also someone with a self contained set of equipment that is much smaller. There also seem to be people in charge of carrying around all the equipment cases and luggage. I don't think anyone speaks English except one person that isn't Japanese and seems to be doing all the translating for them.
Ed seems to have his hands' full with them! I think they have one or more of the Deluxe Rooms in this car (#0131). They are running back and forth through the train, I guess trying to get various shots they want before the train leaves the station. They also told Ed they want to stick the camera out the vestibule window as the train leaves the platform. Ed reminded them of the danger of that. The translater replied that they were use to that as they had it out the window for 3 hours coming into New Orleans on their previous train. I can imagine these circumstances are a bit tricky. Normally that is against safety regulations, but the staff has obviously been instructed to cooperate in every way they can in making this film.

That is a car way down there! We are just about ready to head over the Mississippi River on the 4.4 mile Huey P. Long bridge. The first time that I ever crossed this bridge on the train was at night. I was with my children and wasn't looking out the window until we were well above the ground. Accidentally I happened to glance at the window and noticed a view I haven't seen since I used to fly private planes! The view was the same out the window as a low flying aircraft. I quickly went to the window and all I could see were cars and houses far below. I couldn't see any railing at all! I could look as straight down out our window as possible and the only thing to be seen were cars and houses, just like from an airplane! Later, I realized that the tracks gain a good deal of altitude to get over the Huey P. Long bridge. Since the train goes fairly slow over the bridge, railings are not needed.
Sunday, Oct 5, 1997, 03:45 PM CDT, Schriever, LA
Sunday, Oct 5, 1997, 05:22 PM CDT, New Iberia, LA

I spoke to the Chief of Onboard Services, Bill Harrison, and told him that I thought he was a pretty luck guy for having the best two Car Attendants in all of Amtrak on the same train! I had just come back from dinner in the Dining Car. The service and the food were fabulous there. If this keeps up, the Sunset Limited won't be able to keep its reputation of being one of the most problematic trains that Amtrak has. (It's ever running pretty close to schedule too!) Mary Lou (but she really has another last name that she won't tell me) was our server in the Dining Car and she was great. Earlier in the day, I had Maurice as our server. He was also wonderful, but I wasn't able to get his last name. And, I think I mentioned before that the Steward is Bill Knott. This trip is going to compete with some of the best First Class travel that I have had on the Coast Starlight! If you travel the Sunset Limited, please understand that I cannot guarantee that you will have a trip this wonderful ... unless you happen to get the same crew that I have on this trip!
Almost forgot, I had the two Filet Mignon steaks prepared medium with mashed potatoes, salad, dinner roll, and apple pie al amode for desert, plus coffee. Everything was just great! They also had chicken dishes, vegetarian dishes, a fish dish featuring catfish, special meals for kids, and a specialty prepared by the chef of sausage, red beans, and some other features. The steak was tender and delicious. I didn't even need any steak sauce, which is a real sign of a well prepared delicious steak when it comes to my tastes.
Sunday, Oct 5, 1997, ??:?? PM CDT, Lafayette, LA
Sunday, Oct 5, 1997, 07:43 PM CDT, Lake Charles, LA

I spoke with the Japanese cameraman and his associate, to limited effect. Their English seemed to be extremely limited and I don't speak any Japanese. I did give them my TrainWeb business card and they thanked me, but I'm sure they had no idea what use it would be to them.
Later I was able to speak to their translator and the producer of their video and also give them my business cards. The translator was American and spoke perfect English and the producer also seemed to have a very good handle on English. I also gave them my one and only copy of the "Amtrak Sunset Limited Route Guide" which I felt might be more useful to them and give me more credibility than my business card. There were no Route Guides on the train as Amtrak is printing a new version, probably one of those shorter versions with less information. (Don't forget, you will still be able to get the full length detailed Amtrak Route Guide right here at TrainWeb. If it isn't posted yet, it will be available soon!) I have a few more copies of the Amtrak Route Guide for the Sunset Limited, but not with me on the train. I told them that "http://trainweb.com" would be a good place for them to go if they needed additional background information about Amtrak. They seemed pleased with that.
Sunday, Oct 5, 1997, 09:05 PM CDT, Near Beaumont, TX

At Mile Post 276.4, the train went into emergency stop. In talking with the Conductor, the Engineer said that this is exactly where the train went into emergency stop last time! After a bit of examination, they found that the train blew a gasket on the brake air hose. It took about 20 or 30 minutes to locate and fix the problem and get the train on its way again. In the meantime, everyone gathered in the downstairs vestibule and Ed opened the windows to let some air in since the ventilation system wasn't working. The door to our car was right in the middle of the intersection so we had big red lights flashing in our face and bells ringing in our ears. A driver from a pickup truck that was trapped at the intersection by our train got out and conversed with us through the open vestibule window. It is a rare and unique treat when people on the train get to converse with people on the street in the middle of nowhere! I had my scanner on and we all listed to the repair efforts blow by blow.
Sunday, Oct 5, 1997, 09:54 PM CDT, Beaumont, TX

Radio: Channel 96 - 161.550 - New Orleans,LA to Beaumont,TX.
Radio: Channel 27 - 160.515 - Beaumont,TX to Houston,TX.
Radio: Channel 96 - 161.550 - Houston,TX to San Antonio,TX.
I walked through my entire Sleeping Car (#031) and the next one (#030) and found that there wasn't a single bedroom available! I don't know what the story is about the extra Sleeping Car they added in New Orleans.
Monday, Oct 6, 1997, 12:50 AM CDT, Houston, TX

The Japanese film crew got off here. A white panel van drove down along the side of the tracks to the position of our sleeping car on the train. They had a ton of equipment that came off the train and into the van! They filmed one person that was dressed in a suite & tie that came off the train and said goodbye to the Car Attendant. I guess he is suppose to be the main person or the narrator of the video. When he first stepped off, he headed in the wrong direction for the station. Thus, they had him get back on the train and filmed him stepping off the train and saying goodbye to the Car Attendant all over again! This time he headed off in the right direction for the station.
I met Maury Gibson on the station platform. We had a brief chat. I knew him only through his posts of the Sunset Limited status reports to Sherman Frost's "All-Aboard" mailing list.
Radio: Channel 96 - 161.550 - Houston,TX to San Antonio,TX.
Radio: Channel 22 - 160.440 - San Antonio,TX.
Radio: Channel 14 - 160.320 - San Antonio,TX.
Radio: Channel 96 - 161.550 - San Antonio,TX to Sanderson,TX
Monday, Oct 6, 1997, 08:11 AM CDT, San Antonio, TX

1968 HemisFair Tower of Americas & Alamodome / San Antonio Station Building
We departed here 2 hours and 36 minutes late. That means we are in good shape so far for those people making connections to the Coast Starlight. If we don't lose any further time, we will be into Los Angeles at 8:41 AM, almost an hour before the departure of the Amtrak Coast Starlight. However, just in case, some of the people are already being told what will happen if we lose any more time before getting to California. They are being told that they will most likely be taken off the train in Ontario and then be taken by bus for a 3 hour ride to Santa Barbara to meet up with the Amtrak Coast Starlight. If you have browsed through my suggestions at TrainWeb, you will find that I always suggest a one day layover in Los Angeles between all westbound Amtrak trains and the northbound Amtrak Coast Starlight. That will insure you have a relaxing trip on your journey west without any worry about making your connection in Los Angeles!
Monday, Oct 6, 1997, 11:37 AM CDT, Del Rio, TX

I wend down to the Dining Car to have lunch as soon as it opened at noon today. There was already quite a line at the door waiting to go in and I heard that there was even more of a line at the other end from Sleeping Car passengers who had been waiting in the Sightseer Lounge Car for the Dining Car to open.
I was talking with a father and his two sons who were on their first train trip. The had upgraded to the Family Bedroom during the trip and were having a wonderful time! They thought the service and the food were great, which they really have been on this trip! We all enjoyed our lunch greatly. I had the chef's special which was a grilled turkey sandwich and a vegetable beef soup. The others at my table had a range of items, from hamburgers to pasta. Everyone at our table enjoyed their lunch. The father made a comment that I have definitely found to be true. I'm not one for eating vegetable sides in restaurants, but the way they prepare it on most Amtrak trains, whether it is the spices or the way the cook them I don't know, but they are delicious! He is the first person who has ever mentioned it to me. Others might have had the same opinion, but it is rare that someone is so impressed with the taste as to bring it up in conversation.
Our server at dinner was Judy. I didn't quite catch her last name, but it was something like Belvenier. She was very friendly and her service was superb! I'm glad to see that all the service staff on this train have been able to maintain their good attitudes. The train is quite full which means there is a lot for all the staff to do. Meal times run longer when the train is full and the Sleeping Car Attendants have a lot more to do when every room in their car is booked.
At lunch, I couldn't help but overhear the table next to us. Just about everywhere I go on the train I hear people concerned about their connection to the Coast Starlight. I don't know why Amtrak just doesn't instruct their own Ticket Agents, Travel Agents, and Amtrak Vacations to encourage people to set aside at least one day to tour Los Angeles between their westbound and northbound trains. By eliminating the worry from everyone onboard trying to make that connection, Amtrak would leave a much better impression with everyone. Also, they could save the expense of having to bus people from Ontario to Santa Barbara or San Luis Obispo, save hotel costs of those that would have had to be put up for a night, and avoid ruining the train ride and view people expect to have from Los Angeles up to San Luis Obispo along the coast!
Monday, Oct 6, 1997, 02:25 PM CDT, Sanderson, TX

Radio: Channel 96 - 161.550 - San Antonio,TX to Sanderson,TX
Radio: Channel 14 - 160.320 - Sanderson,TX to El Paso,TX
Monday, Oct 6, 1997, 03:17 PM CDT, Alpine (Big Bend Nat'l Park), TX

We passed the eastbound Sunset Limited Train #2. It was running about 3 hours late out of El Paso, Texas.
The detector at mile post 811.5 detected a malfunction. We rolled by there at 68 miles per hour. I heard the detector report the malfunction, but either the Conductor or Engineer did not, I don't know which. One asked the other: "Did you hear that malfunction report?" The other replied: "No, somebody stepped on it." In radio terms, "stepped on it" means that someone attempted to transmit at the same time as someone else so that neither party could be heard. But, as I said, I heard it clear as day and so did either the Engineer or Conductor.
One said to the other: "You see a light ahead?" "Yes." "Let's go down to 10 miles per hour and request they do a roll-by inspection of our train." They then requested over the radio to the other train to closely examine our train as they rolled by at 10 miles per hour. They did so and then reported: "Highball One!" "Highball" means it is OK to proceed and we are Amtrak Train Number One.
Insect bites! In over 120,000 miles of travel on Amtrak, I have never been bit by an insect. But, maybe within the last hour or so, something bit me on my neck and near my waste! Very strange.
Monday, Oct 6, 1997, 07:43 PM CDT, El Paso (Ciudad Juarez, Mex), TX

They just called the entire staff to the diner for a special "briefing" meeting, even the Conductor. Actually, I overheard the Chief talking about it was time to do that thing for Mary Lou. I guessed correctly that they were having a brief birthday celebration for Mary Lou!
Once again, the dinner was fantastic! Judy was our server again. I had the "Chicken Catalina" which was a chicken breast stuffed with spinach and cheese and served on a bed of rice with salad and a roll. The other two people at my table had filet mignons. Everyone's opinion of the food was that it was excellent! However, once again, the people that I ate with were traveling together with one person in love with train travel and the other one not understanding the "waste of time." Even though she didn't understand why one would take the time to take a train, she did agree that the food and the service were both superb!
Radio: Channel 14 - 160.320 - Sanderson,TX to just before El Paso,TX
Radio: Channel 96 - 161.550 - Just before El Paso,TX to ...
Monday, Oct 6, 1997, ??:?? PM CDT, Deming, NM
Monday, Oct 6, 1997, ??:?? PM MDT, Lordsburg, NM
Monday, Oct 6, 1997, ??:?? PM MDT, Benson, AZ
Monday, Oct 6, 1997, ??:?? PM MDT, Tucson, AZ
Monday, Oct 6, 1997, ??:?? PM MST, Maricopa, AZ
Tuesday, Oct 7, 1997, ??:?? AM MST, Yuma, AZ
Tuesday, Oct 7, 1997, ??:?? AM PDT, Indio, CA

Tuesday, Oct 7, 1997, 07:30 AM PDT, Palm Springs, CA

My guess says that this train is going to get into Los Angeles at about 10:30 AM PDT, about 15 minutes after the southbound San Diegan that I need to take to Fullerton has left! Even if we got to the station before the train left, I still have to go all the way in and purchase a ticket. The next train isn't scheduled out of Los Angeles until after noontime, and that is the Central Coast San Diegan. Of all the San Diegans, that one is the most likely one to be late since it is coming all the way down from San Luis Obispo. Thus, I could see it taking as much as 4 hours or more from the time this train leaves Ontario until the time that I will arrive into Fullerton, about 1 PM in the afternoon!
Instead, I called Ray Burns who works with me at TrainWeb and he agreed to pick me up at the Ontario Amtrak Station. That should get me back to Fullerton, less than an hour drive from Ontario, around 10 AM, a savings of 3 hours or more!
Tuesday, Oct 7, 1997, 11:55 AM PDT, Ontario, CA