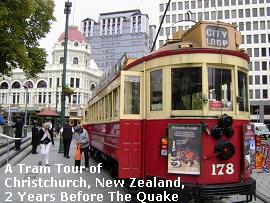 Christchurch, New Zealand
Slide Show of Tram Ride and Visit
Two Years before the 2011 Earthquake,
February 11, 2009 by Steve Grande

TrainWeb.com/travelogues/stevegrande/2011b27a.html
How can you help? The best way you can help is to come tour New Zealand! If you already have plans, please do not cancel them. If you have never been to New Zealand, NOW is the time to visit. You might not be able to visit Christchurch when you come, but that is just one city in all of New Zealand. New Zealand is VERY dependent on tourism. They have suffered a huge economic setback from this devastating earthquake. They will suffer a second huge blow to their economy if people who had plans to tour New Zealand cancel them. So if you have made plans, they ask that you still PLEASE come visit New Zealand. And if you have no plans to visit soon, now would be a great time to come visit! The train depot in Christchurch will be open soon so you can start your tour from there. Just don't plan to tour around Christchurch for a while. But the rest of New Zealand is beautiful and untouched by the recent earthquake. Please do come. You will remember your trip for the rest of you life just as I'm sure that I will! View my slide shows below to see why I enjoyed my tour of New Zealand so much.
CLICK HERE
to book a rail tour of New Zealand in November 2011!
I've been following the unfortunate aftermath of the 6.3-magnitude earthquake that demolished parts of Christchurch, New Zealand, Feb 22, 2011, and the death toll that has climbed to over 140 and may rise to 200 or more.
I visited Christchurch, New Zealand, with my family just about 2 years ago on Feb 11, 2009. We took a tram tour of the city, visited the Christchurch Cathedral and stopped into a couple of their wonderful pubs. The Outback style hat that you will sometimes see me wearing in my Facebook and Meetup profile photos was actually purchased and first worn in Christchurch. I can be seen wearing it in some of the photos in the below slideshows.
I do recognize some of the buildings in the news reports of the disaster. You might also recognize them as you view the below slide shows and then some of the news reports from the disaster aftermath that I have posted below the slide shows.
Click to view each slide show below:
We can only hope that more of those missing are found to still be alive. I found all of New Zealand to be a wonderful place to visit, especially Christchurch. It was a great tourist attraction, especially for touring by tram. We can only hope the city will be able to soon dig out and recover from this disaster.
Click to view each news story with photos & video below:
More slideshows of New Zealand & Australia rail touring:
---
CLICK HERE
To Read More Rail Travelogues
And View More Photos Of Rail Travel!

Are you interested in rail travel along some or all of this journey yourself? There are very few travel agents that have the necessary knowledge and experience of rail travel to answer your questions and to book a journey that you will remember for a lifetime. TrainWeb has sought out those travel agencies and rail tourism companies that not only have the knowledge to book your travel, but have gained the required experience through extensive rail travel themselves! Click here for a list of these rail travel providers!