Vino Train
Private Railcar Trip
from Los Angeles to Santa Barbara
on Saturday, July 24, 2010
www.trainweb.com/travelogues/stevegrande/2010g24a.html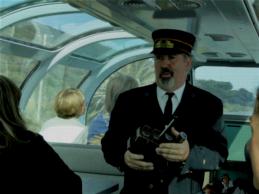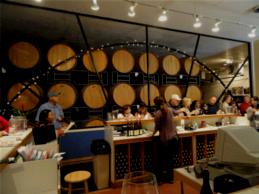 Click on any photo below for a larger image.
My wife and I set the alarm for 4:30 AM and were out of the house by 5:45 AM. With little traffic on the roads we arrived at the Fullerton Station by about 6:05 AM. That is where we planned to meet two other members of our SoCal Rail Travel Meetup Group, Tom and Yvonne. Tom also guides the group to the various wine tasting rooms once we get to Santa Barbara.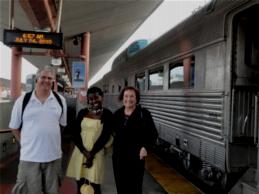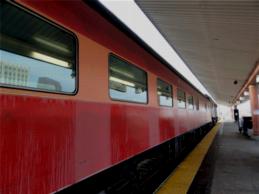 Left: Tom, Yvonne and my wife, Barbara
Right: Overland Trail Private Railcar
Again with no traffic, we arrived at Los Angeles Union Station before 7 AM in record time. We knew the 7:30 AM north bound Amtrak Pacific Surfliner that our Vino Train railcars would be attached to usually leaves one of the last 4 tracks. So, we went up the ramp to one of those platforms and our train was right there waiting for us! I took a few photographs before boarding our railcar.
Normally the Vino Train is just the Overland Trail Private Railcar which can accommodate 36 passengers. This time the Vino Train woulid be composed of both the Overland Trail and the Silver Splendor Private Railcars. With the additional capacity of the Silver Splendor, there would be 86 passengers on this Vino Train, a total sell out! The Silver Splendor also runs the Luncheon by the Sea trips to San Diego. Both cars are membes of LArail.com.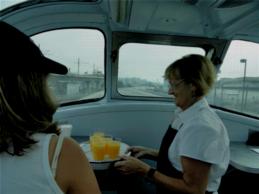 Mimosa Served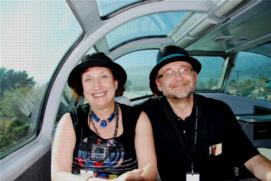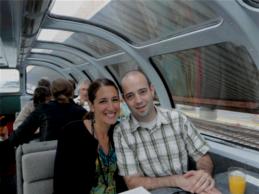 Left: Barbara and Stephen - Right: Lisa and Richard
We'd be traveling in the dome car on this trip. We had a table for four and would be traveling with our guests, Lida and Richard. There were at least 11 people on board from the SoCal Rail Travel Meetup Group and probably quite a few from the Orange County Wine Group.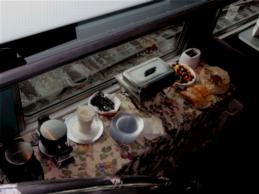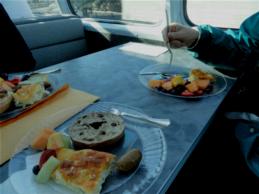 A buffet breakfast is served on the Vino Train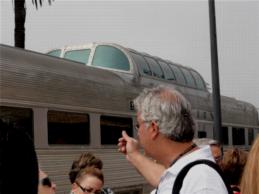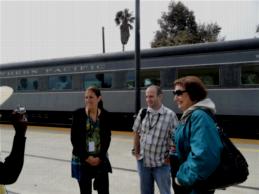 Tom Anderson gathers up the group to head to the wine tasting rooms.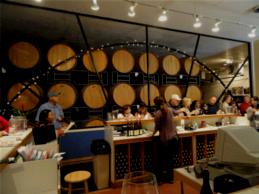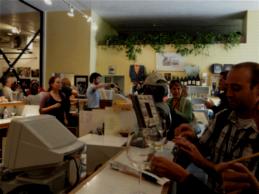 Santa Barbara Winery Tasting Room
Our first stop was at the Santa Barbara Winery Tasting Room, one of the few tasting rooms to open before noon. For just $5 they provide a taste of several of their wines, bread sticks, and they allow you to take your Santa Barbara Winery tasting glass home with you!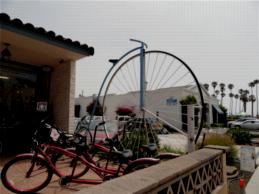 Wheel Fun Rentals, Santa Barbara
Richard, Lisa, Barbara and I rented a bicycle surrey for four people for about $35 for 2 hours from Wheel Fun Rentals on State Street near Stearns Wharf. We pedaled down to the bicycle path along the ocean and then continued for about a half mile south before turning around and head almost to the Santa Barbara zoo. According to Google Maps, the total distance we peddled was about 3 miles before turning the surry in.
By that time it was a bit after noon and time for lunch! We stopped for lunch at the Harbor Restaurant on the Stearns Wharf. That is a pretty good place to eat and the view can't be beat!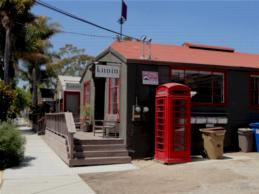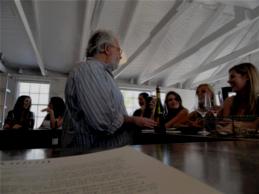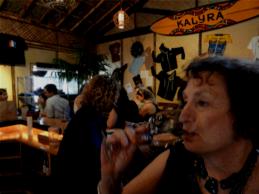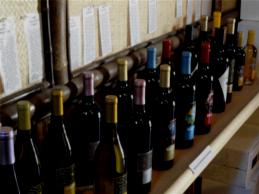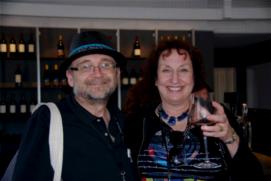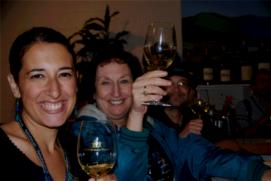 On to more wine tasting rooms: Kunin and Kalyra.
We then rode the MTD Downtown Electric Shuttle Bus up and down State Street for just 25 cents per person each way for little tour of the Downtown.
After checking the Amtrak.com website and finding that our train was running 20 minutes late, we went for one more short wine tasting just a block from the train station. But we made sure we were back at the station in plenty of time for our train that arrived about 4:50 PM rather than 4:30 PM.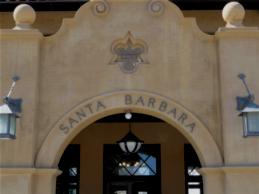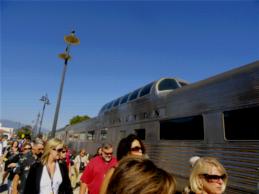 Boarding our train to head back to Los Angeles.
There are more public Vino Train trips from Los Angeles to Santa Barbara coming up this year. Visit VinoTrain.com for more information and to make your reservations. You can also charter the whole railcar if you'd like to have your own private Vino Train trip for up to 36 people to Santa Barbara, or even a rail excursion all the way up to San Luis Obispo and back in the same day. We've enjoyed all our trips on the Vino Train, especially the one today and are sure that you'll enjoy your trip too!
CLICK HERE
for all photos from this trip.
CLICK HERE
for more information and photos from the Vino Train.
CLICK HERE
for other rail travelogues and photos from Steve Grande.
CLICK HERE
for rail travelogues and photos from many others.