Amtrak Coast Starlight
Travelogue & Photos by Steve Grande
Los Angeles, California to Portland, Oregon
Friday, July 11, 2008 - Saturday, July 12, 2008
www.trainweb.com/travelogues/stevegrande/2008g11a.html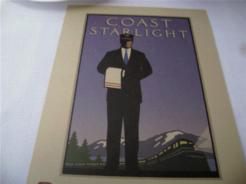 Superior Service on the Amtrak Coast Starlight is back with a vengeance!
Click here for additional photos from this rail trip.
Pre-Boarding
Friday, July 11, 2008
After arriving from Fullerton on the northbound Amtrak Pacific Surfliner, my wife and I rolled our luggage down the tunnel and into the main lobby of Los Angeles Union Station (LAUS). Right by the gates I immediately noticed the check-in desk for Amtrak Coast Starlight Coach Passengers, but the check-in desk for Sleeping Car Passengers was noticeably missing.
I picked out a pair of seats in the main lobby that were facing the check-in desk and the Amtrak Information Booth so that I could keep my eye on things as boarding time approached. But just then, I heard an announcement over the LAUS P.A. system. As usual, it was very difficult to hear. I think the garbled acoustics of announcements in older cavernous train stations have been a problem since the day that amplified announcements were invented. However, I was able to understand that they were encouraging Amtrak Sleeping Car Passengers to come to the Traxx Bar to relax and enjoy complimentary refreshments prior to boarding the train. My wife and I grabbed our luggage and started rolling toward the street entrance of the station where the Traxx Bar is located. My wife got confused for a moment as we passed the Traxx Restaurant that was closed. The Traxx Bar is further down and on the opposite side of the grand lobby.
As we approached the Traxx bar, I noticed a number of people already seated and relaxing. We were greeted by an Amtrak staff member who welcomed us and explained that we could relax in the Traxx Bar Lounge and help ourselves to the complimentary beverages. She also mentioned that alcoholic beverages were available at an extra cost. My wife and I picked out two unoccupied lounge seats with a small table. Coffee and several types of juice and ice tea were laid out across the bar for self service. The shelving throughout the bar showed that it was well stocked with wine and every spirit imaginable. I asked if they could make a Bloody Mary. Unfortunately, the one item they were missing was tomato juice or even any Bloody Mary Mix! So, I decided to forgo my morning "vacation" adult beverage.
This was certainly a welcome change from the usual "cattle call" that greeted all passengers for the Amtrak Coast Starlight in the past! Amtrak used to have two check-in desks by the gates: one for Coach Passengers and one for Sleeping Car Passengers. Other than the signs on the desks, there was no difference in level of service. Everyone had to just sit and wait for the train in the main lobby. Once the train was announced, everyone from both classes of service would have to stand in one or the other big long line and wait to check-in. That is, unless you knew the secret of just going to the platform without checking-in at all! I've never been turned away and I don't know anyone else that has ever been turned away from just boarding the train without first checking in with the Conductor in the station. But with these new upgrades in service, you may want to make sure you do experience the relaxing send off in the station! While we were sitting and relaxing at the Traxx Bar, the Conductor came around to each Sleeping Car Passenger individually, welcomed them to the Amtrak Coast Starlight, took their ticket and handed them their boarding pass. This is much more similar to the level of service that Sleeping Car Passengers receive in the Amtrak Metropolitan Lounges of just about every other major Amtrak hub city. It always seemed strange that Los Angeles was missing a Metropolitan Lounge for passengers considering that LAUS is the launching point of the flagship of the entire Amtrak fleet, the Coast Starlight! But that all seems to be fixed for now.
In addition to the Amtrak Greeting Person and the Conductor, there was also a Customer Service Manager making his rounds through the Traxx Lounge greeting all the Sleeping Car Passengers and checking to see if he could answer any questions. He let everyone know that he'd be onboard the train with them all the way to Oakland. After a while, another Amtrak staff member joined the other three already tending to the Sleeping Car Passengers in the Traxx Lounge. I don't know if she was another Conductor, but she seemed to have full knowledge of the status and operation of the train itself. She started explaining when, how and where we would be boarding the train. She talked more with the Conductor than the other two Amtrak staff members, so I imagine she had more to do with operations than with customer relations. It was interesting seeing four Amtrak staff members doting over the Sleeping Car Passengers in the Traxx Lounge; quite a contrast to the old "cattle call" at the old lobby check-in desk.
Boarding
Friday, July 11, 2008
Boarding went as usual. We were led from the Traxx Bar Lounge to the tunnels that lead under the tracks. The Amtrak Coast Starlight was boarding at Track 10 with Coach Passengers going up the ramp and stairs to the right and Sleeping Car Passengers going up the ramp on the left. Generally, the Sleeping Cars on the Amtrak Coast Starlight are now positioned at the front of the train. Marty, our Sleeping Car Attendant, greeted up at the door and offered to help with our luggage. Knowing the layout of the car pretty well and wanting to not wait to have our luggage brought to our room, my wife and I opted to just carry our luggage up the stairs to our room ourselves.
I did notice that our Deluxe Room was facing away from the ocean. There was a time when the crews made a concerted effort to make sure the Deluxe Rooms and Even Numbered Roomettes were always on the ocean side going north. That would automatically result in the Deluxe Rooms facing inland when heading south and the Odd Numbered Roomettes facing the ocean on the southbound trip. I don't know if any effort is made at all anymore to place the Sleeping Cars into any particular orientation.
Shortly after boarding, Marty came to our room to offer any explanation and orientation we might need regarding the train. Unlike some Car Attendants who insist on providing a memorized orientation even after explaining my familiarity with everything, Marty didn't bother us further once he realized we were old hands at this. But before going, he did ask us if we'd like some Champagne or some Sparkling Apple Juice. We selected the Champagne and Marty was back in a jiffy with two chilled single service bottles of Champagne and crystal plastic cups. I was getting impressed by the minute with the number of ways in which Superior Service had returned to the Amtrak Coast Starlight!
There were also a few other changes that I noticed in our room. The headrests were now covered with a large white protective cloth bearing the Amtrak Coast Starlight service logo. They used to be covered with simple small blank protective cloths. Also, there was a waterproof sack provided along with 3 coat hangers. Inside the protective sack were a number of toiletries such as shampoo, conditioner, etc.
There was a good deal of literature at the window. In addition to the usual safety instructions was also a request for passengers to provide feedback about their trip online, a schedule, and a card with quite a bit of information about the Coast Starlight Pacific Parlour Car. The Parlour Car information card not only included a bit of history about the Parlour Cars, the services provided, but also a complete schedule of events planned for both the north and southbound trips! The schedule is the most useful item of information as there never seemed to be a set time for Parlour Car activities, such as the wine tasting, on past trips.
Here is the information from that card:
---
Pacific Parlour Car
Coast Starlight Pacific Parlour Car
A Piece of History
The Pacific Parlour Car is Amtrak's "signature" lounge car, available to sleeping car passengers on the newly-enhanced Coast Starlight. Originally built by the Budd Company in 1956 for the Santa Fe's famous El Capitan, Amtrak acquired these cars in 1971. Meticulously restored to modern passenger railroad standards by Amtrak's Beech Grove, Indiana facility, these cars are available for the enjoyment of sleeping car passengers. The decor and atmosphere provide a casual yet elegant place to enjoy the passing scenery and socialize with your fellow passengers. We invite you to sit back, relax and enjoy the ride aboard Amtrak's Pacific Parlour Car!
The following amenities are available for purchase in the Parlour Car:


Full-service specialty coffee bar including cappuccino, lattes, espresso and hot chocolate.


Full Beverage Service featuring Mimosas, Bloody Marys and our Coast Starlight Signature drink, the "Star Tini"


Bottled water, soft drinks, beer and wine by the bottle or the glass


Hot Appetizers


Coast Starlight Souvenirs


Complimentary Coffee and Tea


Parlour Car Specialty Meal Service - In addition to available meal service in the Dining Car, an alternative limited-seating venue is offered by reservation in the Parlour Car. An attendant will come to your room and through the Parlour Car each day to take your reservations for either seating. All meals (with the exception of alcohol) are included in the price of your sleeper car ticket.


Exclusive Wine and Cheese Tasting - (Adults Only) Includes tasting pours of four regional wines plus three artisan cheeses. Cost $5.00 per passenger. Please note: Due to very limited space, we only have seating available for 40 persons.


Complimentary Library and Board Games for use while on board.


Complimentary Movies in Theatre (lower level) - Family-oriented and classic movies are shown on our new 50"HD monitor with Bose® sound system.


Night Time Sweet Event - Come share your day on the Coast Starlight with fellow passengers while enjoying a complimentary Ghirardelli® special chocolate candy! You might wish to have a "nightcap" with your treat and all the beverages including after-dinner drinks, liqueurs, decaf and regular cappuccinos, lattes, and other beverages are available for purchase.
See your Parlour Car Attendant for available services.

Times are approximate and may change depending on proximity of schedule. Please listen for announcements.

Gratitude at your discretion.
AMTRAK®
Amtrak is a registered service mark of the National Railroad Passenger Corporation
---
The Coast Starlight
Pacific Parlour Car
Daily Events
NORTHBOUND (TRAIN #14)
Day One
Depart Los Angeles
09:30am Parlour Car Opens
11:30am-02:00pm Lunch Service (reservations required)
03:45pm-04:45pm Wine and Cheese Tasting Event (reservations required)
06:30pm-09:00pm Dinner Service (reservations required)
09:00pm-10:00pm Nighttime Treat Special
11:00pm Parlour Car Closes

Day Two
07:00am Parlour Car Opens 07:30am-10:00am Breakfast (no reservations required-open seating)
11:30am-02:00pm Lunch Service (reservations required)
02:45pm-03:30pm Wine and Cheese Tasting Event 05:30pm-08:00pm Dinner Service (reservations required)
08:15pm Parlour Car Closes
Arrival into Seattle
SOUTHBOUND (TRAIN #11)
Day One
Depart Seattle
09:30am Parlour Car Opens
11:30am-02:00pm Lunch Service (reservations required)
03:45pm-04:45pm Wine and Cheese Tasting Event (reservations required)
06:30pm-09:00pm Dinner Service (reservations required)
09:00pm-10:00pm Nighttime Treat Special
11:00pm Parlour Car Closes

Day Two
07:00am Parlour Car Opens 07:30am-10:00am Breakfast (no reservations required-open seating)
11:30am-02:00pm Lunch Service (reservations required)
03:20pm-04:20pm Wine and Cheese Tasting Event 05:30pm-08:00pm Dinner Service (reservations required)
08:30pm Parlour Car Closes
Arrival into Los Angeles
See your Parlour Car Attendant for available services.

Times are approximate and may change depending on proximity of schedule. Please listen for announcements.

Gratitude at your discretion.
AMTRAK®
Amtrak is a registered service mark of the National Railroad Passenger Corporation
---
Lunch
Friday, July 11, 2008
The Dining Car Steward came through the train around 10:45 AM and took lunch reservations. We had a choice of times and locations. We could have lunch either in the Pacific Parlour Car or the Dining Car. The Pacific Parlour Car offers a limited selection of light items whereas the Dining Car offers a full lunch menu. Since this was a new feature of the upgraded Parlour Car Service and since my wife and I are both light eaters, we decided to try lunch in the Parlour Car instead of the Dining Car.
Unlike the Dining Car where the servers get annoyed if you show up before your reservation time is called over the P.A. System, you can enter the Pacific Parlour Car anytime. Only the table area, about a third of the Pacific Parlour Car, is reserved for meal service during meal times. The rest is an open lounge open to all Sleeping Car Passengers all day. Thus, you are welcome to show up early for meal service and just relax and wait in the lounge section of the car.
My wife and I found the Pacific Parlour Car service to be very much to our liking! They had two types of gourmet salads and an interesting pasta offering. I seldom like the pasta served in the Dining Car as it often seems little more than warmed over pasta from a can. Sometimes I think the only reason they have the pasta offering on the Dining Car menu is to have something to offer to passengers that are vegetarian. They don't seem to put as much pride into its preparation as some of the other menu items. But the pasta dish offered in the Pacific Parlour Car was a more gourmet offering with interesting sauce and flavoring. There wasn't a great deal of food served, so I'd recommend that you stick with the Dining Car if you are looking for a larger quantity of food. Both meals came with a roll and beverage. The pasta dish also included a small dinner salad. Three different items were offered for desert. We went for the apple tart and the carrot cake.
Everything about lunch was great! The quality of the food was very good and the service was very prompt and courteous. We selected to eat at 11:30 AM so there weren't too many people seated when we entered. By the time we finished lunch and left there were about a dozen people eating in the Pacific Parlour Car. There were a few things we really liked about eating in the Parlour Car rather than the Dining Car. For one, each table was set for just two people, not for four people. So, if you'd like to sometimes get away from the community seating policy of the Dining Car, you can relax and have a romantic lunch and dinner for just the two of you in the Pacific Parlour Car. Since so few people select that dining option, you'll probably get your order taken, the food served, and much more attentive service, just like we received.
There were no prices on any of the menus. Since Pacific Parlour Car meal service is only available to Sleeping Car Passengers and meals are free to Sleeping Car Passengers, there is no need for prices in the menu. There are prices published for specialty drinks (alcohol and espresso) since those are not free, though soft drinks, tea and regular coffee are free. We really appreciated the service and left a $6 tip (We estimated the value of lunch under $30 so $6 would be at least a 20% tip).
We noticed that you can now also purchase appetizers anytime in the Pacific Parlour Car such as BBQ Chicken Wings, quesadillas, and other light snacks like that.
Wine and Cheese Tasting
Friday, July 11, 2008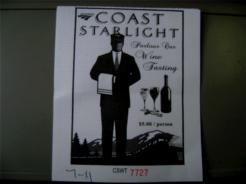 After lunch, the Parlour Car Attendant, Barbara, took our Wine and Cheese Tasting Reservation. The cost of that is $5 per person and she collected the payment when she gave us our reservation tickets. We returned back to our room after lunch to relax a bit and watch the ocean scenery roll by. At 3:05 PM, our Sleeping Car Attendant came by our room to make Dinner Reservations for us. We told him that we would like reservations for 7:30 PM in the Parlour Car, but he said we'd have to see Barbara, the Parlour Car Attendant, to make those reservations. So, unlike the lunch reservations, the Dining Car Steward does not go through the train taking reservations for both eating areas. Since we are going to the Wine and Cheese Tasting at 3:45 PM anyway, we figured we'll just make the reservations at that time. Actually, we might even skip Dinner Reservations all together and just opt to have some appetizers in the Parlour Car in the early evening. Right now, neither of think we are going to be able to face another whole meal today!
The Wine and Cheese Tasting was held at 3:45 PM as scheduled. A few people other than those attempted to come into the car for other activities, including one mother and young son who brought in a board game. The Guest Services person politely chased everyone out of the car except those that would be participating in the Wine and Cheese Tasting. He announced that they are clearing the car for about the next hour or so for this event, but that everyone is welcome to come back after the event is over. He also mentioned that the Sightseer Lounge Car is available in the meantime for anyone who'd like to spend this time somewhere other than in their Sleeping Car Room. He also mentioned that anyone that would like to participate in this event may do so for $5 per person, but that no one under the age of 21 would be allowed to remain in the Parlour Car for the event. Usually, a movie is played for the children downstairs in the Pacific Parlour Car during the Wine and Cheese Tasting Event, but they were having some problems with the video equipment and would not be showing movies on this trip. Coach Passengers ARE NOW ALLOWED to participate in the Wine and Cheese Tasting event. Prior to the re-launch of the Amtrak Coast Starlight, the Wine and Cheese Tasting was free to Sleeping Car Passengers, but only Sleeping Car Passengers were allowed to attend. Coach Passengers are now allowed into the Pacific Parlour Car to attend this one hour event at the cost of $5 per person.
They did serve two red and two white wines during the wine tasting. The wines were from vineyards along the California segment of the route of the Amtrak Coast Starlight. Tomorrow, the wines are planned to be from vineyards along the Oregon and Washington segment of the route of the Amtrak Coast Starlight. My wife and I tend to be red wine drinkers, but we really didn't like the red wines served at the tasting. Both of the chilled white wines were pretty good. They poured about 3 ounces as a taste of each wine; sometimes a bit more. They were using a special wine spout on the bottles that is supposed to automatically measure out a "tasting" pour amount. But the special spouts didn't seem to be working right and I think they just ended up eyeballing the pour sometimes.
They also served three different types of gourmet cheese on lettuce. They apologized for not having crackers available with the cheese. Evidently somebody forgot to put the crackers on the train, but they do usually have crackers to go with the cheese. There are few types of cheese that I really like. I tend to like cheese with a really pronounced flavor especially a strong provolone or even a flavorful Swiss cheese. These were a bit milder. They were OK, but I only ate a couple of small pieces. I tend to avoid cheese in general because of the fat, calories and cholesterol, but will sometimes splurge for special events like this.
The Pacific Parlour Car Attendant had a couple of other Car Attendants helping with the wine tasting. They had about 26 people participating. The event is limited to 40 people as that is about all the Parlour Car will hold. At first, my wife and I weren't sure if they were going to use the entire Parlour Car for the event or just the tables up front. But, after they made the announcement to clear out the car, and we counted that they would need to use all 40 seats if they got the maximum turn out, we knew the Wine and Cheese Tasting would use the entire Pacific Parlour Car.
After the event ended, I purchased a bottle of the white Riesling for ourselves. I also ordered the Chicken Wings and Quesadilla. The wine and the appetizers is what we ended up having for our dinner. We spent the entire wine tasting in the big comfy swivel chairs at the end of the Pacific Parlour Car and remained there until we had finished our appetizers and wine after the event.
After that, we headed back to our room to just read, relax, and watch the scenery.
Night

Friday, July 11, 2008

During the night a freight train ahead of us hit a pedestrian around Roseville, just north of Sacramento. After that problem was handled, the freight train became disconnected in two places as it tried to move forward. It took the mechanical staff time to arrive from Roseville and to resolve that problem. Our train was delayed 3 and 1/2 hours by the time the tracks were clear for us to progress forward again. Thus we arrived into Dunsmuir about 3 and 1/2 hours late in the morning. We had no idea about any of this until we woke up around 9 AM and we were still in California! The Conductor did announce that on the bright side we will have the opportunity to see some of the most beautiful mountain scenery on this route that is normally in darkness in the middle of the night as we pass through.

Morning
Saturday, July 12, 2008

We didn't get too far out of Dunsmuir, California, before we had to stop because our crew had gone dead on hours. The current crew would normally take the train as far as Klamath Falls, Oregon. But, because of the overnight delay, they were only able to get the train to a bit north of Dunsmuir before they worked their maximum 12 hours per day allowed by the Federal Railroad Authority (FRA). Thus, we had to sit and wait for a few more hours for the relief crew to drive down from Klamath Falls to take over operation of our train. Our train didn't get rolling again until 12:10 PM, more than five hours behind schedule.

I purchased two Bloody Marys from the Pacific Parlour Attendant, Barbara. Knowing that the train delay probably would modify the serving schedule of the Pacific Parlour Car, I asked Barbara if she'd be having the Wine Tasting at the scheduled time or if it would be later. Evidently, Barbara had heard about a schedule of Parlour Car events, but did not have one herself! She asked me what time was listed for the Wine Tasting today. When I told her it was scheduled for 2:45 PM - 3:30 PM, she said she would probably be doing it later than that. She would still be doing lunch service in the Parlour Car until 2:00 PM, so 2:45 PM would not give her enough time to clean up and get things prepared for the Wine Tasting.

Having a Schedule for the Pacific Parlour Car events is a great idea, but it is a fairly new concept. It may take a while to work out the kinks, make adjustments, and be able to have the Parlour Car Attendants provide the listed events at the times scheduled. Barbara said when she got a chance she'd have to grab one of those schedules from the Sleeping Cars. Instead, I lent her mine since I had already typed mine into this travelogue and didn't need it anymore.

Afterwards, Barbara made an announcement about the Amtrak Coast Starlight Souvenirs she had for sale including: black and white T-Shirts and black jerseys. These were new items that I had not previously acquired. So, I purchased one of each plus a black cap with the Amtrak logo. But I won't be wearing any of these. They will all be shipped off to be displayed in the "Exhibition of Amtrak History" in La Plata, Missouri. So, if you want to see these souvenirs and thousands of other Amtrak souvenirs and historical artifacts, you need to plan a trip to the "Exhibition of Amtrak History" in La Plata, Missouri!

While I was still standing at the bar in the Pacific Parlour Car waiting for Barbara to finish with my Bloody Marys I also purchased 2 tickets for that afternoon Wine Tasting and made reservations to have lunch in the Parlour Car at 11:30 AM. A number of other people had already made their reservations for lunch in the Parlour Car and some more people came in to make lunch reservations while she was still mixing my drinks. Having meals in the Pacific Parlour Car seems to be a pretty popular option! I hope they do keep this option available. There are only 6 tables available, but I'm not sure if they can serve at more than 4 at a time so the Attendant can keep rotating preparation of 2 out of the 6 for new seatings every 30 minutes. These new Pacific Parlour Car offerings certainly seem to keep the Car Attendant very busy! Once upon a time, this may have been the most laid back job on the train, but that is certainly no longer true. The new schedule of events and offerings keep the Parlour Car Attendant quite busy all day long!

Lunch
Saturday, July 12, 2008

Talk about romance on the rails! Shortly after we got started after our long delay waiting for the new train crew, we saw a Union Pacific freight train stopped on the track next to us. Just as we approached the front of the U.P. locomotive, we saw the door to the locomotive was open and a man and woman were embracing and about to kiss, right up there on the locomotive front platform! A number of people in the Parlour Car noticed this and let out a hoot! We never got to see the kiss as our train kept moving and they went out of sight. Possibly other passengers in the Dining Car, Sightseer Lounge and beyond did see the conclusion of the embrace into a kiss since they would still have been in view of these other cars.

The Lounge/Cafe Car Attendant just announced over the P.A.System that he would like everyone to clear out of the tables in the Sightseer Lounge. He said that there are several people purchasing lunch items in the Cafe and they need a place to sit and eat their lunch. The Attendant mentioned that many people have been sitting at the same tables for hours, that there are a limited number of tables, and they need to be rotated to other people on the train that would like to use these tables. That was the first time in 13 years of riding Amtrak trains that I have heard a request to clear out of all the tables in the Sightseer Lounge/Cafe Car. I have heard the downstairs tables be restricted to just people consuming items purchased in the Cafe before, but not at all the tables throughout the car. But then again, there didn't used to be tables upstairs in the Superliner Lounge/Cafe Car. That is a new feature that was installed during the most recent round of refurbishing and upgrading these cars.

Wine and Cheese Tasting
Saturday, July 12, 2008

We sat at the long couches this time to enjoy the Wine and Cheese Tasting. One of the other people there brought their own crackers and shared them with us. The Wines and Cheese were pretty good. There was almost a rebellion by people in the Parlour Car who wanted to stay but didn't want to participate in the Wine and Cheese Tasting. Most of the people cleared out when it was announced that they needed every seat in the Pacific Parlour Car. But there were a few people who were traveling with people that wanted to be at the wine tasting who didn't want any wine themselves. The Car Attendant cleared most of the people out of the Pacific Parlour Car who were not participating in the Wine Tasting, but there were a few people that remained behind and refused to leave because they were traveling along with some of the people taking part in the Wine Tasting.

At that moment, I wondered what it would be like if I was traveling on this trip with my business partner and friend, Ray Burns. He is a Mormon and does not drink alcohol. Would I buy him a $5 participation in the Wine Tasting just so he could be with me during the event? Probably. Would he be able accept it morally? I'm not sure. So he might be one of those people who they would want to kick out of the Pacific Parlour Car during this event and I'd have to participate in it alone or just leave and not participate. Interesting at what moral conundrums are created out of the most simple of circumstances? Anyway, the Car Attendants explained that they had nothing against these people remaining, but they would have to leave if they ran out of space for people who purchased the wine tasting.

Today the special wine pour mechanisms they were using on the bottles to pour a "taste measure" seemed to be working. It seemed they were pouring about 3 ounces of each wine, not much different than the amount they poured yesterday. Since they give us four wines to try, that comes to about 12 ounces of wine. That is more than two full glasses of wine (there is usually 5 ounces of wine in a standard pour)! Not bad for $5. Since we were traveling through Oregon during this portion of the trip, all the wines in the tasting were from the Pacific Northwest, either Oregon or Washington.

Right now we are rolling by some of the lakes in central Oregon. We are probably running four or five hours late.

Portland Arrival
Saturday, July 12, 2008

I forgot to check the exact time of our arrival into Portland, but it was definitely after 10 PM. There were no taxis waiting at the taxi stand when we got to it. Since the Sleeping Cars stopped so far from the entrance to the station, it is very likely that Coach Passengers got whatever taxis may have been waiting at the station by the time we got to the taxi stand. But the taxi stand at the station is a major place for taxis to wait while they are waiting for calls to pick up people anywhere in the city, so I figured there would be more taxis arriving soon. In less than ten minutes, a few taxis did arrive. It is less than two miles from the train station to our hotel, the Waterfront Marriott, so that taxi fare was well under $10. I've walked it from the station to that hotel numerous times, but not while wheeling luggage around.

We had a room on the 11th floor with a beautiful view of the river and one of the mountain volcanoes. With the sliding door to the outside verandah closed the room is very quiet, but I like to sleep with the doors and windows wide open when I'm on an upper floor of a hotel. Having the fresh cool Portland night air in the room was well worth the sacrifice of having some of the street noises from below also come into the room.

Portland, Oregon
Sunday, July 13, 2008

We slept in until almost 10 AM. Most of my past visits to Portland had been on cool overcast rainy days. Today was quite different. There wasn't a cloud in the sky and it was hot with temperatures in the 80s. Our plan was to go for the buffet lunch at my most favorite Indian restaurant in the entire world, Swagat Indian Cuisine. I've walked the two miles or so to that restaurant from the hotel many times, but I had no desire to do so on a hot sunny day. Instead, we decided to take the streetcar to the restaurant.

After leaving the hotel around 11 AM, we walked along the waterfront shops in the direction of the streetcar stop. There are quite a few nice restaurants, bars, coffee shops, hotels, and other shops right along the river waterfront. If you take a Portland Streetcar with the "WATERFRONT" destination sign, it will take you right to this part of Portland. But we were heading in the opposite direction, so we boarded a streetcar heading the other way. Riding the streetcar in most of Downtown Portland is free, but we were going beyond the free area. After boarding the streetcar, we purchased passes for $1.75 each that are good all day on the streetcar.

The Portland Streetcar has a stop right in front of the Swagat restaurant at the corner of Lovejoy and 21st. I don't know what it is that makes Swagat's Indian food so much better than any other Indian restaurant, but the difference is obvious to me. Not only is the taste and seasoning so much better, but they have a much wider buffet selection than most Indian restaurants that I frequent. After enjoying our lunch, we rode the streetcar into the heart of the Perl District, just a few stops away.

The Perl District has a lot of art shops, antique shops, furniture shops, cafes, bars and lots of restaurants. It didn't seem to have very many clothing stores which is more what my wife was looking for. After strolling around the Perl District for a couple of hours we hopped a streetcar and headed back to the Waterfront. We just relaxed at the hotel for the rest of the day.

There are a couple of restaurants right in the hotel. One is a sports bar that has big windows overlooking both the front lobby and the riverfront. I like sitting at the tall tables by the window in that bar watching the river. My wife and I had some of the native Portland beer that was the special of the day along with some of their appetizers. They have a pretty good selection of both appetizers and meals at both of the hotel restaurants. Almost everything on the menu is also available in room service.

The Flight Home
Monday, July 14, 2008

We had to wake up at 4:30 AM to be ready in time to take the Shuttle to the airport. Our flight wasn't until 7:15 AM, but baggage has to be checked by 6:35 AM for that flight. The airport shuttle runs every 30 minutes starting around 4 AM and takes about 20 minutes to get to the airport. No reservations are necessary. They charge $14 per person. A taxi runs about $30, so we actually could have taken a taxi for about $2 more than the two of us taking the shuttle for $28. I'd taken a taxi between the airport and this hotel before, so I wanted to try something new and see how well the shuttle worked. We actually were ready to go in time for the 5:00 AM shuttle so we got to the airport 30 minutes earlier than we had planned. The shuttle seemed a good way to go. The last time I departed for the airport from this hotel I walked the 5 or so blocks to the lightrail station and took the lightrail to the airport. That was only a couple of dollars, but I didn't want to have my wife walking with luggage down all those deserted blocks at five in the morning. But that isn't a bad way to go as the lightrail goes right into the airport terminal in Portland.

My wife and I flew back to Orange County First Class. I paid about the same as I would have for Coach Class for the two of us. Alaska Airlines automatically gives me a $50 Companion Ticket and 2000 Mileage Plan miles each year. Thus, I paid for the First Class Upgrade and used the Companion Ticket to have my wife fly with me in First Class for just $50. The total came out pretty close to the same as two Coach Tickets. If I wasn't going to be taking the train all the way back to Southern California, I figured I'd at least enjoy going First Class by plane!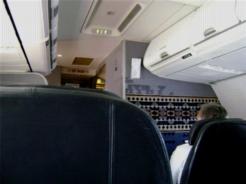 The plane left on time and we were in the air for 1 hour and 59 minutes before landing in Orange County. It is amazing how we can get all the way back from Portland to Orange County in about two hours by plane when it took about two days by train. So, that was the end of that 3 day extended weekend vacation including my first trip on the relaunched Amtrak Coast Starlight with the refurbished upgraded Pacific Parlour Car Service.
The Reason For This Trip
About one year ago the partnership between the Alaska Airlines Mileage Program and Amtrak West ended. This partnership program allowed a passenger on either Amtrak or Alaska Airlines to earn points towards travel on any Amtrak train on the west coast, as well as toward travel on Alaska Airlines. This partnership was created long before Amtrak Guest Rewards came into creation and was a joint innovation between Alaska Airlines and the long dissolved "Amtrak West." When the program was created, "Amtrak West" functioned as almost an autonomous division of Amtrak in charge of all west coast trains. It even had its own President (Gill Mallory), advertising budget, and hiring functions.
When the cancellation of the Alaska Airlines Mileage Program and Amtrak West was announced, I had a LOT of mileage points remaining. For a number of years I had been using my Alaska Airlines Credit Card for everything. They even had a dining program where I could earn 10 points for every dollar I spent at some of my favorite restaurants. Thus, I accumulated mileage pretty fast. They announced a cut-off date in July of 2007 when all mileage had to be redeemed for Amtrak travel or else it would be only good with Alaska Airlines and its other partners.
I quickly arranged travel for ALL of our TrainWeb correspondents to make a round-trip in a Sleeping Car Roomette for one or two people to Portland or Seattle over the next year. With the mileage I had saved up, I managed to arrange round-trips for four of our travel correspondents. Their travelogues have already been featured on the main page of TrainWeb.com. I had enough mileage left over to arrange round-trip in a Deluxe Room for my wife and myself. We picked to go to Portland, Oregon, since that is one of our favorite cities. However, we had no idea when we'd be able to get away for at least 5 days, the time it would take to go round trip and spend at least one full day in Portland, Oregon. Thus, I made our reservation for just about as far in advance as they allowed me to make it. The "drop dead" date for travel in the program is July 19, 2008. So, I picked to travel on the weekend of July 11, 2008, almost one year away from when I made the reservations.
Before I knew it, the date was quickly approaching! By that time, we had already arranged a one week Alaska Cruise that would start the week after our Amtrak trip. We tried to make this cruise at a different time than being so close to our Amtrak trip, but because we would be traveling with others to Alaska, that was the only week that worked for everyone. Because of the close proximity of the two trips, we realized we would only be able to train up and spend a day in Portland. We'd have to fly back to Southern California instead of taking the train back on Monday in order to have enough time to pack for the Alaska Cruise and get all our other work done before our departure on the following Saturday. Thus, we ended up having to throw away the return trip that we could have taken in a Deluxe Room on the Amtrak Coast Starlight on Monday.
So, that is how we ended up taking this trip!
But there is more to the story. Some of you that have followed my travelogues that I started posting in 1995 probably noticed that I haven't posted very many over the last couple of years. From 1995 to 2006, I traveled more than one quarter of a million miles by Amtrak. But since then I've gotten much more involved in our expanding rail related businesses. Our train theme party supply business, TrainParty.com, moved to Missouri and has been expanding into manufacturing and wholesale lines, including a line of Amtrak theme party supplies. We have also gotten involved with the Depot Inn & Suites and in building a rail themed resort, The Silver Rails Resort in La Plata, Missouri.
Those professional involvements have left little time for extensive long distance train travel. Thus, the amount of long distance train travel that I have done over the last two years is far less than I did each year in the prior ten years. What long distance train travel I have done has mostly been on the Amtrak Southwest Chief between California and La Plata, Missouri. Having done that route so many times, and usually having so much to work on while traveling, I have seldom written a travelogue during those rail travels over the last two years.
But actually, the bottom line is that I have lost my motivation to travel for days on end without my wife by my side. Unfortunately, she is not enamored with rail travel. So, I doubt I'll be taking all that many long distance Amtrak trips in the future. But it is not something I really mind. Long-distance rail travel is something that was my passion and filled my life from 1995 to 2005, but the desire to get out on the rails has diminished considerably since then. I still love trains and train travel, but just don't have the same passion I once had of getting out on the rails and traveling around the nation for extended periods.
I felt I needed to write this particular travelogue for a couple of reasons. This is my first rail travel experience on the newly relaunch Amtrak Coast Starlight and the newly refurbished and upgraded Pacific Parlour Car Service. I felt that I did need to write something on that myself. Also, for one of the first times since I started riding Amtrak, I have absolutely no future trips on Amtrak planned. I don't even have any desire to plan a future trip for myself. I'm not saying I'll never ride Amtrak again. But if it happens, it will just be one of those things that come up and is the best way for my wife and I to happen to get somewhere, most likely form California to La Plata.
So, there is a chance that this might be the last rail travelogue that I will ever write. With that in mind, I wanted to make sure I had a chance to post the above closing remarks. But don't fear that this is the last you will hear about rail travel from TrainWeb.com. Actually, our correspondents are out there traveling more than ever and posting their travelogues and photos for your enjoyment. The most prolific of these are: Chris Guenzler at TrainWeb.org/chris, Carl Morrison at TrainWeb.org/carl, Richard Elgenson at TrainWeb.org/richard, Jack Turner at TrainWeb.org/jackturner and others that you can find at: RailTravelgoues.com.
Much has happened in my life since I first discovered riding Amtrak in 1995: TrainWeb.com and TrainParty.com were created and grew; I reunited with my birth families 53 years after my adoption at 8 days old; I was there at the death of both of my birth parents and both of my adoptive parents during those years; my children grew from little kids into adults; and love between my wife and I became much deeper after our marriage had gone through a very shaky period during my long absences from home during my extended rail travels. Plus TrainWeb.com/TrainParty.com moved to La Plata, Missouri, and I became extensively involved with the Depot Inn & Suites, the Silver Rails Event Center and the future of the Silver Rails Resort. Maybe most significant of all is that I have finally found a spiritual home after having left the religion of my youth when I was just 12 years old. This is a pretty significant event for me as I have found every religion and faith that I have examined over the 40 years since then lacking in major ways. Only recently have I found a spiritual path that can stand up to rigorous skeptical examination. I have never given up on my search for the meaning of existence, and now that I have found it, it has become the major core passion of my life.
I still love to write, but my writings have gone off into other directions including writing about the ancestry of my birth family, liberty, and spirituality. When I get a chance and have organized some of my writings online, I'll try to post links to some of my writings in these areas.
Click here for additional photos from this rail trip.
CLICK HERE
To See The Complete List
Of My Past Rail Travelogues & Photos!
CLICK HERE
To Read More Rail Travelogues
And View More Photos Of Rail Travel
From Many Others!

Are you interested in rail travel along some or all of this journey yourself? There are very few travel agents that have the necessary knowledge and experience of rail travel to answer your questions and to book a journey that you will remember for a lifetime. TrainWeb has sought out those travel agencies and rail tourism companies that not only have the knowledge to book your travel, but have gained the required experience through extensive rail travel themselves! Click here for a list of these rail travel providers!
Visit our Rail Magazine promotion trading partners:
Click here to add your print rail magazine.