Amtrak Travelogue & Photos
Portland, Maine to Fullerton, California One-Way via
Amtrak Ticketed Concord-Trailways Bus from Portland,ME to Boston,MA
Amtrak Acela from Boston,MA to New York City,NY
Amtrak Lakeshore Limited from NY,NY to Chicago,IL
Amtrak Empire Builder from Chicago,IL to Portland,OR
Amtrak Coast Starlight from Portland,OR to Santa Barbara,CA
Amtrak Pacific Surfliner from Santa Barbara,CA to Fullerton,CA
April 6 through 11, 2006, Thursday through Tuesday

www.trainweb.com/travelogues/stevegrande/2006d06a.html
This Amtrak Travelogue is from my Portland, Maine to Fullerton, California one-way rail trip via Amtrak Ticketed Concord-Trailways Bus from Portland,ME to Boston,MA, Amtrak Acela from Boston,MA to New York City,NY, Amtrak Lakeshore Limited from NY,NY to Chicago,IL, Amtrak Empire Builder from Chicago,IL to Portland,OR, Amtrak Coast Starlight from Portland,OR to Santa Barbara,CA, Amtrak Pacific Surfliner from Santa Barbara,CA to Fullerton,CA, April 6 through 11, 2006, Thursday through Tuesday.
Click on each photo in this report for larger images.
Unlike some of my recent travelogues, this is not going to be detailed blow-by-blow live coverage from the train. Mostly there will just be links to sets of photos posted in the "Additional Photos" section near the bottom of this page plus some comments about my trip. Most of the photographs will not be captioned, but the photos in the "Additional Photos" section are dated and posted in the order in which they were taken.
Internet access for almost the entire journey has been excellent, all the way from Boston, MA to Portland, OR. I am still shocked to find that I have almost perfect high-speed internet access from the train using my Verizon WAN service, even in some of the most remote areas of this journey! I've been able to get onto the internet even in areas that my Nextel phone was displaying "No Service." The internet service isn't 100% perfect, but it is far better than I ever would have expected. So the reason for not doing a live travelogue of this trip is not for lack of good internet access.
Even before starting this journey, I was doubting that I would do my usual extensive travelogue. Writing a travelogue while traveling eats up a lot of my time. I have a very large backlog of work that I was hoping to catch up on during this trip. Plus, having just spent six days vacationing and visiting relatives put me even further behind. Spending five long days alone on the train gives me a lot of time to catch up on a lot of work. Knowing that writing a live travelogue would significantly cut into this available time, I decided ahead of time to not do my usual detail by detail live travelogue.
Actually, what really motivates me to write a travelogue while I travel is that writing is my substitute for having someone to talk to while I travel alone. Since there is nobody in my room to share my travel experience with, I feel that I'm able to share the travel experience by writing down everything that happens and posting it to the web for all of you to read. Over time, I learned that I have a very difficult time writing a travelogue when I'm traveling with others. The drive to talk about my experiences is missing when I have someone right there with me to share the experience. Though I am alone on this trip, I don't have a burning motivation to talk to anyone right now. I just finished visiting with a large number of relatives for six very full days and I'm just about all talked out! If anything, I really appreciate the quiet time right now.
---
1st Update Posted on 04/08/06 at 05:00 PM MT:
My wife and I flew on the overnight non-stop JetBlue flight from Long Beach, California to Boston, Massachusetts. We arrived into Boston Logan Airport at about 6:30 AM and then took the subway to North Station. Having grown up in Boston from 1951 through 1979, I was very family with how to navigate around the subways of Boston even with all the changes that had been implemented since I moved to California. We made it to North Station about 7:15 AM. We had about two hours before the scheduled departure of the 9:15 AM Amtrak Downeaster from Boston to Portland, Maine. We hung out in the Burger King across the street from North Station and had some coffee and juice. We boarded the train at about 9:00 AM in Business Class. We only got to enjoy the scenery through southern Massachusetts as we were both sound asleep by the time the train reached New Hampshire! Those red-eye flights can be quite tiring. We were awake by the time we reached Portland. The Conductor came to our seats and said that he expected to have to try to wake us up and was glad to see that we were already awake and ready to step off the train!
Normally, my wife and I rent a car in Boston and drive up to Portland, Maine. I had only traveled the Amtrak Downeaster once before and that was well after sunset. I thought I'd get to see the scenery along the way going in the daylight, but I didn't get to see too much of it sleeping most of the way. JetBlue is going to start flying directly into Portland, Maine, in May 2006, but that will only be from New York City. I checked the connection times and found it won't make much sense to fly from California to Portland with a New York connection. Because of the long layover time, it will still be much faster to fly direct from Long Beach, California, to Boston and then drive up to Portland. However, the connection is excellent for the return trip from Portland to California via New York. Thus, we may consider flying on JetBlue directly out of Portland to return to California in the future.
The plan was for my wife to fly back on Jet Blue late Monday afternoon and for me to stay until Thursday morning when I would begin my long rail traip back to California, detouring via Portland, Oregon, so that I could ride the newly refurbished Amtrak Empire Builder. Much of Monday, April 3, 2006, was going to be taken up with driving my wife back down to Boston for her flight and then driving back up to Portland. My wife suggested that we could combine the trip down to Boston with an outing with some of my sisters. My sisters, Shelli and Vikki, had never been on the Amtrak Downeaster and they were excited about taking a trip to Boston on the train. After checking the train and plane schedules, we realized we could not make it a round trip on the Amtrak Downeaster. However, we could take the bus down, which leaves about every hour, and the train back. We booked tickets for all four of us on the "Logan Express" that goes direct from the Portland Amtrak Station to Logan Airport in just one hour and 45 minutes! The bus was quite comfortable and they had just enough time to play one movie during the trip down.
In the JetBlue terminal, we ate at Legal Seafoods, a branch of one of the best known seafood restaurants in Boston. After lunch, we saw my wife, Barbara, off to her plane. We then had about 3 hours to spare. We decided to hire a taxi and show each other the houses where we each grew up. Why we didn't grow up in the same houses is a very long story, but my sisters and I only found each other two years ago! We all grew up in Massachusetts, only about 5 miles from each other. They grew up in Chelsea and I grew up in Malden, and we never knew each other existed. I first began meeting my siblings in 2003 at age 52 and am now in close contact with ten of them and see a number of others at family events. But that is another story that I don't plan to cover in this travelogue.

Left: Where I lived from 8 days to 8 years old. - Right: Where I lived from 1959 to 1970

House where I lived from 1974 to 1979 before moving to California
I lived in two houses in Malden growing up and then got married and moved to Medford, the next town over. We visited all three of those houses. The new owner of the house that I lived in from 1959 to 1970 was standing out front of the house and invited us in for a tour of the house! Although the new owner has made many upgrades, I couldn't believe how many improvements that my parents made to the house were still exactly as I remember them, including the wood paneling in many rooms, the tiled bathroom, and the pantry closets that my father had built. My Dad's favorite chair was still sitting in the front porch along with two paintings that my mother had left behind! That was quite a trip down memory lane!

Houses where my mom and siblings lived growing up
In Chelsea, we saw a number of the houses where my sisters had lived. As in Malden, most of the storefronts had changed, but they found their favorite bagel shop was still just as they had left it. Unfortunately it was closed for the day or we would have had to stop there for a bagel for old time's sake!
We then headed back to North Station in time to catch the northbound Amtrak Downeaster. I was surprised to find that Business Class was totally sold out. It was a good thing I had purchased our Business Class upgrade before we left Portland or I would only have been able to purchase regular coach seating just before departing from Boston. This time I was wide awake and we all enjoyed the scenery in daylight all the way from Boston to Portland!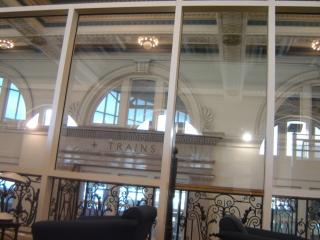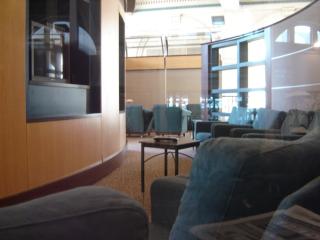 Boston South Station Amtrak Metropolitan Lounge
On Thursday, April 6, 2006, I woke up at 3:30 AM and took the courtesy shuttle at about 4:15 AM from where I was staying at the Portland Airport Embassy Suites to the Portland Transportation Center and Amtrak Station. From there, I had to take a Concord Trailways bus to Amtrak South Station. The first southbound Amtrak Downeaster would arrive too late for me to make my connection in Boston. The bus got me to South Station by 7:15 AM. Even though I'd done this connection before between the bus and the train at South Station, I had a heck of a time finding my way. I had difficulty believing that the signs were leading me out of the building. But then it all came back to me and I remembered that the South Station Bus Depot is in a totally different building than the South Station Train Depot. There was about a two hour layover in South Station which I spent very comfortably in the South Station Metropolitan Lounge.
Having never taken the Acela before, I booked First Class Service on the Acela from Boston to New York City. The seating was two seats on one side and one on the other. I sat in one of the single seats that was positioned in a way to provide an unobstructed window view. I was given a choice of a hot breakfast or cold continental breakfast and selected the hot breakfast. The breakfast was brought directly to my seat along with juice and hot coffee. The ride on the Acela was fast and relatively smooth. We arrived into New York Penn Station on time.
It has been a lot of years since I'd been in Penn Station. The last time I was in Penn Station was before 9/11. There seemed to be a lot more stores in Penn Station than I remember, and the whole layout seemed more complex. I seemed much more difficult to find my way around than it had been years ago, and the signs were of little help. All I wanted to find was the Metropolitan Lounge. There weren't any signs for that at all, probably because they changed the name to "Club Acela." The first thing I saw was a waiting room reserved for Acela riders. It didn't look any better than any other Amtrak waiting room, but they did require people to show their ticket to get in. That looked pretty bad for a Metropolitan Lounge and I figured that couldn't be it. I had been in the Metropolitan Lounge in Penn Station years ago many many times, and I knew it looked a lot better than that. After running around trying to find a sign to direct the way, I finally broke down and asked at the Amtrak Information Booth. They directed me to the room marked "Club Acela." That was quite comfortable and more like what I was looking for. I really do think they should mark them "Club Acela / Metropolitan Lounge." Not everyone using the lounge is coming on or off the Acela.
They announced my train about 15 minutes before departure time. They announced that it was departing on Track 6. No matter how hard I tried looking at all the signs, I could not find Track 6. If an experienced Amtrak traveler like me can't find my train, how do novices do it? I saw signs for Tracks 1-4 and signs for Tracks 9 & 10. The whole place was like a maze. I figured my tacks had to be between the signs for Tracks 1-4 and Tracks 9 & 10. Sure enough, there was a doorway almost hiding next to the Club Acela door that I had just come out of that said Tracks 6 & 7 ! So, I went through the door, down the stairs, and boarded my train.
I had a Deluxe Room in the Amtrak Lakeshore Limited. I was quite surprised at how worn the car was. The Viewliner Sleeping Cars are relatively new cars compared to the Superliner Sleeping Cars, but some of them are starting to look like they are ready for some refurbishing. Most of the light switches in the room showed a lot of wear on them. Of course the idea of a TV in the room didn't work out and they had all been removed a while ago. The door latch on my room was all busted and the door could no longer be locked from inside the room. Fortunately, the door did stay closed and didn't slide back and forth as many of these doors will do if you don't latch them while the train is in motion. Compared to the newly refurbished sinks on the Amtrak Empire Builder, the sinks in the Viewliner seemed quite outdated.
At just before 1 AM, the train arrived into Bufallo, New York, and I stepped off the train and met with Geno Dailey of www.trainweb.org/amtrakpix. I thought I'd have a chance to take a picture of Geno to add to the travelogue, but the Car Attendant wanted to quickly close up the train to keep the cold out and to take care of the passengers that boarded. I think I could have stayed out a few more mintues anyway, but I was concerned the Car Attendant might not come back and open the door for me in time. So, I quickly went back onboard without taking the photograph.
In the Viewliner Sleeper, you still can't beat having an extra set of windows for the upper bunk. As usual when I travel in a Viewliner Sleeper, I slept in the upper bunk and left my computer, suitcase and everything else in the lower area undisturbed. I really like just staying in bed for an extra hour or so after I wake up watching the scenery roll by. That is a feature I'd love to see in the Superliner Sleeping Cars which don't have windows for the upper bunks.
We arrived into Chicago Union Station about an hour late, but with plenty of time to make the connection to the westbound Amtrak Empire Builder departing from Chicago at 2:15 PM CT. My impression is that the Chicago Union Station is much larger than Penn Station, but I had no problem finding my way around and to the Metropolitan Lounge. Maybe that is just because I've been in Chicago many more times than in New York City. I temporarily checked my carry-on luggage for storage in the Metropolitan Lounge, then went exploring for something to eat and to see if I could get some internet access.
For some reason, my Verizon WAN does not work inside Chicago Union Station. Maybe there are just too many layers of steel and concrete. There are very few places, especially in major cities, where my Verizon WAN does not work. Since I'd be in the station for a couple of hours, I went to the Snuggery Bar upstairs inside the station where I know it is possible to by a couple of hours of wireless internet access. You can even use the Snuggery internet access from inside the Metropolitan Lounge as long as you sit somewhere that is pretty close to directly under the Snuggery Bar. If you bring your notebook computer and check for wireless access connections, Snuggery is the one called "Layer1." Unfortunately, the Bartender at Snugger said it hasn't been working for a couple of days. I could get to the login screen, but he said the access codes they have been giving out haven't been working and they've been having to refund purchases. So I had to go without access for a couple of hours. The funny thing is, as soon as I boarded the Amtrak Empire Builder, I was able to get online through my Verizon WAN service! Even though we were still in the station which is in a tunnel under a lot of buildings, I guess all it takes is being outside of the building for the Verizon WAN to work properly.
For lunch, I purchased a bean and rice vegi burrito at a place called "Beach Burrito" in the food court area of the Chicago Union Station. I was surprised and disappointed to see the deep dish pizza place had been replaced by a sandwich shop. The place next to that has been replaced by a Pizza Hut. That is a shame as a Pizza Hut is no match for a traditional Chicago Deep Dish Pizza! Even though I seldom eat traditional type pizzas, I'm always tempted by the single serving deep dish pizzas at that place and will often purchase one to eat on the train. I wasn't tempted at all to purchase a Pizza Hut one instead. I guess that part is good, but I am sorry to see the other pizza place gone.
Our train boarded right on time. They had us all gather at the rear of the Metropolitan Lounge and march out through the rear doors to our train. My Sleeping Car, 2730, was the very last car. Since the train was backed into the station, my car was the closest to the station and I got to board without having to walk very far. I had a Deluxe Room on one of the newly refurbished Superliner I Sleeping Cars. I provided an extensive review of these upgraded Sleeping Cars and the upgrades made to the room in a previous travelogue. Please Click Here if you wish to go to that travelogue now and click here for a number of photographs of the Deluxe Bedroom in the upgraded Superliner Sleeping Car. One major thing missing in the refurbished rooms are hooks. Before the upgrade, there were a lot of hooks to hang things all around the room. There were so many that I always had somewhere to hang everything and still had hooks left over. These upgraded rooms don't have a single hook anywhere! The only place to hang anything is the small coat closet with 2 hangers. There are plenty of places to put hooks in the room and I think Amtrak should seriously consider putting one or two back on the outside of the toilet/show door and one above the big wall mirror.
SHortly after settling into my room, the Sleeping Car Attendant came by and offered me a choice of either a chilled single serving bottle of Champagne or some apple cider. I definitely went with the Champagne! This was starting to remind me a bit of the old days on the Amtrak Coast Starlight just after they had added the Pacific Parlour Car.
Not too far west of Chicago, the train made a rather sudden stop. I took out my radio scanner to try to find out what was going on. Evidently the train hit something. The Conductor was on the ground checking under the train to make sure that all the wheels were still on the rails! Just at that time, the Dining Car person came by to provide me with a Dining Car reservation for dinner. She heard my scanner and asked if I knew what was going on. I told her about the Conductor checking to make sure all the wheels were still on the rails. Everything seemed to be OK as we continued on after a few minutes delay.
On Friday evening, April 7, 2006, I did have dinner in the Dining Car at 5 PM. I wanted a chance to see what the upgraded Dining Car looked like and have a chance to experience dinner in one of the few trains that is not going to Simplified Dining Service or Diner-Lite anytime soon.
It was a really really long walk to the Dining Car! I haven't been on an Amtrak train this long since I rode the inaugural Amtrak Texas Eagle California Direct Service! Since I'm in the Portland Section of the train, I'm in the only Sleeping Car in this section of the train. From my Sleeping Car, I had to walk through all of the Coach Cars in the Portland section. There were two of those. Then I walked through the Sightseer Lounge Car that is in the Portland section. That was followed by two more coach cars. I assume those coach cars are in the Seattle section of the train. Thus, all and all, I walked through at least 6 cars to get to the Dining Car! Often the Dining Car crew know whether you are in the Sleeping Cars or the Coach Cars just by the direction you are coming from, but certainly not on this train!
For those of you that are not familiar with the operation of the Amtrak Empire Builder, it is made up of two sections. The Seattle section is called Train #7 and the Portland section is called Train #27. At Spokane, Washington, the train is split into two trains. One section heads off to Seattle and the other to Portland. I'm not totally sure of how it is done now, but the Dining Car used to go with the section to Seattle and the Sightseer Lounge Car would go with the section to Portland. The included breakfast for the Sleeping Car Passengers on the way to Portland would be provided from the Cafe Car on that last morning when the Dining Car was no longer with that section of the train.
I didn't notice any obvious changes to the Dining Car. I was surprised that so little seemed different that I didn't even look around to notice if wood panelling had been installed and the coverings on the seats had been replaced. I'm sure it probably has been upgraded in that manner like the rest of the Empire Builder. The menu was the same old Amtrak menu that all long distance trains had before being converted to Simplified Dining Service.
I am probably a rare bird, but the change from full Dining Car Service to Simplified Dining Service doesn't upset me. I haven't been impressed with the food in the Amtrak Dining Cars for years. I don't see much difference in the quality of food under Simplified Dining Service compared to full Dining Car Service. They both seem pretty mediocre to me and both lack selection, though the Simplified Dining Service lacks even more in selection. When I first started riding Amtrak, it was on the Amtrak Coast Starlight. I was VERY impressed with the food service on that car and would compare it with any top line fine dining establishment. Ever since Brian Rosenwald left the product management position of that line, it has gone down hill ever since and no other Amtrak Dining Car has ever compared with what I experienced during the heydays of the Amtrak Coast Starlight. Personally, I think that the full Dining Car Service is comperable to what you get served at Denny's and the Simplified Dining Service is comperable to Spires. Don't think there is much difference between them? Neither do I. As far as I'm concerned, the best food item offered today on any Amtrak train is the Tuna Sandwich from the Cafe Car. Hence, I'll usually buy one of those and skip the Dining Car all together.
While walking through the Sightseer Lounge / Cafe Car, I did notice quite a change there. First think I noticed was that the upstairs serving area was open and selling! I had never seen that area in use before in all my ten years of Amtrak travel. There was a gal upstairs selling snacks and drinks. At the same time, there was another person downstairs in the Cafe area selling a full array of breakfast/lunch/dinner items as well as snacks and beverages, which is the usual fare in the Cafe area. Another major change was that the regular seating in half of the upstairs portion of the Sightseer Lounge had been replaced by tables. I think that was a great change! It appears to accommodate a lot more people than the regular seats that face the windows and it makes for more room for people to eat the food they have purchased. This configuration is not unlike some of the proposals for the new Diner-Lite reconfigurations.
There are obviously some problems with having the Sleeping Cars right next to the Coach Cars without a Dining Car between them that generally prevents much Coach traffic from wandering into the Sleeping Cars. In the middle of the night, there was a loud rapping on my door that woke me up. It was a guy that was looking for someone and he apologized for knocking on the wrong room. That was another first! I'd never had anyone knock on my door in the middle of the night in a Sleeping Car Room. It was rare, but from time to time, there would be an occassional coach passenger that would wander into the Sleeping Car. That is extremely rare on most Amtrak trains since there is the Dining Car separation between Coach and Sleepers.
Also during the night, I heard someone that boarded the train with his family who was very upset because there was already someone in Deluxe Room B, and also the alternate room, Deluxe Room E, that the Sleeping Car Attendant told him to take. I never found out how that was resolved. I suspected that these new passengers maybe were supposed to be in the Seattle Sleeping Car and accidentally boarded the Portland Sleeping Car.
If you like looking at the passengers getting on and off the train at each station and like to take photos of the stations out the window, I'd suggest getting a seat or room on the south side of the Amtrak Empire Builder. Most of the station seem to be on that side. My Deluxe Room is on the north side of the train and there is usually nothing to see out my window when we arrive at stations. It does mean I don't have to be concerned about anyone looking into my room at the stations. However, I do like to look at the activity at each station and It's not worth the bother to me to get up out of the room to look out the window across the corridor.
All the way from Boston, Massachusetts, to Williston, North Dakota, I was able to connect and remain on the internet at high speed using my Verizon WAN service. I was pretty much connected and working online for the entire trip except when I was sleeping. At Williston, North Dakota, I had a 100% signal and was rapidly uploading photographs to the web. A few miles after departing west from Williston, the signal went red to 0% for the first time. It looks like I finally fell off the end of the Verizon WAN coverage area! Looking out the window, this area loks about as remote as remote can get.
At Glasgow, Montana, the Verizon WAN access is still out. I suppose that is why I've written as much as I have and surprised myself compared to how much I expected to write about this trip. Not everything that I need to do needs online access, but it does help. This seemed like a good time to take a break from my regular work and write a bit about my travel. So, that is why I have written all that is above, despite my protestations to not expect much of a travelogue for this trip!
So far, at Glasgow, Montana, we are still running only 27 minutes behind schedule. It Amazes me that a train that covers this distance is usually able to make it to Portland or Seattle within a couple of hours of its scheduled arrival time. The Amtrak Coast Starlight barely gets out of its starting block before it is already running an hour or so late, and just gets worse from there! If you are heading west on the Amtrak Empire Builder, it is usually safe to make a connection to the southbound Amtrak Coast Starlight in Portland. The westbound Amtrak Empire Builder is scheduled to arrive into Portalnd at 10:10 AM and the southbound Amtrak Coast Starlight isn't scheduled to depart from Portland until 2:25 PM. Since the westbound Amtrak Empire Builder usually doesn't arrive more than an hour or two late, there is plenty of time to make the connection. The southbound Amtrak Coast Starlight runs late so frequently that an even greater safety measure of making that connection is created.
The reverse is the opposite. Amtrak won't even schedule a train connection from the northbound Amtrak Coast Starlight to the eastbound Amtrak Empire Builder in Portland anymore. If you try to book a connection from the northbound Amtrak Coast Starlight to the eastbound Amtrak Empire Builder, they will show a bus connection from Klammath Falls, Oregon, to Spokane, Washington, right on your reservation. That is the only way they can guarantee that you will make this connection. Hopefully the Union Pacific will one day be done with all their track work and the Portland guaranteed connection can someday be restored.
Here is another first for me! The electric outlet above the couch in my Deluxe Room has lost power. The nightlight right above it works fine as well as everything else electrical in the room. However, the surge protector that I'm using is indicating a "Site Wiring Fault." Does that mean something is wired wrong in this car? I've been using the power for just about 24 hours now without a problem. Fortunately, there is another power outlet by the sink and that one is working fine. I switched to another surge protector that I had brought along. Just in case the problem is with the surge protector, I figure I'd switch to a different one. Within a few minutes of using the sink outlet with the other surge protector, that circuit switched off. Fortunately, since it is an outlet near a sink, the RESET BUTTON for the fault detector is right on the outlet and I was able to turn the circuit right back on again. About every 10 to 15 minutes, the sink circuit repeatedly flipped off, even with just my surge protector plugged in and nothing connected to the surge protector! This continued for about an hour and then it never flipped off again, even after I plugged my notebook computer an cell phone charger back in. I'm thankful for that! My notebook computer battery is now charged to 100%, which is one of 3 fully charged batteries that I keep with me at all times so that I can work up to 12 hours without AC power.
---
2nd Update Posted on 04/08/06 at 06:00 PM MT:
This is a bit strange. We have just departed Shelby, Montana, but we are going backwards! We are going backwards at a pretty good pace. I'd say at about 20 MPH. I am in the very last car on the train and we are heading backwards at a pretty good pace. Ah! The train has finally stopped. I assume we will now pull forward. Does anyone have any idea why we are doing this? Is this a normal procedure for the Amtrak Empire Builder? My guess is that we went a mile or so backwards away from the Shelby, Montana, station. We are now going westward again at a pretty good pace. However, this time we went through the Shelby, Montana, Amtrak Station on a track that was futher away from the station. It appears there is a freight train parked on the track closest to the station. I assume we had to back up to switch tracks away from the station as the track closest to the station was blocked by a parked freight train.
OK, here is another first! I had brought a bottle of wine with me onto the train. After opening it last night and pouring myself a glass or two, I put the cork back in. I saw a safe place in the closet where I could place the wine. There is a small door near the bottom of the closet that leads out into the corridor. This reason this door exists is so that you can place your shoes in the closet and the Car Attendant can get to your shoes from outside your room, shine them, and return them into your closet without disturbing you. This service is something from a bygone era when train porters would do many onboard services for you including shine your shoes, press your clothes, etc. I am actually surprised that when they designed these Superliner Cars in the early 1970s, they actually imagined that Car Attendants would shine your shoes! I doubt that has ever happened since the introduction of the Superliner era. But anyway, that little doorway made a safe place to lean my bottle of wine so that it wouldn't spill, or so I thought.
At 3 PM, they called all Sleeping Car passengers who were interested down to the wine tasting. I attempted to leave my room, but my door would only open 8 inches! No matter how hard I tried, the door would not open any more than 8 inches. Realizing that I was trapped in my room, I rang for the car attendant. Some of you may know from previous travelogues that I have lost more than 50 pounds, dropping from 203 to about 150, in the last few years. I gave it a real good try and I was just barely able to squeeze out of my Sleeping Car Room in that available 8 inches of door space. When the Car Attendant arrived, he said something was probably stuck in the closet. I was surprised as I thought the closet was pretty much self contained and didn't overlap with the sliding space needed by the door. Then I remember that I had leaned my bottle of wine against the doorway where the Car Attendant was suppose to retrieve your shoes to be shined!
The Sleeping Car Attendant had a body size quite a bit bigger than mine and there was no way he was going to be able to get into my room. So, I volunteered to go back in the way I had come out, just suck in my gut and squeeze through that 8 inch opening back into the room. When he said something was probably stuck in the closet, I knew right away what the problem was! Once I got back in the room, I pulled the wine bottle out of the closet and saw that the cork already had been forced off the bottle by repeated attempts to slide the door open. Fortunately, I had too spare wine botttle corks in my suitcase (I collect used wine bottle corks and had a couple that I had saved from my visit in Maine). I replaced the wine bottle cork and put it back in the closet making sure it wouldn't block the shoe door again. The door then easily slid open. So now you know! If your sleeping room car door refuses to open, check the closet and make sure nothing is protruding out the shoe door!
---
3rd Update Posted on 04/09/06 at 07:30 AM PT:
As we went through East Glacier Park last night, my Nextel cell phone still said "No Service," but my Verizon Wan High-Speed Internet Service was working just fine! I could send and receive e-mail, but I couldn't place or receive any phone calls.
Amazing as it may seem, we arrived at West Glacier a few minutes ahead of schedule and had to wait a few minutes to depart at the scheduled time. We arrived at Whitefish 4 minutes ahead of schedule and could not depart until the scheduled time of 9:16 PM MT!
The south side of this train is definitely the better side to be on. On Sunday morning, April 9, 2006, we are next to the river and it is on the south side of the train. I can see it from my room by leaving the door to my room open, but it would be a much better view if I was on that side of the train.
We arrived into Wishram at 7:30 AM PT and will be departing just a couple of minutes behind schedule. After some delays at the Vancouver, Washington, Amtrak Station, our train made an on-time arrival into the Portland Amtrak Station at 10:10 AM.
---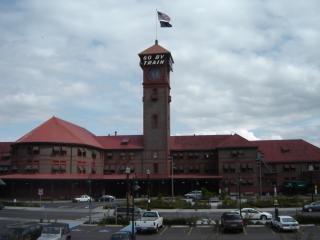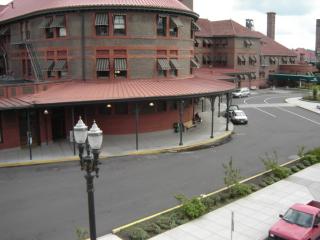 Amtrak Station in Portland, Oregon
4th Update Posted on 04/10/06 at 01:00 PM PT:
So what do I do when internet access from the train is not available. Well, I sit here and learn to drink black coffee, saving the calories from those packets of half-and-half. Actually, with 3 packets of Equal, black coffee isn't too bad! I'd prefer to use Splenda, but Amtrak seems only to have the little blue packets of Equal available.
I also read my books on Buddhism, my religion of choice, those some question if it should be even considered a religion since there is no worship of a diety. The book that I have found most enlightening in this regard is: "Buddhism Is Not What You Think - Finding Freedom Beyond Beliefs" by Steve Hagen first published in 2003.
As of April 10, 2006 10:38 AM, my southbound Amtrak Coast Starlight has just arrived into Martinez, California, 3 hours and 4 minutes behind schedule. Theoretically, that means we won't be able to make Simi Valley by the 10 PM cut-off point. If we don't make up any time, we'd be into Simi Valey by 10:42 PM. There is tunnel work going on in the Simi Valley area. They will allow the Amtrak Coast Starlight all the way through to Los Angeles only if it can make it by Simi Valley before 10 PM. After that, they start work on the tunnel. Amtrak has been taking the passengers off at Santa Barbara from late Amtrak Coast Starlight trains and busing them to all stops south of Santa Barbara.
I'm really not up for a 3 hour or more bus ride from Santa Barbara to Fullerton this evening, only to arrive home in the middle of the night. I've taken the precaution of booking a hotel room at the Ramada Santa Barbara, 4770 Calle Real, Santa Barbara, CA 93110, (800)654-1965 / (805)964-3511, for this evening. They are located on U.S. Hwy. 101 at the Turnpike Road Exit. I picked this hotel because they provide free transportation to and from the Amtrak station and their rates are currently less than $100 per night. After sleeping there for the evening, I plan to take the first southbound Amtrak Pacific Surfliner out of Santa Barbara that departs at 6:30 AM and arrives into Fullerton at 10:12 AM, with direct train service without any change of trains of buses. If by some miracle they do allow our southbound Amtrak Coast Starlight to proceed all the way to Los Angeles, I'll probably stay onboard and sacrifice the $99 reservation that I guaranteed on my credit card. I didn't think I had much choice about the guarantee as the first 6 hotels I tried to book near the train station were booked solid. I didn't want this one to book up by the time I arrived into Santa Barbara. I'll wait until morning to purchase my Amtrak Pacific Surflnier ticket, just in case I won't be needing one.
Did I mention that I managed to slice up my thumb at the very beginning of this trip on the Amtrak Acela? I have no idea how I did that, but my only guess is that I did it in the restroom while trying to find a pull out a paper towel to dry my hands. I didn't notice it until I was at my seat and tried to take a photograph. I noticed that my camera was all sticky. I figured I got some maple syrup on it from the french toast. Then I noticed the sticky stuff was red, like ketchup or tomato sauce, but I didn't have anything like that with breakfast. It was only then that I noticed that my thumb was bleeding from the side right next to my nail! It didn't look very bad, but it must have been a pretty deep cut as it kept bleeding for hours. There wasn't much blood, but it didn't stop like normal cuts after a few minutes. Plus, being my thumb, practically anything I used my thumb for would try to open the wound back up again. It was more than a day before I stopped leaving behind traces of blood on whatever I touched. There was almost no pain involved, hence why I didn't notice right away what cut my thumb. I looked all around my seat and my computer, but could not find anything that showed a hint of what caused the cut. That is why I suspect it happened while I was in the restroom. The only thing that stands out in my mind was searching for where to find the paper towels and finally finding that they hang down from under the mirror over the sink. If there were any sharp edges under there, it is certainly what could have cut my thumb.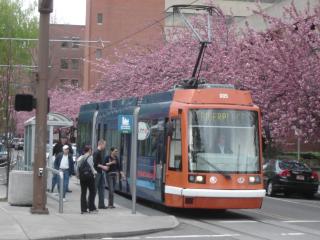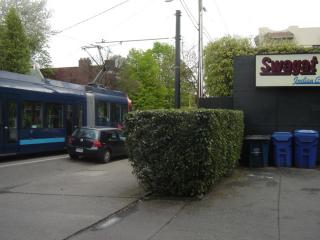 Left: Portland Streetcar - Right: Portland Streetcar going by Swagat Indian Restaurant
While I was in Portland, I couldn't resist going to my favorite Indian Restaurant, Swagart. I didn't have a car this time, but checking with Google Maps showed it to be only about a mile, straight up Love Joy Street, from the Portland Amtrak Station. So, after checking in at the Portland Amtrak Metropolitan Lounge and leaving my roller luggage there, I headed for the restaurant! It took me less that 30 minutes to walk there. I found several people already lined up out front waiting for it to open at 11:30 AM for the lunch buffet. They really do have very good Indian food and it is worth the wait for them to open! I took a few photos by the restaurant, including one of a Portland Streetcar that passes right by the front of the restaurant. I finished eating at Noon and managed to walk back to the Portland Amtrak Station by 12:30 PM. My train wasn't scheduled to arrive into Portland until 2:05 PM. The weather was so perfect that day in Portland that I opted to just sit outside on a bench in the shade rather than go back into the Metropolitan Lounge. I sat out there for the next 90 minutes before going inside to resume waiting for my train in the lounge. I found some computer seating way in the back of the Portland Amtrak Metropolitan Lounge where I set up my notebook computer and worked online until the southbound Amtrak Coast Starlight arrived late around 2:45 PM.
---
5th Update Posted on 04/10/06 at 10:00 PM PT:
Even though this train is not scheduled into Simi Valley until sometime after 11 PM (We're not even expected into Santa Barbara until 9 PM!), the Conductor announced that this train WILL be going all the way to Los Angeles. Evidently I wasn't the only one on board that had the information that southbound Coast Starlight trains arriving after 10 PM would not be allowed to proceed through the tunnel. The Conductor specifically announced that passengers would be not be transferring to buses in Santa Barbara, though anyone going south of Los Angeles would be transferring to buses in Los Angeles, which is usual for when the Amtrak Coast Starlight arrives in Los Angeles after 10 PM.
Well, I'm going to stick to my plan to spend the night in Santa Barbara and take the first morning Amtrak Pacific Surfliner direct from Santa Barbara to Fullerton without a change to a bus in Los Angeles. I let another family member use my vehicle while I was out of town and there won't be any vehicle waiting for me if I were to arrive in Fullerton this evening. I already told everyone that they would not have to wait up to come pick me up at Fullerton late at night, and it can sometimes take a while to get a taxi in Fullerton with everyone arriving off the bus at the same time.
Anyway, I prefer the direct route from Santa Barbara to Fullerton without changing and I'll be back to the TrainWeb office pretty close to 10:30 AM!
Additional Photographs:
Thu Apr 06: Set #1 / Set #2 / Set #3
Fri Apr 07: Set #4
Sat Apr 08: Set #5 / Set #6
Sun Apr 09: Set #7 / Set #8 / Set #9
Mon Apr 10: Set #10 / Set #11
Tue Apr 11: Set #12

Photos From My Visit With Family:
Mar 31 / Apr 01 / Apr 02a / Apr 02b / Apr 02c / Apr 03a / Apr 03b / Apr 04 / Apr 05
Links related to this travelogues:

CLICK HERE
To Read More Rail Travelogues
And View More Photos Of Rail Travel!

Are you interested in rail travel along some or all of this journey yourself? There are very few travel agents that have the necessary knowledge and experience of rail travel to answer your questions and to book a journey that you will remember for a lifetime. TrainWeb has sought out those travel agencies and rail tourism companies that not only have the knowledge to book your travel, but have gained the required experience through extensive rail travel themselves! Click here for a list of these rail travel providers!
There have been
visitors to just this travelogue since April 08, 2006.
Visit our Rail Magazine promotion trading partners:
Click here to add your print rail magazine.