Amtrak Travelogue & Photos
Fullerton, California to Salt Lake City, Utah
Round Trip with an Overnight Hotel Stay in Emeryville, California
on the Amtrak Pacific Surfliner,
the Amtrak Coast Starlight and the Amtrak California Zephyr
January 18 through 25, 2006, Wednesday through Wednesday

PART 3 - Sundance Film Festival
Friday - Monday, January 20 - 23, 2006

www.trainweb.com/travelogues/stevegrande/2006a20a.html
Click a link below for another part of this travelogue:
Part 1 / Part 2 / Part 3 / Part 4 / Part 5
Please Note: This is a work in progress. Since this segment of my travelogue covers 4 days off the train, it is going to take me a bit longer to write. Also, since I am not writing it as things happen as I do while riding the train, it will be different than the other segments of this travelogue.
I have already posted four sets of photographs from the Sundance Film Festival as Photo Sets 3 through 6 that you can view now. More photographs that were taken by the other people attending this event with me will be added later. Over the next few days I will attempt to complete this segment of the travelogue. Please check back from time to time and you will see more and more added to this travelogue segment. Part 4 of this travelogue has already been completed and Part 5, along with this segment, is currently in progress. Please click here to continue on to Part 4 and Part 5 of this travelogue at this time, but do return later to check on the progress of this Part 3 of the travelogue.
From the "Film Guide - Sundance Film Festival 06, Park City, Utah, January 19-29:
The first Sundance Institute Filmmakers Lab was held in 1981. Since that time, the Institute has grown into an internationally recognized resource for independent film and theatre artists.
Sundance Institute: Twenty-Five Years of Independence
Widely known for introducing the year's most compelling new dramatic and documentary films from emerging American and international filmmakers to a global audience, the Sundance Film Festival is a core program of Sundance Institute, a nonprofit cultural organization founded by Robert Redford in 1981.
Twenty-five years ago, Redford gathered a group of his friends and colleagues in the mountains of Utah to create an environment designed to foster independence, discovery, and new voices in American film and theatre. That spring, 10 emerging filmmaakers were invited to the first Sundance Institute Filmmakers Lab, where they worked with leading writers and directors to develop their original independent film projects. In the remote natural setting, removed from the pressures of the marketplace, each emerging artist was encouraged to trake creative risks and craft a film true to his or her unique vision.
Since that first Lab, Sundance Institute's activities have expanded to include creative, financial, and strategic support for independent fiction and nonfiction filmmakers, screenwriters, documentary film editors, independent film producers, film music composers, playwrights, and theatre artists. Its artistic development programs and the annual Sundance Film Festival continue to be guided by the original values of independence, createive diversity, and discovery.
At the 2006 Film Festival, select panels will discuss the spectrum of independent work supported by the Festival and the Institute over the past 25 years, archival photos at official venues and parties will provide a glimpse of the Institute's and Festival's history, and two screenings of films in the Sundance Collection at UCLA (Mala Noche and Paris, Texas) will present seminal works in the history of independent film.
We rented a five bedroom condo from Resorts West in Part City, Utah, for around $2500. We would only be at the 2006 Sundance Film Festival for 4 days, but I believe the minimum condo rental was for 5 days at $500 per day. Better deals are available, but we went looking for a place to stay pretty late in the game and had to go with what was available that met our needs. The price isn't that bad when you consider that there were 5 of us staying at the condo and the price was for 5 days. That comes to $100 per person per day and everyone could have had their own bedroom since it was a 5 bedroom condo with 4 bathrooms.
There was an unbelievable amount of living space in the condo, far beyond what we'd ever get in a hotel room. You can see photos of the exterior and interior of the condo by clicking here or on Photo Set #3 below. We had a full kitchen with a full size refrigerator, freezer, oven, stove, dishwasher and more, plus a good size kitchen table with seating for 6. There was also a complete living room equiped with cable TV and a combo DVD/VHS player. We were able to keep the 2 cars that we had rented inside the garage and also had a heated outdoor spa that we never found time to use.
The condo rentals appear to be each owned by private parties and rented out and managed by Resorts West. They provided us with daily maid service, taking out the trash, bringing clean towels, and doing light housekeeping each day. The kitchen was fully equiped with dishes, glasses, silverware and the rest of the basics. We saved quite a bit of money by mostly eating in and only having gone out to a restaurant one time while at the 2006 Sundance Film Festival. We actually did want to go out and try the restaurants in the area, but we were so busy with attending film showings that we almost didn't have time to eat at all! So it was a good thing the condo did have a full kitchen where we could grab a quick bite between performances.
During our entire stay, the scener was spectacular everywhere! No matter which direction you looked in, there were snow covered mountains. Click here or take a look at Photo Set #4 below to get some idea of the beauty of the Park City area.
Waiting lines were everywhere for performances. There were lines of people with tickets to get into every performance and there were lines of people without tickets waiting to see if there would be any last minute tickets available for each performance. Then, there were people wandering around asking everyone if they had any extra tickets to each performance, either to sell or just give away for free. eBay was loaded with people selling tickets at premium prices for many film showings, especially the more popular ones.
While we were in Ogden, Utah, I did find the best Italian Restaurant that I have ever eaten at: Boccia's D'Italia. Everyone thought the food was fantastic. We did try to go to an Italian Restaurant right near the theatre, but they featured food from Northern Italy which has very little marinara (red) sauce. We are all big fans of marinara sauce, so we went in search of another Italian restaurant in the area. Boccia's D'Italia was about 5 miles away from the theatre, but it turned out to be well worth the detour! We ordered garlic bread as an appetizer, with some marinara sauce to dip it in. That was the best garlic bread that I have ever had in my entire life! It wasn't smothered in garlic butter like some restaurants do for garlic bread. This bread had the strongest garlic tasting garlic bread I have ever had in my life, but there was very little butter on the bread. We ordered a sampler special for the whole table that gave everyone a taste of many of the featured dishes at the restaurant. Everyone thought this was one of the best Italian Restaurants they have ever eaten at and made note to come by here again the next time any of us are in the Ogden area.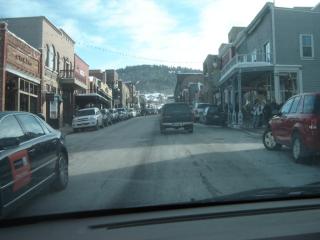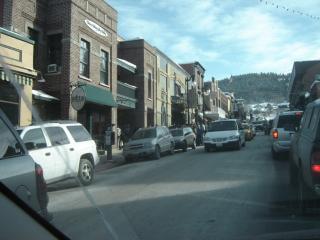 Downtown Park City, Utah, Home of the Sundance Film Festival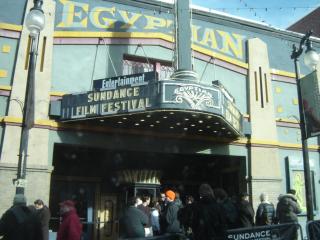 The Egyptian Movie Theatre in Downtown Park City, Utah
The following are the movies that I was able to view along with most of the other members of my party at the 2006 Sundance Film Festival:
Fri Jan 20 09:30 PM: Lucky Number Slevin - First Showing
Sat Jan 21 12:00 PM: A Guide To Recognizing Your Saints
Sat Jan 21 06:30 PM: A Little Trip To Heaven - First Showing
Sat Jan 21 09:30 PM: Factotum - First Showing
Sun Jan 22 12:00 PM: Shorts Program III
Sun Jan 22 03:30 PM: The World According to Sesame Street
Sun Jan 22 06:30 PM: Off The Black
Sun Jan 22 09:30 PM: The Science of Sleep - First Showing
Mon Jan 23 06:30 PM: Kinky Boots
Some of the other members of my party were able to get tickets and view the following films at the 2006 Sundance Film Festival that I did not get the opportunity to view:
Fri Jan 20 02:30 PM: Somebodies
Sat Jan 21 09:30 PM: Allegro - First Showing
Sun Jan 22 11:59 PM: Wide Awake
Mon Jan 23 08:30 AM: Who Nees Sleep?
Mon Jan 23 11:30 AM: Wristcutters: A Love Story - First Showing
Mon Jan 23 02:30 PM: Illusionist
Mon Jan 23 06:00 PM: Art School Confidential - First Showing
Mon Jan 23 08:30 PM: The Aura
Mon Jan 23 09:00 PM: TV Junkie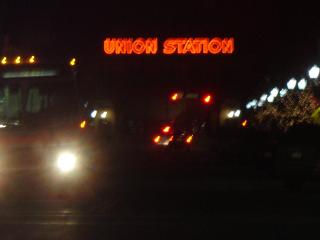 Ogden, Utah, Union Pacific Station Building
This used to be the Ogden Station before the Amtrak Pioneer was discontinued.
Click Here for info and photos from the Amtrak Pioneer.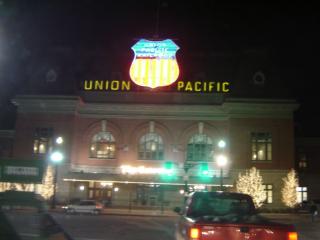 Salt Lake City, Utah, Union Pacific Station Building
This building is not used by Amtrak

Mug Purchased In Park City, Utah
Additional Photographs:
Set #1 / Set #2 / Set #3 / Set #4 / Set #5 / Set #6
Set #7 / Set #8 / Set #9 / Set #10 / Set #11
Additional Photographs provided by Jason Lopez:
Set #1 / Set #2 / Set #3 / Set #4 / Set #5
Click a link below for another part of this travelogue:
Part 1 / Part 2 / Part 3 / Part 4 / Part 5
Related Info:

Resorts West 1-888-434-9221
CLICK HERE
To Read More Rail Travelogues
And View More Photos Of Rail Travel!

Are you interested in rail travel along some or all of this journey yourself? There are very few travel agents that have the necessary knowledge and experience of rail travel to answer your questions and to book a journey that you will remember for a lifetime. TrainWeb has sought out those travel agencies and rail tourism companies that not only have the knowledge to book your travel, but have gained the required experience through extensive rail travel themselves! Click here for a list of these rail travel providers!
There have been
visitors to just this travelogue since January 18, 2006.
Visit our Rail Magazine promotion trading partners:
Click here to add your print rail magazine.